There's so much to do in the Netherlands, whether you're a new arrival, visiting from abroad or an expat making the most of the Dutch staycation! Having spent so much time staying safe at home, isn't it wonderful to be able to venture out and explore?
Fun things to do in the Netherlands
The choice of fun things to do in the Netherlands is seemingly endless. Here is a quick guide about what's on in Amsterdam and other Dutch cities!
Canals
Amsterdam, in particular, is renowned for its canals and it is exciting to see the city from the water. Get your canal cruise tickets and say hello to the beautiful Dutch capital from another point of view.
Check out the varied kinds of different canal cruises on offer in Amsterdam and beyond. Boat trips are also popular in other cities, such as Rotterdam and Leiden.
Windmills
Want to see a windmill in action? Sloten Windmill is the only functioning windmill in Amsterdam. For a trip farther afield, jump on the Volendam, Marken and Zaanse Schans windmills tour, which takes you from the Dutch capital to famous landmarks in the province North Holland, where you can see how Dutch clogs, cheese and stroopwafels are made.
If you'd rather focus your visit on Zaanse Schans and its wonderful windmills, then you can have access to multiple extras in its surroundings when you buy the Zaanse Schans card.
Cheese
The Netherlands is famous for its cheese, especially Gouda cheese and Edam cheese. Fancy taking part in a cheese tasting session? Book your tickets to the Cheese Tasting at Henri Willig for a tasty Dutch treat!
In beautiful Gouda, the city famous for its popular and delicious cheese, you can take a two-hour monument walking tour, which, of course, includes the picturesque old cheese weighing house. On the tour, you can also see how stroopwafels are made.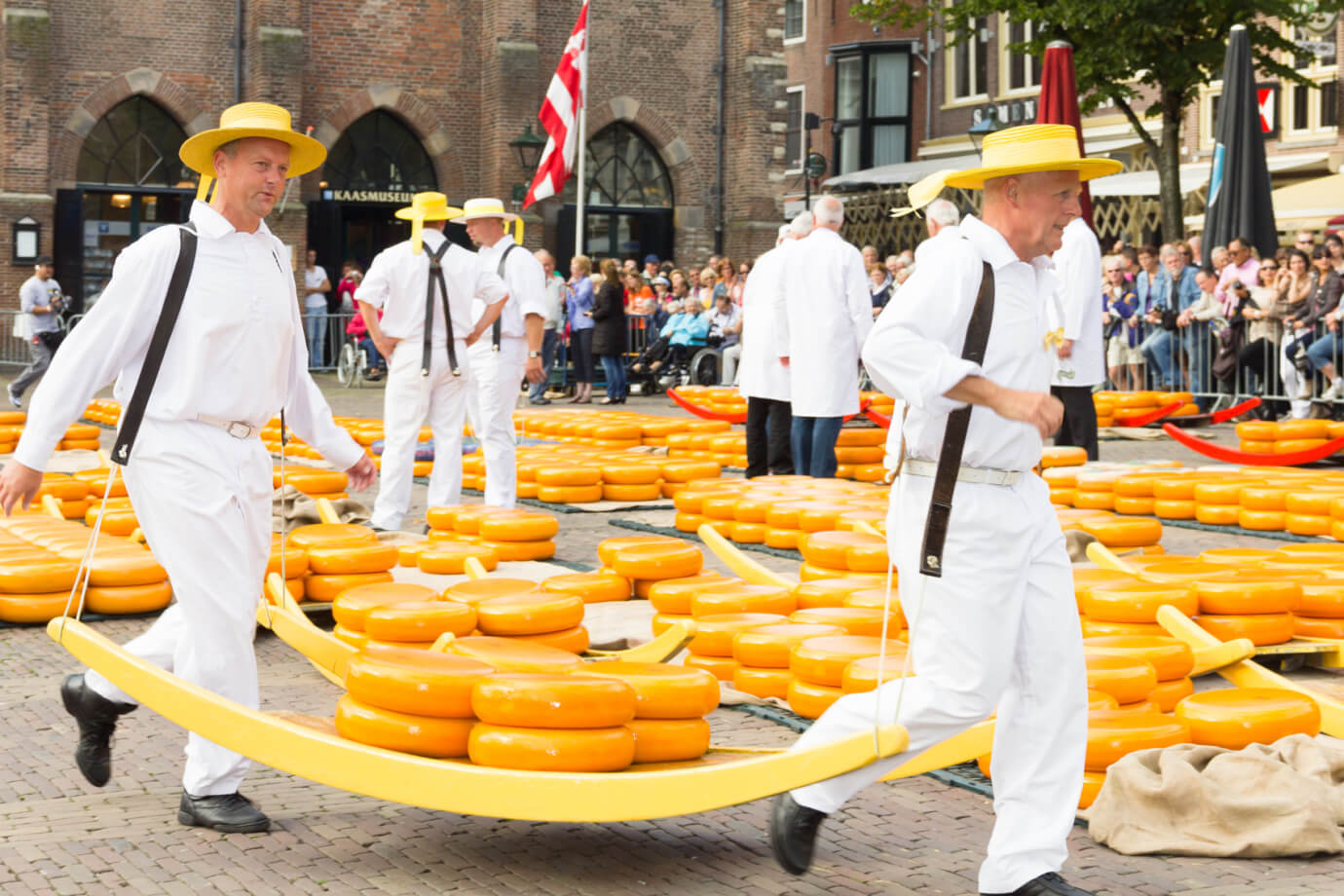 Flowers
Tulip season is over, so a trip to the Keukenhof is off the cards until next spring. But that doesn't mean you cannot enjoy flowers and gardens in the Netherlands. The Hortus Botanicus in Amsterdam is a historical gem in the plant world, and meanwhile in other Dutch cities, Utrecht Botanic Garden and Hortus Botanicus Leiden are also worth a visit.
Take a bus tour to the world's largest flower auction Royal Flora Holland, coupled with a visit to Muiderslot Castle. The flower auction and castle tour is perfect for early risers who look forward to making the most out of their day!
Dutch art
The Netherlands is a treasure trove of great art and its many amazing museums can attest to that: the Rijksmuseum, Van Gogh Museum, Rembrandt House Museum and so many more. For something more contemporary, Moco Museum is where you'll find everything you always wanted to know about Banksy but were too afraid to ask.
Venture to South Holland to check out the Royal Delft Blue Factory and Museum in Delft and the Escher in the Palace Museum and the Louwman Vintage Car Museum in The Hague.
Dutch beer
Amsterdam is a great place for beer! At the Amsterdam Museum, there's currently a beer exhibition taking place. For those who want extra brewing insights, the Heineken Experience is highly recommended!
Smoking
As the world knows, c.a.n.n.a.b.i.s is tolerated in the Netherlands and has been for a long time, meaning that many come to the city for this reason, even though there's so much more to Amsterdam than c.a.n.n.a.b.i.s! Nevertheless, there is a museum dedicated to the green stuff. The Hash, Marihuana and Hemp Museum will guide you through the past and present of c.a.n.n.a.b.i.s culture.
Dutch football
In Amsterdam Johan Cruijf Arena Stadium Tour takes place regularly and is well worth a visit for any football fanatics!
Dutch maritime heritage
If you're fascinated by the seafaring character of the Netherlands, then get yourself to the National Maritime Museum in Amsterdam. You can even take a ferry to Pampus Fortress Island in Amsterdam which is part of the Defence Line, designated a UNESCO World Heritage Site.
Hop on a boat for the Rotterdam harbour cruise or the yellow amphibious bus for the exciting Rotterdam Sightseeing Splash tour. For a stirring coastal adventure, skim the waves on an inflatable boat with the Scheveningen Rib Experience.
Dutch UNESCO World Heritage Sites
There are tour operators who organise group tours of Dutch UNESCO World Heritage Sites, from Schokland to the Beemster Polder, and from the Wouda Pumping Station to the majestic Afsluitdijk.
Fun stuff for kids
For a fun day out for families and kids, amazing attractions are in plentiful supply! For a day at the zoo, try out the Artis Royal Zoo in Amsterdam or Blijdorp Zoo in Rotterdam. Learn about our world at NEMO Science Museum. For thrill-seekers, check out the 5D Ultimate Flight Experience where you can virtually soar over the Netherlands with a birdseye view.
Wander around a mini version of the Netherlands at Madurodam and marvel at the beauty of the world's ocean life at Sea Life Scheveningen.
Make the most of the Netherlands
The Netherlands has something for everyone, whether you prefer canal trips or windmill tours, whether you're into art or c.a.n.n.a.b.i.s.
By: www.iamexpat.nl