The rumpled spine of mountains running along the western edge of Alberta is world-famous, with parks like Jasper and Banff drawing throngs of visitors each year. If you're hoping for a photo at Lake Louise, Moraine Lake, or along the Icefields Parkway, be prepared to share the view with crowds of tourists lined up for their own nature selfie.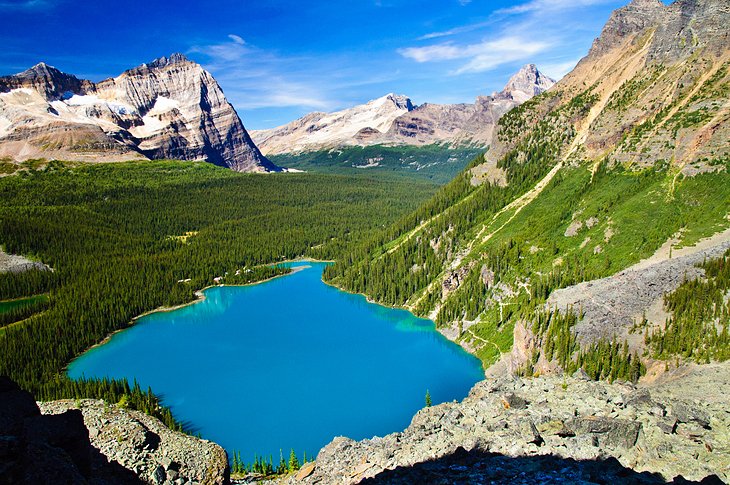 These places have certainly earned their fame, but if solitude is what you're after, you won't get it here. Instead, hop the border to Yoho National Park in British Columbia. Just 30 minutes west of Lake Louise, It's packed with similar iconic Canadian Rockies scenery — and plenty of opportunity for adventure — but you won't have nearly the crowds to contend with.
Play Outside
Yoho National Park can keep you busy for days with hikes, snowshoeing, backpacking, whitewater rafting, and canoeing on Lake O'Hara and Emerald Lake. Among the best spots are Takakkaw Falls, which careens more than 300 meters down a sheer rock face. Worthwhile hikes include Paget Peak, where you can take in the scenery through the windows of a decommissioned fire lookout. Plan ahead and you can reserve a spot on a guided trip to the famous Burgess Shale Fossil Beds, high up on Mount Stephen.
Eat, Drink, and Be Merry
Despite being in the middle of nowhere, Yoho has three incredible lodges that occupy prime real estate: Emerald Lake Lodge (pictured), Cathedral Mountain Lodge, and Lake O'Hara Lodge. At each, you can cozy up to your own personal fireplace, dine on outstanding upscale meals, and treat yourself to a massage or sunset stroll after the day-trippers have gone home. You can also opt for the cozy guesthouses and B&Bs in the nearby town of Field, where you'll also find two great restaurants: the Siding Cafe and Truffle Pigs Bistro.
Plan Your Trip
Yoho is a bit off the beaten path, with no major cities nearby. It's worth the haul, though, and easily accessible off the Trans-Canada Highway, which runs right through the area. Consider adding it to an epic road trip through British Columbia's western mountains, stopping at other small towns and parks along the way. If you go, be prepared for extreme weather year-round and make sure to pack and plan accordingly, especially if you'll be hiking.
By: iexplore.com