Would You Eat An Edible Coffee Cup? Air New Zealand Thinks So.
Just when we've heard almost everything that needs to be said about airplane food, along comes another meal option that'll get passengers buzzing. Except, you won't find this latest addition on any in-flight menu. Instead, take a look at your coffee cup.
Confused? You won't be if you take an Air New Zealand flight. The Kiwi carrier is currently experimenting with edible coffee cups on all its flights as part of an overall eco-friendly initiative. Air New Zealand announced the rollout on Wednesday after inking a recent partnership with Twiice, a mom and pop operation based in New Zealand that specializes in making edible cups in order to cut down on airline waste.
3. Airline Waste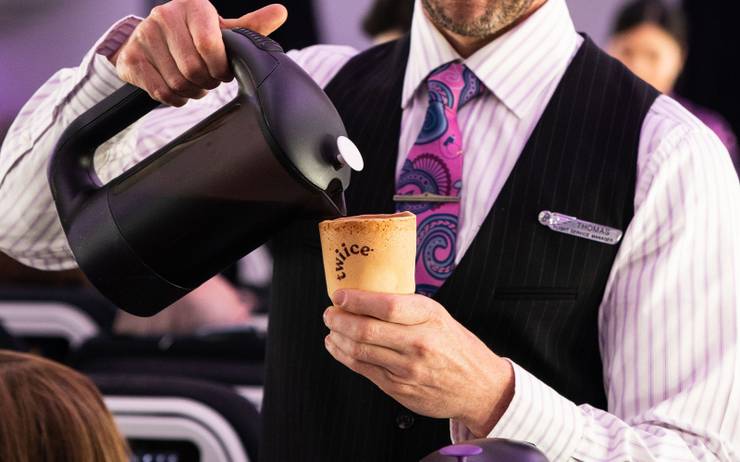 Made with plant-based products, the drink holders not only serve a notable environmental purpose, they're also tasty, with a vanilla flavor not unlike what some folks use in their flavored coffee creamer. Everything about the cup is organic with no artificial ingredients to avoid any digestive issues.
2. Withstand Leaks
The Twiice inventory is also durable, tested to withstand leaks or any melting from the hot coffee it's designed to contain. And once that java is downed, the cup doubles as an after-meal dessert.
The Twiice partnership is an extension of another environmental measure New Zealand Air implemented back in July, when the company decided to abandon its plastic packets that held various condiments like soy sauce and salad dressing. Instead, those items will be available to passengers in tiny reusable bowls. While the carrier had already added biodegradable cups to its flights, the company decided to take further steps, given that eight million cups of coffee are regularly served annually.
How cuisine is being served is only one small part of Air New Zealand's plans to become more environmentally friendly. The company recently announced its goals to reduce its total emissions by 50 percent by 2o50.
1. Positive Feedback
For now, though, patrons have created a great deal of positive feedback over the cups, which is encouraging New Zealand Air to work on further eco-friendly ideas with Twiice. So far, other ideas on the drawing board include edible plates and dishes. And chances are, they're likely to expand to digestible cutlery, as long as those utensils can cut those entrees being served at high altitudes.
By thetravel.com