TTO – 'The elephant behaves like a person who travels by plane' – a veterinarian commented when talking about the loneliest Kaavan elephant in the world being transported from Pakistan to Cambodia. American singer Cher came out to greet this elephant.
The AP news agency reported that Kaavan, the loneliest elephant in the world, was finally transferred to Cambodia on November 30 after years of languishing at a zoo in Pakistan. It was immediately taken to a wildlife sanctuary of about 600 elephants.
Before being airlifted to Cambodia, the elephant must be tested for COVID-19. After a 7-hour journey, the elephant was provided with food weighing about 180kg.
"The elephant behaves like an aeroplane. The flight was smooth and that's what you need when transporting an elephant… Kaavan eats, then sleeps a little, stress-free." – Mr. Amir Khalil, a veterinarian who monitors the elephant, shared.
Sri Lanka gave Kaavan to Pakistan in 1985 and the elephant has been living in the Marghazar Zoo in Islamabad. However, the 36-year-old male elephant spent eight years alone after his only mate, Saheli, died in 2012.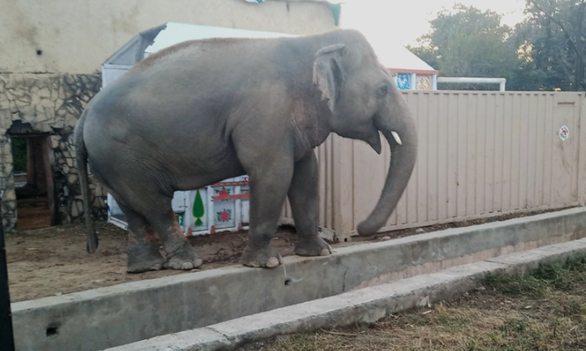 Kaavan elephants at Marghazar Zoo in Islamabad, Pakistan before being transported to Cambodia – Photo: Dharti News
Conditions at the zoo have become so bad that a court in the Pakistani capital ordered the zoo to be closed in August.
The plight of Kaavan elephants has received the attention of many people around the world, including American singer and actress Cher. She was present in Cambodia to welcome Kaavan on November 30.
Ms. Cher's animal rights group "Free the Wild" teamed up with other groups to move Kaavan to Cambodia. This mission cost about $400,000.
The Oscar-winning singer was present at Siem Reap airport to greet when the plane carrying the elephant landed on the afternoon of November 30. "I am very proud that Kaavan has come here. The elephant will be really happy here," – Kaavan shared with AFP news agency.
According to Four Paws, the Vienna-based animal rescue group involved in transporting Kaavans from Pakistan, very few adult elephants have ever been flown away by such a plane, when preparations were assessed. is problem.
By: tuoitre.vn