How did the highland garb evolve from historic symbol of rebellion to global brand, loved by tourists and designers alike? William Cook explores the chequered history of tartan.
At the National Museum of Scotland, in the heart of Edinburgh, one exhibit item sums up Scotland's tangled relationship with tartan. A stylish tartan frock coat with red velvet cuffs and collar, it looks remarkably contemporary. In fact, it's 272 years old.
This coat was worn by Bonnie Prince Charlie during his doomed attempt to win back the British crown on behalf of the Stuarts, Britain's vanquished Catholic monarchy. The Stuarts were Scots and so – like countless Scots, then and now – Charles wore tartan to affirm his Scottish identity.
Bonnie Prince Charlie's tartan coat is one of many treasures in Bonnie Prince Charlie and the Jacobites, a landmark exhibition about the Jacobite uprising of 1745. This show sheds new light on the politics of the conflict, but what's just as interesting is the tartan aesthetic of this revolt.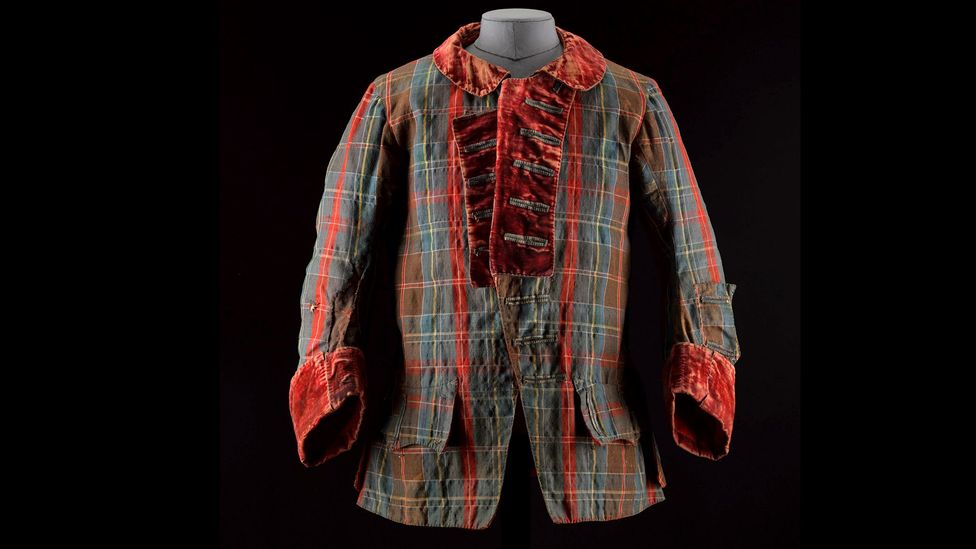 A tartan frock coat was worn by Bonnie Prince Charlie and is a centrepiece of an exhibition at the National Gallery of Scotland (Credit: National Gallery of Scotland)
Prince Charles Edward Stuart was the grandson of James II, Britain's last Catholic King, who had been overthrown in 1688 by the Protestant William III. James fled to France but he never gave up his claim to the British crown. When he died, he passed on this claim to his son, James, and his grandson, Charles. In 1745 Charles sailed to Scotland to raise an army and invade England, in an audacious bid to oust Britain's Protestant King, George II, and restore the Catholic Stuarts to the British throne.
Bonnie Prince Charlie's public image was ultra-modern: the first Jacobite poster boy
Although Charles was of Scottish descent, this was the first time he'd actually set foot in Scotland. His tartan coat was a signal to his Scots supporters that he was one of them. The brand management worked a treat, with his portrait reproduced on all sorts of bric-a-brac, from crockery to snuff boxes.
The first Jacobite poster boy, Charles's public image was ultra-modern, and despite his tenuous relationship with Scotland (he was born and raised in Rome) he inspired his Highland army to some stunning victories, marching as far south as Derby before they were finally defeated at Culloden.
Clash of clans
Charles left Scotland in 1746, never to return, and Britain is still ruled by the Protestant dynasty he failed to vanquish. Yet although it was defeated on the battlefield, tartan lives on, not only in Scotland but all around the world. So how did this Highland garb become a global brand?
"It's always been a really partisan cloth," Viccy Coltman, Professor in History of Art at Edinburgh University, tells BBC Culture. "That's part of its whole history."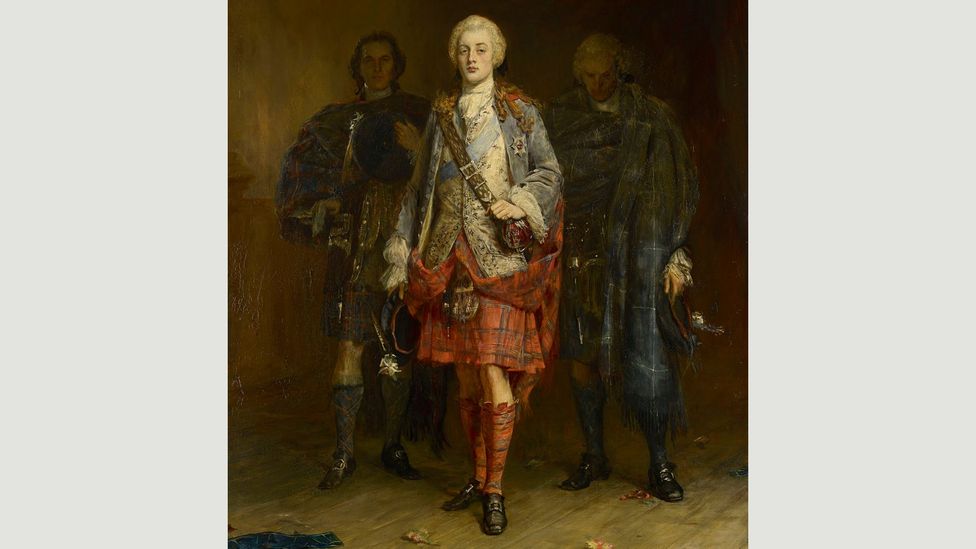 Bonnie Prince Charlie embodied the romantic Scottish rebel. John Pettie's 1892 portrait shows him entering the ballroom at Holyroodhouse (Credit: National Gallery of Scotland)
After Culloden, Highland dress was banned in Scotland, and tartan went underground. However, banning anything always lends it cult status, and when the ban was lifted in 1782, tartan became very fashionable. This wasn't a grass-roots revival, it was driven by the urban aristocracy and the emerging middle classes. "In the wake of '45, you really see the beginnings of a souvenir industry," explains Coltman. And the biggest souvenir hunters of all weren't the defeated Highlanders, but the Lowland Scots who helped defeat them.
This carpet-bagging reached a climax in 1822, with King George IV's trip to Edinburgh. His visit was stage-managed by Walter Scott, whose historical novels did much to create a globally romantic image of Scotland. Scott arranged a spectacular procession through the streets of Edinburgh, led by Highland chiefs in tartan. King George even had a portrait of himself wearing a kilt painted. Tartan was no longer threatening. Robbed of its seditious force, its rehabilitation (and disempowerment) was complete.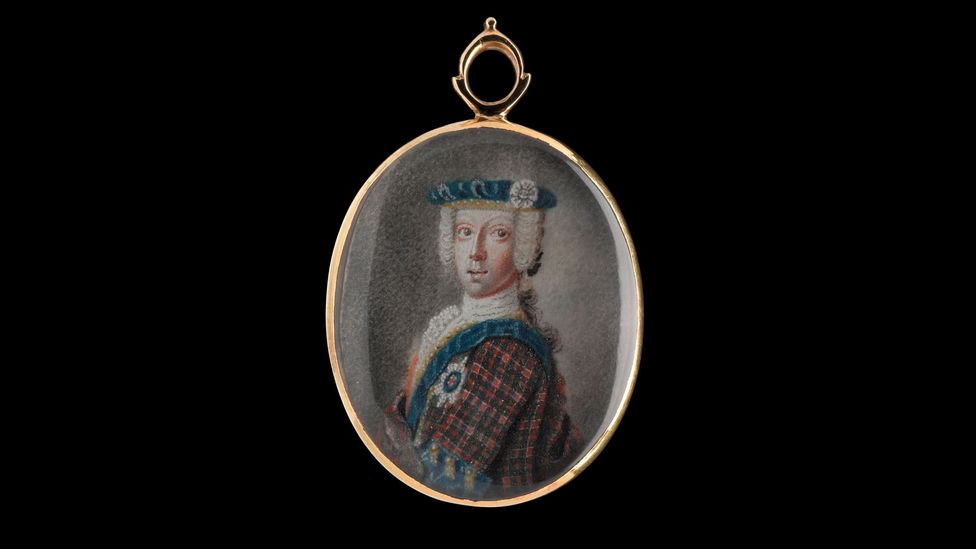 A locket depicting the prince in tartan is featured in an exhibition about Bonnie Prince Charlie and the Jacobites (Credit: National Gallery of Scotland)
Queen Victoria continued this royal appropriation, wearing tartan in official portraits on her annual visits to Balmoral. Scotland had been transformed from deadly foe to holiday destination. The country had become a brand, and tartan was integral to its new identity. Tartan now meant 'Made in Scotland,' adorning all sorts of tourist tat.
Out of cod mythology and canny marketing, a new national dress evolved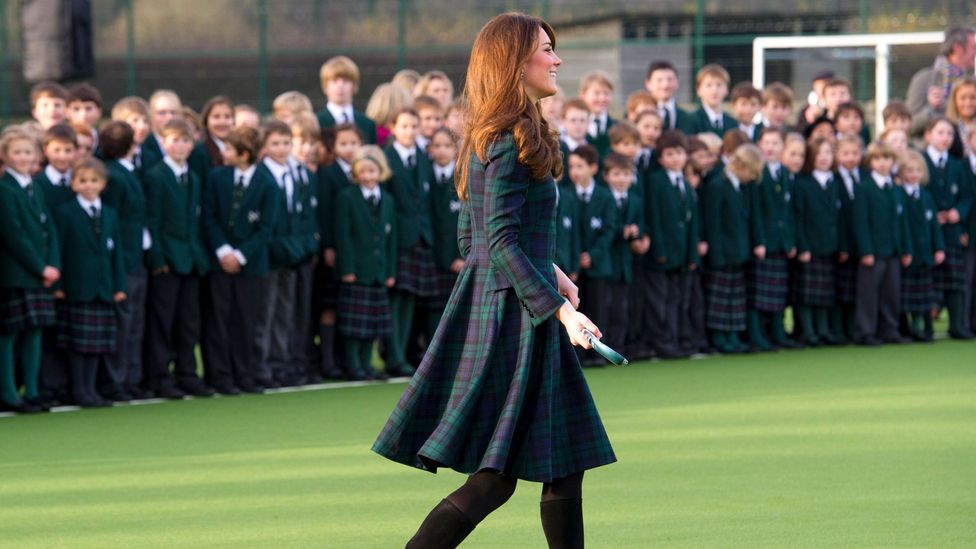 Catherine, Duchess of Cambridge wears a Black Watch tartan ensemble as she visits St Andrew's School in Berkshire (Credit: Arthur Edwards/WPA Pool/Getty Images)
Until the 19th Century there were only a few varieties of tartan, but now that tartan was so ubiquitous, every Scottish family wanted a tartan of their own. It was modern machinery, not ancient ancestry, which created the range of tartans we know today. Mechanisation enabled the production of countless variations, and mass production fed the appetite for a wider range of styles. A customer with a Scottish surname would choose a particular tartan, maybe one associated with a specific region, then when another customer with the same surname came along, the supplier would sell them the tartan that their namesake wore. "It's about commercial acumen," says David Forsyth, curator of Bonnie Prince Charlie and the Jacobites. Out of cod mythology and canny marketing, a new national dress evolved.
By the end of the 19th Century, tartan was very different from the Highland attire of the 18th Century. Machine-made rather than hand-woven, modern tartan was cheaper, and adaptable for all sorts of uses. It had become a badge of loyalty to Britain's Protestant supremacy, rather than a Highland fabric associated with the Catholic cause.
Rebel rebel
The British Empire made tartan international. Scottish regiments wore tartan, cementing its martial imagery, and British merchants exported tartan products across the globe. Tartan was exotic yet familiar, dangerous yet respectable. You could wear it as an outsider, or as a member of the status quo.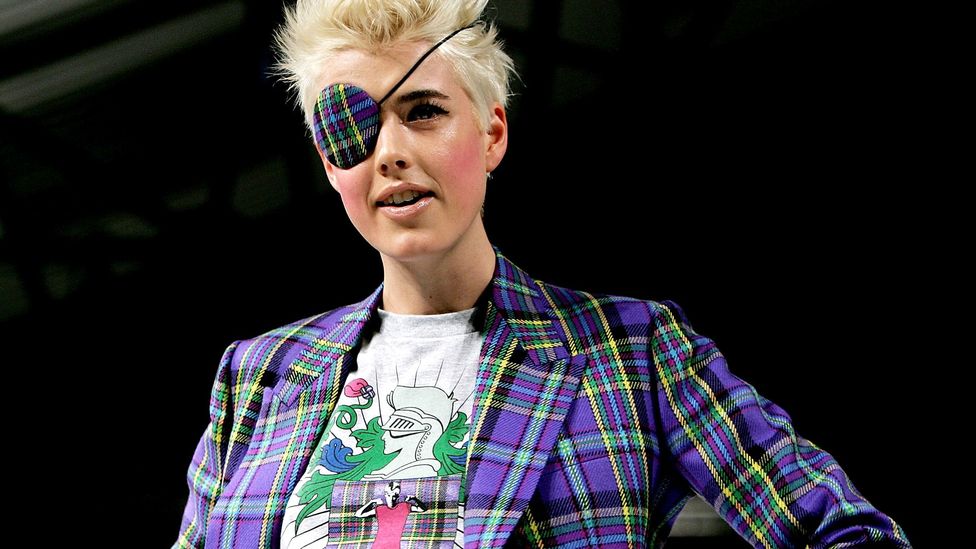 Model Agyness Deyn wears tartan by House of Holland, part of the brand's collection for the 2008 autumn/winter shows at London Fashion Week (Credit: Getty Images)
Despite the end of the British Empire, today tartan is bigger than ever, as British designers and fashionistas continue to spread tartan as inspiration around the world. With New Romantics in kilts and punk rockers in tartan bondage trousers, tartan has colonised youth culture. From Vivienne Westwood to Alexander McQueen, it has conquered both street fashion and haute couture.
Like all the best brands, it's a badge of rebellion and sophistication
It has also acquired a kitsch, kiss-me-quick appeal. The countless gift shops along Edinburgh's Royal Mile are festooned with tartan. The singer Rod Stewart wore tartan to bolster his Scots credentials (much like Bonnie Prince Charlie before him) and fiftysomething Scots still shudder at the memory of the Bay City Rollers, Scotland's first boy band, in their tartan flares.
"Uniform and costume have always been inspirational," says Fiona Joseph, fashion and beauty director at Condé Nast Traveller magazine. "It stretches across all of the fashion industry." Jonathan Anderson and Stella Tennant are two of the latest designers to drape their models in tartan, but it's not just a British fancy. Tartan is also beloved by iconic French fashion house Chanel.
You can see why they're so keen on it. Like all the best brands, it's a badge of rebellion and sophistication. "Tartan is so distinctive – it can be identified anywhere in the world," says Joseph. After all these years, Bonnie Prince Charlie's tartan frock coat is still the height of chic.
"History is written by the victors," says curator Forsyth, but victors have no need for icons. It's the losers who cultivate romantic myths, and the romantic costumes to go with them. That's why tartan became universal. Bonnie Prince Charlie lost the Battle of Culloden, but he won the fashion war.
Source: BBC.com