Dundee, Scotland's fourth-largest city and the United Kingdom's only UNESCO City of Design, is a place in the process of reinventing itself through engineering, design, and tourism. Dundee was once one of the world's great whaling ports and later, its jute manufacturing capital (think sandbags, burlap sacks). Today it's where some of the world's most popular video games—Grand Theft Auto, Lemmings, Minecraft are created. It's a small, walkable destination surprisingly rich in landmarks and attractions. And, because tourists do not yet overrun it, local people are friendly, helpful, and genuinely glad you've come.
Situated on the Tay estuary near the east coast of Scotland, Dundee's south-facing location makes it one of the sunniest places in the country. It's also conveniently close to Edinburgh, St. Andrews, and Cairngorms National Park. It's a terrific place for a short cultural break—with museums, galleries, historical attractions, tours, and great views to enjoy. Here are nine of the best things to do when you visit.
Explore the New V&A Dundee
The new Victoria and Albert Museum (V&A) opened in September 2018 as Scotland's first and only design museum and the first branch of the V&A outside of London. Located in the center of Dundee's quayside cultural district, the building, designed by Japanese architect Kengo Kuma is a showstopper. Inside there are two main gallery areas—one focused on Scottish design and the other a series of spaces for changing exhibitions. Don't miss Charles Rennie Mackintosh's Oak Room reassembled in the center of the Scottish Galleries. Designed for a Glasgow tea room, it's considered a prototype for the library at Glasgow School of Art, destroyed by fire in 2018, and a must-see for anyone interested in Mackintosh's Arts & Crafts style.
The V&A is free, except for special exhibitions. Facilities include a casual cafe and a stylish restaurant that's open for dinner. Both have, arguably, the best riverside restaurant views in the city.
Head for the Antarctic with Scott and Shackleton on the RSS Discovery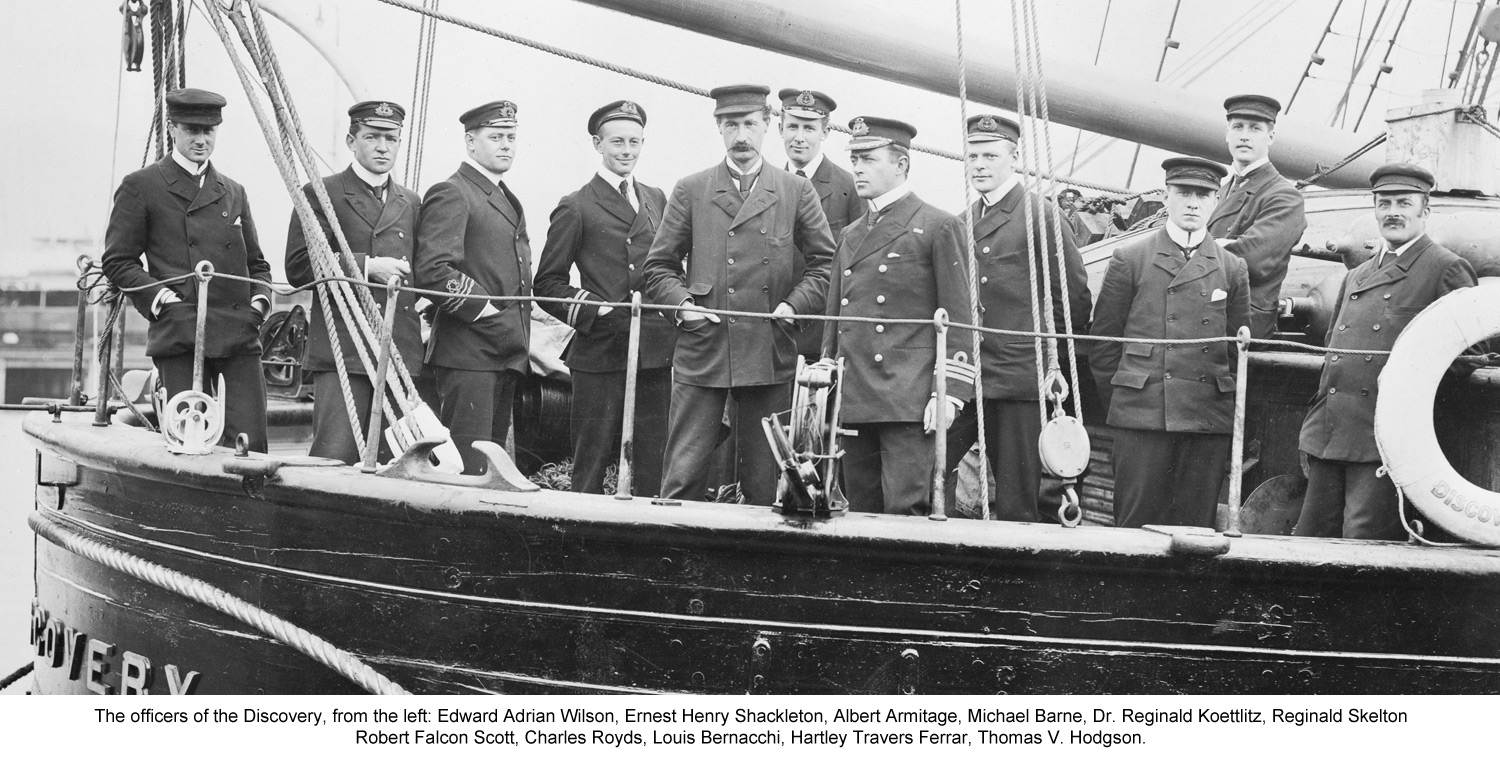 When Captain Robert Falcon Scott was preparing for his first voyage to the Antarctic, his expedition turned to the shipbuilders of Dundee. They'd been building the sturdy ships that Dundee whalers had used to chase their prey into the southern oceans for generations. The triple-hulled, bark-rigged auxiliary steamship Royal Research Ship (RRS) Discovery took Scott, along with fellow officer Ernest Shackleton, further south than any human being had ever ventured on a voyage that discovered the coastline of the Antarctic continent in 1902.
Now the ship is docked quayside in Dundee as part of the Discovery Point attraction that allows you to imagine following in the footsteps of the Antarctic explorers. Models, artifacts, films, and some chilly special effects set the scene before you venture onto the ship itself.
And if you are thinking of tying the knot in an extraordinary place, Discovery Point is licensed for both civil and religious wedding ceremonies—you can even have drinks on the deck.
While Away an Afternoon in The McManus
The McManus is Dundee's city museum. Its eight spacious galleries include two outstanding art galleries along with galleries devoted to local history, natural history, and Dundee's international role—stories gathered over centuries of trade, whaling, and textile manufacturing. If you're expecting a small, dusty local museum, you'll be pleasantly surprised. The McManus, revamped at the cost of more than 8 million pounds between 2005 and 2010, is well done and full of exciting things to see. There's also a sunny, casual and inexpensive café with excellent food. The museum itself is free.
In case it looks a bit familiar, the architect, Sir George Gilbert Scott, who designed this as a memorial to Prince Albert in the mid 19th century, also designed London's Albert Memorial and St. Pancras Hotel.
Tour in Luxury Aboard Henry the Vintage Coach
Henry is a vintage-style coach that's fitted out inside like a Scottish baron's private den with tartan carpets and comfy tartan upholstered swivel chairs. Board for a two-hour overview tour of Dundee and nearby Broughty Ferry, the city's seaside resort and site of the castle pictured here. Riding along with Henry's personable tour guide, you'll discover the kind of insider information (like where to taste the best Dundee cakes) that you won't find in guidebooks and websites. With only eight people on board, it's a bit like being taken around a city by a friend who happens to be a native. Daily public tours leave from Discovery Point, and booking is essential.
Challenge Yourself at Dundee Contemporary Arts

With two spacious galleries, two cinemas, and a range of events and workshops, there is always something exciting and ahead of the curve going on at this internationally recognized city center contemporary art establishment. Celebrating its 20th anniversary in 2019, it bills itself as a place to "see, experience, and create." If seeing and experiencing is not enough, you can get your hands dirty and create in the DCA's well equipped Print Studio. Courses include some tasters, weekend courses and drop-in sessions, with staff on hand to offer technical assistance. Downloadable leaflets on the website describe equipment, classes, and fees. And while you are there, sample what's on offer at the DCA's Jute Cafe Bar, a popular spot—with surprisingly good food—for drinks and meals throughout the day and into the evening.
Experience the Sights and Sounds of Verdant Works
At the height of jute production in Dundee, at least 150 mills were engaged in turning this tough plant fiber, imported from the far reaches of the British Empire, into a fabric—burlap for sandbag and potato sacks, hessian for wall coverings and upholstery. From the mid 19th century to about 1900, it was a vast and surprisingly little known Scottish industry. It continued, at a reduced scale, into the 1960s.
At Verdant Works, the Dundee Heritage Trust brings together the operations of several factories into one former jute mill for a remarkably exciting attraction. There you can experience the processes, from softening the plant fiber with whale oil (from another old Dundee industry) to making the yarn and ultimately weaving the fabric. Volunteers along the way, many of whom worked in the industry, explain their jobs, briefly turn on the incredibly noisy machinery, and answer your questions. Lily Thomson, pictured here, worked as a weaver and shares jaw-dropping memories while she demonstrates her machine. Amongst the highlights is a genuine, functioning Boulton Watt steam engine (restored and powered by electricity now). You may remember James Watt from your school days as the inventor of the steam engine.
Verdant Works has a small café and a shop selling products made from jute.
Climb a Medieval Tower
The Old Steeple, also confusingly known as St. Mary's Steeple (though not actually part of St. Mary's Church), is the oldest building in Dundee, dating back to 1490 at least. It has served as a belfry, a clock tower, and even a prison.
Climbing the 232 steps to the top (at 165 feet) is easier than you might imagine as there are rooms to stop off an explore along the way, including the antiquities room, the bell ringers room, the clock mechanism, the bell rooms, and the "cap" house at the top.
Access is only by guided tour with the personable and well informed Louise and Stewart of DD Tours, the only guides currently licensed to take visitors up the tower. The journey is not suitable for children younger than eight, and children under 16 must be accompanied by an adult. Comfortable shoes are recommended.
See the World from the Perspective of The Law
Law is a Scots Gaelic word for hill, and The Law, topped by a small war memorial, is the highest point in Dundee. The 360-degree views from up there are pretty impressive, taking in a broad stretch of the Tay estuary, the sinuous Tay Rail Bridge, and the docks where oil platforms from the North Sea oil industry wait to be repaired or decommissioned. There's an orientation table at the very top to help you identify what you're seeing. If you like an uphill hike, there's a signposted, one-mile route from City Square to the top of the Law, rated moderate to easy, that should take you about 40 minutes. And once on the hill, there's a geocaching route that families will enjoy. Several city buses stop close to the start of the circular path up the Law. Or you can be completely lazy and take a tour on Henry, the vintage coach mentioned above. It makes a stop on top of the hill long enough for a good look around and to take some pictures.
Stargaze from a Unique Observatory
Mills Observatory on Balgay Hill, on the eastern edge of Dundee, was the U.K.'s first purpose-built public observatory. Anyone can visit to gaze at the stars and planets through the Mills telescopes for free. It's open from April to September on selected dates with staff on hand to help and a series of special programs and events. Planetarium shows are scheduled on Saturdays from October through March. They have to be booked but must be one of the areas best bargains, costing only a pound for adults and 50 pence for children.
Source: tripsavvy.com