Even if you're not a birder, you won't want to miss the chance to see puffins in Newfoundland and Labrador when you visit Canada's easternmost province.
Why?
Well, because they are the province's official bird, of course.
Or more likely because they are undeniably cute and will give you a good dose of the warm fuzzies. When it comes to our feathered friends, we humans suddenly can't seem to resist traits like "pudgy and squat" and "walks like a clown".
Here is the lowdown on where to see puffins in Newfoundland and the best time to see them, along with some other fun facts about puffins. I've also included options if you want to take one of the puffin tours in Newfoundland.
When to see puffins in Newfoundland
Puffins are migratory sea birds and spend most of their lives on their own at sea feeding, swimming, and going places.
But in the spring and summer, puffins gather in colonies on coasts and islands of the North Atlantic ocean to breed. The puffins get all dressed up for the affair. In the winter, their beaks are grey, but in the spring, they turn a flashy orange color. Fortunately for us, this makes them all the more photogenic.
The best time to see puffins in Newfoundland is from mid-May to mid-September.
Where to see puffins in Newfoundland
Elliston Point, Newfoundland
Puffins set up their summer homes on rocky islands along the coast, away from potential land predators.
Among the best places to see puffins in Newfoundland are the four islands that make up the Witless Bay Ecological Reserve near the Avalon Peninsula. Puffins on these islands, however, can only be viewed from the water by boat. For Newfoundland puffin tours in Witless Bay, check out O'Brien's Boat Tours.
One of the closest and most popular land-viewing sites is Elliston Point on the Bonavista Peninsula. You can park at a nearby lighthouse and take a five-minute walk along a path to the viewing area. From here, you can see puffins flying overhead and returning to their colony on a rocky outcrop in the ocean a short distance away.
If you want to find a few of the more secluded puffin hangouts in the Bonavista area — places not yet discovered by tourists — I recommend a puffin tour with Bonavista Adventure Tours. Local tour guide, Bonnie and I went for a morning hike along this splendid landscape and, other than plenty of puffins, there was no one else around.
What to watch for
Puffins make a cozy home for themselves while they are starting a family on land. If you look closely using binoculars, you will see that they dig burrows on grassy cliffs and in rocky crevices. Inside, they build a nest, lined with feathers, where the female will lay one egg. Both parents take turns incubating the egg and, after about 45 days, a "puffling" is born.
Puffin romance
For puffin couples, it's a "same time next year" kind of thing. Puffins usually mate for life. They meet their matches at sea and then return together to the same place every year.
Before they nest, they perform a courtship ceremony where they rub their beaks together. Puffins, it seems, are romantics at heart, maybe one of the many reasons we find them so endearing.
Puffins in flight
It's fun to watch the adult puffins hunt for fish to feed the family, but it's not easy to keep your eyes (or your camera lens) on them. Puffins are fast, flapping their wings up to 400 times a minute and zooming through the air at speeds of up to 88 kilometers an hour. (55 mph).
They're also good swimmers, using their feet as a rudder to dive underwater to catch their favorite fish, usually sand eels, herring, or capelin. Puffins can carry much fish at once due to serrations on the inside of the mouths. Again, you'll need your binoculars to see the puffins bring home their fast food.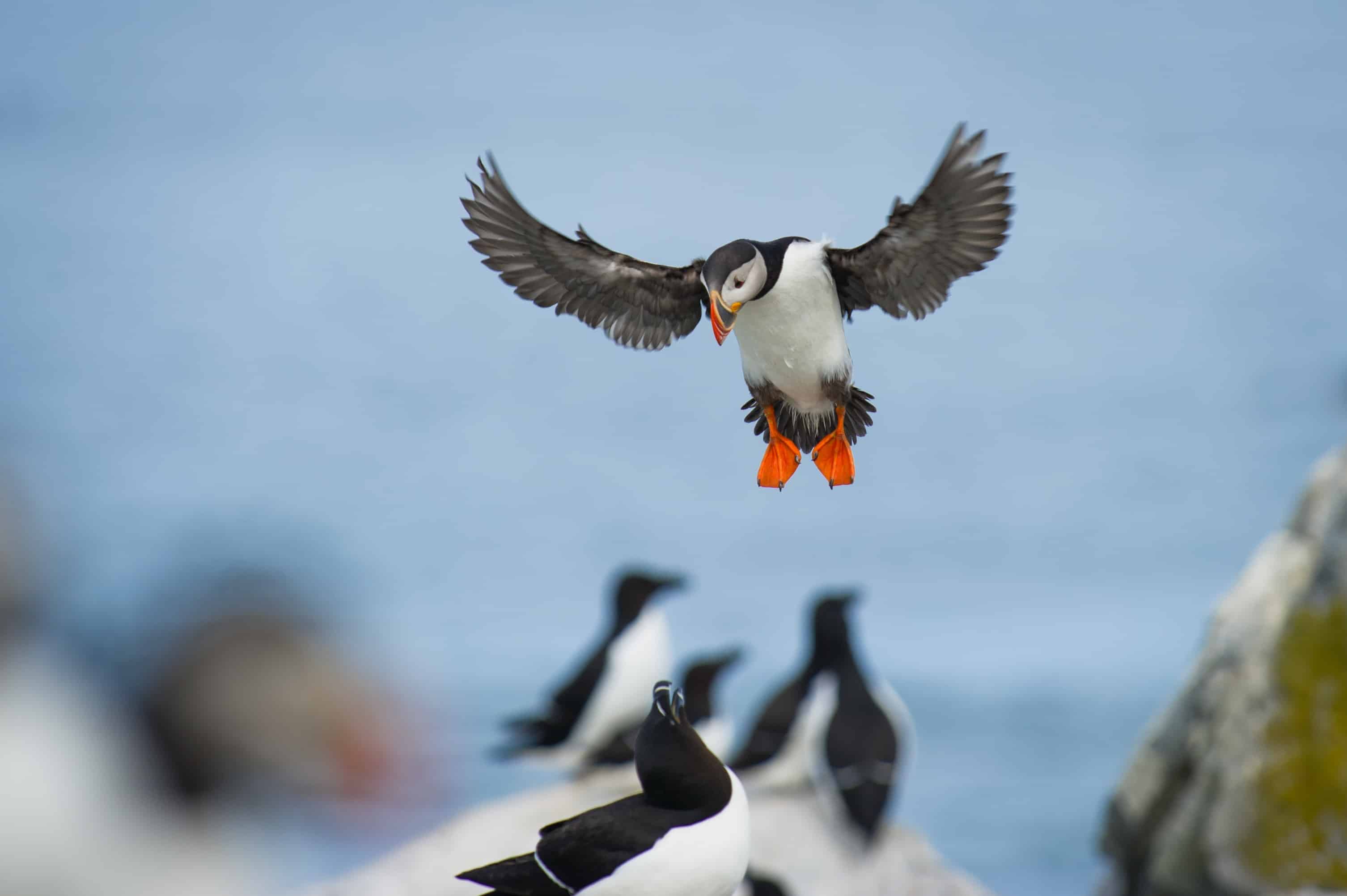 What to take with you
As mentioned, to get a good look at the puffins, you'll need binoculars (Bonnie from Bonavista Adventure Tours brought some along.) Or check out this review of outdoor accessories like binoculars.
You'll also need a zoom lens for your camera (300 mm is ideal). See these zoom lens options. Once in a while, the puffins might come closer to you, but it's not something you can count on.
In Newfoundland, you should always be prepared for variable weather and, although it wasn't an issue when I visited the puffins, a strong bug spray is always a good idea. (See Ben's 100% Deet Tick Mosquito Insect & Bug Repellent 3.4 Ounce Oz Pump Spray (2 Pack).)
What about those hobbit houses?
If you go to see the puffins in the Elliston area, you may think you're also seeing little hobbit houses built into the sides of small hills.
In fact, as Bonnie pointed out, Elliston is the root cellar capital of the world. These are traditional storage systems for food, built before the days of electricity. Used mainly for root vegetables, like potatoes and carrots, the "in-ground" storage keeps things cool in the summer and prevents freezing in the winter.
Some of them are still in use, while others are being restored as a record of the community's history. They are an integral part of the local life, just like the craggy shores and those adorable little puffins that come to visit every spring and summer.
By travelblissnow