In 2007 the new Seven Wonders of the World were announced. They represented both natural and man-made wonders that one would imagine being on the list (see below). At the same time, Portugal embarked on naming its most iconic monuments. This original list began with an impressive 793 then diminished to 21 finalists and eventually, the lucky 7 were chosen. There is a reason many of these wonders are UNESCO World Heritage Sites. They are historical, beautiful and national treasures. If you are wondering which are the Seven Wonders of Portugal, wonder no longer.
The 7 New Wonders of the World were officially named in 2007. These are all man-made structures or monuments and are located throughout the globe. They are: Chichen Itza in Mexico, Christ the Redeemer in Brazil, Great Wall of China, Machu Picchu in Peru, Petra in Jordan, the Taj Mahal in India, and Colosseum in Italy.
Last year on our trip to Spain and Portugal, we were lucky enough to see six of the seven Wonders of Portugal. Had I known at the time, I would have made an effort to see the Castle of Guimarães just north of Porto. But alas, we spent most of our time on the coast in central Portugal. The other six monuments are all within a two hour drive from Lisbon and can be easy day trips for any traveler visiting Portugal.
During this time, you must check individual websites to see if these monuments are open for viewing. As a quick tip, you can buy a pass for Convent of Christ in Tomar, the Monastery of Batalha and the Monastery of Alcobaça. Individual tickets are €6 or purchase a combined ticket/Heritage Route Pass for €15. We began our tour of the Seven Wonders of Portugal in Lisbon, capital of Portugal.
Belém Tower, 1521 – Santa Maria de Belém, Lisbon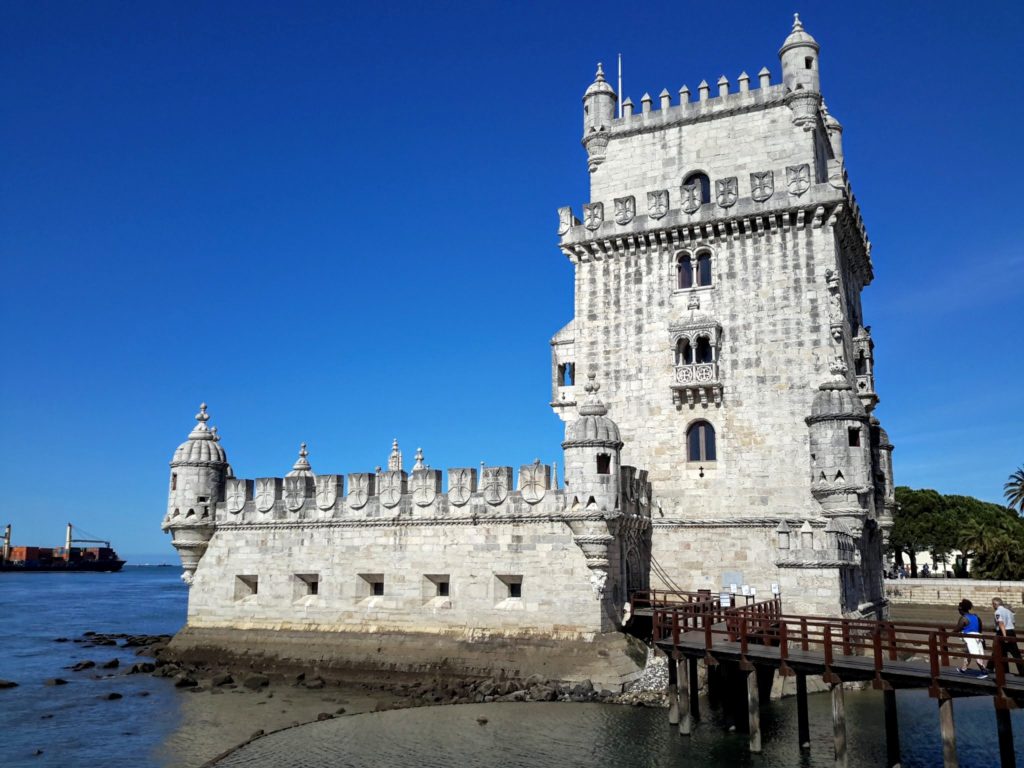 Belém Tower
Located in Lisbon, the Belém Tower, also known as St. Vincent Tower is the gateway to Lisbon and served as a point of embarkation and disembarkation for Portugal. From here many Portuguese explorers left to conquer the world. It is often portrayed as a symbol of Europe's Age of Discoveries or Age of Exploration when the old world discovered the new – and then some. Just beside the tower, is the beautiful and imposing Monument to the Discoveries – Padrão dos Descobrimentos (see image below)- dedicated to all those explorers. It represents a three-sailed ship ready to depart, with sculptures of important historical figures.
Jerónimos Monastery, 1502 – Santa Maria de Belém, Lisbon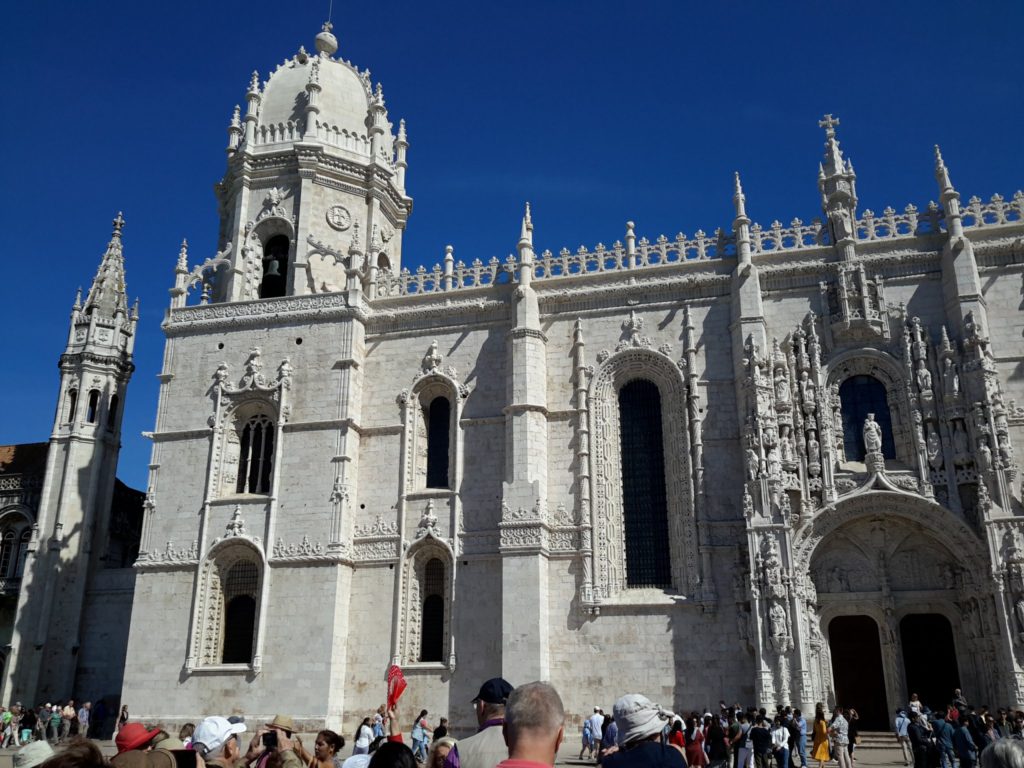 Jerónimos Monastery
Across the street, you will find the beautiful Jerónimos Monastery built in the stunning Portuguese Manueline style. Also considered Portuguese late Gothic style, Manueline architecture incorporates maritime elements (coral, barnacles, carved seaweed and algae) and representations of the discoveries brought from the voyages of Vasco da Gama and Pedro Álvares Cabral.
The Jerónimos Monastery replaced the church formerly existing in the same place, which was dedicated to Santa Maria de Belém and where the monks of the military-religious Order of Christ provided assistance to seafarers in transit. Built from taxes imposed from the import of spices, this financed both St. Jerónimos and Batalha Monasteries (see below).
Pena National Palace, 1838 – Sintra, Lisbon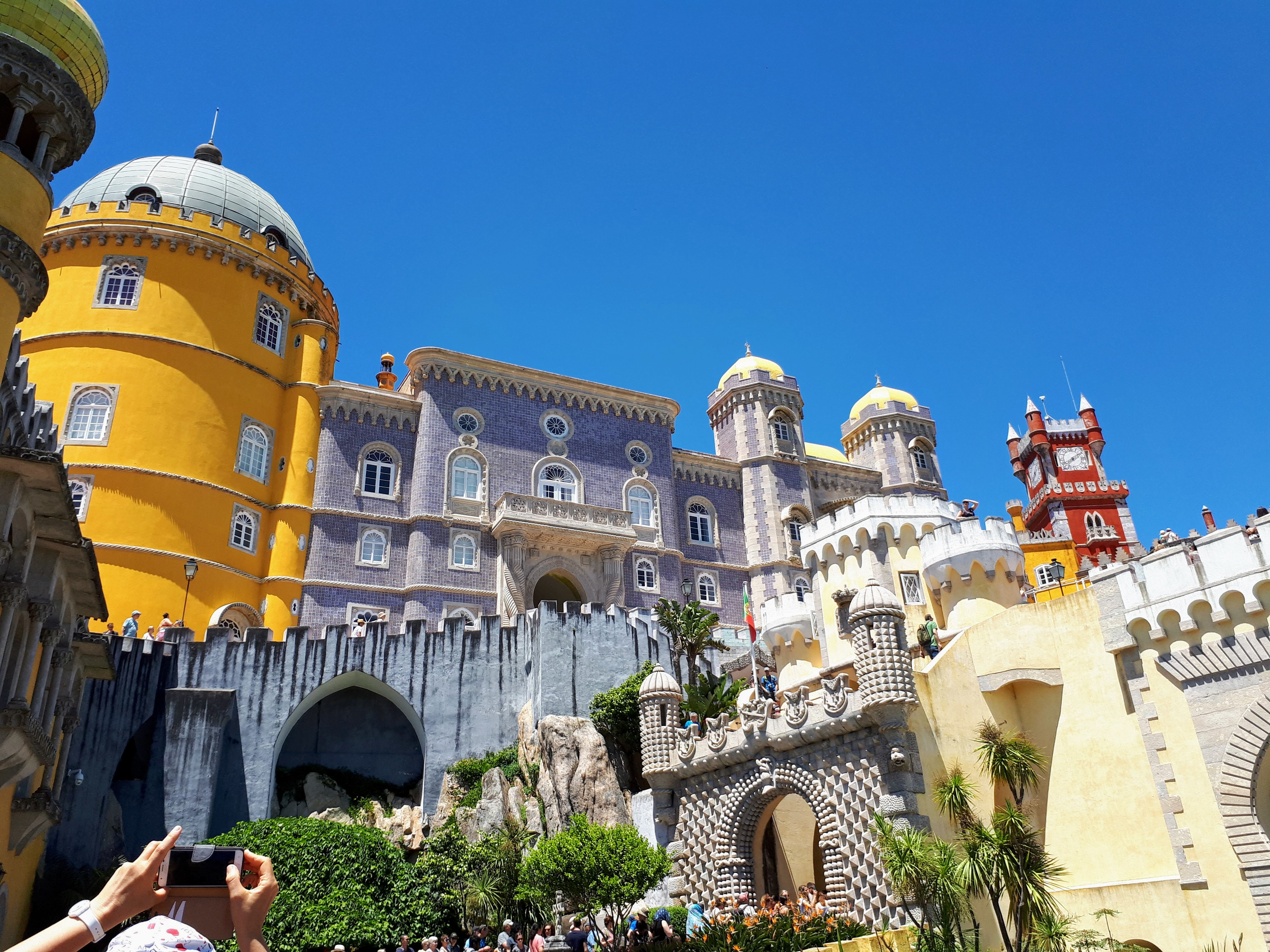 Pena Palace in Sintra, Portugal
Designated a World Heritage Site in 1995, originally built as a church – Our Lady of Pena – after an apparition of the Virgin Mary, a monastery was commissioned by King Manuel I. Following the devastating 1755 earthquake, Pena Palace was rebuilt by King consort Ferdinand II as a summer palace for the royal family. Construction started in 1840 and would take 45 years to complete – the rest of the King's life. With the declaration of the Republic in 1910, the palace became a museum, preserved as it was when the royal family lived there. The last Portuguese royal d.i.e.d in 1932 after his e.x.i.l.e. Having no heirs, the royal line ended with King Manuel II.
Pena Palace sits atop a mountain and is one of the most popular tourist attractions in Portugal. We drove up to the Palace but in my opinion, it's likely better to catch a bus in Sintra or on an organized tour. We were very fortunate to find a parking spot though the drive up was on a steep, narrow winding road. Although you will encounter many tourist climbing, biking, busing, driving and even walking up to the summit, it is worth the trek so I recommend it highly.
Óbidos Castle, 1195 – Óbidos, Leiria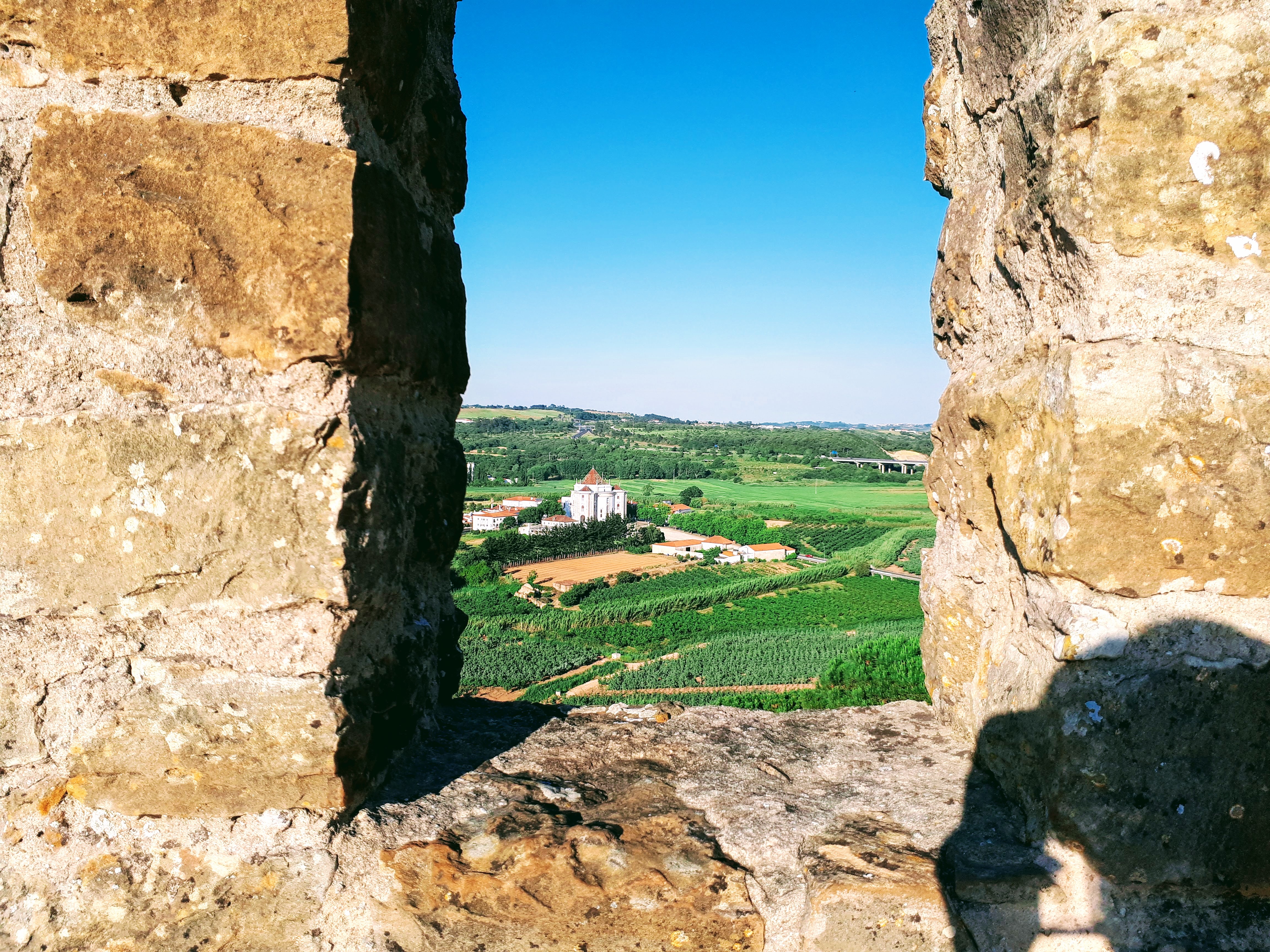 View from Óbidos Castle to Santuário do Senhor Jesus da Pedra
On our trip to Spain and Portugal, my mother, sister and I all had the time to relax and slow-travel. We had the luxury of deciding on that particular day where we wanted to go. It was the joy of discovery. ⁠
We found ourselves is the tiny town of Óbidos in Portugal located an hour north of Lisbon. Óbidos is located on a hilltop, encircled by a fortified wall.
Just outside is a medieval aqueduct but there are structural remains dating back to the Romans and Visigoths. Later on The Moors took hold and continue the fortification of this town. ⁠
You enter through a portal into cobblestone streets only accessible on foot. With adorable shops, a church and cafés you will eventually see the massive castle behind the fortress walls. The large, stone fortress is unlike other Portuguese monuments as it has been converted into a luxury hotel.
We continued walking the cobblestone streets past the castle and arrived at the ramparts. They hold festivals, markets and theatre productions in the open air theatre area. What struck us was the view from the ramparts of the terraced valley below. You can walk on the ramparts but be sure to show caution. Climbing onto the ramparts were not for the faint of heart as there are no guardrails to keep you from falling but still worth the view.
Although Óbidos Castle is not a World Heritage Site in Portugal, Óbidos – the city is a UNESCO City of Literature. Part of the UNESCO Creative Cities Network, the goal is to establish international partnerships in creative industries. Creative Cities was created to promote culture and art by showcasing creative communities.
Batalha Monastery, 1385 – Batalha, Leiria
Monastery of Santa Maria da Vitória, also known as the Monastery of Batalha
The Monastery of Santa Maria da Vitória, also known as the Monastery of Batalha is without a doubt one of the most beautiful examples of Portuguese and European architecture.
This dazzling architectural ensemble was born out of a promise the King, João I, made in thanks for his victory at Aljubarrota, a battle fought on August 14, 1385. The victory assured him the throne and guaranteed independence for Portugal.
The construction of the monastery took over 150 years, across various phases. This is the reason why one can find both Gothic style (for the most part), Manueline style and some renaissance touches. This is a huge monastery with a number of alterations resulting in a vast monastic complex that today includes a church, two cloisters with annexed dependencies and two royal pantheons, the Founder's Chapel and the Unfinished Chapels.
In the Dominican monk's possession until the extinction of the religious orders in 1384, the monument was then incorporated within the Public Exchequer, and today it is a cultural, touristic and devotional Monument under the jurisdiction of IGESPAR, national Monument also declared World Heritage in Portugal by UNESCO, in 1983.
Alcobaça Monastery, 1153 – Alcobaça, Leiria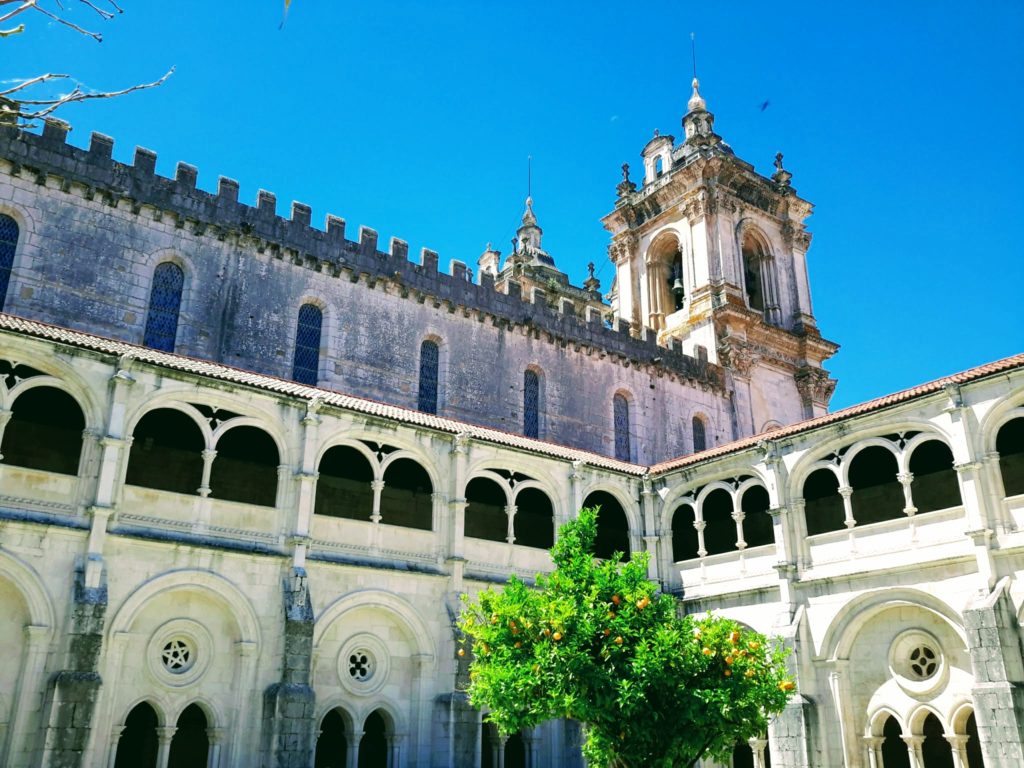 Alcobaça Monastery
The complex of Alcobaça Monastery is one of the most notable and best-conserved examples of Cistercian architecture and spatial philosophy. It became a UNESCO World Heritage Site of Portugal in 1989.
Alcobaça was the last abbey founded in St. Bernard's lifetime and the first wholly Gothic building in Portugal. The abbey was founded in 1153, when King Afonso Henriques donated the land to Bernard of Clairvaux (St. Bernard). These monks were reformers and broke away from the Benedictines as they sought to return to an agricultural and labour focused life.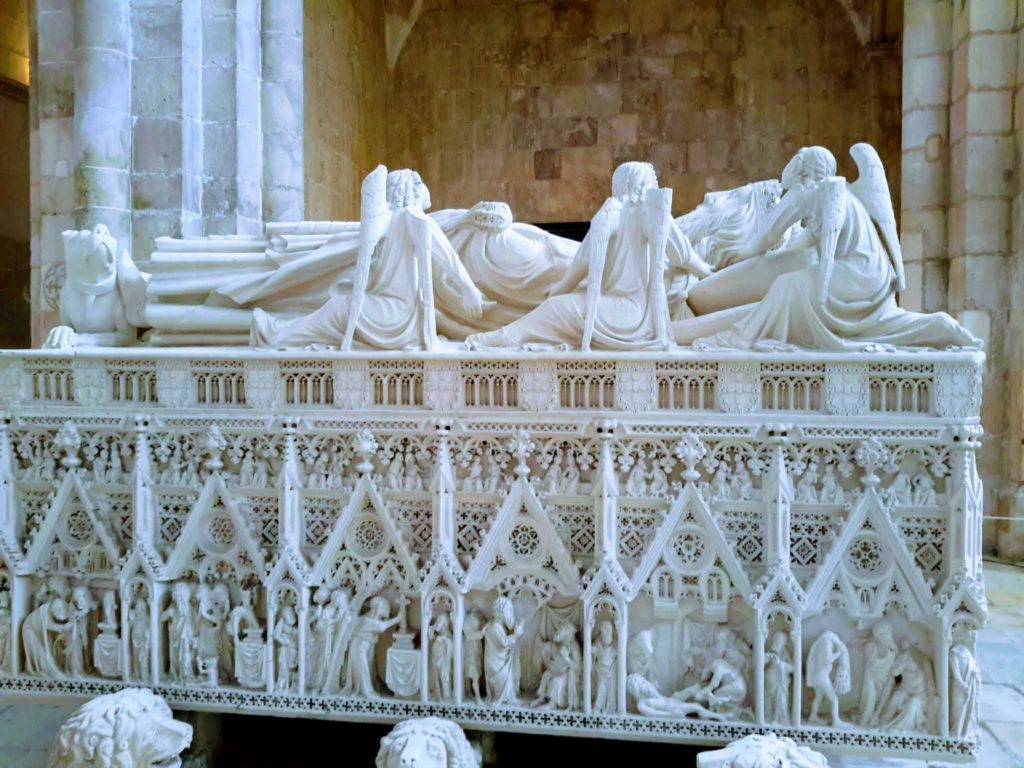 Tomb of King Pedro
Construction work on the building as we see it today only began in 1178 and lasted several decades. The church, 100 metres in length, is the largest Gothic religious structure in Portugal.
Ines de Castro
Don't miss: the tombs of King Pedro I and his mistress (and Queen – a title granted to her posthumously) Ines de Castro. Once King Pedro's first wife died giving birth, he then lived openly with his mistress Ines de Castro. After many years and three children, Pedro's father King Alfonso IV had Ines m.u.r.d.e.r.e.d. Once Pedro succeeded his father to the throne, he had the m.u.r.d.e.r.s k.i.l.l.e.d and his beloved exhumed and crowned Queen p.o.s.t.h.u.m.o.u.s.l.y.
Castle of Guimarães, 10th century – Guimarães, Braga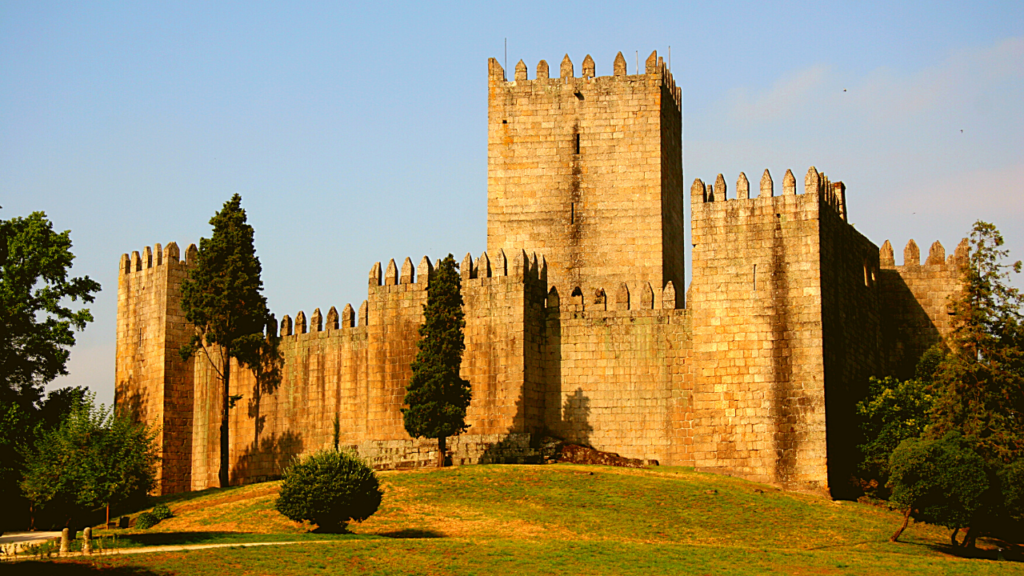 Castle of Guimarães
Castle of Guimarães is the only site we did not see on our trip and I think that means we will just have to return. One of the best things is that you can take a virtual tour of the castle. If there is positive about this world pandemic is that there are many monuments, cities and UNESCO World Heritage sites which have developed virtual tours.
The Castle of Guimarães is the principal medieval castle in the municipality Guimarães, in the northern region of Portugal. It was built under the orders of Mumadona Dias in the 10th century to defend the monastery from attacks by Moors and Norsemen.
The castle is a military fortification grounded primarily in the late Romanesque period, and elaborated during the early Gothic epoch of Portuguese architecture. Its area is delineated by walls forming a pentagram, similar to a shield, that includes eight rectangular towers, military square and central keep.
Originating in the foundations of a Roman structure, from the writings of Alfredo Guimarães, it was later elaborated on the French model, in its current form of a shield, with reduced central yard and difficult accesses. It includes several Gothic characteristics, owing to its remodelling in the end of the 13th century when the keep and residences were constructed (possibly over pre-existing structures). (Notations from Wikipedia).
By: www.downshiftingpro.com