Australia is the sixth largest country in the world, mostly famous for its vast beaches. It is a very popular tourist destination south of the equator, especially during European winters – summer begins in December, and it is the perfect place to escape freezing colds.
The country is popular for quite a lot of things, including famous buildings and people, natural wonders and unique animal species. And I will try to cover the most important stuff.
So, keep reading to find out exactly what Australia is famous for worldwide!
1. Sydney Opera House
Sydney Opera House is the most iconic sight in the country, and definitely something you've heard of. The performance arts center is famous for its spherical-sectioned shells, which attract millions of tourists each year. In fact, the UNESCO World Heritage Site is one of the most visited tourist attractions in Australia, and one of the most distinct buildings of the 20th century.
As the name suggests, the famous building is located in the Sydney Harbour. It occupies the whole of Bennelong Point, a former island in the Sydney Harbour.
The building was designed by Danish architect Jørn Utzon, and first opened in October 1973. The construction of the Sydney Opera House laster for some 15 years, and the original architect eventually resigned. Which is one of the reasons why it is often overlooked that the Opera House was built according to his design plans.
2. Bondi Beach
Bondi Beach is a beach and the surrounding suburb east of Sydney. It is one of the most visited tourist locations in Australia, famous for the azure water, sand and beautiful rocks. It is featured on pretty much everything about Australia, from postcards to TV shows.
Another reason why Bondi Beach is so popular is its proximity to Sydney CBD – the main financial and economic center of the country.
Bondi Beach is also an excellent surfing spot, and the waves are suitable for all skill levels. Whether you're a pro or just learning, you will be able to have some fun and ride the waves at Bondi.
In 2007, Bondi Beach was the home of a world-record-breaking event – more than 1000 Australian women put on free bikinis for a group photograph, which eventually landed them in the Guinness Book of World Records.
3. The Great Barrier Reef
The Great Barrier Reef is a one of the seven wonders of the natural world and one of Australia's most famous natural attractions. It features the world's largest coral reef system, with over 2,900 individual reefs and 900 islands.
It is located off the coast of Queensland, in the Coral Sea. The Great Barrier Reef stretches over an area of some 344,400 square kilometers, and it can be seen from space.
The world's largest reef is so popular that Google even launched an underwater street view for it. You can explore amazing 360 panoramic photographs, and see what exactly all the fuss is about.
But what exactly can you do here? Well, quite a lot of things actually. You can go sailing through the Whitsundays islands, which is one of the most popular things here. And you can also stay in the island resorts, as well as go diving and exploring the amazing marine life. Another really popular activity is a seaplane ride over Heart Reef, which offers some of the most stunning views of your life.
4. Sydney Harbour Bridge
Sydney Harbour Bridge is perhaps the one thing that Australia is absolutely associated with. The through arch bridge connects Sydney CBD with the North Shore, and carries foot, rail, car and bicycle traffic between the two areas. And it is considered an Australian National Heritage, along with the Opera House and other prominent spots in the country.
The view of the bridge with the Sydney Opera house is an iconic symbol not just of the city, but also of the entire country. And if you want to have a truly unique experience, you can actually climb the bridge – at 134 meters above sea level, the view is unlike anything you've experienced before.
The design of this iconic bridge was actually influenced by New York's Hell Gate Bridge – the similarities are obvious. It is also nicknamed The Coathanger, due to its arch-based design.
5. Uluru-Kata Tjuta National Park
Uluru-Kata Tjuta National Park is a UNESCO World Heritage Site in Australia's Northern Territory. It is named after the two most famous attractions there – Uluru and Kata Tjuta.
Uluru is the great stone monolith, which is estimated to be some 600 million years old. It is one of the most famous sights in the country, and the most popular attraction in the Outback. At its highest point, Uluru is 348 meters tall – for reference, the Eiffel Tower is only 324 meters tall.
Katja Tuta is a group of dome-shaped rock formations, fairly close to Uluru. It is made up of 36 domes, and the highest one is Mount Olga, which rises 546 meters above sea level.
There are lots of other things you can do in this national park other than admiring the beauty of nature's creations. Other popular activities include birdwatching, trekking, exploring rock art and visiting the local galleries.
6. Blue Mountains National Park
Blue Mountains National Park is famous for the Three Sisters in Katoomba – the iconic rock formations above the Jamison Valley. This area of the park is by far the most popular, and not just for the iconic rocks. It also features stunning views, waterfalls and some amazing walks.
Apart from Katoomba, there are five other areas in the park. The Blackheath area is a close second, with stunning views from the cliff tops. It is also pretty popular for mountain biking routes, and some seriously challenging hiking trails.
The Glenbrook area is famous for the natural swimming spots, Aboriginal rock art and mountain biking. The remaining areas of the Blue Mountains National Park are Lower Grose Valley area, Mount Wilson area and Southern Blue Mountains area.
7. The Great Ocean Road & Other Epic Road Trips
The Great Ocean Road is a 243-kilometer stretch of road on the south-eastern Australian coast. It is considered an Australian National Heritage and a pretty popular tourist attraction in the area. This is also the world's largest war memorial – the road was built by returned soldiers, and it is dedicated to soldiers who died during the First World War.
But the Great Ocean Road is not the only epic road trip in the country. In fact, that's one of the things Australia is famous for – road trips with amazing views of its stunning coastline.
The Big Lap is considered to be the best and most demanding of all Australian road trips – it follows 15,000 kilometers of Highway One, and it is pretty much circumnavigation of the country. This road trip would take you several months to complete, but would definitely be one of the most memorable experiences of your entire life.
8. The Aboriginal Culture
Aboriginal Australians are the indigenous people of mainland Australia, Tasmania and the Tiwi Islands. Nowadays, they comprise only 3.1% of the country's population, but there are many of them that live in various parts of the world.
They are known for their specific culture, which includes indigenous music and arts. The most commonly used instrument by Aborigines is the didgeridoo – a wooden trumpet pipe, classified as a brass aerophone.
Aborigines are particularly known for their rock carvings, which are most often found in areas around Sydney. They are also known as Sydney rock art, whose their locations are not normally publicised, to avoid vandalism.
9. Surfing
Australia is famous for being one of the world's best surfing destinations. The sport is an important part of the lifestyle of Australian people, and very popular with tourists who visit. But it is not something you can do in every part of the country – due to coral reefs that subdue waves, surfing is not possible in the Northern Territory.
As a result of the sport's popularity, several surfing tournaments are held annually. The most famous ones are Men's Samsung Galaxy Championship Tour, Quiksilver Pro Gold Coast and Rip Curl Pro Bells Beach. But you don't have to be a pro to try your hand at this sport – you can learn to surf on most beaches around Sydney and the Gold Coast, and for a pretty low fee.
Australia is also the leading country in design of surfboards, with several corporate giants. The most prominent brands that design and manufacture surfboards are Billabong, Rip Curl and Quiksilver.
10. Koalas & Kangaroos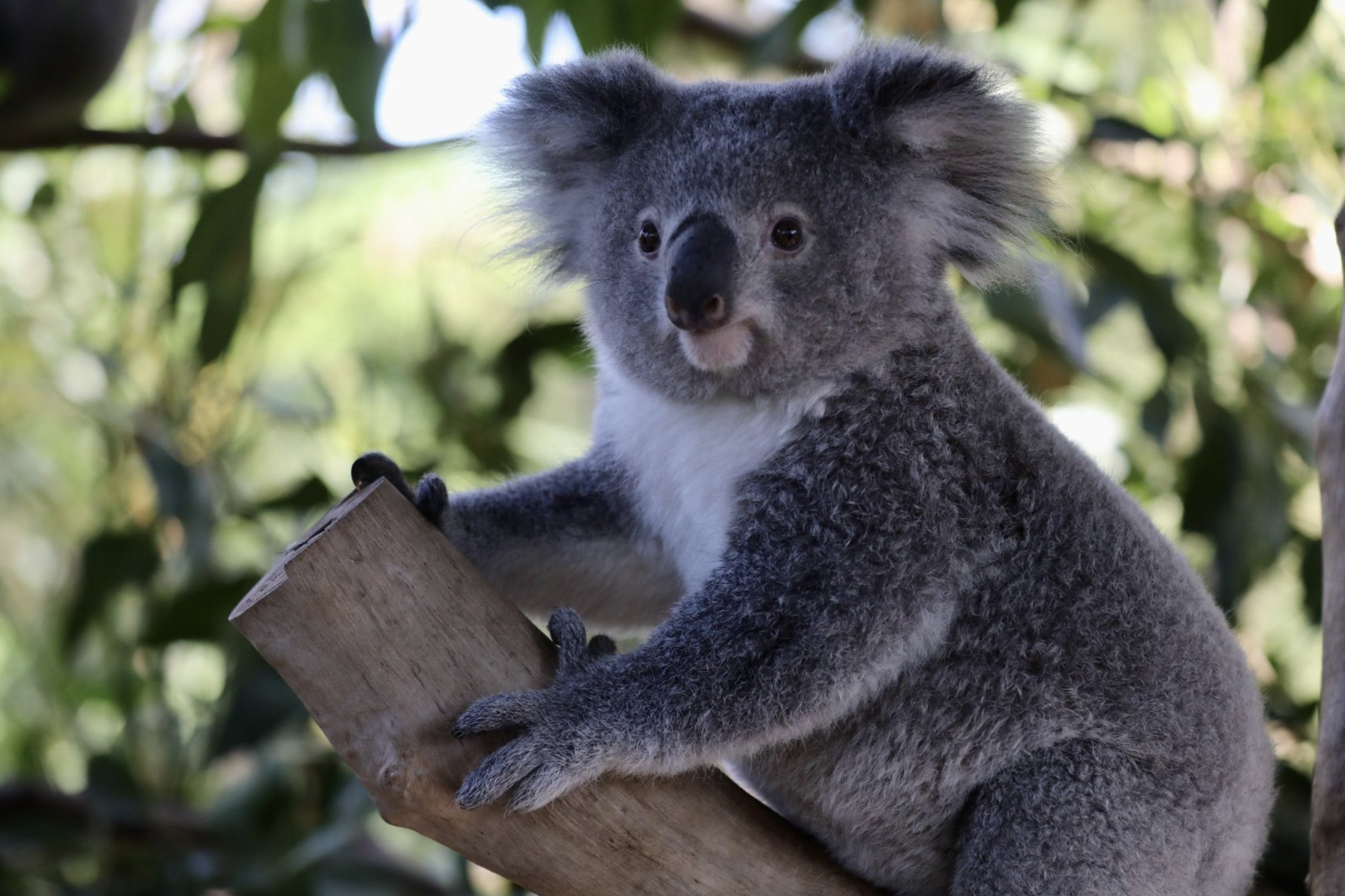 Australia is famous worldwide for two species of animals – koalas and kangaroos. In fact, the kangaroo is the national animal of the country, and featured on its coat of arms, along with an emu.
Koalas are often dubbed bears, but they are actually not – they are marsupials, just like kangaroos. Koalas are adorable little creatures that sleep between 18 and 22 hours each day, and have an average lifespan of about 10 years.
Even though you cannot legally have a koala as a pet, you can adopt one online, especially at the Port Macquarie Koala Hospital. You can't keep them in your home, but you can visit them whenever you want, and you will get a personalized adoption certificate. The monthly adoption fee is basically a donation, which goes towards saving koalas in the wilderness.
Of course, in suburbia, like Melbourne or Sydney, you are more likely to see Aussies walking their dogs, with one of the most popular right now being the cross-bred Cavoodle!
11. Mad Max
The original Mad Max movie was both set and produced in Australia. Even though the initial reception was polarizing, it soon gained a cult following, which eventually warranted several sequels.
There are a total of four films in this post apocalyptic action series – the first three premiered in the late seventies and early eighties, while the last one premiered quite recently. Mad Max Fury Road is the most recent instalment in the series, and it is a joint American-Australian venture. It was filmed across both continents, and it is considered one of the best live-action films of the 21st century.
12. Barbecues
Australia is famous for the popularity of barbecues. They are a very popular pastime in the summer, and often referred to as just barbies.
Because of their popularity, you can often find grills in public city parks. Additionally, barbecues are pretty popular events for fundraising for schools and local communities.
Traditionally, the meats used in Australian barbecues are lamb chops, beef steaks and sausages. And a particular Australian twist on the barbecue is to drizzle beer over the meat while it is cooking, because it adds flavor and makes the meat more tender.
Over the last few decades, it became increasingly popular to barbecue seafood like crayfish, prawns and rock lobster.
13. Beer & Wine
It's no secret that Aussies love their beer – in 2004, the country was the fourth in the world in per capita beer consumption. And even though that was a long time ago, beer still remains one of the favorite alcoholic beverages in the country. We all remember the Australian man who checked a single can of beer as luggage for his flight, right?
Lager is by far the most popular type of beer, while Victoria Bitter remains the most iconic beer produced in this country. Other popular brands are Tooheys, XXXX and Coopers.
Australia is also one of the top 10 wine-producing countries in the world. The country has several amazing wine regions, full of great vineyards and wineries. Barossa Valley in South Australia is by far the best wine region of the country, which is home to some of the most esteemed Australian wineries.
Other popular wine regions in Australia are Hunter Region, Margaret River, Yarra Valley, Tamar Valley and many others.
14. The Outback
The Outback is the vast expanse of land in the heart of Australia. It actually extends from northern to southern coastlines, and includes several different climate zones – that's interesting because the Outback is generally thought of as arid.
The most popular tourist destination in the Outback is the Uluru-Kata Tjuta National Park, with the 600 million-year-old monolith. Another really popular destination is Kings Canyon in Watarrka National Park. You can go on a helicopter ride above the canyon and enjoy some breathtaking views, or you can go on a waterfall trail, accompanied by a local Aboriginal guide.
But there's also Coober Pedy – a mining town where you can have some truly unique experiences. You stay in a dugout (underground home), go mining for opal, tour the Breakaways Conservation Park for sceneries featured in Mad Max. Just beware of the Coober Pedy flies – they are everywhere.
15. Kylie Minogue
Kylie Minogue is an international superstar, originally from Melbourne. The singer, songwriter and actress is the highest-selling Australian artist of all times. She has also appeared in several movies and TV shows, including the famous Moulin Rouge!.
Her iconic single Can't Get You Out Of My Head was deemed the catchiest song ever by Yahoo music, and it is one of the best-selling singles of the 2000s. Minogue was also nicknamed Princess of Pop, and compared to Madonna throughout her career.
Most recently, Minogue made the headlines due to her row with Kylie Jenner over the "Kylie" trademark. Both of them wanted to name their cosmetic brands Kylie, but the Australian pop-star eventually won the naming rights in court, after her lawyers called Jenner a 'secondary reality television personality'. Ouch.
16. Cate Blanchett, Hugh Jackman & Heath Ledger
ome of the most famous Hollywood actors are from Australia, which is no surprise. Hugh Jackman is one of them – he is best known for his roles in Wolverine and X-Men, but also for some critically acclaimed movies like the Prestige and Les Miserables.
Heath Ledger is another iconic Aussie actor, originally from Perth. The actor is famous for the portrayal of Joker in The Dark Knight; a role that took a huge toll on his well-being and state of mind. Being unable to sleep for more than two hours a night, Ledger abused prescription drugs until he eventually overdosed at the age of 28.
On a more cheerful note, there's also Cate Blanchett – the stunning Oscar-winning actress. She is best known for her roles in the Lord of the Rings trilogy, but also for her performances in Indiana Jones, Robin Hood, the Hobbit and many others.
17. Poisoness Spiders, Snake (And Other Nasties)
Australia is very well known for it's poisoness spiders and all kinds of bugs. Every week there's a new photo going around on social media of some mutant insect or spider that can k.i.l.l a full-grown adult. From the Red Back and White Tail, to the Funnel Web in the Sydney area. It's best you don't leave your shoes outside at night.
The Huntsman Spider in particular is a terrifying sight – the average size of them is about 1 inch, with a leg span of some 5 inches. Yup, that's the average size – they can grow much bigger than that. The good news is that they are completely harmless; the bad news is they will scare the living daylights out of you.
And then there are the snakes. The further north you go, the more common, and intimidating they get. There are a few non-poisonous snakes, but it's best to assume they can all k.i.l.l you. You don't have to walk around paranoid, but if you are in long grass, or even on a trail, keep your eyes looking out for snakes, especially in WA where I nearly stepped on three Black Snakes! Most of the time they run away when they "hear" (aka feel) you. But in areas of the far north, there are even snakes that will hunt and follow humans!
18. Hiking
Australia is not just popular for the sandy beaches and big cities – the country is full of rainforests, mountains, national parks and open plains, all of which are perfect settings for some truly amazing hikes. And there are tracks for everyone – short and easy ones for amateurs, and week-long hikes for true pros.
The Overland through Cradle Mountain-Lake St. Clair National Park is one of the best-known demanding tracks in the country. It is located in Tasmania, and it is around 65 kilometers long. It is estimated that it takes some six days to cover this track, and it is definitely not for beginners. The track has many highlights, some of which are views of Cradle mountain, D'Alton and Ferguson Fall and Marion's Lookout.
If that's too extreme for you, there's a more beginner-friendly track in this same national park. The Dove Lake Circuit takes you around the shore of Dove Lake, and you can complete it in about two hours. Most of the time you'll be on a boardwalk, and admiring the amazing views of the mountains. And stopping by the iconic boat shed from 1940s, which was built by the first Ranger at Cradle Mountain.
19. The Penal Colonies
In the 17th, 18th and 19th century, the British had serious issues with overcrowding in their prisons. Which caused them to transport the convicts elsewhere – originally to the American colonies, but that ended once the American Revolution began.
After that, they began transporting the convicts to penal colonies in Australia. Most of them were transported for petty crimes, as more serious offenses like rape and murder were punishable by d.e.a.t.h. Around 165,000 convicts in total were transported to Australia, and the vast majority of them stayed there. In fact, it is considered that about 20% of modern Australians are descended from these convicts.
Once they served their sentence, they would join the free settlers. However, being a convict did carry some social stigma, and for a pretty long time there was social cringe around the country's convict origins. But the attitudes changed in the 20th century, and nowadays it is a cause for celebration to be descended from a convict.
20. Stunning Coastline
The total coastline of Australia (including the islands) is over 59,000 kilometers long. And a big part of it are gorgeous, white sand beaches that attract people from all over the world. While Bondi Beach might be the most famous one, there are several others that will take your breath away.
Whitehaven Beach is one of them. Actually, this is considered to be Australia's most beautiful beach, by Australians. It is on a Whitsunday island, and it is famous for its gorgeous nature, white sand and unreal blue sea. The 7 km stretch of beach around the island is idyllic and rarely crowded – even in peak season, there won't be enough people to spoil the tranquility and beauty of the place.
Another amazing Australian beach is in Wineglass Bay, located in Tasmania. It is part of the Freycinet National Park, and it is one of the most impressive beaches in Tasmania. The sand and azure water are surrounded by pink granite peaks and untouched nature.
By: expertworldtravel.com