New South Wales is full of adventure just waiting to happen and if thrill-seeking is on your list, then visiting Jervis Bay should be, too.
Just three hours south of the Australian metropolis of Sydney is a remote bay that's home to some of the most beautiful white-sanded beaches that are not on anyone's radar. Well, at least it isn't on most tourists' radar. Australians in-the-know, flock down to Hyams Beach, Wreck Bay, Huskisson, and other phenomenal remote beach towns in Jervis Bay.
The undefinable value of Jervis Bay is something that all tourists need to know before booking a trip to Australia. The 102-kilometer oceanic bay is filled with tiny residential beach towns, popular vacation destinations, and a boatload of swimming, kayaking, and whale and dolphin watching opportunities. If you're already in Sydney or other parts of the state of New South Wales, Jervis Bay is a must.
Without further ado, here is what to expect when visiting the gorgeous Jervis Bay In Australia's New South Whales.
10. Jervis Bay Is Home To Some Of The Most Exclusive Beaches In The World… And Tons Of Hot Tourists
While there are many beaches around the world that are great for escaping civilization as well as beaches that are amazing for people watching, the beaches at Jervis Bay are both. They are neither too remote nor too busy. However, they do provide beach-goers with many opportunities to spot a hot tourist or two. And if you're not interested in seeing hotties at Murrays Beach, Moona Moona Creek, Hyams Beach, or Blenheim Beach, you can certainly enjoy the fantastic scenery.
9. It's A Safe Place To Enjoy The Warm Australian Waters
Tourism in Jervis Bay is so popular due to the world-famous white-sand beaches and clear turquoise waters that are amongst the safest in the world. This is partly because of how protected all of the beach communities are within the large bay itself. While there are sharks in the bay, most are small and remain at a safe distance away from humans as well as the copious dolphins and whales that dominate the marine life.
8. Hyams Beach Is Complete With The World's Whitest Sand And Luxury Beachfront Rentals, But Just One Store
Hyams Beach is nestled in Jervis Bay, New South Wales, and is considered as having some of the whitest beach sands in the world. Many visitors stay in one of the many B&Bs, rental units, or hotels in the area. But some vacationers, as well as locals, like to hike the White Sands Walk from Greenfield Beach or Vincentia to get to this absolute paradise on Earth. While there are many places one can stay there, including luxury beachfront homes, there's only one cafe store in the village. However, it's known for having some of the best food in the entire region.
7. Jervis Bay Town Of Huskisson Is Ridiculously Cute And Home To Some Superb Dolphin Cruises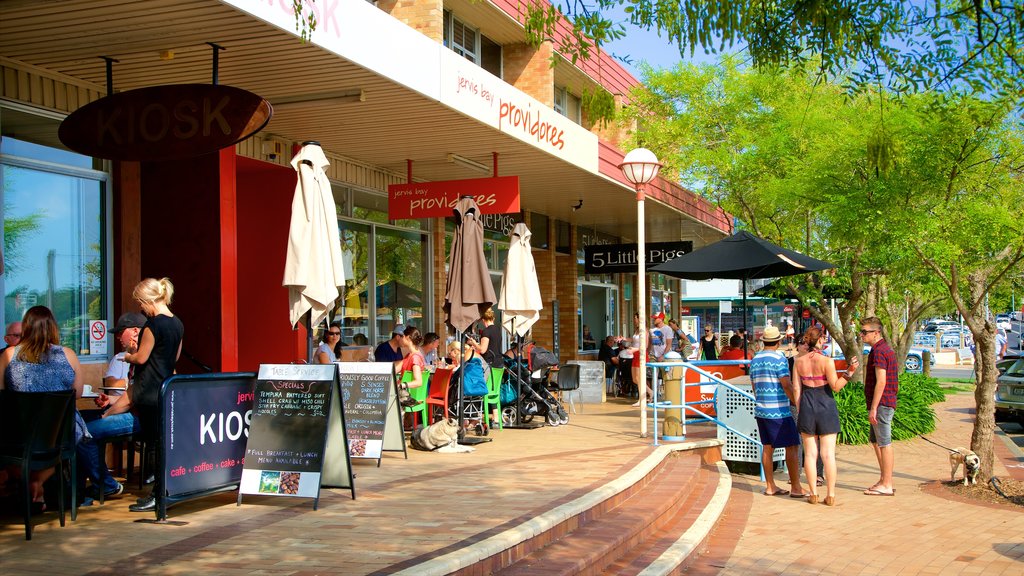 Huskisson is a bustling coastal town in Jervis Bay that's rich in shipbuilding heritage. This means that it's one of the easiest places to pop on a boat on the entire region, according to VisitNSW. Jumping in a speed boat or kayak is made easy due to their marina. But it's their dolphin cruises that they're really known for. You can book a tour with Jervis Bay Wild and Dolphin Watch Cruises to enjoy the sunsets, and get up close and personal with the bay's resident dolphins.
6. The Bay Is Filled With Incredible Hikes Including The 16KM Trek To The Exclusive Steamers Beach
Steamers Beach in Boodree National Park is notoriously hard to get to. It's most easily reached by a 3km hike, but the full-hike circuit is 16km. While it's not as popular as Hyam's or Murray's Beach, locals know it as one of the best beaches in Jervis Bay. However, due to its location on the southern-most outer rim of the bay, the area is right on the open ocean and attracts tons of sharks. Therefore, swimming is not allowed, according to LondonerInSydney. But the views, sand, and tranquility are more than worth the workout to get there.
5. It's Really Tough To Get A Camping Spot In Jervis Bay During The Summer… But It's Worth It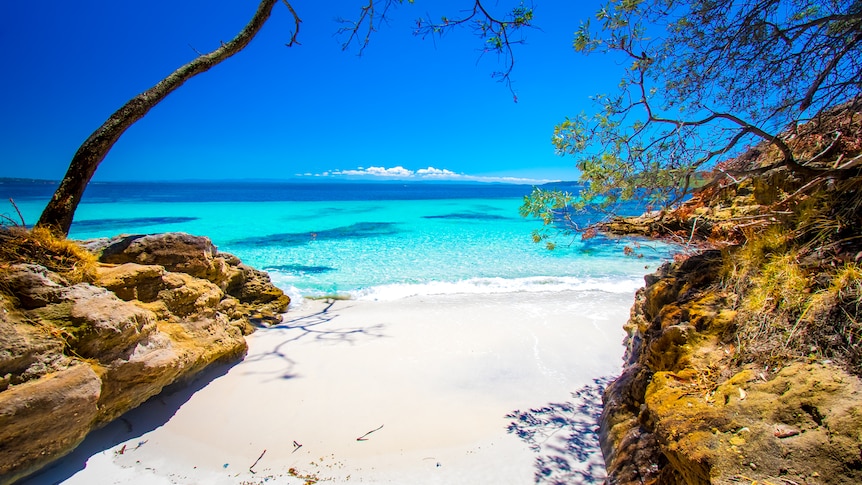 According to LondonerInSydney, it's really challenging to get a legal camping spot anywhere in Jervis Bay during the summer. Obviously, this is due to high demand since there are so many outdoor activities to be had in the region. For summer camping in the region, you need to enter your name into a ballot system through Parks Australia by August to hope for a spot during the summer holidays in November – February. However, camping is a lot easier in the winter season, and the waters are still warm enough to swim in.
4. Glamping At Paperbark Camp Is A Far More Extravagant Way To Enjoy Jervis Bay
If you don't want to be part of the whole ballot system or scrambling to find tent space at one of the many camping sites in the bay, you may want to consider Paperbark Camp. According to Australia.com, it's only 4KM (2.5 miles) from Huskisson and lays on the shores of Currambene Creek. The camp is one of Jervis Bay's best attractions and offers luxury tented accommodation in the tranquil bush. On the site is The Gunyah Restaurant, where you can eat by candlelight and search the trees for various wildlife.
3. Spotting Wild Kangaroos And Surfing At Caves Beach
Caves Beach is another absolutely fantastic beach in Jervis Bay. It doesn't have the turquoise waters of the harbor side of the bay, but it does have some of the best surfing opportunities in the area. It's also a superb place to spot wild kangaroos. While the kangaroos may not venture onto the beach where the spectacular cave system is, they do wander around the campsites in the bush surrounding the natural southern bay attraction.
2. Tons Of Great Spots To Snorkel And Scuba Dive With Sealife
While you could snorkel off of many of the beaches in Jervis Bay, companies like Dive Jervis bay will show you the best places to spot sea life. They also take certified divers out to awesome spots for scuba diving. This includes both boat and shore dives that cater to all levels of experience. If you're new to scuba diving, other companies are available to teach you. Without a doubt, this is one of the safest spots in Australia to get in the water and see unbelievable marine life.
1. Swimming With Humpback Whales Is A Must
During April through July, as well as mid-August until the end of November, Jervis Bay is filled with migrating Humpback whales. According to Australia.com, Take a Swim with the Whales tour allows experienced divers to get up close and personal with these curious creatures. Of course, you cannot approach a whale, you have to let them come to you. But the tours take you close enough to them to make that more than likely. Without a doubt, it's one of the most magical experiences to be had in Jervis Bay.
By: thetravel.com