I've spent a day or two in honolulu before but never ventured up to this gorggg side of the island. we were lucky enough to stay in a big rental on pipeline beach, and oh was it beautiful. we fell asleep and woke up to the waves, had our morning coffee in the sand and watched the surfers all day, and spent the evenings with margaritas on the deck overlooking the sunset. it really doesn't get better???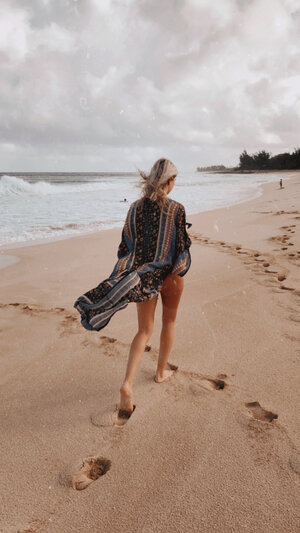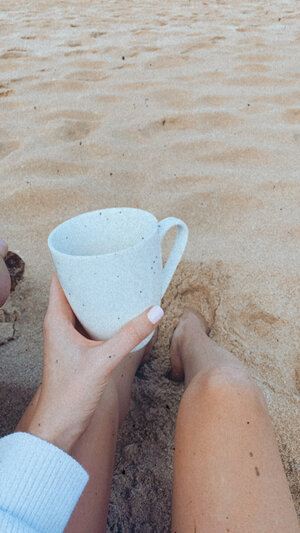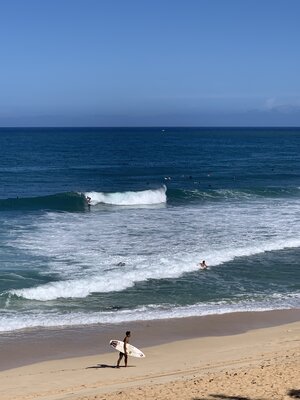 Because the house was pretty much perfect, we didn't venture out too much, but i did still find some things i wanted to share! i didn't do a ton of shopping so mostly just food (duh) and a few adventures we went on.
Food:
Farm to barn cafe – haleiwa
First time we came here i was so hungover (ty jamie for the never ending tequila) i ordered three entrees — and ate all of them. acai bowl, bruschetta avo toast, and the barn burrito. so so good. the cafe is a cute little walk up and order spot with indoor/outdoor seating that overlooks a garden/farm. loved the energy and loved the food.
Sunrise shack – haleiwa
Another spot we frequented during the trip. kind of in the middle of nowhere, right off of pipeline beach, it was a perfect spot to walk to in the mornings. we tried everything from their coffee to smoothies to acai bowls to avo toast and really enjoyed it. they carry the laird hamilton tumeric creamer (a new fave) and make bomb papaya bowls too. the outdoor seating looked over a farm/garden and was so nice to hang out at after our morning run/walk, minus the part where the chickens ate our food lol.
Ted's bakery – haleiwa
Bless their cakes and pies. while their breakfast isn't anything to rave about, it was a nice spot to walk to in the mornings or for lunch. we got to try the mac salad and shrimp, yum yum, and also the sausage egg sandwich. they were good, but, i'll probably stick to the coconut cream pie for now.
Waialua bakery – haleiwa
Little hole in the wall, cash only, shop, but loved it! i tried one of their sandwiches on the jalapeño bread and it was super good. kind of homey, relaxing, very small and chill vibe. good to pick up and go too! didn't get a cookie but was definitely drooling over the beach comber.
Banzai sushi bar – haleiwa
I swear i ate acai for breakfast and fish for dinner every night we were there! banzai was one of our sushi stops. small inside, not a great spot for big groups, but had traditional japanese seating outside that was actually really fun and relaxing. we ordered the marline ceviche, amazing, and the white dragon roll, so so good. i should also note they have a full bar (v important) and had great service.
Giovanni's shrimp truck – haleiwa
All the blogs i read before our trip said giovanni's was a must, and i would agree! unless you hate shrimp, idk? we tried the shrimp scampi and the lemon butter shrimp plates and both were delish.
Other spots:
Maya's tapas and wines
Haleiwa bowls
Sunset drinks at turtle bay resort
Food truck dinners @ the shark's cove food trucks (we learned the hard way they don't serve alc, but worry not, foodland is right next door)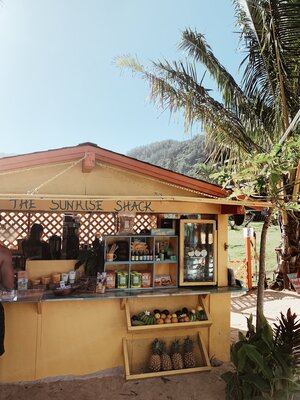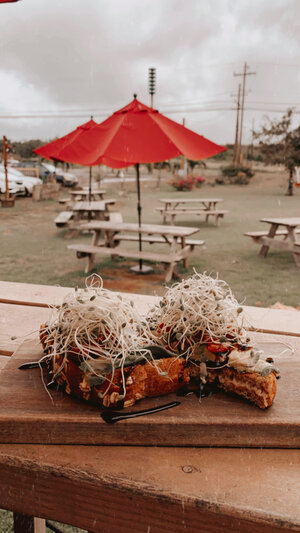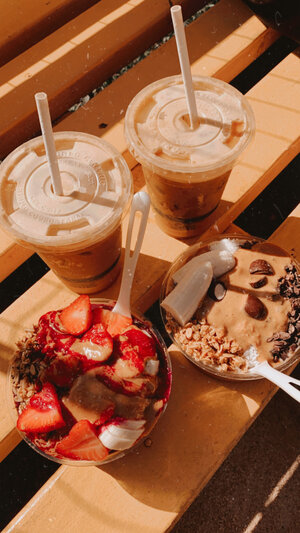 Paddle the anahulu river
Right there in haleiwa we rented boards from a spot called surf n sea. we literally hopped right on the river out of their back door and were on our way. the river is super calm and quiet, it was the perfect zen workout.
Hike back and swim in waimea falls
Beyondddd touristy but so fun!? it was the closest waterfall to our house so we gave it a whirl. it was $18 per person, insane, but it was an easy walk back (def not considered a 'hike'), and you could jump right in the falls. it was raining the day we went so it was crazy strong but still a blast to jump in and swim.
Snorkel shark's cove
Shark's cove was just a mile walk from our house so it was the perfect place to grab rentals from. hop skip and a jump across the street and you're in perfect snorkel territory!
Rent bikes from shark's cove
We also rented bikes from the area to cruise around town. some of the bike baths cut off abruptly but it was still fun for a little tour around town.
Shop around haleiwa town
We mostly came here for food + drink, because priorities, but they have a few cute shops in town as well. some touristy, but definitely a few worth popping in. number808 was my favorite.
Skydive with pacific sky diving center
Jamie turned 40 this trip!! so obvs had to celebrate in a major way. we didn't join, but she said it was insanely gorgeous and such a good day. a must next trip!
Next time i'm back:
I have to visit the buddhist temples! i heard they were beautiful on this island.
We didn't surf this trip, but there was a spot right out of haleiwa i would love to try!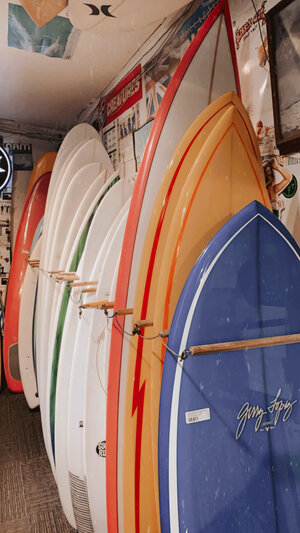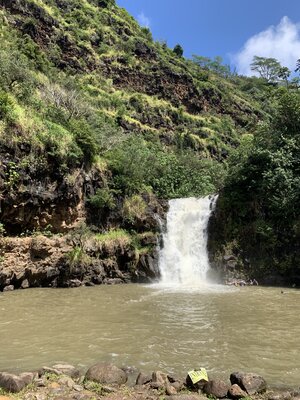 Most of our trip was spent on the north shore, but we did head down to honolulu one day and got a little wild. i only have two recs and both of them are bars, naturally
The modern – honolulu
Aesthetically fire. we got a table at the bar overlooking the harbor and had about 579 pitchers of basilritas. super chill and would absolutely stay here next time we're in the city.
The royal hawaiian – honolulu
We ventured (stumbled) here for more cocktails after the modern. the entire thing is pink, like beyond cute, and sits right on the beach. we were attacked by the birds more than once, honestly probs deserved it, but overall was a fun spot to end our night.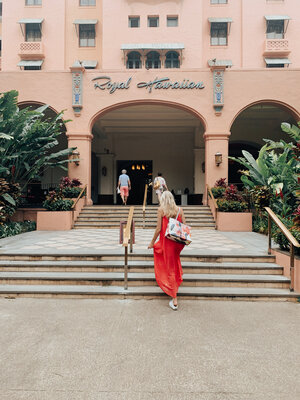 We had a time! so lucky to spend the week together with friends and family.
Source: taylormikhail.com