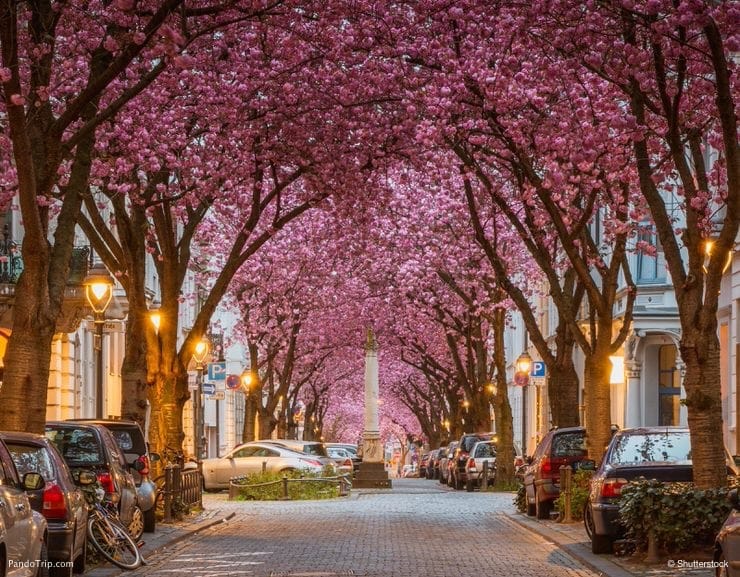 Although most people think of Japan when they hear the words 'cherry blossom festival', you'll find impressive pink blossoms all over the world. In my opinion, some of the most picturesque and romantic blooms can be found on Heerstrasse, also known as the Cherry Blossom Avenue in Bonn, Germany. Think of it: those beautiful pink boughs spreading over old cobblestone streets… If that's not worthy of a stroll with a loved one, I don't know what is! And if you stop to take a few photos along the way, you won't be the first person to do so.
Where do I go?
The blossoms in question can be found in Bonn, Germany, in the Nordstadt neighborhood which is also home to the famous Beethoven House. Back in the 1980s, ornamental Japanese cherry blossom trees were planted along Heerstrasse, and these days, every spring, the streets come alive with a pop of color. Don't worry if you have trouble remembering the exact location; these days, a lot of people know the area as 'Cherry Blossom Avenue', so as long as you can get yourself to Bonn, you'll be able to figure it out!
How do I get to Bonn? And specifically, how do I get to Heerstrasse?
There's an international airport that services Bonn and nearby Cologne (for easy searching, the airport's IATA code is GCN). From the airport, you can take a bus or a train straight to Bonn. The city is also connected by train to other major cities in Germany and elsewhere in Europe. As for getting around, the city has an extensive public transportation network, but the city center is very walkable, and Heerstrasse is only about a fifteen- to twenty-minute walk from most of the major tourist attractions in downtown.
Why Bonn?
If the cherry blossoms weren't reason enough to visit Bonn, there are endless other attractions like Drachenburg Castle, Beethoven Haus, the Museum Mile, Poppelsdorf Palace,… that make the city a bucket-list destination. With a vibrant culture and history, you'll encounter breathtaking architecture and reverent landmarks that will have you grabbing for your camera. For example – as already mentioned – the Beethoven House and museum are not far from Heerstrasse.
Can I stay nearby?
Fortunately, the street is a popular hotel spot, with many great options in the locale. Hotel Aigner is situated adjacent to Heerstrasse. It offers sleek modern living combined with historic charm. Nearby, Apartment hotel Kaiser Karl is another favorite. Providing both rooms and wholes apartments, it's a fresh twist on the classic hotel. If you're looking for a budget choice, Max Hostel is your best bet; you can also check out Airbnb if you aren't a fan of the dorm room! Be sure to book early, as accommodation in Nordstadt tends to fill up around the weeks of the festival.
By: pandotrip.com