On Kauai, there's only one place where you can ride a historic train, hike through a rainforest and orchard, taste Kauai's only island-made rum, shop, dine at one of Kauai's top restaurants, and enjoy one of the island's best luaus. That place is ​Kilohana Plantation, rooted in Kauai's long history of agriculture.​
Kilohana Plantation is located just one mile from the town of Lihue next to Kauai Community College on Highway 50 heading towards Po'ipu. The centerpiece of Kilohana Plantation is the historic Gaylord Wilcox mansion built in 1935 by Gaylord Parke Wilcox and his wife Ethel. Gaylord was the descendant of Abner Wilcox of Connecticut, one of Hawaii's first missionaries, and the manager of Grove Farm Plantation, one of Hawaii's long-time sugar plantations.
The 16,000-square-foot Tudor-style home, designed by Hawaii architect Mark Potter, is now home to Gaylord's Restaurant, as well as several shops offering fine art, crafts, and collectibles. The estate's 105 acres consist of formal grounds, flower and vegetable gardens, orchards, and pastures for livestock. The estate was added to the National Register of Historic Places in 1974 and named a State of Hawaii Historic Landmark in 1993.
Severely damaged by Hurricane Iwa in 1983, the Wilcox home has been completely restored, and the original public spaces are filled with notable Hawaiian antiques, paintings, and carpets that reflect the lifestyle of the Wilcox family.
1. Koloa Rum Company
The Koloa Rum Company was founded in 2001 to produce and market world-class, small-batch, micro-distilled, authentic Hawaiian ​rum. Principal production operations for the Koloa Rum Company are located in Kalaheo in southern Kauai not far from Koloa town, the site of Hawaii's oldest sugar plantation, founded in 1835. Rather than making rum from molasses, Koloa Rum is distilled from Hawaiian cane sugar and mountain rainwater in a vintage copper-pot still. The first batch of Hawaiian rum was distilled and bottled in 2009. It is the only licensed distillery on Kauai.
2. Koloa Rum Company Tasting Room and Company Store
Koloa Rum Company produces a number of products: Kaua`i White Rum, Kaua`i Gold Rum, Kaua`i Dark Rum, Kukui Brand Mai Tai Mix, Kukui Brand Jams, Jellies & Syrups, Koloa Rum Cakes, Koloa Rum Fudge Sauce and Koloa Rum Logo Wear, all of which and more are ​available in the company store at Kilohana Plantation. Koloa rums are also available for sale in some other states in the U.S.
3. Kauai Plantation Railway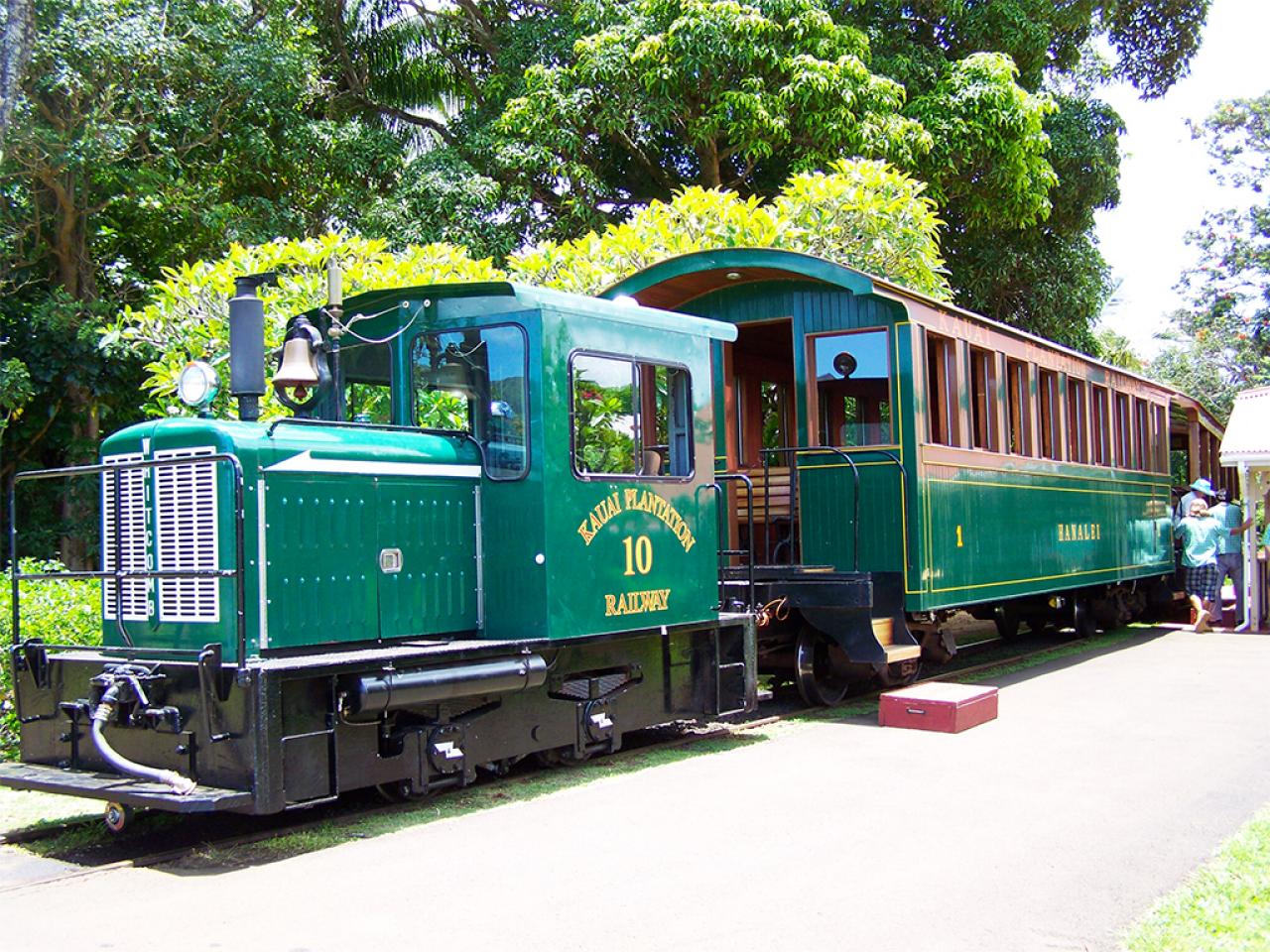 'The Kauai Plantation Railway recreates the sugar trains that once crisscrossed the island in the days of steam engines. The 2.5-mile train ride takes passengers through a 70-acre plantation to view exotic crops, enjoy views not seen from public highways, and learn about the history and future of tropical agriculture in Hawaii.
At one time there were nearly 200 miles of narrow gauge railway track on Kauai, serving the numerous sugar plantations on the island, but as the plantations closed and the remaining plantations modernized, the railways disappeared. When opened in 2007, the Kauai Plantation Railway was the first new railroad to be built on Kauai in nearly 100 years.
Authentic locomotives were located and passenger cars were constructed to reflect the historic nature of the railway. The Kauai Plantation Railway also located and restored a 1939 Whitcomb diesel-mechanical of the same design as the early Kauai engines, thus enabling them to replicate a past era of Kauai railroading.
4. A Ride Through Kauai's History
A ride on the Kauai Plantation Railway is the perfect way to get an overview of the entire Kilohana Plantation as the train takes you past the historic Wilcox Home, alongside orchards of fruit trees, pineapple, sugar cane and taro fields, and tropical rainforest. In the middle of the ride, the train diverts to pasture land with horses grazing. The train makes a stop at the plantation's farmyard filled with herds of pigs, sheep, and goats. Visitors can exit the train and feed the animals. The mahogany passenger cars used on the Kauai Plantation Railway have been inspired by similar cars from Hawaii's railroad history that was built during the era of King Kalakaua. Each 36-seat covered coach is designed to give passengers an open-air view during the 40-minute ride.
Along the way, the conductor talks about the history of the property and describes everything you're seeing. The Kauai Plantation Railway is open seven days a week and offers several different tours, including a four-hour train-walk-lunch tour on Mondays through Fridays that begins at 9:30 a.m.
5. Lu'au Kalamaku
Hula dancers, fire knife dancing, torch lights, Tahitian music, and Hawaiian food and drink create an authentic luau experience. Through music and song, the story of the original voyage of the Tahitians to the Hawaiian Islands is told by a cast of performers and musicians, some of whom make their own traditional drums. The lu'au evening starts with a torch lighting ceremony, followed by Hawaiian games, music, and dancing in tropical gardens.
6. Lu'au Kalamaku Feast
The lu'au features authentic Polynesian cuisine from Gaylord's Restaurant, including local favorites lomi lomi salmon, poi, mahi mahi, and kalua pork baked in the traditional imu, an underground oven. After dinner, guests choose from an array of desserts.
For a more gracious dining experience, Lu'au Kalamaku offers an optional Plantation Owner's Evening. Instead of the traditional lu'au feast, guests are treated to floral leis and Champagne in Gaylord's courtyard, followed by dinner from the restaurant's seasonal menu. After dessert, guests can wander through the Gaylord manor before taking a torch-lit walk to the Luau Pavillion.
By: tripsavvy.com