Retail and personal service providers will open from next Monday. It is mandatory to wear a mask in public places.
Now it is fixed: In Vienna, too, the tough east lockdown that began on April 1st ends on May 3rd. Mayor Michael Ludwig (SPÖ) announced this on Tuesday after a video conference with experts.
The federal capital is choosing the same path as Lower Austria. Only Burgenland ended the strict measures on April 19. As a result, the same rules will apply again throughout Germany from next week. With the exception of the "model region" Vorarlberg.
However, it should not have been all that easy to make this decision. The situation in Vienna in particular is still anything but rosy: "The protective measures have worked. The situation in the hospitals has eased, "says Ludwig. "But we are still above the critical limit of 33 percent intensive care bed occupancy with Covid patients." This limit was set by the Corona traffic light commission. According to AGES data, Vienna is currently 37 percent, the Austrian average is 25 percent.
Ludwig: On May 3rd, cautious openings also in Vienna
The most important changes that will apply from next week:
Trade: The entire trade will open again next Monday. An FFP2 mask requirement and the 20 m² rule still apply here.
Service providers close to the body: hairdressers, masseurs, cosmetic salons etc. are also allowed to open again. However, customers must also wear an FFP2 mask and – as they did before the lockdown – have a negative corona test. In these industries, the entrance tests are easier to handle in practice than in retail, says Ludwig.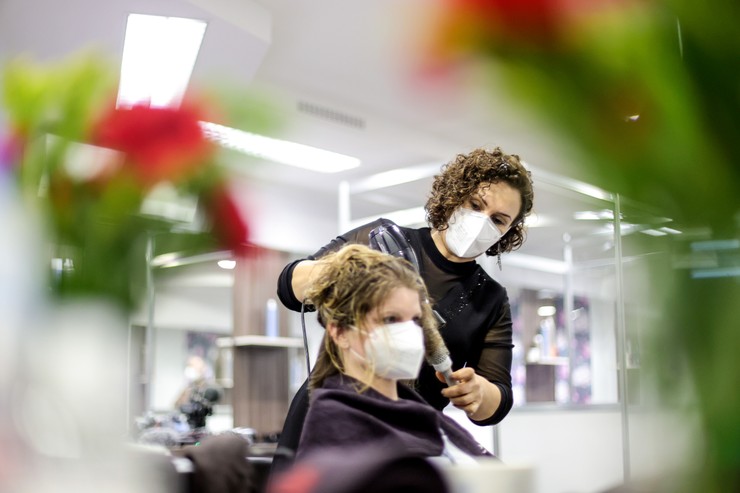 Mask requirement: Since April 1st, a mask requirement has been in place in Vienna at five public, heavily frequented locations – including the Danube Canal and Karlsplatz. This regulation also ends – at least for the time being – on May 3rd.
Museums/zoos: You can unlock again.
Sports clubs: Here, too, Vienna is returning to the rules that were in effect before April 1st: Children and young people are allowed to do sports outdoors again, but only in groups of a maximum of ten people, no physical contact is possible.
Ludwig slows down on short plans
It remains to be seen whether Vienna will join the large-scale opening steps announced by Chancellor Sebastian Kurz (ÖVP) for May 19. From this day on, restaurants and hotels should open again – subject to conditions – and sport and cultural events should be possible again.
Ludwig emphasized once again on Tuesday: "I consider such a general opening to be very difficult. I see myself in harmony with all the experts. "In the direction of the Chancellor, he warned against" putting people in an unjustified euphoria ".
Vice Mayor Christoph Wiederkehr (Neos) is similar: "The opening has to be sustainable. We don't want to have to close again in June and July. "

Next round of experts Which opening steps Vienna will actually take on May 19 is to be clarified after a renewed consultation with the experts, which is scheduled for the coming week. Individual opening steps every two weeks would be conceivable so that the effects of the loosening can be better assessed.
Mixed reactions
The reactions are mixed: Rainer Trefelik, head of the trade division in the Chamber of Commerce, speaks of the "light at the end of the tunnel". In the hotel industry, on the other hand, they are disappointed that it is still unclear what to expect from May 19th. Michaela Reitterer, President of the Hoteliers Association: "How long does Ludwig want to hold off our employees and suppliers?"
The end of the lockdown is welcomed by Lower Austria's governor Johanna Mikl-Leitner (ÖVP). She had already announced the easing for Lower Austria the week before: "It is good news for all people in the eastern region that the common path we took to protect the population was also successful for Vienna."
By: kurier.at