Monasteries offer us a glimpse into the religious way of life practised by monks and devotees more than thousands of years ago. Home to some of the most beautiful Benedictine and Cistercian monasteries in the world, and welcoming visitors and devotees all year round, we share with you nine of the most breathtaking in Germany that is not to be missed. From sprawling estates to jaw-dropping baroque architecture, the history of these monasteries will be sure to make your trip out to the countryside and small towns an absolutely worthwhile. Get ready your train tickets and indulge the art lover in you, drop by the amazing monasteries to visit in Germany.
1. Maulbronn Monastery
Maulbronn Monastery is considered one of Europe's best-preserved medieval architecture. A UNESCO world heritage site since 1993, construction of this former Cistercian abbey commenced in 1147 and introduced Gothic architecture to the German-speaking world. Aside from its rich architectural and historic value, the complex also serves as a concert venue and theological seminary today. An interesting fact: When the monastery closed during the reformation, it became a protestant school. Today, it also houses a school for classical languages, with notable alumni including astronomer Johannes Kepler and the author Hermann Hesse!
Address: Cloister 5, Maulbronn, 75433, Germany
Website: Maulbronn Monastery
Opening hours: 1 Nov – 29 Feb – Tue – Sun: 9.30am – 5pm (closed on Mon): 1 Mar- 31 Oct: 9am – 5.30pm (daily)
Price: 9 USD (adults); 4.50 USD (children)
2. Ettal Abbey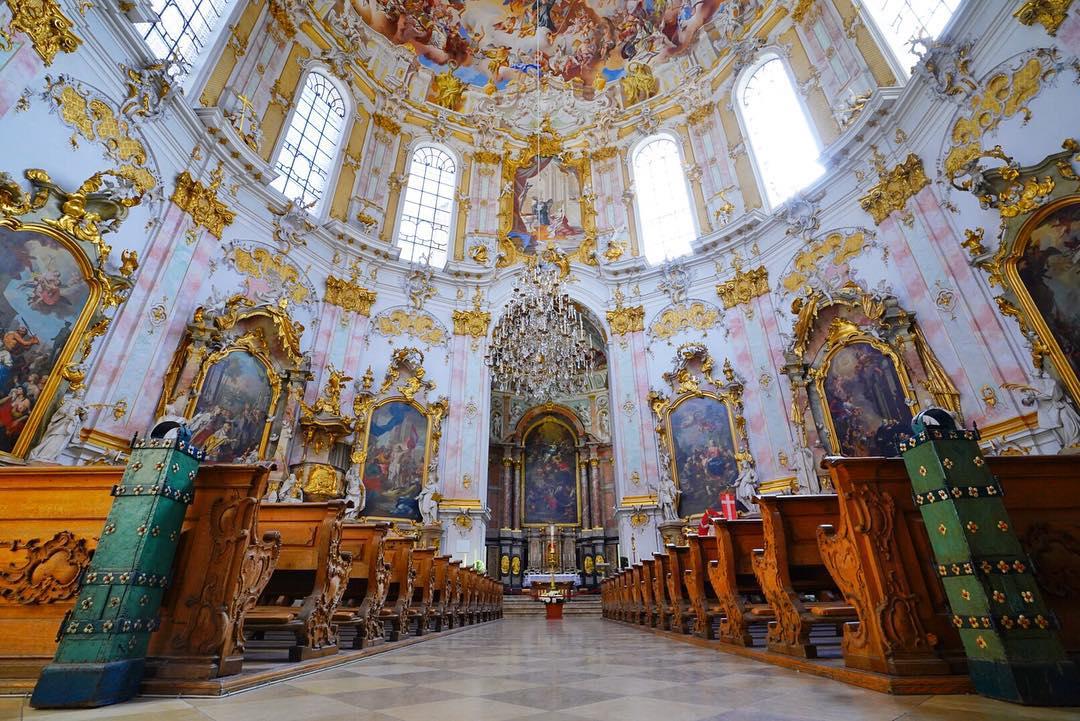 In a small village near Garmisch-Partenkirchen against the backdrop of the Alpine foothills stands the majestic Ettal Abbey. Founded in 1330 by Emperor Ludwig the Bavarian, this Benedictine monastery has weathered through fire and seen the graduation of knights as a knight academy in the 18th century. Its Rococo sacristy, stuccoed in 1725 by J. Zimmermann and painted in 1747 by JJ Zeiller is said to be one of the most beautiful in Southern Germany. Pay attention to the beautiful stucco decoration all around and heads up, the impressive ceiling fresco which presents the Benedictine sky and saints will be sure to take your breath away. Beer lovers will have another reason to pay a visit to Ettal Abbey. Monks also run a brewery, distillery, book shop and cheese factory to support the upkeep of the monastery. Look forward to a day of serenity with beer brewed from locally-grown malt and hops, while appreciating the beautiful abbey grounds.
Address: Kaiser-Ludwig-Platz 1, 82488 Ettal, Germany
Website: Ettal Abbey
Opening hours: 8am – 6pm (daily)
Price: Free
3. Andechs Monastery
Built in Rococo and Baroque style and perched on the Andechs hills overlooking the Bavarian countryside is Andechs Monastery. Home to a piece of Jesus' crown of thorns, it is the oldest place of pilgrimage for devotees since the 12th century, when the House of Andechs brought back sacred reliquaries from the Holy Land to Andechs Castles. News spread and the treasure trove of relics expanded over the centuries, attracting pilgrims across Europe and led to the name "Holy Mountain". The monastery is accessible by bus, but consider taking an easy hike up and appreciating the panoramic view along the way. Complete your visit with a meal and drink at its famous 3,500 capacity beer garden and try its star brew- the Andechser Doppelbock Dunkel, a heavy dark beer with a 7.1 percent alcohol content. Those who are not huge beer fans can opt for a lighter taste and lower alcohol content with the Andechser Weissbier Hell.
Address: Kloster Andechs, Bergstraße 2, 82346 Andechs
Website: Andechs Monastery
Opening hours: 8am – 6pm (daily)
Price: Free
4. Maria Laach Abbey
Learning about Maria Laach Abbey would not be complete without a short geography lesson. The Laach Lake landscape, on which the Maria Laach Abbey was built on, was created around 10,000BC due to a huge volcanic eruption. When founded in 1093, the main building material of monastery and church was tuff, a stone created from volcanic ash. The church's many towers and turrets give off the impression of a fairy-tale castle, as it stands proud as a German Romanesque masterpiece against the picturesque landscape. Today, visitors can learn more about history of this place at the monastery forum, take a stroll along the monastery garden and appreciate the homegrown fruit, herbs and flowers, or rent a rowing boat to enjoy the surrounding Laach Lake landscape during the summer months.
Address: 56653 Glees, Germany
Website: Maria Laach Abbey
Opening hours: 5am – 8pm (daily)
5. Ottobeuren Abbey
Located in a small spa town of Bavaria's Allgau region lies a Baroque gem in the form of the Benedictine Ottobeuren Abbey complex. Consisting of a basilica, church, library and museum within the complex, prepare to be wowed by the splendid and ornate frescos and stucco-work that spreads across its ceilings and walls. Do not miss the library on the second floor of the museum, which is equally dazzling and hosts a collection of medieval manuscripts and more than 400 incunables.
Address: Sebastian-Kneipp-Str. 1, 87724 Ottobeuren, Germany
Website: Ottobeuren Abbey
Opening hours: Fri – Wed: 9am – 8pm; Thu: 1pm – 3pm
Price: Free
6. Benedictine Archabbey of St. Martin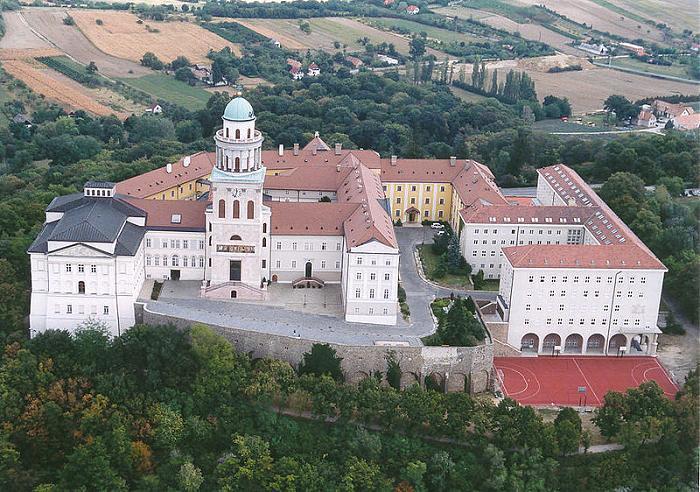 Founded as an Augustinian monastery in 1077, the Beuron Archabbey is located in the valley of the young Danube river and situated near the Black Forest and Lake Constance. It was repopulated in 1863 by brothers Maurus and Pladicus Wolter to become a Benedictine abbey. Today, it is home to around 40 monks of different talents and backgrounds and also hosts many concerts regularly. If you fancy an overnight stay or a religious retreat, the monastery also has a guest house with 43 rooms that can be rented. You can also take a virtual tour of the extensive monastery grounds, available on the official website before heading down!
Address: Abteistraße 2, 88631 Beuron, Germany
Website: Benedictine Archabbey of St. Martin
Opening hours: 5am – 8pm (daily)
Price: Free
7. Tholey Abbey
Located in the medieval town of Tholey, the district of Sankt Wendel in Saarland is a Benedictine monastery dedicated to Saint Maurice. The abbey, which dates back to the 5th century and was first mentioned in texts as early as 634AD, is considered the oldest church in Germany. That, however, did not stop it from facing decline and was almost closed in 2008. It is now undergoing restoration and visitors can look forward to three stained glass windows designed by renown artist Gerhard Richter and his friend, composer Arvo Pärt. While the abbey undergoes renovation, visitors can still access the chapter house of the monks for Holy mass and take a stroll around the abbey garden.
Address: Am Kloster 11, Tholey 66636, Germany
Website: Tholey Abbey
8. Muensterschwarzach Abbey
Located at the confluence of the Schwarzach and Main rivers in Bavaria stand the imposing stone towers of the Muensterschwarzach Abbey and church. Dating back to 816, it went through a long and rough history with secularization, robberies and decline, until the Benedictines of St. Ottilien acquired the remains of the Münsterschwarzach and rebuilt the community to what it is today. Do not, however, let the 1,000-year-old Romanesque walls trick you into thinking that they are but a relic of the past. The 100 monks who live there today run a trade school, language school, meat market, museum and book publisher among other businesses, making it highly relevant in today's society and to tourists. Make sure to visit their bakery, baked onsite and highly popular with the local community.
Address: Schweinfurter Str. 40, 97359 Schwarzach am Main, Germany
Website: Muensterschwarzach Abbey
Opening hours: Sat – Sun: 6am – 8pm; Mon – Fri: 5am – 8pm
Price: 2 USD onwards
9. Amelungsborn Abbey
The monks of the Rhineland abbey of Altencamp founded Amelungsborn Abbey at the peak of the Cistercian Order in 1135. To date, Amelungsborn is one of the two evangelic monasteries in Germany with an uninterrupted tradition. It withstood the test of time through the war and even with declining numbers, took care of adjoining parishes and served as a Latin boarding school for preparing boys for theological studies at the State University of Helmstedt for a period of time.
Address: 37643 Negenborn, Germany
Website: Amelungsborn Abbey
Opening hours: Sat – Thu: 9am – 7pm; Fri: 9am – 5pm
Price: Free
Get a glimpse of the olden religious way of life today
Monasteries today have withstood the test of time- through wars, fires and even declines, to continue operation, share and practice their faith. With their architecture and histories, they are definitely worth a visit on your trip to Germany.
Source: trip101.com