9. Tyrolean Mountain Cheese (Tiroler Almkäse)
This hard Alpine cheese is made from raw cow's milk, and has been produced in the Tyrolean Alps at least since the late Middle Ages, when cheesemaking was the only effective way to preserve the precious Alpine milk. The milk for Tiroler Alpkäse is obtained exclusively during summer from cows kept on the Tyrolean pastures where they feed on fresh grass and aromatic Alpine herbs.
Usually available from October to March, the fully ripened Alpkäse has a brownish rind, and firm ivory to yellow paste. It is known for an intense aroma and quite a strong, spicy flavor.
8. Vorarlberg Alpine Cheese (Vorarlberger Alpkäse)
Even though the basis for the production process of Vorarlberger Alpkäse was established during the Thirty Years' War (1618-1648), its name has been in use only since the 1700s. This Alpine cheese originates from Bregenzerwald, a forested Bregenzer Ach river basin nestled in Voralberg, Austria's westernmost region.
Produced only during summer months, Vorarlberger Alpkäse is a hard cheese made from raw milk collected from cows that graze on a variety of herbs and grass on Alpine pastures. During the ripening stage, the cheese wheels are periodically hand-rubbed with salt and aged on pine boards for three to five months.
7. Walder
Walder is a semi-soft Austrian cheese made from raw cow's milk. The cheese is often compared with Appenzeller and Gruyère. After the maturation period of at least 140 days, it is ready to be consumed. Walder has typical pea-sized holes dispersed throughout its interior, while the aromas are fruity, reminiscent of cherries, and its flavors can best be described as mild and slightly spicy.
6. Tyrolean Grey Cheese (Tiroler Graukäse)
Tyrolean grey cheese is a variety of sour cow's milk cheese, traditionally made on lush Austrian pastures from skimmed milk which was previously left to curdle for several days. This cheese is extremely low in fat, it has a thin crackled rind and a crumbly texture.
Named after the grey-colored mold which emerges on the surface right after maturation, Tiroler Graukäse exudes a strong, pungent aroma. It is typically crumbled over buttered wholemeal bread, but it is also an essential ingredient in many traditional Tyrolean dishes such as nettle soup with Kaspressknödeln, a variety of cheese dumplings, or Zillertal donuts.
5. Gailtaler Almkäse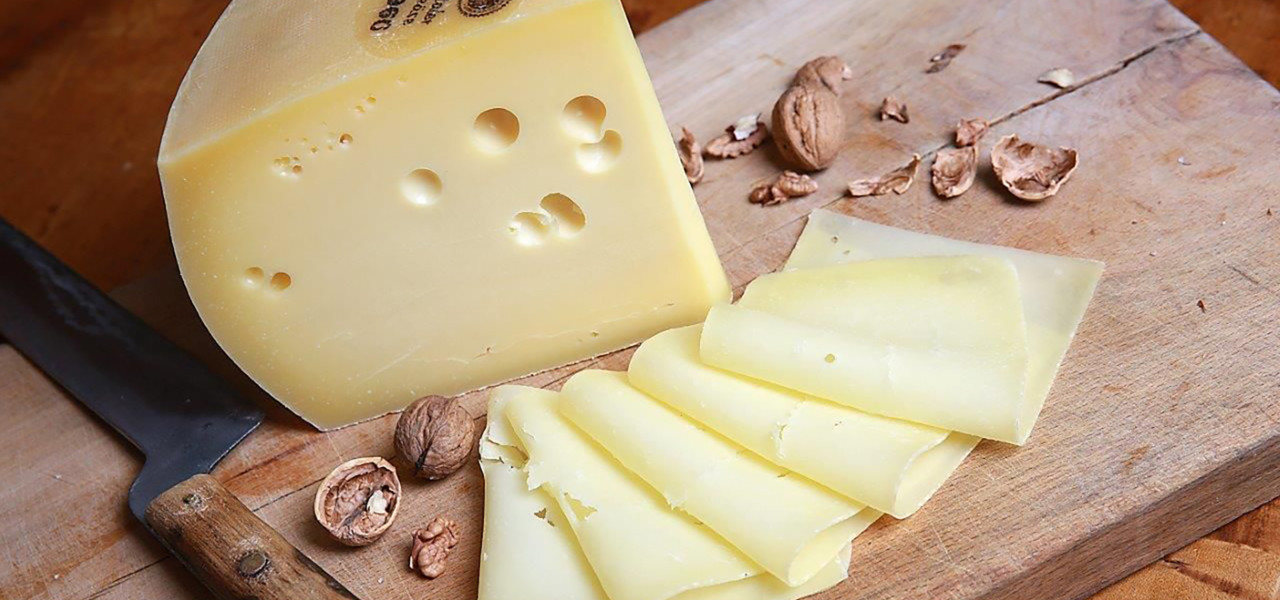 Produced in accordance with the same time-tested tradition dating back to the 14th century, Gailtaler Almkäse is a multiple award-winning hard cheese made with raw cow's milk to which up to 10% of goat's milk can be added. The delectable Gailtal mountain cheese is produced in the Gailtal Alps during summer months and made exclusively using milk from Alpine pastures.
It is matured for at least 7 weeks and has an ivory-white to straw-yellow paste sparsely dotted with small holes. Characterized by a rich, spicy flavor, and a pleasant aroma reminiscent of mountain herbs, Gailtaler Almkäse is typically enjoyed as an appetizer, most often accompanied with charcuterie.
4. Lüneberg
Lüneberg is an Austrian Alp-style cheese originating from Vorarlberg. The cheese is made from cow's milk with added saffron, giving it a yellowish color and a distinct flavor. The milk is warmed, and the curd is then cut into smaller pieces that are heated while stirring.
After the press, the cheeses are turned and taken to a cellar to mature. The rind is salted, rubbed, and washed during the maturation process. Once ripe, Lüneberg is usually described as a cross between Emmental and Limburger. When cut, it is characterized by numerous irregular eyes dispersed throughout its body.
3. Vorarlberg Mountain Cheese (Vorarlberger Bergkäse)
The Vorarlberger mountain cheese is yet another specialty originating from the Alpine Bregenz Forest which is located in Vorarlberg, Austria's westernmost province. It is produced using centuries-old methods, made with either whole or skimmed raw cow's milk.
The cheese is aged for up to two years. Here on the lush Alpine pastures, the farmers are encouraged to keep the amount of concentrated feed at an absolute minimum, so the animals are almost entirely fed on fresh grass, herbs and hay, which provides both the milk and the Vorarlberger cheese with an intense aroma and quite a tangy flavor. Vorarlberger Bergkäse is an essential ingredient of Käsespätzle, the Austrian take on mac and cheese.
2. Mondseer
Mondseer is an Austrian cheese made from pasteurized cow's milk. It originates from the town of Mondsee, hence the name. This semi-hard cheese has a pale yellow color, and its rind is washed, while the texture of the cheese is firm, smooth, open, and creamy.
It has a strong aroma and its flavor can be described as sweet, spicy, and slightly acidic or sour due to the infusion of red cultures and saltwater. Mondseer is quite popular in Austrian cuisine, and it is recommended to use it in au gratin dishes and cheese salads.
1. Tyrolean Mountain Cheese (Tiroler Bergkäse)
This Austrian hard cheese is made from raw cow's milk obtained exclusively from cows feeding on green fodder and hay. The milk must be free of any additives, which is what gives this Tyrolean cheese its distinctively intense natural flavor. Tiroler Bergkäse has a hard rind, while the paste is somewhat softer, ivory to light yellow in color and it has evenly distributed pea-sized eyes.
The flavor of this Alpine delicacy ranges from mildly aromatic to slightly piquant. It's recommended to pair it with light dry white wines.
By: tasteatlas.com