Wondering what to do in Lahaina? I've had a love affair with Lahaina for some time now, ever since I moved to Maui. I have spent most of my time living on West Maui so I've had ample time to try all the things to do in Lahaina.
My partner Joe, the man behind the camera grew up in Lahaina. Its crazy to think that his home town attracts visitors from all over the globe. It is the perfect, charming Maui town and should be included on anyone's itinerary.
1. VISIT THE LAHAINA BANYAN TREE
If you don't visit the banyan tree then did you actually visit Lahaina? The large banyan tree is the heartbeat and one of the biggest tourist attractions in Lahaina.
Located at the beginning of town, the banyan tree spans a whole block. There are plenty of benches to sit and relax at to take in her beauty. In the mornings and on the weekends, don't be surprised to see a pop up art walk or hear live music. This is a top Maui points of interest.
2. TAKE A SURF LESSON
When most people think of Hawaii surfing comes to mind. Learning to surf in Lahaina at break wall surf break is a perfect beginners spot. There are plenty of surf shops nearby that will set you up with a group or private lessons depending on your preference. The Lahaina Surf Shack is the best surf school located on Prison Street next to Prison Street Pizza.
3. ENJOY THE SUNSET CEREMONY AT FLEETWOODS
Every night at 5:30 on the rooftop of Fleetwoods on Front Street there is a sunset ceremony. A Kumu (Hawaiian for teacher) or Scottish bagpiper start the ceremony and tell you a little bit about why they're here, their relationship with Fleetwoods and then they light the tiki torches.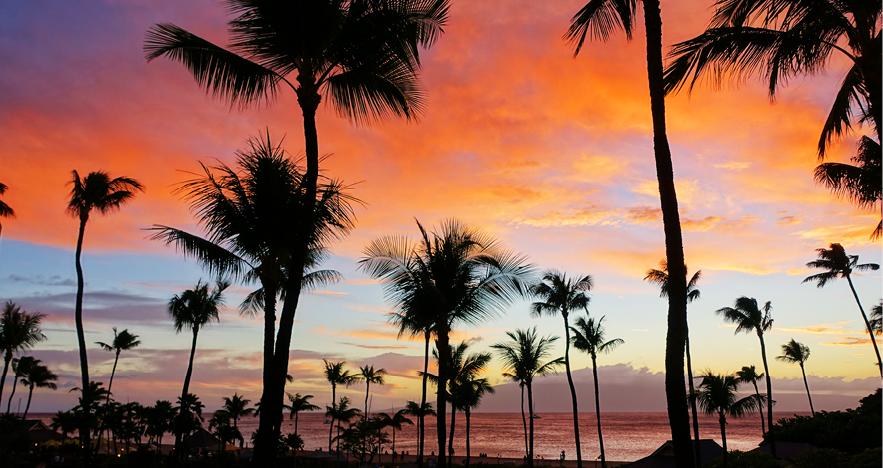 4. GALLERY HOP ON A FRIDAY NIGHT
Front Street is littered with art galleries and on Friday nights the town will be buzzing. All the galleries will have their doors open and offer you wine or champagne as you peruse the art. Some of my favorite galleries are
Peter Lik
Kush Fine Art
Morrison Hotel Gallery
Andrew Shoemaker
Remember it is illegal to drink on the street and enjoy your classy art crawl!
5. FLOAT AT BABY BEACH
Baby Beach is the perfect beach to float at because of the shallow waters. This also makes it a perfect beach to take your kids, hence the name Baby Beach. Pick a floatie, pack a cooler, grab your girlfriends and spend the day relaxing in the ocean. If you see a giant rubber duckie float come over and say hi. Its not unusual to find me here. It's one of my favorite things to do in Lahaina.
6. ENJOY AN ADULT MILKSHAKE AT COOL CATS
The adult milkshake is exactly how it sounds, a milkshake with booze in it. Made with local Roselani ice cream you have your choice of flavors like the Kona Carbomb and Bananas Foster. Plus you'll have great views of Front Street while you enjoy your milkshake.
7. ATTEND A LUAU
One of the best luau's is located at the beginning of Front Street in Lahaina is The Feast at Lele. This luau takes you on a 5 course dinner of polynesian cuisine from the islands of Hawaii, Aotearoa, Tahiti and Samoa.
Another great luau located on the opposite end of Front Street is the Old Lahaina Luau, one of Maui's oldest luau's. It has gained popularity over the years, selling out almost every night and is open 365 days of the year.
If you're staying in Ka'anapali check out the Royal Lahaina Luau or the Sheraton Luau at black rock.
8. CATCH LIVE MUSIC AT FLEETWOODS
I know I've mentioned Fleetwoods before but if you LOVE listening to live music then head over the Fleetwoods because the talent is above par. I mean what do you expect, it's the house of Mick Fleetwood, every musician/ band that plays here has loads of talent!
9. FRONT STREET SHOPPING
Front Street is littered with boutique shops, restaurants, bars and art galleries. You can easily spend a morning eating, drinking, and shopping your way up and down Front Street. A few of my favorite shops are
Manakai Swimwear
Pakaloha Bikinis
Going Left
Volcom
Honolua Cookie Company

10. ENJOY A HAWAIIAN SHAVE ICE
Hawaiian shave ice is a staple dessert for anyone visiting Hawaii. This iced concoction is made from a block of ice that gets shaved off into something that resembles snow. You then pick your flavor (most places have too many flavors to choose from) and the sweet, condensed syrups are added to the shaved ice.
Since the shaved ice is a bit thicker it is able to hold onto the syrup giving each bite a full, flavorful, sweet taste. To add to this already sugar packed dessert is a scoop of ice cream. Yes thats right, not only do you get a sugary, delicious iced concoction, it also comes with a scoop of ice cream. The Hawaiian made ice cream come in choices like haupia (coconut) and mango.
Love dessert but prefer to have some booze in it? Then head to BreakWall Shave Ice located in the Lahaina wharf. This is home to the 'Adult Shave Ice' where you can order a shave ice with alcohol in it. They offer different flavors like pina colada or mai tai.
11. SEE A MAGIC SHOW AT WARREN & ANNEBELL'S
Currently closed.
Yes you heard that right a magic show! I've had the pleasure to see this show twice, 4 years apart and the whole show had me in stitches every time. Not only is it hysterical but there's real talent in the magic. Its a small venue with about 85 seats so the small area gives you a up close and personal view.
Most people buy a package to the show which includes drinks, appetizers, desserts, the show itself and gratuity. This is something you wouldn't expect to find on Maui but I highly recommend that you splurge on to see. Check them out here.
12. BREAKFAST AT DOWN THE HATCH
Best breakfast on the west side! Located in Lahaina town across the street from the banyan tree. Police officers enjoy the breakfast here several days of the week. If the police eat here then it has to be delicious right?!?! It's Hawaiian with a southern flare where you'll find items like fried rice, and chicken and waffles.
My favorite items are the avocado toast and breakfast burrito. This place was featured on diners, drivers and dives for their lunch and dinner! Just imagine how tasty there breakfast is! Breakfast every day from 7:30 am-10 am.
13. GO ON A WHALE WATCH
If you're visiting Maui during mid December through mid May you be here during whale season. In my opinion this is the best time to visit.
Every year the humpback whales migrate from the cold waters of Alaska to the warm waters of Maui. It is in the warm Hawaiian waters that the females give birth to their young. Going on a whale watch is one of the BEST Lahaina activities.
Whale watching tours depart directly from the Lahaina harbor.
14. TRY HULA PIE AT KIMOS
Macadamia nut ice cream ice cream piled onto of a thick cookie crust topped with chocolate fudge, whipped cream and macadamia nuts. My mouth is drooling as I write this post. Don't miss out on this dessert when you're strolling Front Street.
15. CATCH A SUNSET
Make sure you do this every night you are in Hawaii. The sunsets are always beautiful as each one surpasses the next. Look at this sunset from 505 beach in Lahaina.
16. BRUNCH AT MALA
Brunch with a view. Located at the end of Front Street on the water is Mala Ocean Tavern. Sip mimosas and as the waves crash on the rocks. It's not uncommon to spot a sea turtle swimming near shore while you're here. Enjoy brunch 7 days a week from 9 am – 2 pm. The food will not disappoint!
17. HAPPY HOUR AT FLEETWOODS
My personal opinion is that this place has the best happy hour on Maui. From 2-5 everyday you can enjoy fresh $1.25 Fleetwood Gem Oysters, half off all wine, all beer, select craft cocktails and spirits $19 and under. There's also a select gourmet pupu menu if you came hungry.
Remember earlier on the list when I talked about live music at Fleetwoods? Come thirsty and give all your senses an experience.
18. SAMPLE COOKIES AT THE HONOLULU COOKIE COMPANY
I always pop into the Honolulu Cookie Company when I walk by because their shortbread cookies are just too good to pass up. There are samples of the classic cookies as well as the current seasons flavor. I especially love popping in around Fall as I love the ginger flavors.
19. MALA PIER
The historic Mala Pier is located at the end of baby beach and is a great place to catch sunset. Although you can't walk down it, theres a wall of rocks that runs parallel to the pier that you can walk onto. If you're up for more adventure you can dive under it and swim with the white tip reef sharks. While you're hear take a stroll down baby beach.
20. TAKE A SUNSET CRUISE
How much better can it get then a sunset cruise. Not only do you get to watch sunset but you get to do it on a boat on the water. There are several boats you can book a sunset cruise on. Enjoy drinks and pupus as you sail across West Maui in search of the perfect spot to watch the sun set.
Source: imjesstraveling.com