If you visit Switzerland in spring, most mountain resorts and trails aren't open for summer hiking yet. There are a lot of mountain tops you can visit (see my list here), but it's little tricky finding hikes that are open. But don't worry! After many years hiking here and lots of research, here are my top suggestions for hiking in Switzerland in spring, all suitable for families.
I've focused here on the regions most popular with tourists. I have another post with our favorite spring hikes in lesser-known areas: Spring Outings for Zurich Families.
Note: Of course, weather is unpredictable and conditions can change quickly. So always check the current conditions before heading out and have a backup plan.
1. Mount Rigi panorama trail – Central Switzerland
The Lucerne area is a great choice for spring as there are many lower elevation areas to explore. Our favorite spring hike here is the panorama trail at Mount Rigi, which can vary in length depending on your schedule and ability. You can combine this with a lake cruise to see even more mountains around each corner. The trains up Rigi run year-round without a break. The cable cars take breaks in spring and fall, but these are not required for a visit.
2. Ebenalp Wildkirchli – Eastern Switzerland
The Ebenalp cable car opens in mid-May, taking you to the top of these cliffs (1600m). It's an easy walk down to this restaurant built into the side of the cliff, a nice place for lunch with a view. You can optionally take the longer, tougher hike down to the beautiful Lake Seealp and have a lakeside picnic and row across the lake. As one of the only lifts open in mid-May, it can be crowded on sunny weekends, but you should go anyway. It's so worth it. You can also hike to the lake year-round without using the cable car.
3. Berner Oberland – Lake Oeschinen
In mid-May, the Kandersteg cable car starts running for the summer season, taking you up to an easy trail to this beautiful alpine lake. The higher elevation trails here won't be open yet. But this is a wonderful place to enjoy a lakeside picnic, admiring the impressive mountain peaks above. In 2019, the cable car starts running 11.May. Before that, you could hike up to the lake from Kandersteg, about 1hr.
4. Lauterbrunnen Valley – Jungfrau Region
In this popular region, most trails aren't ready for hiking until late June, when the snow is finally melted. Some mountain transport does open in May (Männlichen and Schynige Platte), but depending on the weather, the trails might still be under snow or still in disrepair.
So in spring, most tourists will spend their time visiting the observation decks at Jungfraujoch and Schilthorn (2970m), both of which are spectacular and worth visiting. Both of these are open year-round with short maintenance breaks in spring and fall.
If you want to walk, your best bet is a stroll down the Lauterbrunnen valley, with tons of waterfalls falling down both sides of the cliff walls and a view of the mountains above. I'd recommend making the Trummelbach falls your destination, where you can walk into a crevice carved into the mountain by a series of roaring waterfalls. Trummelbach falls opens in early April.
5. Giessbach falls – Berner Oberland
One of our favorite waterfalls to visit in this area is the lovely Giessbach falls, which spill into Lake Brienz below. You can take a ferry to the base, then either hike up or take a short funicular ride up to the main falls. We usually splurge on lunch at the yummy restaurant there, with lots of outdoor seating with a view of the falls and the lake below. You can optionally hike higher up along the falls, for more views and drama. The funicular starts running at the beginning of April. The ferry starts running daily service mid-May, but check the schedule before heading out.
6. Fürenalp Engelberg – Central Switzerland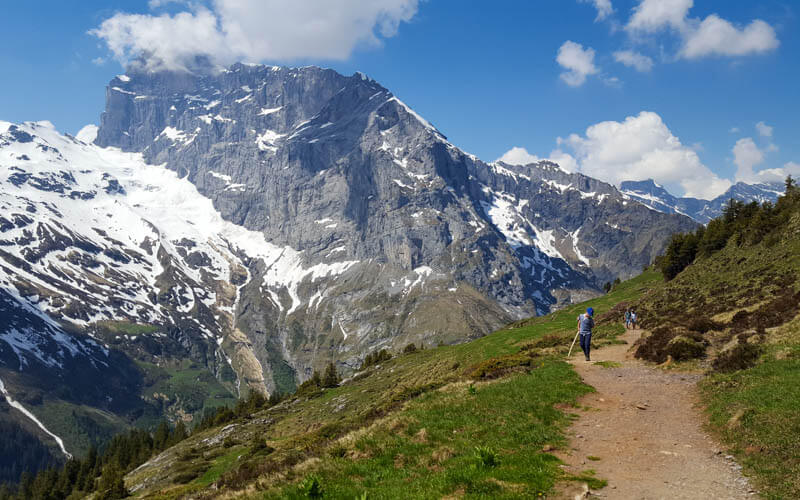 The Engelberg valley west of Lucerne is classic Switzerland, exactly how you imagined Switzerland would look like, speckled with mountain huts on green hills, surrounded by towering peaks. The Fürenalp hike here (1800m), which opens in May, is one of the nicest (and most affordable) spring hikes we've done. It has big views and a roaring waterfall and river in the middle of the hike.
If you want even bigger views, you can combine this with a ride up to Mount Titlis, where you can stand on the glacier and soak in 360 views from one of the highest peaks in the region. The cable cars to Titlis run year-round, with a short maintenance break in November.
7. Walensee – Eastern Switzerland
If you're staying in the Zurich area, there are lots of beautiful lakes to hike around. We love spring hiking at the Walensee, not only for the fantastic views but also the impressive waterfalls bursting out of the cliff walls. There's a treasure hunt trail for the kids, picnic areas, and a restaurant with outdoor seating. These trails are accessible year-round depending on the weather. The ferry runs very infrequently in spring and fall, so check the schedule before heading out.
8. Ticino – Valle Verzasca
This river is famous for summer swimming in its crystal clear pools. But hiking along this river is just as satisfying. Spring comes earlier to Ticino, the southern part of Switzerland south of the alps, so it can be warmer and greener at this time of year. These trails are accessible year-round depending on the weather.
For big views, you can ride up the cable cars at nearby Cardada in Locarno and even do mountain hiking if the weather permits. The Cardada cable car starts its summer schedule in mid-March.
9. Creux du Van – Western Switzerland
Spring gives an opportunity to explore the lesser-known charms of Switzerland, like this amazing 1 km long natural amphitheater in northwest Switzerland. Since this area is a bit far from the mountains, it tends to have a different climate, so sometimes you can escape the mountain storms and enjoy the outdoors here instead. Another great hike in this area is the Areuse Gorge. This area is accessible year-round.
10. Ballenberg Open Air Museum – Berner Oberland
While trails are still under snow, this open-air "museum" is a good alternative for the classic Swiss alps experience. They have traditional Swiss buildings and artisan trades from all parts of Switzerland spread across a huge alpine park, with gorgeous mountain views. You'll feel like you've hiked all over this country after your visit. Ballenberg opens in mid-April, specifically this year on 13.April 2019.
By: swissfamilyfun.com