As a coastal city in northern Portugal, Porto food will delight food lovers.
The food in Porto draws from the contrasted landscape on the ocean side, the Trás-os-Montes isolated mountains, and the hillsides of Douro Valley .
As a result, you will find delicious Porto cuisine featuring seafood from the Atlantic. The Trás-os-Montes region brings hearty meats and cheeses. While the Douro Valley will seduce you with rich and sweet Port wines and fine red wines.
Are you ready for the best food in Porto?
Here are 10 popular and authentic Porto foods every food traveler to Porto should try.
1 – The Most Popular Food in Porto – The Francesinha Sandwich (Arguably)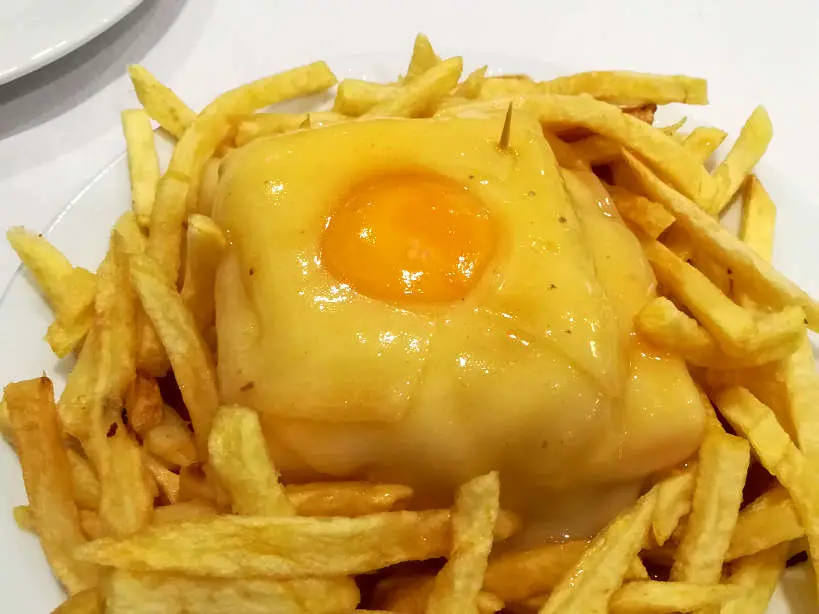 Francesinha sandwich, the most popular Porto food
The Francesinha is a warm sandwich that will catch your eye at first glance. The name literally means "little French girl".
It is said to have been brought to Porto by an emigrant returning back from France. This sandwich is an adaptation of the French toasted sandwich, croque-monsieur.
A Francesinha sandwich is made with bread, ham, sausages and steak. It is typically covered with melted cheese and an egg on top.
Though, what makes the Francesinha unique is the secret sauce that each restaurant prepares with its own touch.
The sauce which is served hot, is a tomato and beer sauce and is used to dip or "flood" your sandwich in. And, the best part about this traditional Porto food is that you can get as much sauce as needed.
To round up this "calorie bomb" sandwich, you get an accompanying side of french fries. While we enjoyed this famous food in Porto, it does pack a lot of meat, cheese and sauce together.
We recommend enjoying this local sandwich like the locals. Either with the local Super Bock beer or a glass of Vinho Verde.
You may want to eat in moderation and try the other Porto food specialties on this list.
2 – Tripas à Moda do Porto – Porto's Most Traditional Tripe Dish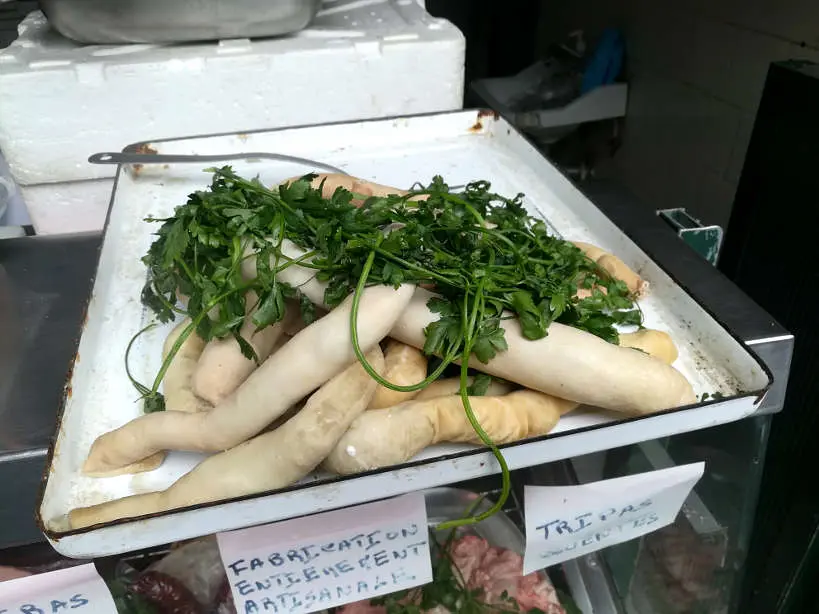 Tripe or tripas à moda do porto, fresh at a local market
Considered Porto's official dish, this is a stew of cow tripe, smoked meats and white beans typically served with rice. The story behind this dish is fascinating.
According to legend, when Henry the Navigator, was preparing to conquer Ceuta in North Africa, he asked the people of Porto for their support.
With generosity, the people gave all their choice meats to feed the sailors, leaving nothing but tripe for themselves.
Through imagination and creativity, the people of Porto used the leftover tripe to create "Tripas à Moda do Porto" earning the nickname "tripeiros."
So important is this Porto Food, that in May 2015, the city marked the celebration of 600 years of "Tripas" in Porto.
This dish typically consists of tripe, pigs' feet, chicken, smoky sausages, white beans, flavored with cumin, curry, and cloves.
We honestly did not enjoy this local Porto food, mostly because the chewy texture was off-putting.
On the contrary, we were surprised by a tripe dish in Guadalajara, Mexico, which we surprisingly enjoyed.
Regardless, Tripas à Moda do Porto is a Porto food not to be missed. Rich in history this is one of the best foods in Porto you have to try.
3 – Alheira – Northern Portugal's Most Famous Sausages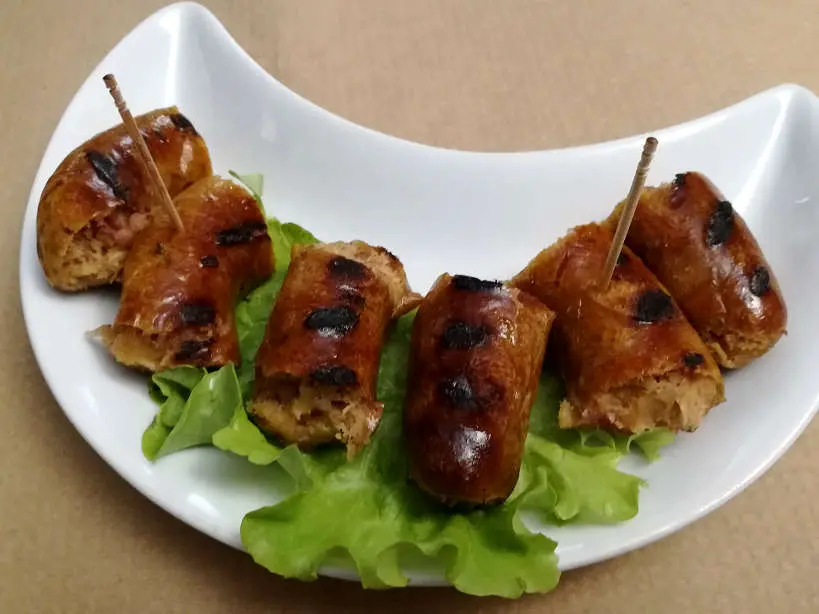 Grilled Alheira sausages, a simply delightful Porto food
Alheira sausages are white, smoked traditional sausages from the northern region of Trás-os-Montes. This Porto food is easy to find at restaurants and it is typically served with fries, rice and a fried egg.
The main ingredients in these horseshoe shaped sausages are poultry (chicken and turkey) or game meat (duck, rabbit, venison, pheasant).
The original alheira were pork-free sausages said to have been invented by the Portuguese Jews during the inquisition.
When the practice of the Jewish faith was outlawed, Jews were identified as they lacked traditional pork sausages hanging from their smokehouses.
To disguise themselves as "New Christians", they created their own sausage, made from a blend of non-pork products.
During the same period, another traditional sausage called "Farinheira" was also invented by the Jews to escape scrutiny.
The main difference between the sausages is the filling. The alheira sausages are made with poultry or wild game, whereas the farinheira is filled with flour and spices.
We really loved the smoky, garlicky and earthy aromas of the alheira sausages. Just one bite and you'll quickly understand why they are so famous.
If you're a sausage fan, don't miss this food in Porto on your travels.
4- Bolinhos de Bacalhau – Portugal's Popular Fried Cod Fish Cakes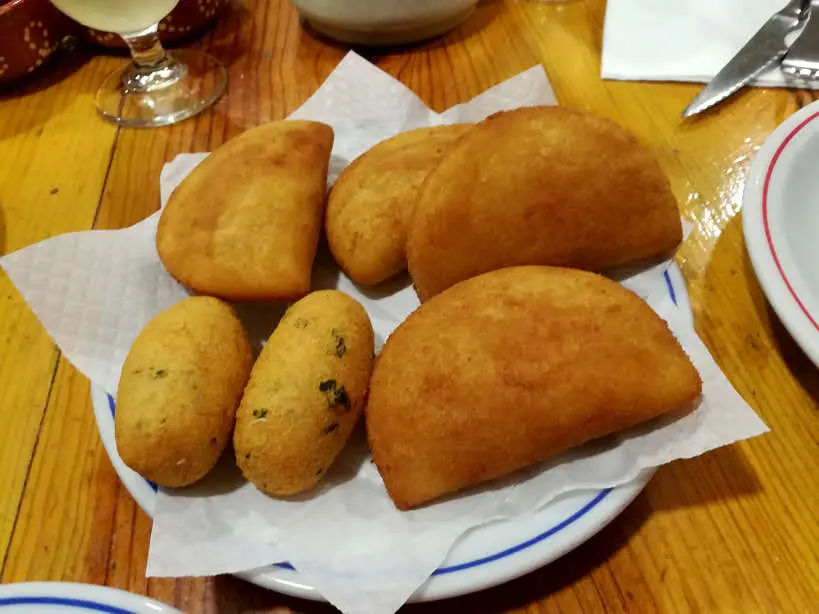 Two fried codfish cakes and other local delights
Bacalhau, dried and salted codfish, is Portugal's national treasure. This dish is so popular that there are over 365 ways of preparing bacalhau, and some say over 1,000 ways of serving it.
You'll find codfish prepared in myriad ways, from baked, barbecued, canned, fried, served with potatoes, rice, and other variations.
One of the most popular ways locals enjoy bacalhau is eating them fried as cod fish cakes. In the north of Portugal they are known as bolinhos de bacalhau and pasteis de bacalhau everywhere else.
These little bites are delicious.The recipe calls for a heavy presence of cod and mashed potatoes, as well as plenty of parsley, onions and eggs.
We enjoyed them hot as appetizers or starters.
If you are looking for simple Porto food to nibble on, get these tasty and flavorful cod fish cakes.
5- Pasteis de Chaves – Puff Pastry with EU Protection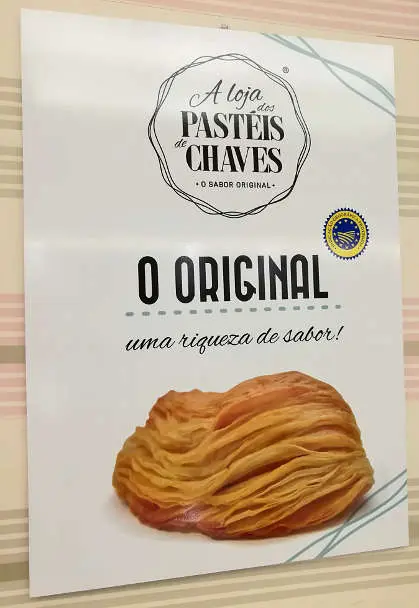 The one and only "original" Pasteis de Chaves
This puff pastry was a personal favorite and one of the best things to eat in Porto. Pasteis de Chaves (Pastel de Chaves) is a half-moon shaped pastry, traditionally stuffed with minced veal.
This puff pastry is a specialty from the city of "Chaves" in the north of Portugal, close to the border of Spain. It is now classified as a product with Protected Geographical Indication.
This means they can only be called Pastéis de Chaves if made in Chaves.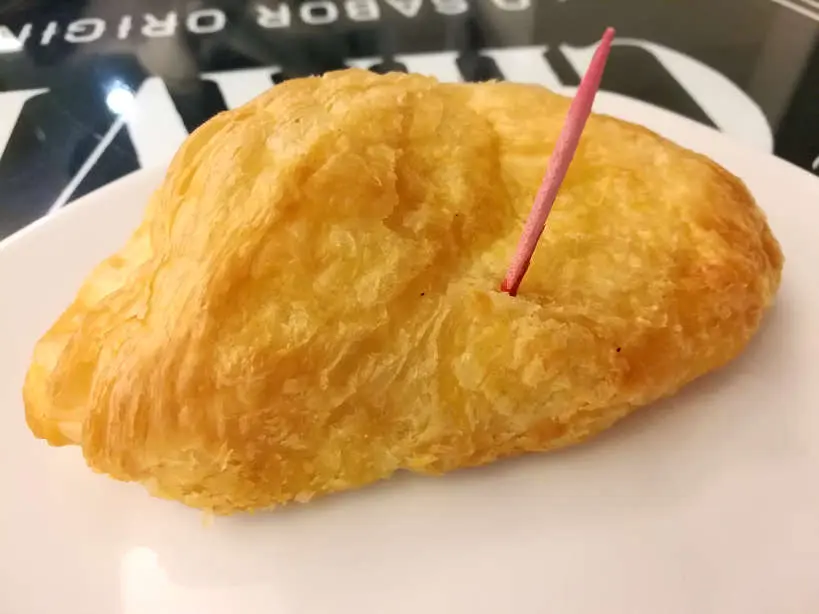 Fluffy and delicious Pasteis de Chaves
The story of the pastry goes back to 1862.
A saleswoman is said to have traveled through theTrás-os-Montes province with a basket of weirdly shaped pastries. The "flavienses" (people from Chaves) loved them, but there were not enough for everyone.
The founder of a local pastry store, Casa do Antigo Pasteleiro, purchased the recipe and started producing them.
The rest, as they say, is history.
This pastry has grown in popularity throughout Portugal to the point of becoming protected.
6 – Broa de Avintes – The Must Eat Bread in Porto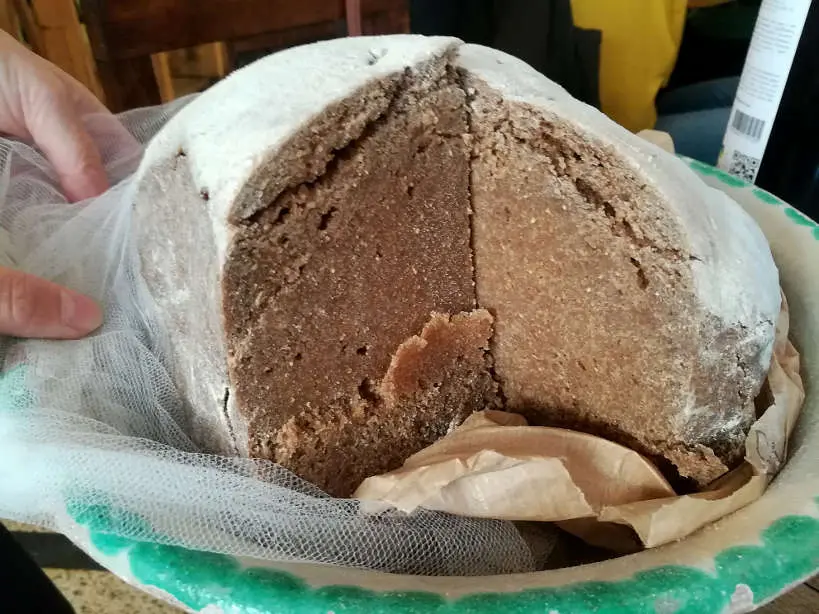 Thick and dense Broa de Avintes local Porto bread
Broa de Avintes is one of the most famous breads in Porto. It hails from Avintes, a small town on the other side of the Douro River, near Porto.
This bread is a very dense, dark brown in color and widely eaten on local tables in the northern part of the country.
Bread is an important staple in Portuguese cuisine and each region has their own local version.
The Broa de Avintes bread is quite unique with its coarse crumbs and distinctive flavor.
It looks similar to and is as dense as a heavy banana cake, without the sugar.
Broa de Avintes is made with corn and rye flours. Typically, the baking process is slow and the dough cooks for about 6 hours.
This bread can be served warm in traditional dishes. It is also served with starters or to accompany soups.
We enjoyed this unique bread with cheese and ham or simply as bites before a meal. The bread itself is dense and softly sweet, and leaves you wanting more.
Note, it can be quite filling, so don't indulge in too much bread right before your meal.
7 – Delight in Petiscos & Portuguese Canned Fish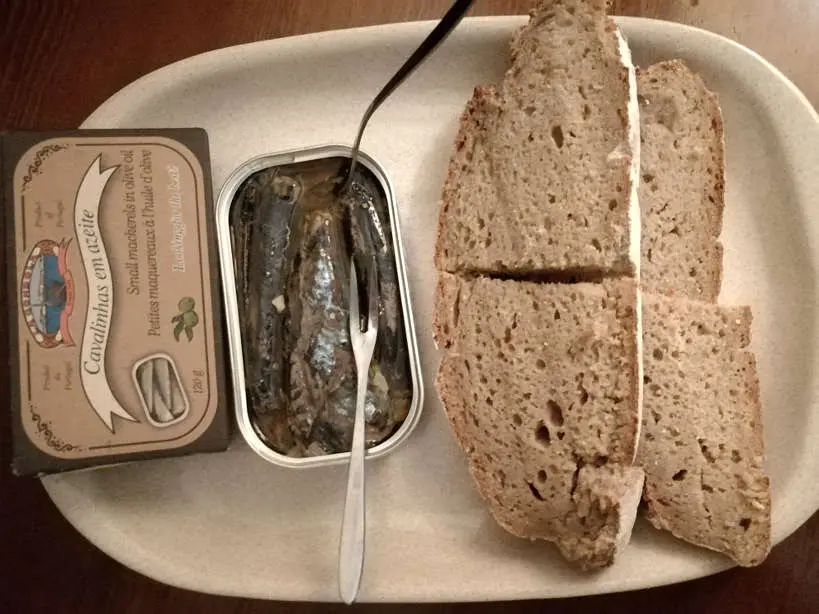 Juicy canned mackerel with served with local bread
Petiscos are Portuguese "tapas", which are small bites, but generally smaller versions of dishes. Typically, they are meant to be shared.
In Porto, petiscos are served with good local bread like Broa de Avintes, accompanied with delicious local wines.
Canned fish, including sardines, mackerel, tuna are beloved in Portugal. They are part and parcel of Portuguese identity.
Today, canned fish have gone gourmet and are popularly eaten as petiscos throughout the country.
8- Tarte de Amêndoa or Almond Tart – One of Northern Portugal's Most Famous Desserts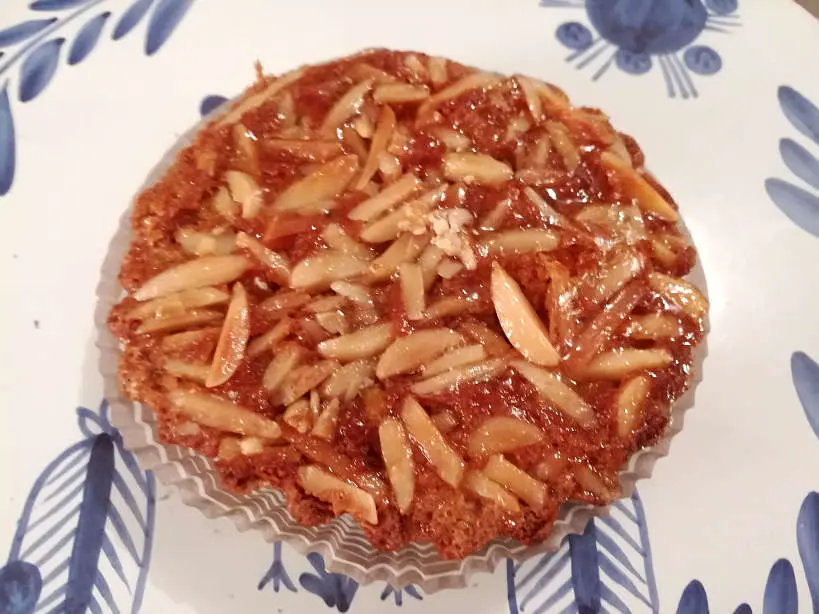 Deliciously rich and popular almond tart
The almond is one of the most widely cultivated fruits in the Douro region, with 60% of the Portuguese almond production. Almonds are typically grown side by side with olives and vines.
During the blossom season a month before spring, the Douro valley is covered in white. Following the official Almond Blossom route is the best way to enjoy the beautiful and serene landscapes.
There is a famous Portuguese legend that tells the story of the almond trees that came to Portugal thanks to a Moorish King. To please his nordic princess who missed snow, he ordered the people plant almond trees to remind her of snow.
As a consequence, many Portuguese desserts are made with almonds. The almond tart or Tarte de Amêndoa is one of the most popular desserts in the northern region of Portugal.
It is a simple pie made with almonds, sugar, butter and milk. While the dough is made of eggs, flour, sugar and butter.
There is no almond paste in the filling which makes it light and crunchy. The divine almond flavors come from the chopped almonds on the crust.
This is a delicious sweet dessert packed with almonds and a best food in Porto not to miss.
9 – Jesuítas – Traditional Portuguese Pastry Named After Jesuit Priests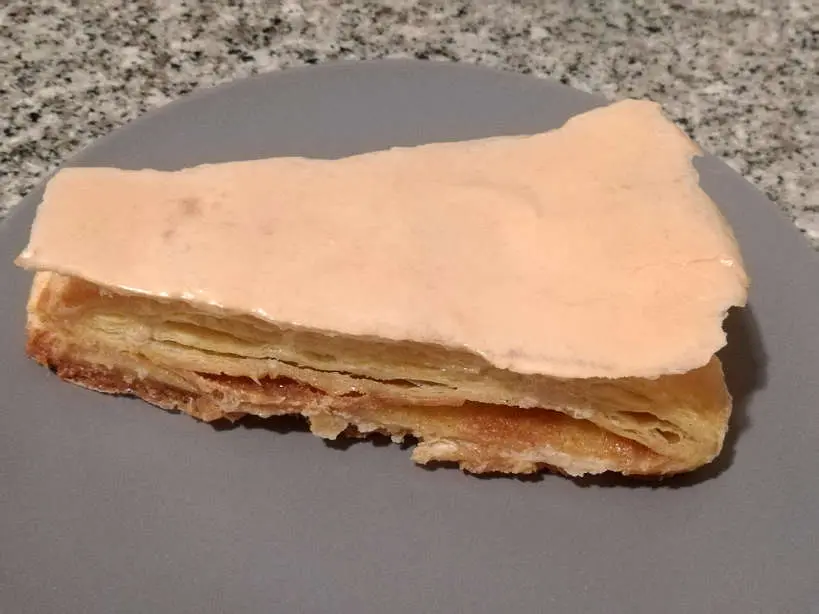 Crispy Jesuitas for your snacks in Porto
Like many desserts in Portugal, pastries have religious names due to the fact that most were made in religious convents. They are often referred to as conventual sweets or doces conventuais.
This is a puff pastry, triangular in shape filled with cinnamon egg cream (doce de ovos) with a crisp sugar glaze crust.
Jesuítas are a typical sweet of Santo Tirso, a city in the north of Portugal. A pastry chef who worked with Jesuit priests in Spain is said to have brought the dessert over a century ago.
The shape of the Jesuita mimics the frocks worn by the Jesuit priests.
Even though theJesuíta is small, it is packed with flavor. The combination of the pastry and crispy crust is divine.
When dipped in a hot cup of Portuguese coffee, flavors become creamy, melting the mouth.
One bite and you'll quickly fall in love with this dessert, a favorite Porto food.
10- Toucinho Do Céu – Northern Portugal's Popular Almond Cake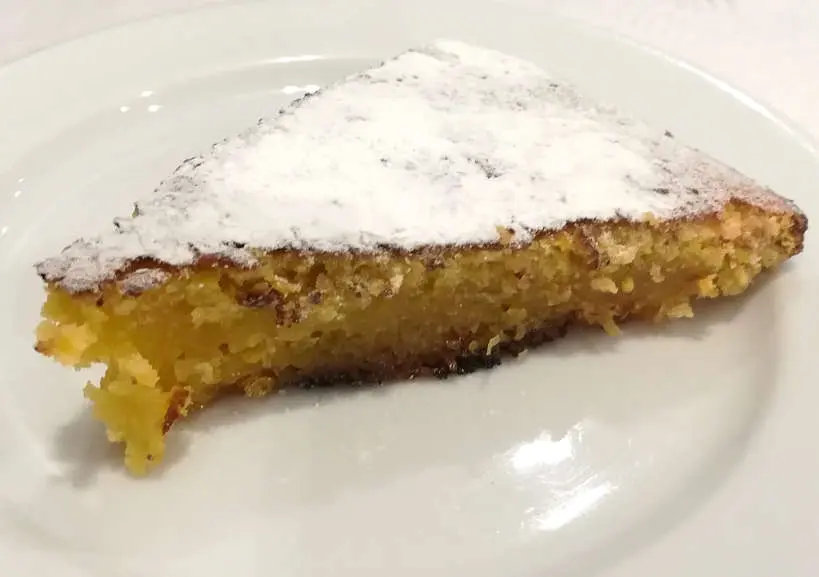 Toucinho do Ceu, a divine dessert
Toucinho Do Céu literally translates to "Bacon from Heaven". This is a wonderful almond cake from the northeastern region of Porto.
So, why does the name reference pork? The secret is the pork fat is used to make this cake. And secondly, the taste is heavenly and unbelievably delicious.
The divine reference comes from the fact that it was made by nuns from northern Portugal in the eighteenth century.
This dessert is very popular in Porto. Made with almonds, eggs and the aforementioned pork fat, it is quite sweet.
The taste is smooth and you don't really notice any pork taste. It is mostly packed with delightful almonds flavors and easily eaten in just a few bites.
In Summary
Visitors to Porto will delight in these popular foods in Porto.
In this indispensable Porto food guide, you will find what to eat and where to eat the best local food in Porto.
Whether you love seafood, sweets or unusual dishes like tripe, several regional and delicious Porto food await.
This list of top 10 Porto foods is not exhaustive. These are some of the most typical and traditional dishes we enjoyed and the ones you don't want to miss.
With amazing local dishes, amazing wines, including the famous port wines, you will enjoy a spectacular culinary experience in the region.
Do you like Porto food? Which of these dishes have you had or would like to try?
By: www.authenticfoodquest.com