Ticino Switzerland is the only Italian-speaking canton that boasts a Mediterranean flair with palm trees, beaches, and green hills which make it notably different from other parts of the country. Named after the Ticino River, this canton is a popular place among travelers from the German-speaking parts of Switzerland.
Where is Ticino Switzerland located?
Ticino is the southernmost canton of Switzerland near the Italian border. Along with portions of the German-speaking canton of Graubunden it forms a so-called Svizzera-Italiana (Italian Switzerland).
You can reach Ticino by train from any major city in Switzerland.
PRO TIP: Ticino is about one hour away from Milan, an economic hub of northern Italy. This makes Ticino is a great stop if you plan to visit Lake Como, Lake Garda, or the Dolomites.
Ascona
One of the most popular places to visit in Ticino, Ascona boasts a gorgeous waterfront along Lake Maggiore with many cafes, restaurants, and hotels. A highlight of Ascona Old Town is the Church of San Pietro e Paolo with a tall bell tower.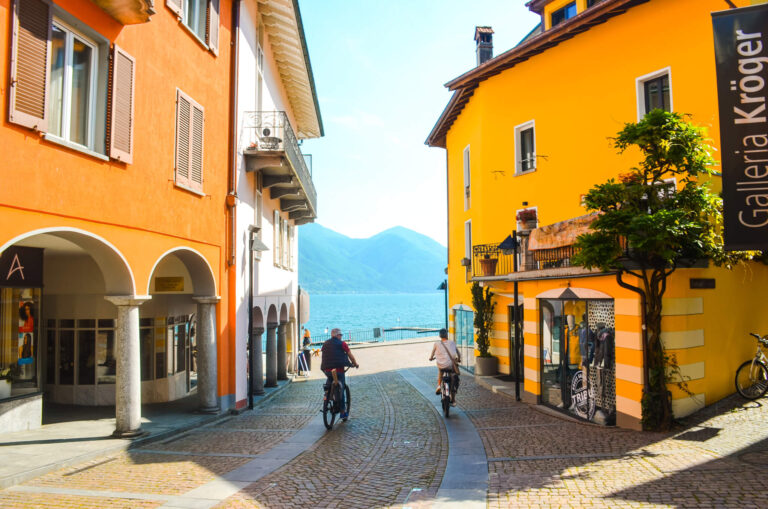 The town has a strong Mediterranean flair and a warm climate because of its low elevation. Ascona is a popular starting point for trips to nearby Valley Maggia. If you plan to explore the area during the day, and enjoy a dinner along a waterfront later in the evening, it's a good idea to spend a night in Ascona.
Brissago
Ascona's neighbor, Brissago is a small town near the Italian Border.
The most scenic part of Brissago is located around the Church of St. Peter and Paul and overlooks Lake Maggiore.
One of the main draws of this place is Brissago Islands with the botanical garden that has plants from regions of Asia, Pacific, and Africa. This is possible because Lake Maggiore can store the warmth and the Alps create a wall that prevents the cold front from the northern part of Switzerland.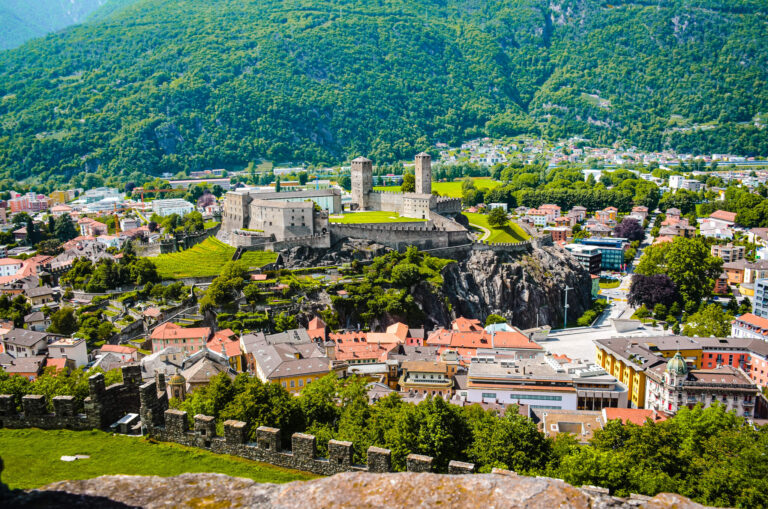 Bellinzona
The capital of Ticino, Bellinzona lacks access to beautiful lakes that define the character of Switzerland's southernmost canton, however, it offers plenty of rich heritage to make up for it.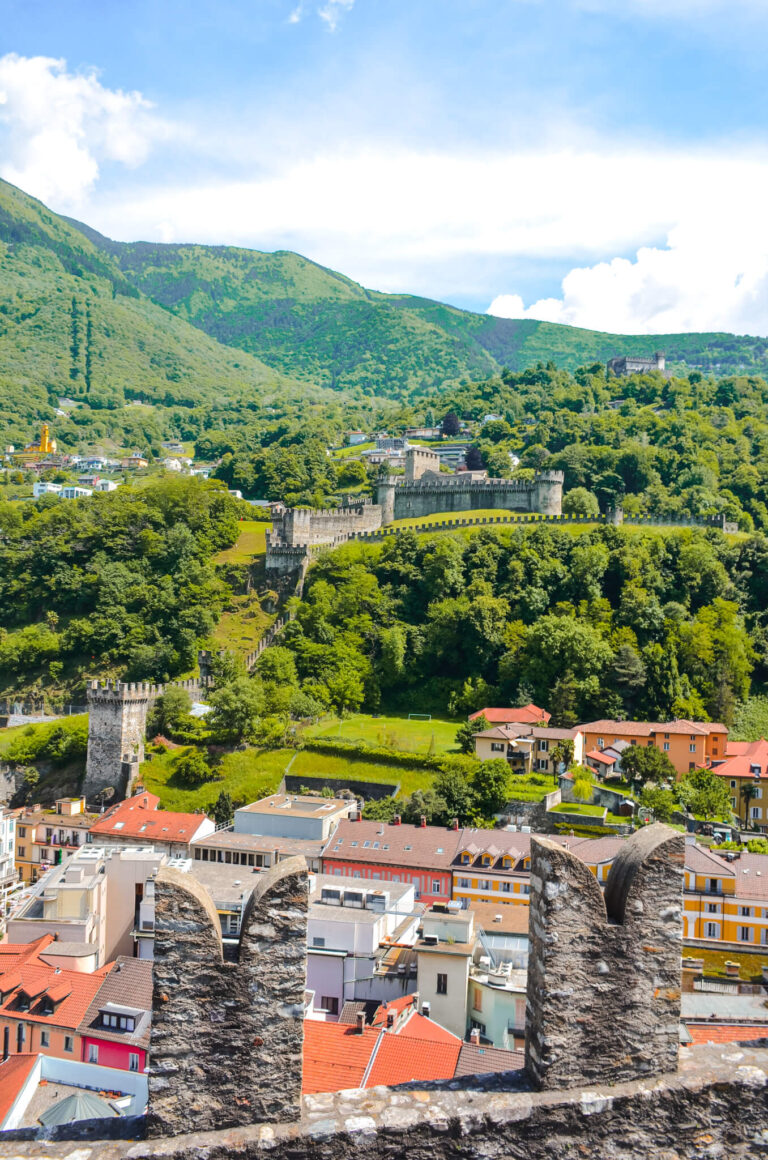 What makes Bellinzona special is the trio of medieval castles "The Castelli" which are some of the best examples of fortification in the Alps.
The three castles, Castelgrande, Sasso Corbato, and Montebello have been listed as UNESCO world heritage sites since 2000. The city has always been an area of dispute between the Swiss and Italians and the castles were built to defend Bellinzona.
Each of the castles offers a museum (For example, the Archaeological Museum and the art Museum in Castelgrande) and beautiful views of Bellinzona and the surrounding area.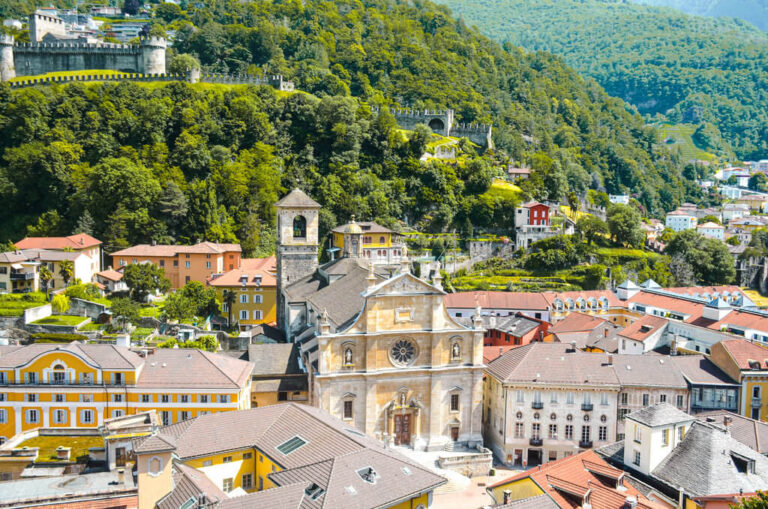 When you make a trip to Bellinzona, make sure to wander around the castles and check Bellinzona's Old Town where you can find Santa Maria Delle Grazie, a church built in the 15th century and walk along the Viale Della Stazione, the city's liveliest thoroughfare.
Locarno
Located on the northern tip of Lake Maggiore, Locarno is a sunny town with a typical Lombard architecture similar to what you can find in the northern part of Italy.
The heart of Locarno, Piazza Grande is home to an annual film festival. Also at the piazza, you can find many stores, restaurants, and cafes. Coupled with pastel-colored architecture and cobblestone streets, they give this town an unmistakable Mediterranean charm.
Make sure to walk up the hill to Madonna del Sasso, a pilgrimage site that overlooks Locarno. It's a great place to see the panoramic view of Locarno as well as the surrounding mountains and the lake.
PRO TIP: Locarno is a perfect place to stay if you plan to visit nearby Valley Maggia and Valley Verzasca.
Valley Verzasca
A narrow valley in the Locarno district, Valley Verzasca has an incredible turquoise river and natural pools. Several towns within Valle Verzasca that you might consider visiting are Corippo, Sonogno, Brione, and Lavertezzo.
Valley Verzasca is also home to Verzasca Dam, the tallest dam in Europe. It was featured in the James Bond movie titled Golden Eye (1995). Today you can repeat the famous stunt at the "007 Bungee Jump" and hang over the dam thanks to the bungee jumping that is opened here.
Lavertezzo
What makes Lavertezzo one of the most popular stops in Valley Verzasca is Ponte dei Salti, a stone bridge that spans over the turquoise waters of the Verzasca River.
Ponte dei Sale is one of the most photographed spots in Ticino, Switzerland with hundreds of visitors making a drive here every day. You can use this place as a starting point for your hikes along the river or take a quick dip in the water to cool off and spend some time lounging in the sun on the rocks.
How to get there: If you don't have a car, you can take a train to Tenero, at the bottom of Valley Verzasca and catch a bus to Lavertezzo. There's no train service in Valley Verzasca.
Another landmark of Lavertezzo that is worth your attention is the church called "Beata Vergine degli Angeli." It sits along the main road that cuts through the village.
Sonogno
Located at the end of Valley Verzasca, Sonogno is a small hamlet with stone houses (or rusticos) that are typical for this part of Switzerland. Spend some time walking around this small village to adore the beautiful medieval buildings and quaint homes.
Sonogno has a few stores and restaurants mostly geared toward tourists, however, it's still a largely undiscovered place that has low traffic. If you are looking for a place to relax and escape hustle and bustle, it's a good idea to spend a night in Sonogno.
If you love outdoors, you should plan on spending more than a day in Sonogno. The area around the village has several grottos near waterfalls, multiple hiking and biking trails. Just 10 minutes away from Sonogno, you will find Grotto Efra with a waterfall falling down a cliff.
Corippo
Nestled along the steep mountain slopes, Corippo is the smallest village in Switzerland with a population of 12 people. The village is a remote and scenic destination with a unique collection of stone houses with grey roofs.
To get to Corippo, take a side road, after passing Vogorno along the main road. The road to Corippo is narrow and winding, so you will need to slow down and drive carefully when you go up the hill.
Valley Maggia
Valley Maggia is another Alpine valley in Ticino. Carved by the waters of the Maggia River, it has several side valleys – Val Bavona, Val Rovana and Val Lavizzara. Similar to Valley Verzasca, Valley Maggia is also a popular destination for hiking, mountain biking and reconnecting with the nature.
Bosco Gurin
One place that you have to visit in Valley Maggia is Bosco Gurin.
This little Alpine village feels like a place from the past – it's remote and insular, and it is the only place in Ticino where the official language is German. People from the neighboring canton Valais came here centuries ago as they were looking for a new place to raise their cattle and stayed ever since preserving their cultural identity.
It's a perfect place to hike and take a break in summer and enjoy winter wonderland and ski in winter as the area has a small ski resort that can be accessed by a ski lift.
Val Lavizzara
Valley Lavizzara is a quiet valley that is characterized by historic stone houses, high mountain passes and great opportunities for outdoors. Several towns in Valley Lavizzara are Bignasco and Fusio are remote ans charming with well-preserved medieval architecture and charming atmosphere.
If you are looking to do some cycling, head to Fusio, and from there check out nearby Sambuco Dam and Lake Naret.
Gambarogno
Gambarogno is a little village located in the Locarno district. It has several hiking trails and the Botanical Garden of Gamborogno.
Morcote
Overlooking Lago di Lugano, Morcote has been named one of the most charming villages in Switzerland.
Indeed, this little hamlet packs on plenty of charm with its rich architecture such as Santa Maria del Sasso Bell Tower and Church of Sant' Antonio Abate among others. Morcote sits on the shores of Lake Lugano and is about 6 miles from the city of Lugano.
Lugano
Lugano is the largest town in Ticino, Switzerland.
Nicknamed the "Monte Carlo of Switzerland," because of its warm climate and many celebrities that come here, Lugano is a perfect base for your adventures in Ticino, Switzerland.
The town hugs the shores of the eponymous Lake Lugano and is surrounded by several mountains such as Monte Bre and Monte San Salvatore. There is a good selection of hotels in Lugano, so if you have a car to quickly get to other parts of Ticino, it's a perfect base for your adventure.
Some of the most popular places to visit in Lugano are Parco Civico which boasts lush greenery and a quiet space within the city; Chiesa di Santa Maria Degli Angeli, and Cattedrale San Lorenzo in the city's old town.
Don't forget to visit Museo d'Arte Della Svizzera Italiana that has a big collection of modern art with a focus on Swiss-Italian artists.
Monte San Salvatore
When you visit Ticino, Switzerland, you should hike at least one of the gorgeous mountains in the region.
One of the most popular hikes near Lugano is Monte San Salvatore that offers sprawling views of Lake Lugano from about 3,000 feet above sea level. The quickest way to get Monte San Salvatore is via a funicular. It runs on a seasonal schedule, so don't forget to check prices and availability.
You can also hike to Monte San Salvatore from the village Ciona where you can park your car. You can get to Ciona by bus from Paradiso, a suburb of Lugano.
The hike from Ciona to the top of Monte San Salvatore will take you between 40 minutes and 1 hour and although most of the hike goes through the wooded area, make sure to bring enough water, because it is an uphill climb.
On a clear day, you can even see the snow-capped Swiss Alps as well as the nearby plains of Italy's Lombardy region because views from Monte San Salvatore stretch as far as Milan.
Monte Bre
If you want to find out why Ticino is called the Rio of Europe, head to Monte Bre. From here, you can see the panorama of Lago di Lugano (Lake Lugano) and the city around it.
While you can reach the top of the mountain by a combination of funicular from Cassarate (to get to Cassarate, you need to catch a bus and get out at Cassarate Monte Bre stop) and hiking a short trail to the top, you can also take a bus from Lugano that is going to bring you to the bus stop near the trail that goes to the top.
Monte Generoso
Monte Generoso offers some of the most incredible views in the region and entire Switzerland.
If you don't feel like climbing uphill for over an hour, take a funicular from the Bellavista station to the summit of the mountain where you can find a visitor center, a restaurant, and an observation platform.
How to get around Ticino
I recommend renting a car in Ticino, if you want to get around quickly and visit some of the remote places such as Corippo.
However, if you don't have a car, you can also get around by public transportation. From 2017, tourists who stay in hotels and hostels in Ticino can use public transportation free of charge or at reduced rates thanks to Ticino Ticket that is issued upon your check-in.
Ticino public transportation
Ticino offers excellent public transportation between its towns and scenic destinations. Several bus routes serve the city of Lugano, and if you want to get on top of the nearby mountains such as Monte Generoso or Monte San Salvatore, you can do it by funicular from Lugano.
For a quick connection between cities, your best bet is a train. And if you want to explore Valley Maggia or Valley Verzasca, make sure to check the bus schedule, as neither of these valleys are served by train.
How many days to spend in Ticino?
I recommend about 5 days in the region. This is enough time to visit most towns in Ticino, and venture into the countryside where you can do hiking, swimming and enjoy the gorgeous nature of this canton.
Why visit Ticino
While Ticino is not a common spot for international tourists in Switzerland who often come to places such as Zermatt, Zurich, and Geneva, it is well worth a visit. It offers a different side of Switzerland and shows just how rich the culture is in this small country.
Source: thediscoverynut.com