Enjoying Switzerland is nearly effortless; even a busy few days in the Bernese Highlands feels like a peaceful escape. This region of fairytale mountains is about an hour south of the capital city Bern, and more than worth the trip to visit. Whether you arrive by car or train, plan to take plenty of photos along the way. Don't even try to resist marveling at the Alpine views dotted with aqua rivers, charming villages, and cows with bells.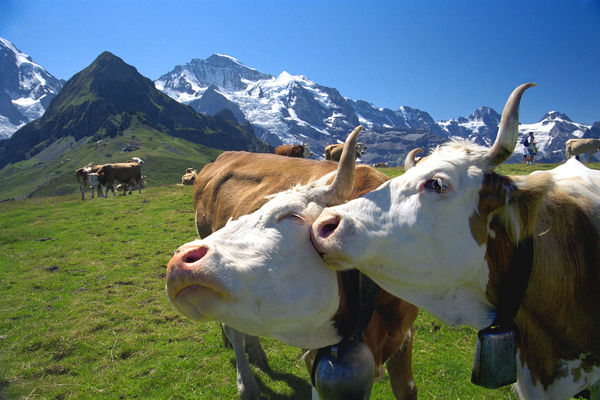 Day 1: Interlaken
The colorful town of Interlaken is the heart of the region, nestled between Lake Thun & Lake Brienz, overlooking the famous Jungfrau peak (the "top of Europe") to the south. Spend a couple hours just strolling among the streetside markets, the Swiss architecture, and the seemingly endless supply of pretty window boxes. Stop to admire the river that runs through town, and to pop into a few shops.
You may have been warned that Switzerland is expensive, and while that's true, it's easy here to travel simply and still have a fantastic time. But even if you're on a budget, make room for a treat like sweets from Läderach or a genuine Swiss army knife. In true Swiss fashion, everything they craft – from chocolates to watches – is nothing less than excellent.
For your first view over the mountains, schedule a tandem paragliding flight. We missed this during our visit, but it's the first thing I would book for a return trip. In less than 90 minutes, you'll be back on the ground in Interlaken for dinner at Goldener Anker.
If you're relying on trains for transportation, stay somewhere in town – you could even relive the Belle Époque era at the historic Victoria-Jungfrau Grand Hotel. If you have a car, stay a bit outside the city in one of the smaller villages. We rented this apartment up in Beatenberg that had the most wonderful host (a former hotelier!) and a beautiful view of Jungfrau.
Day 2: Schilthorn & Lauterbrunnen
Start your morning early, with the journey out to Lauterbrunnen Valley and up into the mountains. While Jungfrau is the tallest and most well-known peak, the train ride to the observatory is hours long and quite expensive. Instead we chose nearby Schilthorn, a shorter trip that offers remarkable views of Jungfrau and it's neighbors Eiger and Mönch.
You might recognize Schilthorn's Piz Gloria observatory from the James Bond movie On Her Majesty's Secret Service, and after you've taken in every view, you can head inside to the slowly rotating restaurant for brunch and another panoramic perspective.
On the way back down the mountain, don't take the cable car for the entire trip. Hop off in the town of Mürren, and hike down to the next stop in the village of Gimmelwald. It's an easy walk that will give you a glimpse of Swiss mountain life: there are no cars but plenty of cows, charming buildings, and beautiful flowers.
In Gimmelwald, be sure to stop in at The Honesty Shop. It's a small store without prices or attendants, relying entirely on your integrity. For almost 20 years, this shop has sold Swiss crafts, snacks and souvenirs while restoring visitors' faith in humanity. Simply browse the shelves, choose anything you like, and slip an envelope with your payment into a secure box. Isn't it a fantastic idea?
After another cable car, you'll be back down in Lauterbrunnen Valley, which is surrounded by dramatic cliff faces and over 70 waterfalls. When you're not busy taking in the landscape, make your way through the town of Lauterbrunnen. It's the perfect place for a leisurely end to your day, with just one main road lined with shops and restaurants.
Day 3: Harder Kulm
As your time is winding down in Switzerland, make one last climb to Harder Kulm. It's just a 10-minute ride on the funicular train (or a 2-hour hike) from the ground to the platform, and the best view of Interlaken. You have an incredible panorama to take in: Jungfrau straight ahead, the city spread out below, emerald Lake Thun to the right, turquoise Lake Brienz to the left.
If you have another day or two, cruise around the lakes to explore the towns and castles that line the shore. For a different view of Interlaken's valley, take the historic cogwheel train up to Schynige Platte . Visit the Saint Beatus Caves, or take a train to nearby Bern or Lucerne.
Source: monicafrancis.com