Without a doubt, Switzerland is one of the most beautiful countries in Europe. And Lugano is one of my favorite places to visit in Switzerland! I will now let you have some insights into my own travel experiences I made there. Hopefully, you can pick something up for your own trip to Lugano and will know about all the things to do in Lugano in one day!
A mix of two cultures
I hear it a lot that people who travel in Europe like both, Switzerland and Italy, even though both countries are pretty different. The styles of architecture, the food, the weather and especially the cultures are extremely different. So why not put the best parts of both in one place? That's exactly what you can expect in Lugano.
You will surely recognize the Italian influence – which is not surprising at all if you look at the map shortly. Lugano is located directly next to the Italian Border in the Italian speaking part of Switzerland, called Ticino, in the south of Switzerland. Surrounded by the Swiss Prealps and next to the "Lago Maggiore" (Lake Maggiore) the landscapes around the 9th largest Swiss city are absolutely outstanding. But I will catch up with that later.
Seriously, not only do they speak Italian or eat Italian food, but they also have a very similar architecture to Italian cities such as Firenze or Rome. Logically you can't compare Lugano to this world-famous places, mainly 'cause it is a much smaller and newer city. But it was clearly inspired by the old architecture of Italian cities and makes a trip to Lugano even more special.
Things to do in Lugano
Monte Bré and Monte San Salvatore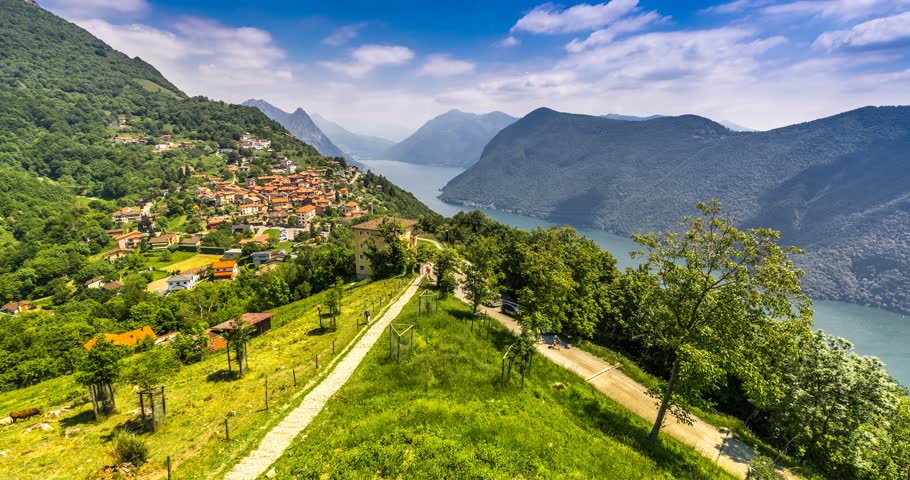 If you are interested in beautiful views or taking spectacular images (okay let's be honest: these two places are just beautiful!) I can highly recommend visiting the two best-known tourist attractions there: Monte Brè and Monte San Salvatore. Whereas Monte San Salvatore is accessible until late in the evening (11.00 PM) the funicular up to the Monte Brè closes way earlier. It is also possible to reach the summits as a hiker. However, I was lazy and used public transportation, which is super easy.
What can you expect there? Well, in my opinion, one of the best views in the entire Switzerland. For me, this is worth every hour and every cent you spend there! I can also give you an extra clue if you want to enjoy the sunset on Monte Brè. Due to the fact that the funicular there stops its service pretty early, it looks like you have to hike all the way up. But there is an easy solution: Take the public bus. It might be confusing and the route is a little bit crazy, but with the help of the "sbb.ch" app, you will easily find the station "Brè, Paese".
Once you reached this point it is merely a fifteen-minute walk to get to a great viewpoint where you can enjoy the moments of the sun going down. Furthermore, it was quite gentle as it is not an obvious way to get to this point in the evening.
The only person I met up there was another photographer, which admittedly was prepared better than me. Whilst I had to run the last few meters to not miss the sunset completely (yeah, I was kind of late) he already prepared his whole camera and made a lot of pictures.
Lake Lugano
While the two places mentioned above were my absolute favorites, I also enjoyed other things to do in Lugano. Seriously, just take a short walk next to Lake Lugano, you will not get disappointed. Combined with good spring, autumn or even better, summer weather the time just flies away while walking next to one of Switzerland's most beautiful lakes. A walk next to the lake should be on every traveler's list, even when visiting Lugano for one day.
Parco Civico
Also, make sure to stay in "Parco Civico" which is located next to the lake. I spent some time during lunch there, which was a great idea. Parco Civico is a perfect place to see in Lugano for everybody that likes nature – or to just calm down after a day of exploring. It certainly is one of the things to do in Lugano in one day!
Churches
Talking about Italian influence and architecture: The local "Chiesa" and "Cattedrale" (churches) are very similar to their bigger brothers from Italy. These churches might not be as big or impressive as their bigger counterparts in Italy, yet, they are absolutely worth checking out.
Other things to do in Lugano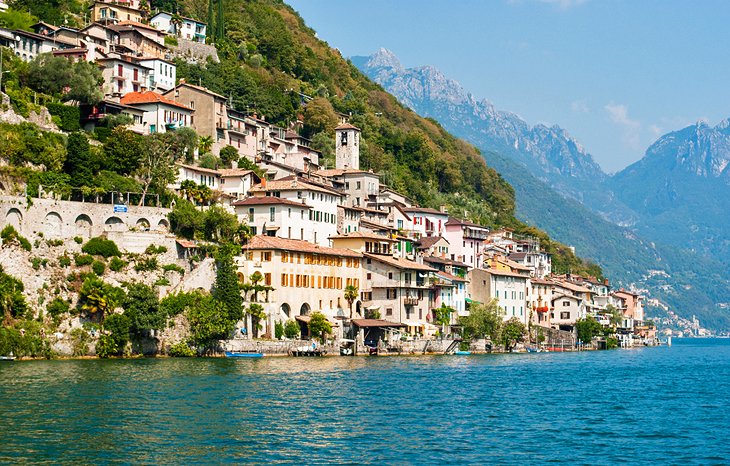 Solely because my time was limited I missed some famous activities in Lugano, such as "Parco San Grato" or one of the many boat trips you can do starting from the Lake. They even manage to bring you to Italy, if you wish.
Lastly not an insider tip, yet one of the places to see in Lugano: Just go for a walk in the city center, enjoy the atmosphere, eat a slice of pizza (good joke, obviously I had not only a slice), try fresh "gelato" (ice cream) and relax. A trip to Lugano will be completely different than any other Swiss city like Bern, Zurich, Basel or Lucerne, just to name a few – but I'm sure you will find enough places to see in Lugano in one day.
Should you visit Lugano?
Is Lugano a travel destination on the top level everybody should have seen? In my opinion: no. But if you stay in Switzerland it is a great addition to your itinerary! The contrast between the German and Italian Part of Switzerland is huge and very interesting. It is an example of Swiss diversity and a very interesting mix between the Swiss and Italian culture, which are highly variable.
Also if you stay in Milano, Venice or just somewhere in the north of Italy it is only a short trip to get to Lugano. Lugano is one of the most breathtaking places in Switzerland for sure. Don't waste your time thinking about it & plan your trip to Lugano! You will not regret it.
Hotels in Lugano
Lugano is a city with a lot of great places to stay – whether you want to stay in a luxurious hotel or in an affordable room – there will be something for you! Here are some options that I've selected for you:
Hotel Splendide Royal: Luxurious hotel with a perfect location, near the old town and located next to the lake.
Hotel Lugano Dante: Amazing price-value for the service provided, tasty breakfast buffet and location inside the city center
Salotto Bré: Cheap bed&breakfast option – recommended if you are traveling on a budget.
I personally stayed in the Hotel Lugano Dante and really enjoyed my stay, especially because of its amazing location in the city center.
Getting to and around Lugano
If you are flying into Switzerland, I recommend getting into Zurich – other options would be Geneva or Basel, which also have good airports. Additionally, you can fly into the airports in Milano or even book a flight directly to Lugano. However, the airport is really small and doesn't operate many flights. I use Skyscanner to find the cheapest flights.
Once you reached Switzerland/Italy it's really easy to reach Lugano by either car or public transportation – you can get to Lugano from any place/city in Switzerland – and also from the North of Italy. It is also possible to take a boat ride on the Lake Maggiore. This makes it perfect to travel to Lugano for one day.
Once you make it there, your options are also great: Public transportation brings you almost everywhere in the city – and you can take boats to reach many other destinations as well.
Best time to visit Lugano
Lugano is a great place to visit all year round, mainly depending on what you are looking for. My personal favorite time is spring (March-May), as there are fewer tourists than during Summer, yet, you can already experience wonderful weather – if you have some luck with you.
Source: mscgerber.com