Australia is known for its beautiful coastline, filled with white sandy beaches. But beyond that coastline lies some of the world's best marine life and dive sites. From the Great Barrier Reef in Queensland to Ningaloo Reef in Western Australia, here are the best places to dive across the country.
Osprey Reef
Osprey Reef is located in the Coral Sea off the Far North Queensland coast, and 110 kilometres (68 miles) from the Great Barrier Reef's northernmost part. Its North Horn site is known for its whitetip reef shark population and has been a shark feeding site for 15 years. There's a natural underwater amphitheatre, where divers can sit 20 metres deep (65 ft) and watch the sharks feed. Other marine species around Osprey Reef include silvertip and grey reef sharks, dogtooth tuna, potato cod, and pelagic octopus.
Julian Rocks
Located off Cape Byron (mainland Australia's easternmost point), Captain Cook named Julian Rocks in 1770. It was formed by a volcanic eruption some 20 million years ago, and is world-renowned for its marine life. Lonely Planet even listed it as a "mini Galapagos" and one of the world's top learn to dive destinations. There are over a dozen dive sites at Julian Rocks, which range in depth from six metres to 24 metres (20 to 80 ft). A part of the Cape Byron Marine Park, Julian Rocks is only a 10-minute boat ride from Byron Bay and supports about 1,000 marine species. In winter, endangered grey nurse sharks and humpback whales visit, while in summer it's home to manta rays and leopard sharks.
Ningaloo Reef
Ningaloo Marine Park is a World Heritage-listed site, located off the coast of central Western Australia. Within the park is Ningaloo Reef, the largest fringing reef in the world at 260 kilometres (162 miles) long. The coral reef is home to turtles, tropical fish, humpback whales, and whale sharks. Ningaloo Reef is the best place in the world to swim with whale sharks, which are harmless creatures that reach up to 12 metres (39 ft) in length. The best time to visit Ningaloo Reef to swim with these gentle giants is from mid-March to mid-September.
Lord Howe Island
There are over 60 dive sites around Lord Howe Island. Its surrounding coral reefs are among the world's most southerly, and the island is located at an intersection between five major ocean currents. This means Lord Howe Island is blessed with an unique marine ecosystem; filled with tropical, subtropical, and temperate marine life. Ball's Pyramid is known as the island's premier dive, as it's home to the world's tallest sea stack. However, divers must have an advanced diving certificate to visit Ball's Pyramid. Another must-visit dive site is Comets Hole, which is a favourite among underwater photographers.
Lizard Island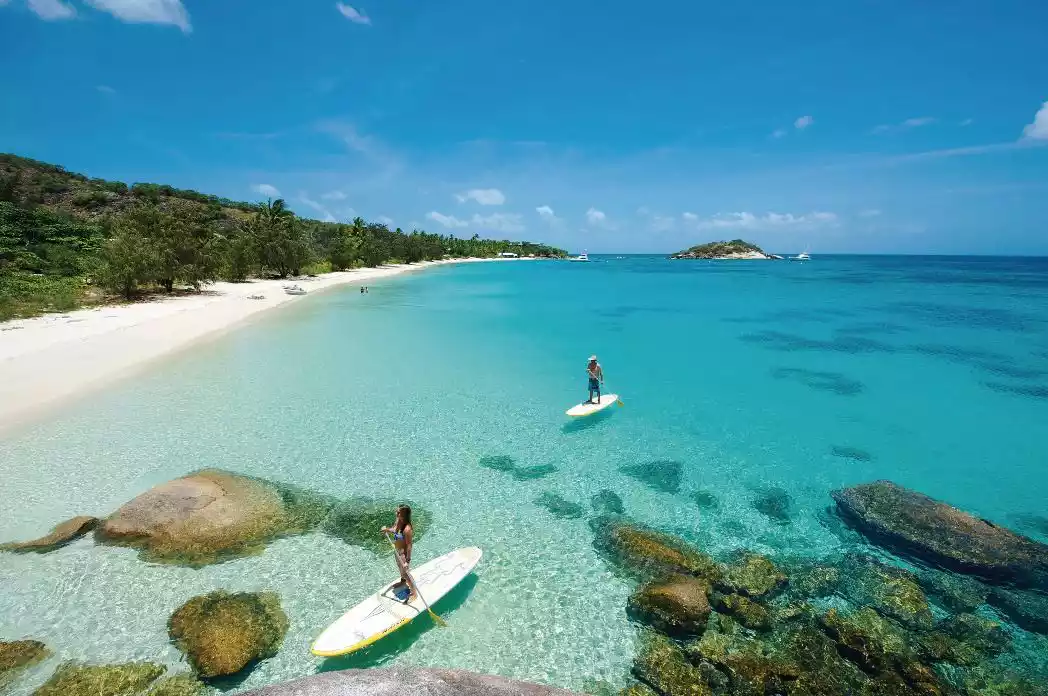 Lizard Island is one of the most breathtaking islands within reach of Cairns, and is the northernmost resort along the Great Barrier Reef. It's known for its exclusive resort and dive sites, including the world famous Cod Hole. Located 50 minutes offshore, this is where divers can get up close and personal with the massive potato cod, a curious marine creature. Other dive sites include Yonge Reef, which is good for drift diving; and Big Softy, to dive with reef sharks and manta rays. Night dives are also available to Lizard Island guests.
Fish Rock
Fish Rock, located off the coast of South West Rocks in New South Wales, is home to Australia's best ocean cave dive site. Aptly named Fish Rock Cave, it's commonly referred to as one of the best dive sites in Australia. Fish Rock Cave stretches for 125 metres (410 ft). It's where the water is always clear, and the ecosystem is completely different. Aside from its cave, Fish Rock is also where the critically e.n.d.a.n.g.e.r.e.d grey nurse sharks feed, m.a.t.e, and give birth throughout the year.
Rapid Bay Jetty
Located on the Fleurieu Peninsula and a 90-minute drive from Adelaide, Rapid Bay Jetty is South Australia's most popular shore dive site. Diving at Rapid Bay Jetty allows you to see leafy seadragons in their natural habitat, and is the world's seadragon capital. There is an old and new jetty onsite, but the old jetty is the best dive site. Its pylons are a diver and photographer's delight, as they're overgrown with colourful corals, sponges, and ascidians. Other marine life in the area include nudibranchs, sea stars, pufferfish, rays, and cowfish.
SS Yongala Wreck
In 1911, the SS Yongala ship—carrying 122 people—was travelling from Melbourne to Cairns when it got caught in a cyclone and sank off Cape Bowling Green, just south of Townsville in Queensland. The wreck wasn't found until 1958, when it became Australia's largest and most intact historic shipwreck. Today it's known as one of the region's most popular tourist attractions, and one of the world's best dive sites. Over 10,000 divers visit the SS Yongala wreck annually. It's located within the Great Barrier Reef Marine Park, so it's home to an array of tropical marine life.
By: theculturetrip.com