The Algarve is most famous for its coastline, where visitors come to bask on some of Portugal's best Blue Flag beaches and wander the tiled streets of whitewashed ports and tuck into fresh seafood. Whether you're looking for family-friendly coves, a lively bar scene or traditional Portuguese culture, these top seaside towns on the Atlantic coast deserve your attention.
Lagos
Once a key trading port, Lagos is filled with Moorish-style architecture and surrounded by ancient city walls. Discover its maze-like streets, which give way to leafy squares where you can sip port al fresco while admiring the colourful tiled buildings. A long, palm-lined promenade leads to the marina, where you can take a boat trip along the coast, darting in and out of secret caves and beaches. The highlight is Ponta da Piedade, a series of multicoloured rock stacks sea-sculpted over centuries.
Tavira
Enjoy a slice of authentic Algarve life in Tavira, a lesser-visited fishing port east of Faro. Here, a Roman bridge stretches over the river and the streets are a monument of Moorish and Renaissance architecture. Discover the Castelo ruins with their hidden garden and crumbling walls offering views over the town, before entering the cool sanctum of the chalk-white church next door. Afternoons in Tavira are made for relaxing on a riverfront terrace watching the boats glide by.
Cacela Velha
Cacela Velha, just 30km (19mi) from the Spanish border, is a hilltop village filled with white-washed cottages within the Ria Formosa National Park. Its main attraction is Praia da Fábrica, a long stretch of golden sand that shifts with the wind and tides, creating sparkling pools and lagoons. The village is protected by the remnants of a walled fort, which was ravaged by the 1969 earthquake. Visit in mid-July to experience the Noites da Moura Encantada festival – Nights of the Enchanted Moorish Women – to discover traditional arts and crafts, and more.
Aljezur
Aljezur sits away from the tourist crowds on the wild northwest coast of the Algarve. It's shadowed by the atmospheric ruins of a hilltop Moorish castle that dates back to the 10th century, with white-washed houses spread below. Aljezur is a fantastic spot for foodies too, with plenty of restaurants and cafes serving fresh seafood and authentic regional dishes. Nearby, the protected Parque Natural do Sudoeste Alentejano e Costa Vicentina boasts black-cliff beaches with good surf.
Sagres
Face dramatic, windswept vistas in Sagres, home to a 17th-century fort that clings to the coast. From here, you can watch huge waves crash to shore and wander clifftop trails towards Cabo de São Vicente lighthouse, which marks the most southwesterly point in Europe. Sagres itself is one of the prettiest seaside towns in the Algarve, with a small marina and port famed for its lobster fishing – though it makes a perfect base for surfers who come to ride the Algarve's gnarliest waves.
Faro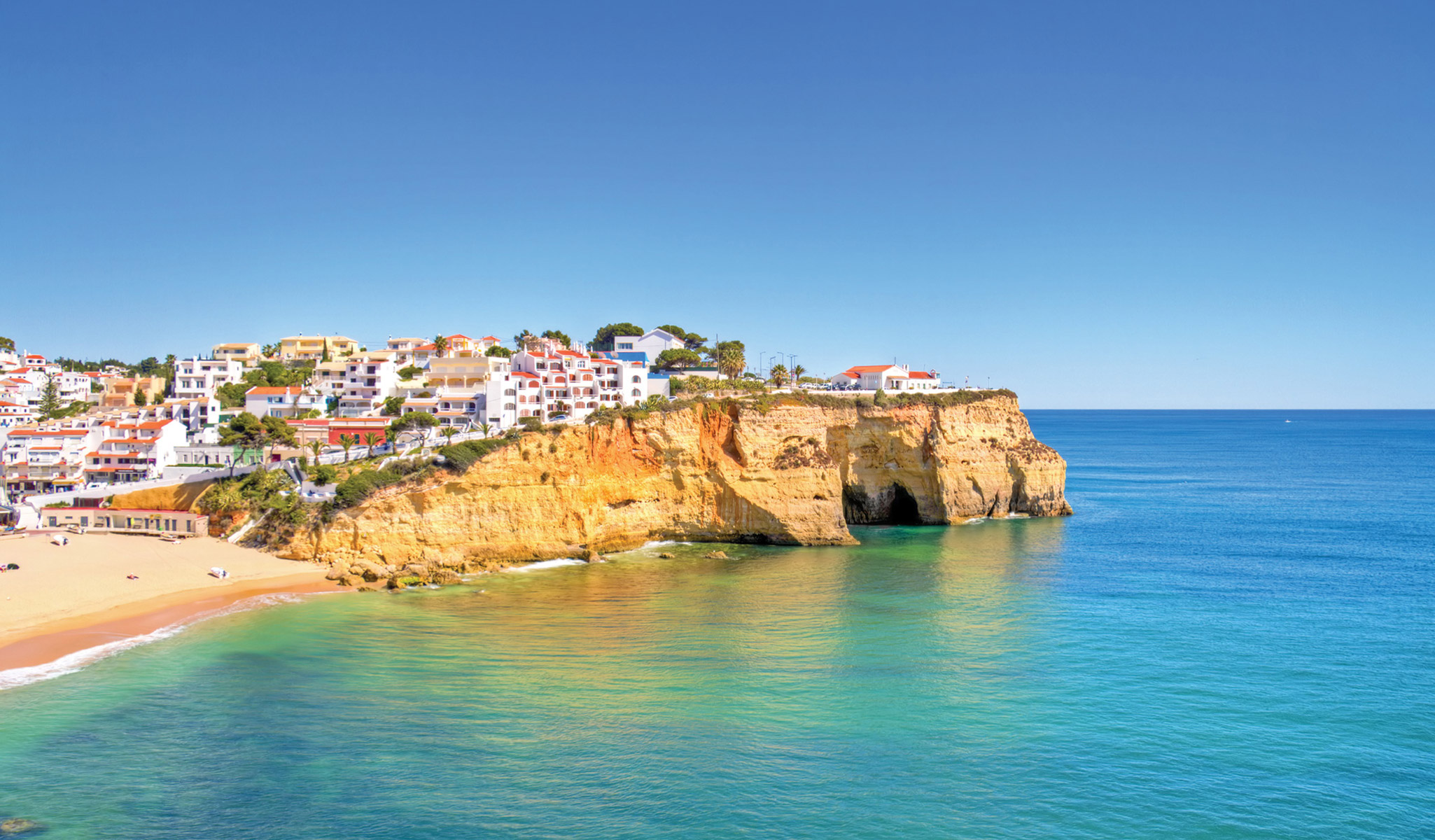 The airport is generally all that most tourists see of Faro, but there's much more to discover in the Algarve's historical capital. Pass through a stone arch into the Old Town, which is lined with shuttered Portuguese relics that lead to Cathedral Square; here you can climb the bell tower for views over the coast. Faro is also a base for boat trips to the Ria Formosa Natural Park, a network of salt-water lagoons and sandy islands home to flamingos and marine birds.
Quarteira
Quarteira is one of the Algarve's original resort towns, loved for its long promenade bursting with cafes and restaurants that spill onto the street. Its wide, sandy beach is perfectly positioned between Vale do Lobo – an exclusive beach resort backed by golf courses – and Vilamoura's glitzy marina to the west. Aside from relaxing on the beach, you can mingle with locals at Quarteira's fish and produce markets or shop for souvenirs at the gypsy market on the outskirts of town.
Albufeira
There's a good reason why Albufeira is the Algarve's top tourist haunt. Once a peaceful fishing village, the town now offers a blend of Portuguese charm and vibrant nightlife. By day, you can wander the cobblestone streets of the Old Town with its whitewashed Moorish architecture and then, when the sun goes down, hit the bars and clubs in the New Town's strip. Then there's the long stretch of golden beach backed by jagged cliffs, where you can hop on a boat trip down the coast.
Armação de Pêra
This unassuming seaside town, just west of Albufeira, stands out for the remains of its 1667 fort, which sits on a promenade overlooking the beach. Walk west along the sand towards Galé, where a wooden boardwalk stretches across a bird-filled lagoon; or east along an almost-hidden coastal path for dramatic coastal views. Just inland, you'll find Portugal's best hand-made pottery in nearby Porches.
Portimão
Get a taste of local life in Portimão, one of the Algarve's largest seaside cities. There's a residential feel with modern apartment blocks sprawling out from the tree-lined Old Town, which is home to Portuguese-tiled buildings and seafood eateries. Portimão's main beach, nearby Praia da Rocha, is famed for its surf-friendly waters and long sands littered with dramatic rock formations. Historically a shipbuilding and sardine fishing hub, Portimão is now the best place to book a boat trip to the Benagil Caves.
Vilamoura
Swanky Vilamoura is a purpose-built resort town where the rich come to play. Picture million-dollar yachts bobbing in the marina, surrounded by high-end bars and restaurants, a casino, and five-star hotels. The golfing set flock to Vilamoura for its six world-class courses but the town's main attraction is the pristine, Blue Flag sands of Praia da Falesia. Regularly rated one of the best beaches in the world, Falesia stretches for 6km (3.7mi) and is lined with soaring, rust-colored cliffs.
Luz
Families love Luz for its quiet sandy cove, which is lapped by kid-friendly shallow waters. To the east, you'll spot Rocha Negra, a huge black rock formed over 150 million years ago by Monchique's now dormant volcano. Hike up here for sweeping views over Luz and the Atlantic, where clifftop walking trails stretch on to Sagres. The town's family-run Portuguese eateries serve up local seafood dishes here, or you can head up to the yellow-and-white fort, now a restaurant, that dates back to the 17th century.
By: theculturetrip.com