The ocean plays a major role in Portuguese culture, and most of the country's popular cities and towns are situated seaside. From regional capitals to charming fishing villages, these coastal destinations will leave visitors speechless while satisfying their thirst for the beach. A word of warning, however: exploring these towns may induce cravings for seafood and more days on the sand.
Tavira
Unlike many of the resort-filled towns in the Algarve, Tavira is a bit more reminiscent of the country's rural side, characterized by a slower pace and an antique feel. The Roman bridge, medieval castle, and café-rimmed town square add to the town's uniqueness and beauty, making it one of the Algarve's most alluring centers. Learn about the region's Moorish occupation while seeing its living memory in the architecture, and take advantage of the area's tucked away beaches.
Tavira City in the Algarve | © GViegas/Shutterstock
Ferragudo
Instead of staying in Portimão, seek a bit more quiet while still enjoying the western Algarve's busier neighborhoods. Ferragudo is a beautiful fishing village decorated in white-washed homes and lined by a coast that's sprinkled with boats. One must-see landmark is the medieval Fort of São João de Arade that was once the area's "watch tower." Ferragudo is also close to many of the Algarve's most beautiful beaches.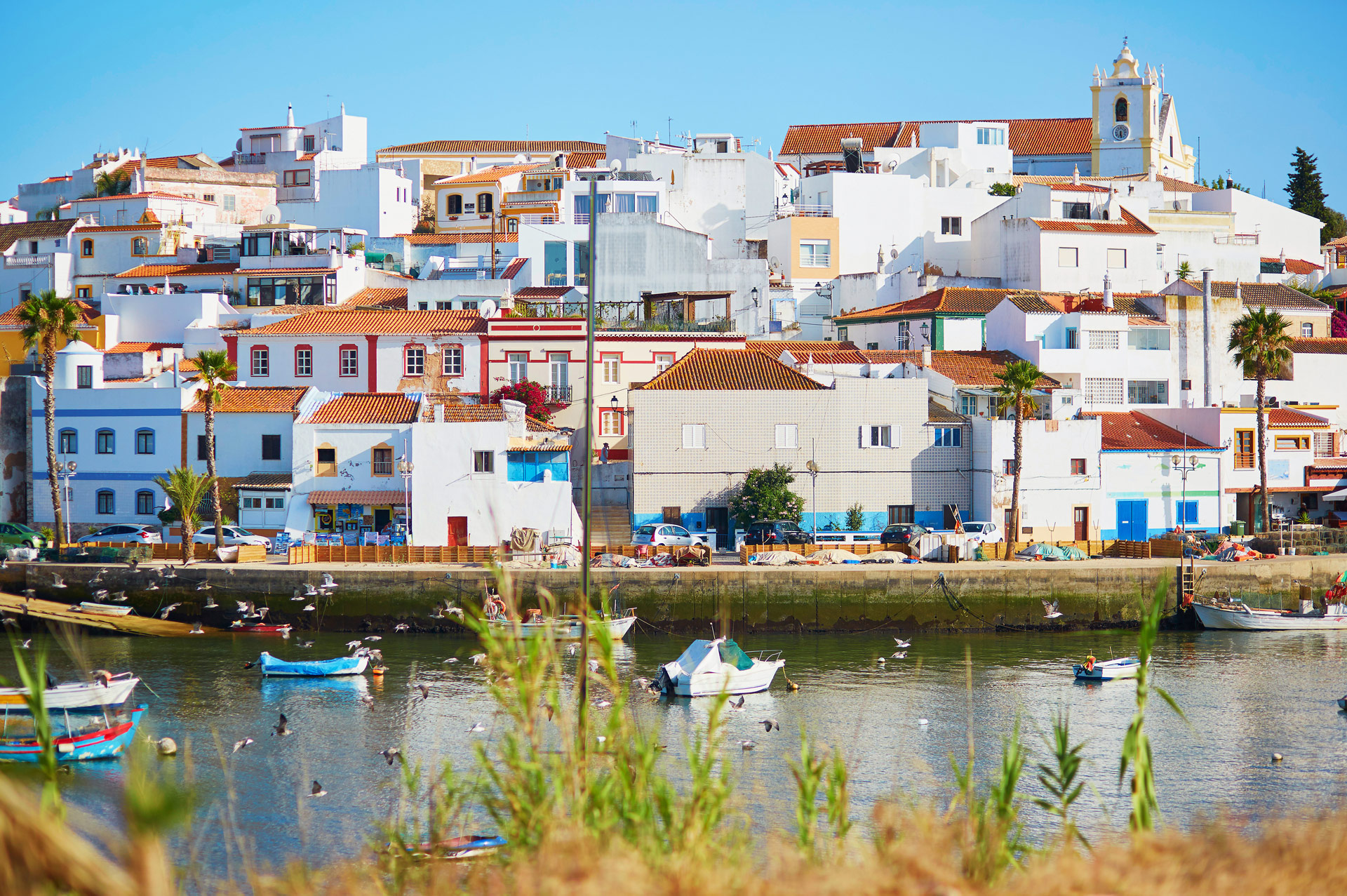 Fishing boats in Ferragudo | © Ekaterina Pokrovsky/Shutterstock
Aljezur and the Costa Vicentina
Close to the border between Alentejo and the Algarve, the Costa Vicentina is home to many charming towns that enjoy delicious seafood and beautiful beaches nearly year-round. Usually skipped by tourists seeking the more popular southern Portuguese cities like Albufeira, it is a hot spot among locals, either during the summer for sunbathing or in the winter for surfing. In addition to the traditional Portuguese appearance of the infrastructure and historical remains, the area's beauty is enhanced by the green Parque Natural do Sudoeste Alentejano e Costa Vicentina, a natural park.
Odeceixe beach in Aljezur | © inacio pires/Shutterstock
Cascais
This high-end resort town, just 30 kilometers from Lisbon, is one of the more sought-after destinations by Portugal's elite and extravagant tourists. It's also a fantastic destination for anyone wanting a day away from the capital. Pay a visit to the rumbling Boca do Inferno, or Mouth of Hell, for a beautiful view of seaside cliffs (yes, its name is misleading), or rent a bicycle and explore the town on two wheels.
Cascais, Portugal | Pixabay
Azeitão
The Arrabida Mountains are home to the beautiful and romantic towns of Setubal and Sesimbra, but Azeitão may be even more charming though it is less widely known. Covered in palace estates and vineyards, there are few towns that can claim to be its equal, and it's also home to delicious culinary treats like the local Azeitão cheese. This is also a fantastic destination for delving into the country's azulejo tile art, and the Quinta da Bacalhôa wine estate won't disappoint when it comes to art in addition to sampling wine.
Traditional Portuguese house in Azeitão | © RibeiroAntonio/Shutterstock
Azenhas do Mar
Located near the mystical city of Sintra, Azenhas do Mar is a destination cradled into a cliffside along the Atlantic Ocean. This sleepy fishing town offers a beautiful beach, amazing views, and delicious seafood, and it's an ideal place to visit if you want to relax. Among the landmarks are the cliffside and the local restaurant, also called Azenhas do Mar.
The cliffside is a major landmark in Azenhas do Mar | © Husond / Wikimedia Commons
Peniche
Peniche is home to one of the country's most visited and beautiful beaches, and it is a popular destination for seasoned surfers. Historically, it was also home to an important fortification that shifted from military protection to a prison. Still, this town is mostly visited for its coastal connection, including a prominent fishing industry, and in addition to spending days on the sand and watching surfing competitions, Peniche is close to truly spectacular landmarks like the Berlengas Island.
Colourful houses line the Peniche coast | © Janis Smits/Shutterstock
Aveiro
Otherwise known as the "Venice of Portugal," Aveiro is characterized by a network of canals filled with colorful gondola-like boats. It is also home to the Costa Nova, where striped, rainbow-colored fishing shanties steal the show. Located just 70 kilometers south of Porto, it's a great destination when looking to spend a day away from Portugal's "capital in the north."
Aveiro, Portugal. Main canal in Aveiro with gondolas | © Marina J /Shutterstock
Viana do Castelo
North of Porto, an architectural treat awaits anyone who loves antique buildings and history. Viana do Castelo is covered in spectacular infrastructure reflecting Renaissance, Baroque, Manueline, and Gothic styles. Among the most stunning buildings include the Santuário de Santa Luzia with its hill-top perch and coastal backdrop, the main square called Praça de República, and the Santa Casa da Misericórdia. This charming northern beach town is also where much of Portugal's filigree jewelry originated.
The view to Viana Do Castelo | © dinozzaver/Shutterstock
Ponta Delgada
This list wouldn't be complete without mentioning the capital in the Azores. Green and blue mix with white and dark gray when taking in this seaside city surrounded by the sea and mountainside, yet filled with whitewashed and black basalt architecture. Among the most picturesque landmarks are the Portas da Cidade and main city square. It's common to see horse-drawn carriages moseying along the road and to hear happy squeals from locals playing along the shore.
The Portas da Cidade, or "Doors of the City" in Ponta Delgada | © Carlos Luis M C da Cruz / Wikimedia Commons
By: theculturetrip.com