Solidify your new marriage and bond with a unique vacation in Portugal, where tantalizing cuisine and stunning scenery make up only the tip of the romantic iceberg. The country is perfect for newlyweds from every background and has cities that have topped trendsetter charts and have secluded retreats around most bends. Here are our picks and tips for the best spots in the country where being romantic isn't just easy—it's natural.
Setúbal
As Portugal becomes more of a popular travel destination, Setúbal loses a bit of its secret status, yet it is still among one of the country's best, hidden gems. Sitting snugly in a cradle between the Sado Estuary and the Arrábida mountains, it is perfectly positioned to offer honeymooners a range of experiences from hiking the cliffside paths to swimming in turquoise waters and enjoying a romantic candlelit seafood dinner for two. It's also where you will catch the ferry to visit the Troia Penninsula, another beautiful spot that's usually missed by tourists.
Évora
Olive and cork trees dot the Alentejo landscape, adding more appeal to this already rustic farm-filled region, of which Évora is the largest city. Walking through the beautiful and historic city center feels like stepping back through time, and the cuisine is the epitome of comfort food. Évora is the place to go if you want to spend lazy days hand in hand walking past ancient infrastructure and enjoying delicious yet inexpensive meals and wine. Also, it is 40 kilometers (24 miles) from the ultra-idyllic five-star L'And Vineyards Resort in Montemor-o-Novo, named as one of the hotels with the best views in Europe.
Sintra
Speaking of views, few cities in the world have as many jaw-dropping sights as Sintra, Portugal, located less than an hour travel from Lisbon. This romantic city is covered in palaces and castles, after all, and is a designated UNESCO World Heritage Site. There are also beautiful beaches nearby and charming towns, such as Azenhas do Mar, perfect for whiling away the day. Walkthrough the green paradise of the Sintra Mountains, which may as well have burst from the same fairy tale as the Pena Palace, share the local sweet called travesseiro from the Casa Piriquita, and explore the restaurants lining the cobblestone streets.
Lisbon
This list wouldn't be complete without mentioning the capital, and Lisbon offers much to its visitors. Charming Alfama is where couples can duck into quaint restaurants where they will find traditional cuisine and hear soulful fado, while Bairro Alto and Principe Real are the neighborhoods to spend the night with strong drinks and lively music. There is plenty of sightseeing to do and many spas to relax at afterward. Book a boat ride on the Tagus River or sit at a miradouro and watch a sunset.
Porto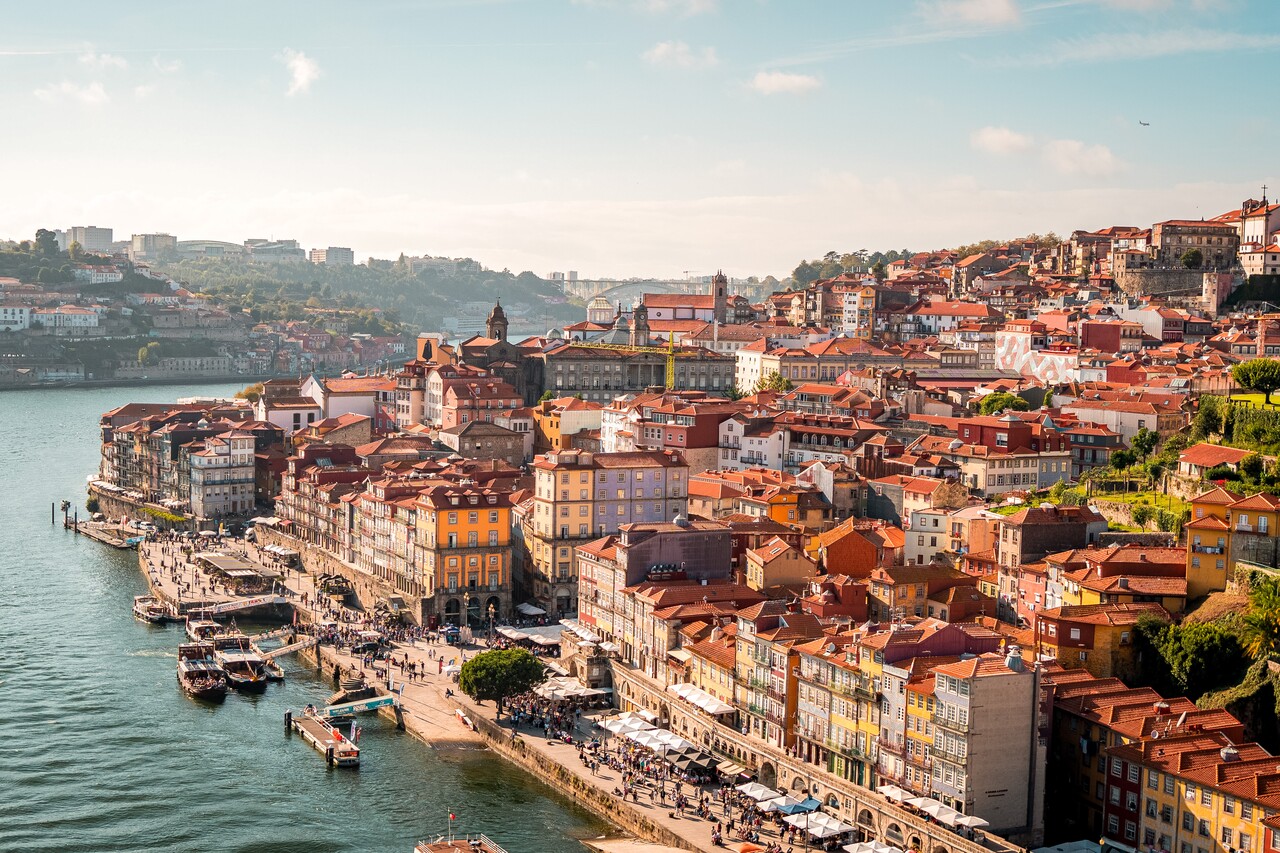 Porto is Lisbon's northern, older sister, and despite their few similarities (both are located along a river, and both are covered in hills), these cities are as different as night and day. Where Lisbon is bright and sunny, Porto has a grayer and more mysterious aura that invites couples to snuggle closer. Some people even say that the cuisine is some of the best in the country, and it's home to the world-renowned Port wine. In general, wine tastings are just one activity honeymooners can enjoy in Porto, and many cellars (some dating back hundreds of years) sit in the city and nearby Vila Nova de Gaia.
Vilamoura
True, the Algarve is one big honeymoon zone, and the west coast is where you'll find majestic caves, but Vilamoura seems built for honeymooners. The marina and hotels are modern and posh, offering plenty of restaurant options and beaches nearby. It is also close to historical Faro and the Ria Formosa Estuary. Walk through Faro's Old Town when you want to shake things up and get a cultural taste, or stay by the ocean in Vilamoura and try the Algarve's famous seafood cataplana from one of the local restaurants.
Porto Santo Island
Just 40 kilometers (24.8 miles) from Madeira island is the smaller yet equally (or more) beautiful Porto Santo Island. Practically all white sand beach, this is an unparalleled honeymoon spot for couples who wish to remain seaside. Despite being an island, there is still plenty more to do than soaking in the sun, including horseback riding, golf, and hiking.
São Miguel Island
The largest island in the Azorean archipelago is green, lush, welcoming, and vibrant, yet it also has a sleepy side that's perfect for relaxing. Since it's the largest island, there is plenty to do and see, but it's also a convenient spot if you want to explore the other islands too (with both ferries and the airport). Hike through Sete Cidades and visit the kissing lakes known as the Blue and Green Lakes or soak in the natural geothermal pools.
By: theculturetrip.com