Many Americans write Canada off as our milquetoast, maple-scented upstairs neighbor. Many Americans are truly missing out. Canada is packed coast to coast, south to north with some of the most majestic sights in the hemisphere. It's the land of sweeping prairies and temperate rainforests, towering Rockies, crystalline glaciers, and winding fjords. Basically imagine everything that makes Alaska so epic and multiply it across a country six times larger. Then toss in some spectacular cities and add some maple, because Americans were at least right about that.
Now, though, Canada's looking pretty sexy as we re-think international travel. In all likelihood, once the borders open up, Canada's destination status among Americans is about to change. That's why we rounded up 16 of the country's most spectacular natural wonders to help steer your thinking and reframe your international bucket list as one epic road trip.​​​
1. Abraham Lake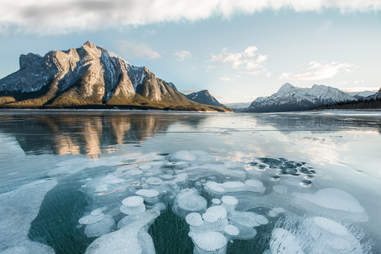 As winter temperatures at this Canadian Rockies lake plunge to minus-30 Fahrenheit, methane gas from decaying organic material at the bottom takes on an ethereal formation. By the millions, bubbles stream upward and freeze fast in the ice. The result is a hard-frozen lake top with constellations of glassy orbs suspended underfoot — a gorgeous sight with an edge of danger, given the flammability of the gas. After the thaw, this vast sapphire lake remains stunning in summertime.
2. Western Brook Pond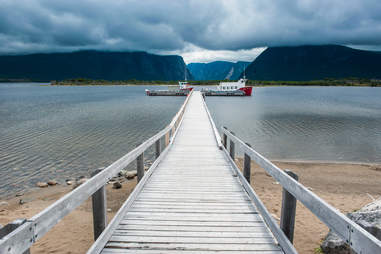 The 10-mile-long Western Brook Pond in Gros Morne National Park, on the western edge of Newfoundland, is a natural masterpiece — and just getting there is an adventure. From St. John's, the only major city on the island, drive eight hours. Then hike two miles to access the boats that will take you out on the pristine lake waters for incredible views of cascading waterfalls, billion-year-old cliffs, and the Long Range Mountains. Once you're there, your company in the fjord will be bald eagles, whales, caribou, seals, and foxes.
3. Bay of Fundy
This aquatic fantasia is home to a 50ft tidal range, the world's largest — five times higher than the average on the Atlantic. Twice daily, some 160 billion tons of water move in and out of the Bay of Fundy — enough to fill the Grand Canyon. That action draws rafters, kayakers, and anyone hoping to catch a glimpse of whales or the critters in the many long tidepools. At low tide, walk along the ocean floor and see Hopewell Rocks, naturally eroded crags shaped like arches and keyholes. By high tide, the ocean will swallow all but the tops of the columns, some of which are capped with lush foliage.
4. Jasper National Park
This vast treasure in the Canadian Rockies is a hotspot year-round. During the summer, enjoy epic backcountry hikes, plus visits to waterfalls and glacial lakes; during the winter, Marmot Basin offers 1,675 acres of skiing terrain. The Jasper SkyTram gives you 50 miles of views from 7,472ft up Whistlers Mountain. As a dark-sky preserve, the park strives to eliminate any light that could interfere with views of the universe at night, making it a destination for stargazers and astronomers. It's also a fantastic road trip destination: The Icefields Parkway, one of the world's most scenic drives, features 100 ancient glaciers and a glass-floored observation walkway 280 meters above Sunwapta Canyon.
5. Queen Charlotte Islands/Haida Gwaii
Haida Gwaii, the northernmost island chain below the Alaskan panhandle, is rich with First Nations culture, rainforests, and cliffside ocean vistas. The 150 islands (Graham and Moresby are the largest) and the Haida people on them are renowned for their totem poles and argillite carvings. In June through August, travelers can find summer festivals, including performances by local Haida performers, as well as indie, rock, and Latin groups. It's also prime bird-watching territory: The Delkatla Wildlife Sanctuary is the migratory home of about 140 different bird species.
6. Cavendish Beach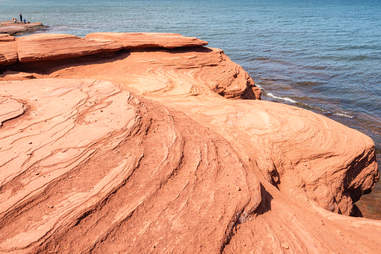 People around the world know PEI, Canada's teensiest province, as home to fabulous oysters and, maybe incongruously, Anne of Green Gables. Even without the literary tourists flocking to Cavendish Beach, it would be worth seeking out for its sandy-white shoreline, rocky red cliffs, and historic architecture. It's also a playground for deep-sea fishing, kayaking, parasailing, and golfing. Do not, under any circumstances, leave without cracking open a fresh cold-water lobster caught that day by one of the fishermen of the nearby villages.
7. Banff National Park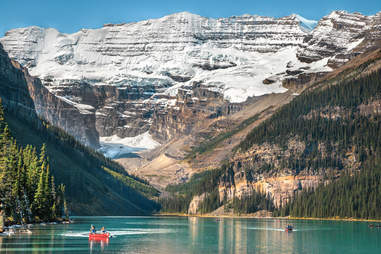 Banff National Park, a few hours north of Montana on the border of Alberta and British Columbia, is the zenith of the entire Rocky Mountain region — tall, jagged, glorious. But even within Banff, Lake Louise is a standout. Its glacier-fed waters sparkle a Caribbean blue, ringed by alpine backdrop straight out of a Bob Ross painting. In the summer, paddle around the 1.5-mile-long lake or hitch a sightseeing gondola to the top of Mount Whitehorn for views of the lake and Victoria Glacier. And in the winter, that same lake becomes one of the world's most scenic outdoor rinks.
8. Dempster Highway
The Dempster Highway is 450 miles of gravel-topped adventure as it winds north from Dawson City: through the Ogilvie and Richardson Mountains, past the Arctic Circle, past tundra scenery, river ferries, roadside grizzlies, endless sun, and rugged backcountry camping in Tombstone Territorial Park. Here, you can hike through land barely touched by humans and free from pollution. Just find some land away from the highway and start exploring tundra, forests, and hills. And, of course, keep your eyes skyward for a tremendous light show.
9. Montmorency Falls
The cliff where the Montmorency River tumbles into the St. Lawrence is a vertiginous 275 feet tall — a height that makes Niagara seem downright diminutive. Seven miles from Quebec City, you can take in the falls from a cable car or by climbing the staircase by the visitor center. Rock climbers may clamber around the interior of the canyon, rappelling down the rocks to a zip line across the canyon. Pro tip: In the summer, the international fireworks competition uses the falls as an incredible backdrop.
10. Capilano Suspension Bridge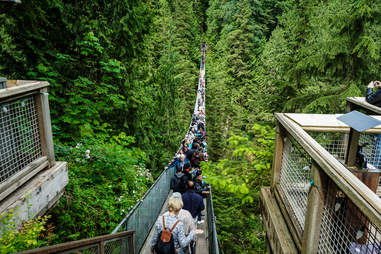 Built-in 1889, the 450 foot-long Capilano Suspension Bridge dangles 230ft above the Capilano River, a major water source for Vancouver residents. It may be a man-made attraction (no doubt, incredibly designed), but it offers one of the most amazing vistas of the West Coast rainforest — best after a rainfall, striking any time of year. Once you're on stable ground, head a few miles downhill to the striking beaches in Vancouver.
11. Auyuittuq National Park
The name of the park means "the land that never thaws," in case you were wondering how warmly to dress. The Penny Ice Cap, a remnant of ice-age glaciations, covers Auyuittuq with its broad, rocky valleys and sheer-faced mountains. Adventurous explorers will enjoy hiking unmarked routes above the Arctic Circle; skiers can follow Akshayuk Pass and set up camp at Summit Lake. Or, if you're even more hardcore, embrace your inner Thor for a climb up the 4,000 feet peak of Asgard.
12. Bruce Peninsula
You'd expect to find turquoise water, shipwrecks, coves, and sea stacks off the coast of France, Italy, or Greece. But Ontario? It's all there at Bruce Peninsula, a majestic national park three hours from Toronto. Visitors from the big city spend the weekend here tossing a frisbee around on the beach, playing tipsy rounds of golf, embarking on a glass-bottomed boat cruise, or scuba diving to explore 22 shipwrecks at Fathom Five National Marine Park. The wrecks were a result of ships that sunk during a logging boom at the end of the 19th century.
13. Cape Breton
Jutting into the lobster-infested North Atlantic waters, Nova Scotia's Cape Breton Island boasts one of the best drives in Canada. The 185-mile Cabot Trail — named after the Italian explorer who stumbled on North America in 1497 — skirts the rugged coastline in view of passing bald eagles and whales, including fin, minke, humpback, and pilot. Once you're done exploring, settle in for live Celtic and Acadian music in small-town pubs and bars, especially during the Celtic Colours festival in October.
14. Gaspésie
French-speaking and maritime cultures collide at the southern bank of the Saint Lawrence River with pastel-colored cottages, roadside lobster rolls, flocks of gannet seabirds, and a handful of gorgeous parks, including Forillon National Park with its epic seaside cliffs. There are several cute towns along the way to break at with restaurants serving tasty Quebec fare like fresh local salmon, cider wine, local cheeses, and poutine. The peninsula, which is a bit larger than Belgium, makes for a spectacular 550-mile loop starting and finishing in Quebec City. Don't make the trip without grabbing a pint of craft beer in view of the towering 300-foot Percé Rock.
15. Churchill
Leave space on your bucket list for this town of 1,000 residents in northern Manitoba, known as the polar bear capital of the world. Only accessible by air or rail, you're almost guaranteed to see a polar bear if you visit in the fall. The area is home to baby (and adult) beluga whales, seals, caribou, and up to 250 bird species. Keep in mind that a tour up here will almost certainly cost you a pretty penny, but it's worth it to experience the finest light show on Earth, aurora borealis, which is seen above Churchill some 300 nights a year.
16. Nahanni
This vast and relatively remote park is a well-deserving member of UNESCO's World Heritage family. It features spectacular mountain ranges, a waterfall twice the height of Niagara Falls, 3,000-foot canyons, and the wild South Nahanni River. The park is a natural playground for hiking, multi-day canoe trips, white-water rafting, rock climbing, and soaking in sulfur hot springs. It also offers up one-size-fits all hiking experiences ranging from a 5-mile trek up Sunblood Mountain to the grueling experience of tackling the granite peaks surrounding Glacier Lake known as Cirque of the Unclimbables.
By: thrillist.com