There's more to the Netherlands than tulips and windmills—though those are also very much worth a visit.
When you're visiting the Netherlands, you'll probably first fly into Amsterdam's Schiphol Airport. From there, it's an easy train ride to pretty much anywhere in the Netherlands, depending on what you want to see. You could train directly into Amsterdam to check out brown cafés or jenever distilleries (amongst other things), or head to nearby towns like Haarlem, Delft, or The Hague for some wonderful artwork and scenery. Some more out-of-the-way places are better visited by bus or car, however, such as the windmills of Kinderdijk and Zaanse Schans, and the flowers of Keukenhof and Aalsmeer. No matter where and how you visit, don't miss the chance to try some of the iconic things that truly make Dutch culture unique.
Brown Cafés
These time-worn pubs are a favored hangout for conversation, a drink, and some sustenance if needed—the very definition of the Dutch phrase gezelligheid, roughly translating to "coziness." The name "brown café" comes from the walls stained by years of tobacco smoke (now banned), and they're also usually lined in dark wood and sometimes filled with antiques or collectibles. One of the most famous brown cafés, 't Smalle, in Amsterdam's Jordaan neighborhood, dates from 1786; today this former jenever (Dutch gin) distillery is a charming place to stop for a beer and some bitterballen (Dutch meatballs).
Herring
Though there aren't as many as there used to be, you'll still see traditional herring (haring in Dutch) stands dotting Amsterdam and the rest of the Netherlands. Contrary to popular belief, the herring is not "raw," but has been salted and frozen for at least two days. While the customary way to eat herring is to grab it by the tail and consume it whole, many prefer having it sliced and served with a little onion and pickle, or you can have it in a sandwich (broodje haring). Some love it and some hate it, but either way, it's a Dutch delicacy worth trying at least once.
Dutch Cheese
One of the most famous Dutch specialties is their cheese (kaas), served as a snack at brown cafés and for sale at markets throughout the Netherlands. The most popular varieties of Dutch cheese are Gouda and Edam, named after the towns where they're from—and it's worth a stop in each to see the recreated cheese markets in the warmer months. Besides sampling Dutch cheese from the stalls at the street markets, in Amsterdam check out Reypenaer Cheese Tasting Room for one of the finest local cheeses or De Kasskamer in the Nine Streets for a wide and tasty selection.
Tulips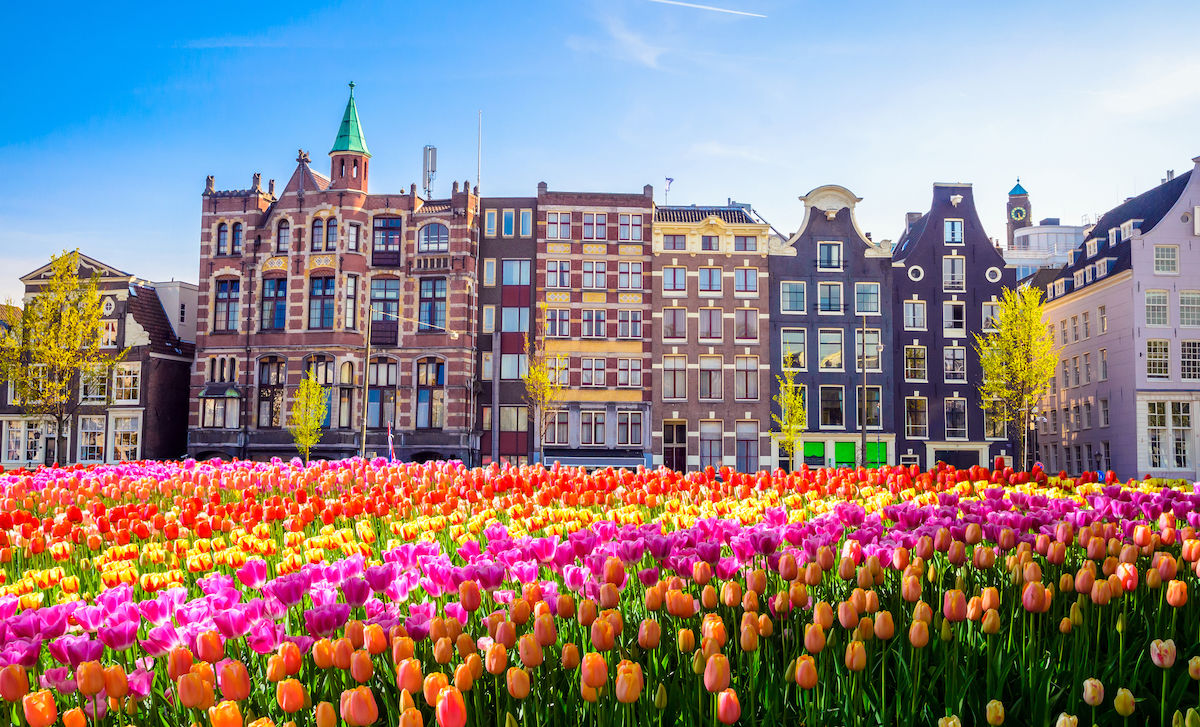 The Netherlands' most famous flower, the tulip, was imported from the Ottoman Empire (now Turkey) in the 16th century. Today thousands of visitors come to see the beautiful bulbs during the few weeks they bloom each spring, usually between late March and mid-April. The most popular place to see tulips up-close is at Keukenhof, the world's largest flower garden, about 25 miles from Amsterdam; it's open from March to May. Close to Keukenhof, you can drive or bike to the vibrant tulip fields, where you may also see hyacinths, daffodils, crocuses, and other flowers. You can also see the world's biggest flower auction in Aalsmeer, about 16 miles from Amsterdam—but you'll need to arrive before 7 a.m. when the action begins.
Windmills
One of the most iconic sights in the Netherlands would have to be the windmill. In the 17th century, there were more than 9,000 windmills throughout the Netherlands; today, the number is fewer than 1,000. Windmills were used not only for water drainage, but to produce paper, mustard, grain, and other goods. The largest collection of windmills still standing in the Netherlands can be found at Kinderdijk, and other working mills can be seen at Zaanse Schans. On National Mill Day, over two days in May, you can go inside about 900 windmills across the country.
Dutch Painters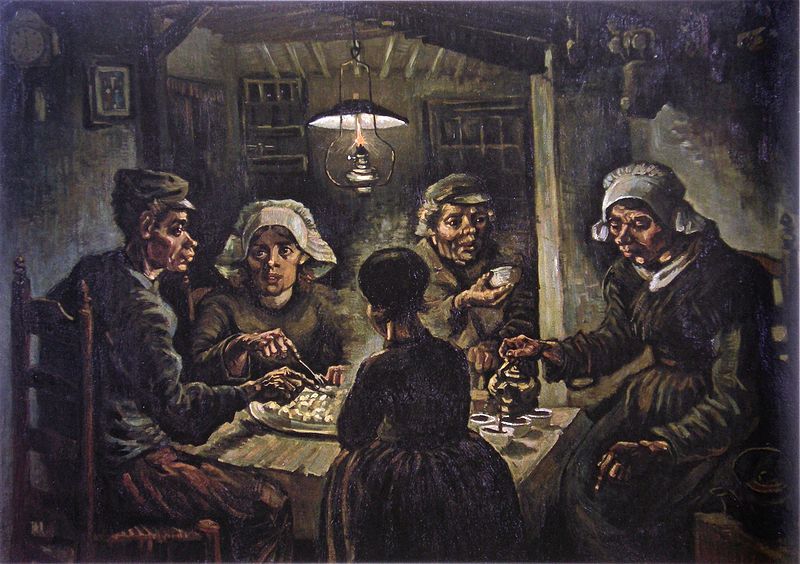 The Netherlands' Golden Age in the 17th century saw the emergence of many of the country's most famous painters, collectively known as the Dutch Masters: Rembrandt van Rijn, Johannes Vermeer, Frans Hals, and Jan Steen are the best known from this period. Add to the list 15th-century artist Hieronymus Bosch, 19th-century painter Vincent Van Gogh, and 20th-century painter Piet Mondrian, and you'll see why the Netherlands is a treasure trove of amazing art. You can't miss the Rijksmuseum in Amsterdam, where Rembrandt's The Night Watch takes pride of place along with other Dutch Masters' iconic works. Other museums to explore include the Mauritshuis in The Hague, the Van Gogh Museum in Amsterdam, the Frans Hals Museum in Haarlem, and the Mondriaanhuis in Amersfort.
Dutch Desserts
There are three must-try desserts when you're in the Netherlands: appeltaart, stroopwafel, and poffertjes. Though appeltaart roughly translates to apple pie, the Dutch version is actually more akin to an apple-studded cake. Winkel 43 in the Jordaan is widely regarded as the best place in Amsterdam to try appeltaart.
Stroopwafel is a syrup waffle with a sticky layer of stroop (a caramel-molasses type concoction) sandwiched between two waffles, and ideally eaten warm. Though it originated in the town of Gouda, it can now be found throughout the Netherlands; a great place to taste it in Amsterdam is at Original Stroopwafels in the Albert Cuypmarkt.
Poffertjes are mini pancakes topped with butter and powdered sugar and can be sampled at stands inside Amsterdam's street markets (such as Poffertjes Albertcuyp) as well as at pancake restaurants including Pancake Bakery in the Jordaan.
Jenever
Sometimes called Dutch gin, jenever is produced by distilling malt wine (made of corn, wheat, and rye) and adding in a distillate of juniper berry and sometimes other herbs and botanicals. It's usually served in a small tulip-shaped glass, filled to the brim, so you're best advised to take the first sip while it's still on the table. Bols, the oldest distillery in the world, has a museum in Amsterdam that you can visit for a tour and tasting. Other atmospheric proeflokalen (tasting rooms) in Amsterdam where you can try some jenever include 17th-century Wynand Fockink and De Drie Fleschjes. Charming Distilleerderij 't Nieuwe Diep, in a renovated pumping station inside Flevopark on the eastern side of Amsterdam, is another fun place to visit to sample their wares.
King's Day
To truly get a feel for what Dutch partying is all about, aim to be in Amsterdam during King's Day, the yearly celebration of King Willem-Alexander's birthday on April 27. The entire city decks itself out in orange and takes to the streets, parks, and canals for a blowout fête with live music, a citywide flea market, activities for kids in Vondelpark, and tons of food and drink for sale. The party actually begins the night before, on King's Night, with music, dancing, and general revelry both out on the streets and inside the clubs. It's a great excuse to do as the Dutch do: dress up and let loose.
By: www.fodors.com