Hawaii can be a very expensive place to travel, but the stunning landscapes and relative familiarity make this a bucket list trip for many families. I have scoured the internet for the very best places to stay in Hawaii on a budget.
The great news is that it is possible to travel to Hawaii on a budget. Many of the best features of the islands including its amazing beaches are largely without cost. This list of the best places to stay in Hawaii on a budget will go a long ways to helping you keep your costs down when traveling to Hawaii.
Some of these places have a more rustic, authentic atmosphere to them, some are hostels (I ONLY include family friendly hostels that I would stay at with my own kids!) but ALL of these are seriously budget friendly!
Cheap Places to Stay in Oahu on a Budget
The Beach Waikiki Boutique Hostel: This hostel is close to the beach and offers free breakfast and a neat rooftop bar that is fully enclosed (ie-high walls) with a fridge/microwave/counter top area. Private rooms are a great deal and come in a variety of bed configurations, including 3 bedroom suites that can accommodate 6-7 people.
Polynesian Hostel Honolulu: The location of this hostel is what really caught my eye. It is located at the south end of Waikiki Beach, super close to Kapiolani Park and the Honolulu Zoo (for us, accomodations near a park when traveling with kids are a no brainer!) Free breakfast, free beach chairs, and a large communal kitchen make this a solid bet for families.
Backpackers Village Inn and Hostel: If you are looking for something away from the busyness of Waikiki Beach, Oahu's laid back North Shore is a perfect fit. Backpackers Village Inn and Hostel has a wide variety of accommodations (the ones away from the beach are the best deal for budget conscious families).
The Plantation Village is located across the street from the beach. It features cabins with kitchens located on an acre of lush,                    tropical landscape (lots of room for the kids to run around and explore). This would be our first choice for this budget oasis.
Camp Mokulei'ia: If you are looking for a beautiful natural spot to slow down and reconnect with your kids in Hawaii, you will enjoy a stay here. This camp is located on the North Shore of Oahu on a pristine, unspoiled stretch of white sand beach, unmarred by resorts. They offer simple rooms, bunkhouse style cabins and "glamping" in canvas tents near the beach at really budget friendly rates.
Malaekahana Beach Campground: This place is a true bargain located on a beautiful stretch of Oahu's North Shore. Accommodation options include small bunk house cabins that resemble the plantation huts that plantation workers used to sleep in (with separate, shared bathroom and shower facilities) and more elaborate suites with indoor toilet, a nearby outdoor shower and a cute front porch. With rates ranging from $60-$120/night, this is a budget traveler's dream!
Affordable Places to Stay on Maui on a Budget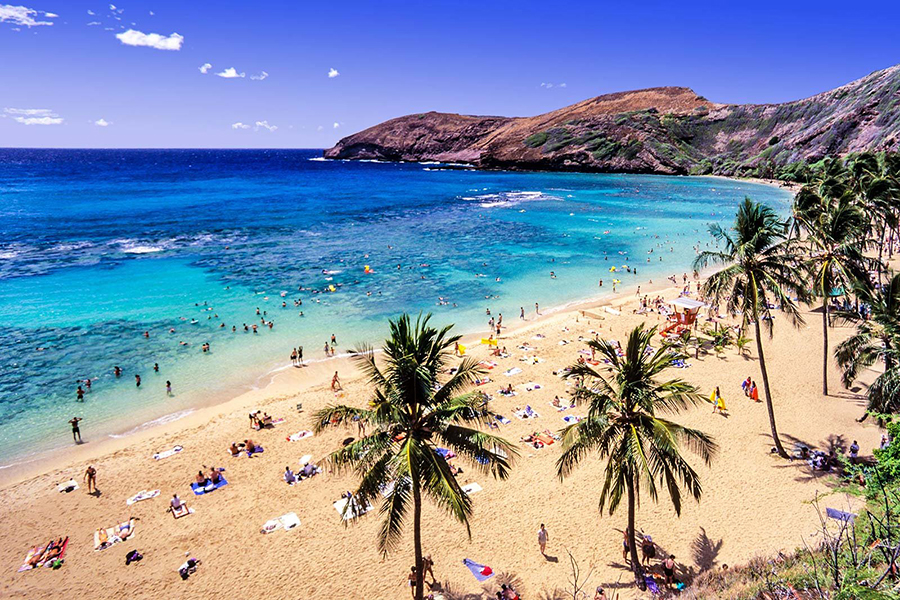 North Shore Hostel Maui: This cheap, clean hostel is located in Maui, not far from the airport. It is one of the best bets for Maui budget accommodation. They offer private rooms, some with up to four beds. They provide a free shuttle to the beach and from the airport for guests, as well as free breakfast for pocket friendly rates ranging between $69-$89. NOTE – the minimum age for kids is 6.
Cabins at Wai'anapanapa State Park: Basic accommodations that sleep 6 people for $90/night. Includes kitchen, living room, bathroom and one bedroom and a cute little front porch. Linens not provided. Wai'anapanapa State Park is a true Hawaii must – it has a beautiful black sand beach flanked by cerulean blue water.
The Best Places to Stay on Big Island Hawaii on a Budget
Arnott's Lodge: Arnott's Lodge is located a little off the beaten path, close to nature and black AND white sand beaches on Hilo's beautiful coastline. Rooms ranging from simple doubles to two bedroom suites for between $65-$160. Laundry facilities, onsite tours (with discounts for guests), fresh ground coffee and a great patio area round out the impressive amenities at this budget friendly favorite.
Hamuka Guest House and Camping Cabanas: The Hamuka Guest House and Camping Cabanas is an off the grid gem located not far from the coast and about 13 miles from the Hilo airport. This place is an amazing budget find offers bed and breakfast style rooms, a basic but clean river cabin and guest house and and super budget friendly "glamping" tents.
All accommodations are between $49-$95/night. The guest houses and cabanas are surrounded by nature and the views are                   amazing. This would definitely be on our short list for when we visit the Big Island on a budget!
Namakanipaio Cabins at Volcano House: These budget friendly cabins are located in a fragrant eucalyptus grove and are great for families! They have one full sized bed and a set oftwin sized bunk beds. Bathrooms are shared and located in the campground. Linens are provided.
Cheap Places to Stay in Kauai on Budget
Cabins at Kokee State Park: This is a serious budget travel score, if you don't mind accommodations that are a little rustic but right in the heart of a breathtaking natural paradise. There are various cabins (some seem more rustic than others) and you can't beat the price at between $79-$129/night.
The Kalaheo Inn: This basic, budget friendly find is clean and conveniently located close to all major Kauai attractions. It is nestled in a lovely tropical garden setting (we always love staying in places where the kids have space to roam around and explore a bit). The hotel offers a huge range of rooms to suit nearly any family size. Rates range between $82-$156
The Camp Naue YMCA: This is a SUPER budget friendly back to basics option. At $20/person for a room in a bunk house, it doesn't get much cheaper than this. The facility has a shared kitchen and bath facilities and plenty of space for the kiddos to run around. If your family is looking for a bargain and wants to have a rustic adventure in paradise, check this place out.
Kumu Camp: This is a great, reasonably priced "glamping" experience on the beach of Kauai. You can rent a bungalow with one queen or one full and a twin to sleep up to three people comfortably. The bungalows have private, hot water showers. You can fall asleep to the gentle ocean waves and wake to see the sunrise on the beach. Bungalows range between $55-$95/night depending on the time of the year. Sounds like heaven to me!
Source: thereandbackagaintravel.com