Vienna is a city of culinary specialties, beautiful buildings, multiculturalism, an eventful nightlife, and several varied markets. Check out some of the best markets in Vienna, where everybody can find somewhere to explore and maybe the right thing to buy.
The Easter markets
It is a very special thing in Vienna to go to the Easter markets. Once a year some places change into a small Easter village. There you find typical decorations, like hand-painted eggs or Easter bunnies made of wood. But also, food and drinks are offered, which is ideal to get in to the full Easter mood. One of the oldest Easter markets is located at the Freyung in Vienna and is in the city center. It is in between of some houses, on a small plaza, and perfect for a longer and relaxed stay, and for finding the right things for everybody's home.
Freyung, Vienna, Austria, +43 1 515 43-810
Mondscheinbazar
About 200 exhibitors present their art, fashion and antiques at the Mondscheinbazar in the Marx Halle. The repertoire of the offered things ranges from books, clothes to vinyl and antiques. For a small entry fee, guests can stay the whole night, rummage around, and enjoy the special market aura. Welcome changes for everyone are the – mostly – local and talented bands, who perform their music. Come and experience this special market aura..
Karl-Farkas-Gasse 19, Vienna, Austria
Artisan market at Spittelberg
One of the loveliest alleys in Vienna is the Spittelberggasse. And on one weekend a month you will find an artisan market exhibiting the arts and crafts of local artists. You will find at the Spittelberg Market paintings, as well as jewelry. They offer specialties made of wood, glass, textile, clay and every material, which could be used to create beautiful jewelry, decorations and utilities for home use.
Neubaugasse Flea Market
The first market here took place in 1983, and nobody could foresee that it would be such a success. Twice a year this market in the Neubaugasse is a fixed point to visit for young and old people. As it is located very close to Vienna's longest shopping street, it's quite impossible to pass over this market. The secret behind the popularity of this market is that family-owned enterprises offer their produce besides young businessmen.
Neubaugasse, Vienna, Austria
Naschmarkt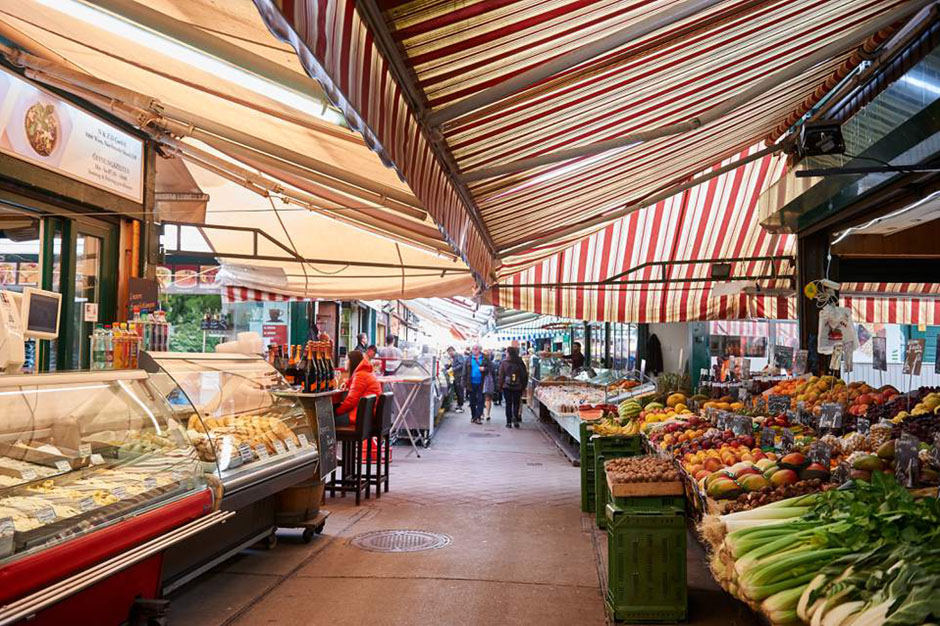 Naschmarkt is located very centrally, and lies at the overbuilt part of the Wien Fluss, which is the city's river. It is a fixed market, which can be visited throughout the whole year. Everybody who needs foods for daily use, specialties from other countries, fish or extraordinary fruits will find them there. It is also ideal to have a tasty lunch or dinner. From time to time, there are different events, like readings, and additional markets, like a flea market, and every Saturday there is the farmers market. In any case, this is an eventful place of residence and multiculturalism.
Naschmarkt, Vienna, Austria
Christmas markets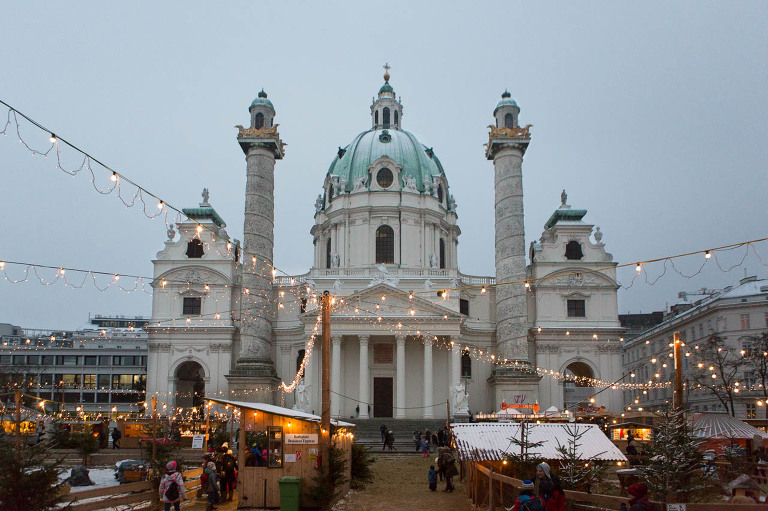 Every year both young and old are looking forward to the annual Christmas markets in Vienna. There are a lot. Some are situated more centrally, like the Christmas market at the Maria-Theresien-Platz, and some more outside of the city, like the Christmas market in front of the castle of Schönbrunn. The Christmas market shown in the picture above is located at Karlsplatz. It is close to the city center and offers a very unique ambiance with its church surrounds. This one offers only artisan craft work from Austrian artists. This market is perfect for having a hot punch, and offers a petting zoo for children too.
Resselpark, Vienna, Austria
By: theculturetrip.com