I love a good hot spring, especially after a long hike. Considering we are currently walking all 9 Great Walks of New Zealand in 9 weeks we have never been more in need of a good thermal soak.
Luckily for us, New Zealand is the home of hot springs and we've been spoilt for choice. As our hiking challenge begins in the South Island all of these springs are south. If you are looking for a relaxing dip then here are our thoughts on the best hot springs in New Zealand.
The best hot springs in New Zealand (South Island)
1. Onsen Hot Pools, Queenstown
I am going to say straight up that these are my absolute favorite despite being the priciest, the view is simply incredible.
It's perfect for those who like a bit of privacy as each onsen is completely separate and you feel like it is just you and that spectacular view over the Shotover River.
The tub is very deep and the wood keeps the water really warm, so warm in fact that I had to add a little cold.
The whole experience feels luxurious as you can take in a glass of champagne and chocolate or ice cream (extra cost but we decided to splurge). You can relax without needing to keep an eye on the time as they will come and give you a knock five minutes before your time is up.
We only booked one hour and I wished we had booked two. Spots do sell out in advance so I would advise booking ahead of time, especially if you would like the popular sunset soak (which we missed out on).
They also offer nighttime slots where the onsen is lit with candles and Japanese lanterns while you look up at the night sky. I hope we can come back for this one day!
The pools are around 10 minutes drive from Queenstown and the perfect place to unwind after all those outdoor adventures.
2. Omarama Hot Tubs
This is one for nature lovers. The tubs are outside with a view of a lake backed by a beautiful mountain range.
Again this is a very private option as each hot tub is located down a separate walkway and with no chance of seeing any of the other tubs.
Nude bathing is allowed if you are so inclined. The sessions are slightly longer than at Onsen Hot Pools and we spent a happy hour and a half watching the black swans and ducks glide around the lake.
The only sounds are that of nature and it is a really peaceful spot.
What I would say is pick your time wisely as the tubs are completely exposed to the elements so you wouldn't want to go on a really hot day. I'd love to return in winter as I think this would be a really magical experience.
If you are traveling between Queenstown and Mount Cook the pools make a great place to stop off.
Cost: $49 per person if there are two of you for one and a half hours. The price goes up and down slightly for more or fewer people. Towels are extra so bring your own if you want to save some cash.
3. Tekapo Hot Springs
The Tekapo hot springs are located on a small hill overlooking the lake and mountain ranges.
It's a truly spectacular setting, you don't get unobstructed views out to the lake but you do look the other way to the forest which was also beautiful.
There are several communal pools ranging in temperature, and at least one of which we noticed was adults only.
Despite visiting in summer the air temperature was only 10c so the hot water felt amazing, especially as by this point we had walked over 200km.
There are some parts of the pools undercover so again you could go in any weather.
They also open until 9 pm and I reckon the later times would be out of this world on a clear night looking up at the milky way.
We hardly had any time in Tekapo so I know we'll be back!
4. Franz Josef Glacier Hot Pools
This is the perfect place to be on a rainy afternoon in Franz Josef, and as this is the west coast there are plenty of those.
We visited just after a cyclone had passed through leaving a trail of destruction on the roads and plenty of wet weather. There are three pools all varying in temperature, and surrounded by lush greenery.
The pools are largely covered (so no worries about being there in the rain) though this does mean that you don't get the expansive views.
They do have private hot pools you can rent ($95 for two people for 45 minutes) but we used the communal pools which didn't feel too busy, even on a rainy day in summer.
You can also stay for as long as you like and as we had nowhere else to be we did just that!
5. Hanmer Springs
This is the biggest thermal springs of them all and well set up for families (they even have waterslides in one area).
They have many different pools at various temperatures including some at 40c which many people soaked in for ages but I could only manage five minutes.
These were the busiest of the springs on our list, though as there are so many different pools didn't feel overcrowded.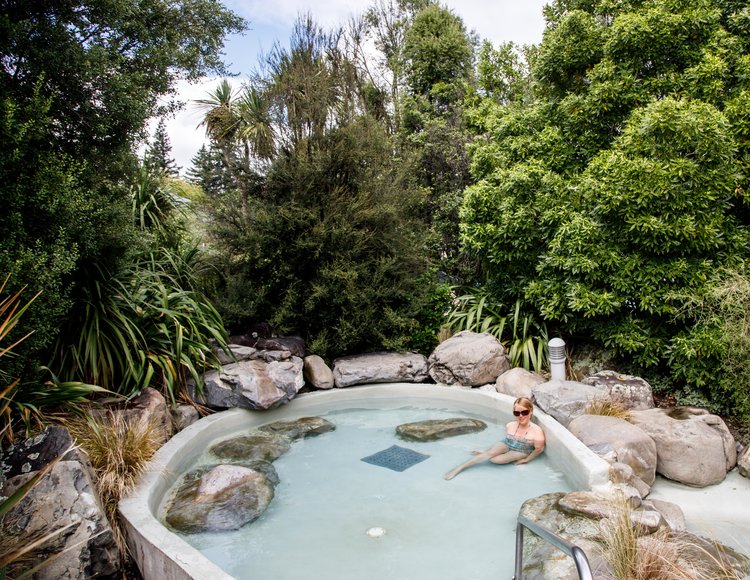 For me, though if I prefer something a little smaller and more intimate.
I would say this is a place to come for a get-together with friends or family more than quiet time with a partner like some of the other springs.
Some pools are partially covered and I reckon it would be quite atmospheric in the rain. Or perhaps try the evening when it might be less busy.
By  walkmyworld