Toronto's vibrant art scene, eclectic food and diverse culture make it an incredibly exciting city to visit. All that good stuff does come with a hefty price tag, which can add up fast. Luckily, there are tons of free things to do in Toronto. From free museum days to movies and operas, it's easy to have a fantastic trip to Toronto on any budget.
WANDER THE MARKETS
Toronto is home to two must-see markets, Kensington and St. Lawrence. They are both completely different and offer a unique look into the city's culture. Take advantage of a beautiful day and wander the outdoor area that makes up Kensington Market, or hide from rain and snow inside the bustling indoor St. Lawrence Market.
KENSINGTON MARKET
Kensington Market is one of the oldest and most eclectic neighborhoods in Toronto. Not a market in the traditional sense, but a special area where the streets are lined with vintage shops, local restaurants and galleries. In between all those storefronts are lots of murals and street art to find and admire. Some will stand out, like giant murals on the side of a building, but other pieces are tucked into alleyways away from the crowds. Take your time wandering the neighborhood to find your favorites.
Address: West of downtown Toronto, bordered by Spadina Avenue, Dundas Street, Bathurst Street and College Street.
ST. LAWRENCE MARKET
The opposite of Kensington Market, St. Lawrence Market is an indoor market featuring over 100 vendors selling everything you can imagine. It's free to walk around the market and browse the stalls. If you're lucky, you may even run into some free samples. No matter the time of year, I can't visit Toronto without stopping in for my absolute favorite sandwich in Canada at Carousel Bakery, located on the upper level.
Address: 93 Front St E, Toronto
HIT THE MUSEUMS
ROYAL ONTARIO MUSEUM
Every third Tuesday of the month, admission to the Royal Ontario Museum is free from 5:30 pm to 8:30 pm. With over 40 galleries to explore and regular admission at $23, this is a fantastic deal.
Address: 100 Queen's Park, Toronto
BATA SHOE MUSEUM
The Bata Shoe Museum is one of my favorite museums in Toronto and offers pay-what-you-can admission on Thursday evenings from 5 pm-8 pm. There is a suggested donation of $5 (normal admission for adults is $14) but it's not required.
Address: 327 Bloor Street West, Toronto, Ontario
RYERSON IMAGE CENTER
Part of the Ryerson University Campus, the Ryerson Image Center is a gallery and exhibition space for photography and related media. Admission is always free and even better, free tours are offered Tuesday-Sunday at 2:30pm. Hours vary by day, so click here for specifics.
Address: 33 Gould Street, Toronto, Ontario
MUSEUM OF CONTEMPORARY ART
The first floor of the Museum of Contemporary Art is always open to the public. Here you will find a cafe, gift shop, and art installation. To see the entire museum for free, stop by on the last Sunday of every month. Admission is free from 10 am-2 pm.
Address: 158 Sterling Road, Toronto, Ontario
AGA KAHN MUSEUM
The Aga Kahn Museum of Islamic art, Iranian art and Muslim culture is free on Wednesdays from 4 pm – 8 pm. Make sure to check out the Aga Khan Park and museum courtyard during your visit as well. If you can't make it on Wednesdays, visiting the gardens is always free, as well as collections in the Bellerive Room.
Address: 77 Wynford Drive, Toronto, Ontario
SCARBOROUGH MUSEUM
For something a little different, stop by the Scarborough Museum in Thomson Memorial Park. The museum showcases the history and development of Scarborough, from a small settlement to a major Toronto suburb. Admission is always free.
Address: 1007 Brimley Road, Toronto, Ontario
ART GALLERY OF ONTARIO
Admission to the Art Gallery of Ontario is free on Wednesdays from 6 pm-9 pm. An important thing to note: lines for free tickets begin outside the building, so dress for the weather.
Address: 317 Dundas Street West, Toronto, Ontario
TEXTILE MUSEUM OF CANADA
On Wednesdays between 5pm and 8pm, the Textile Museum of Canada offers pay-what-you-can admission. General admission is normally $15.00 for adults, so if you can spare a few dollars to help fund the museum's programs, great! If not, take advantage of this time to see the museum for free.
Address: 55 Centre Avenue, Toronto, Ontario
BLACK CREEK PIONEER VILLAGE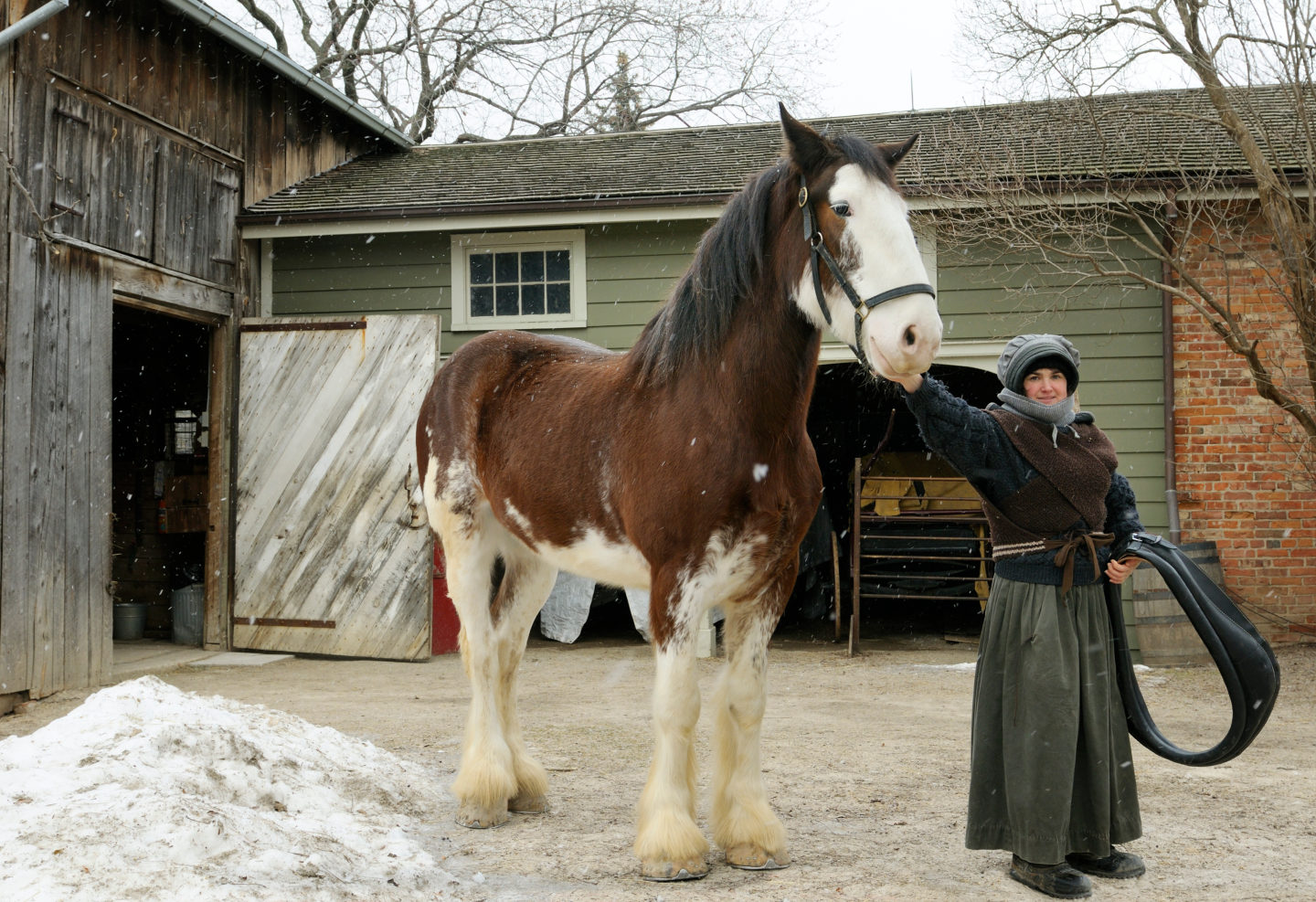 Go back in time at Black Creek Pioneer Village and experience what Canada was like during the 1800s. Admission is free on Tuesdays after 2pm.
Address: 1000 Murray Ross Parkway, Toronto, Ontario
TORONTO'S FIRST POST OFFICE & MUSEUM
One of the few original buildings in the town of York, this little museum is a hidden gem in Toronto. While it's small, there is lots of postal memorabilia to see. You can even write a letter the traditional way with quills and ink, and mail it (for the cost of postage) with a wax seal. A $2 donation is recommended, but not required.
Address: 260 Adelaide St E, Toronto
THE POWER PLANT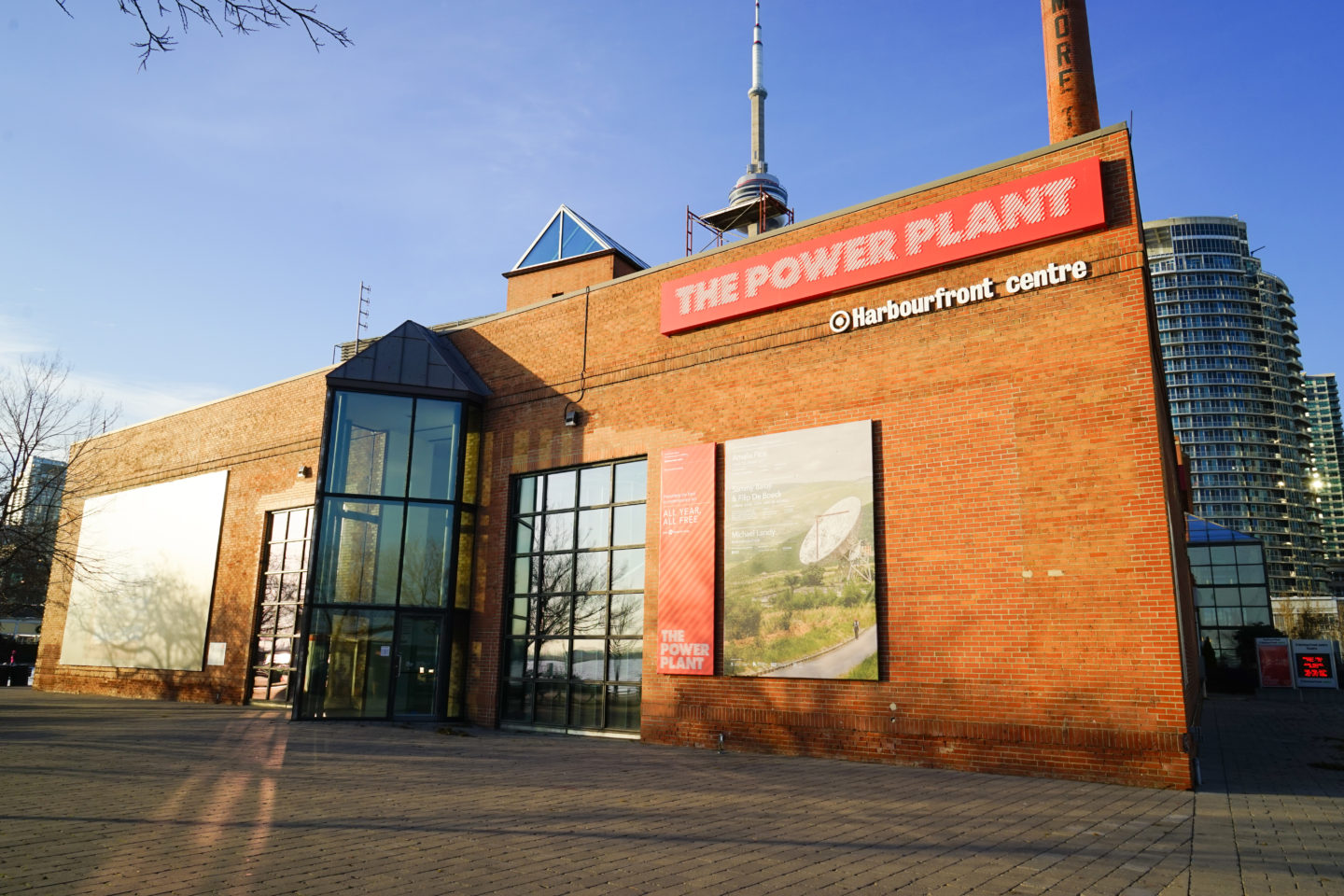 The Power Plant hosts rotating exhibitions of contemporary art at the Harbourfront Centre. A variety of talks and workshops are offered throughout the year as well. For a current listing of events, click here.
Address: 231 Queens Quay West
ARTSCAPE YOUNGPLACE
What was once a school building, Artscape Youngplace is now a community art space. Artists can rent space and host events in the building, as well as showcase their works in the 9,350 square foot Hallway Galleries. The galleries are free for the public to explore.
Address: 180 Shaw Street, Toronto
EMBRACE THE ARCHITECTURE
ONTARIO LEGISLATIVE BUILDING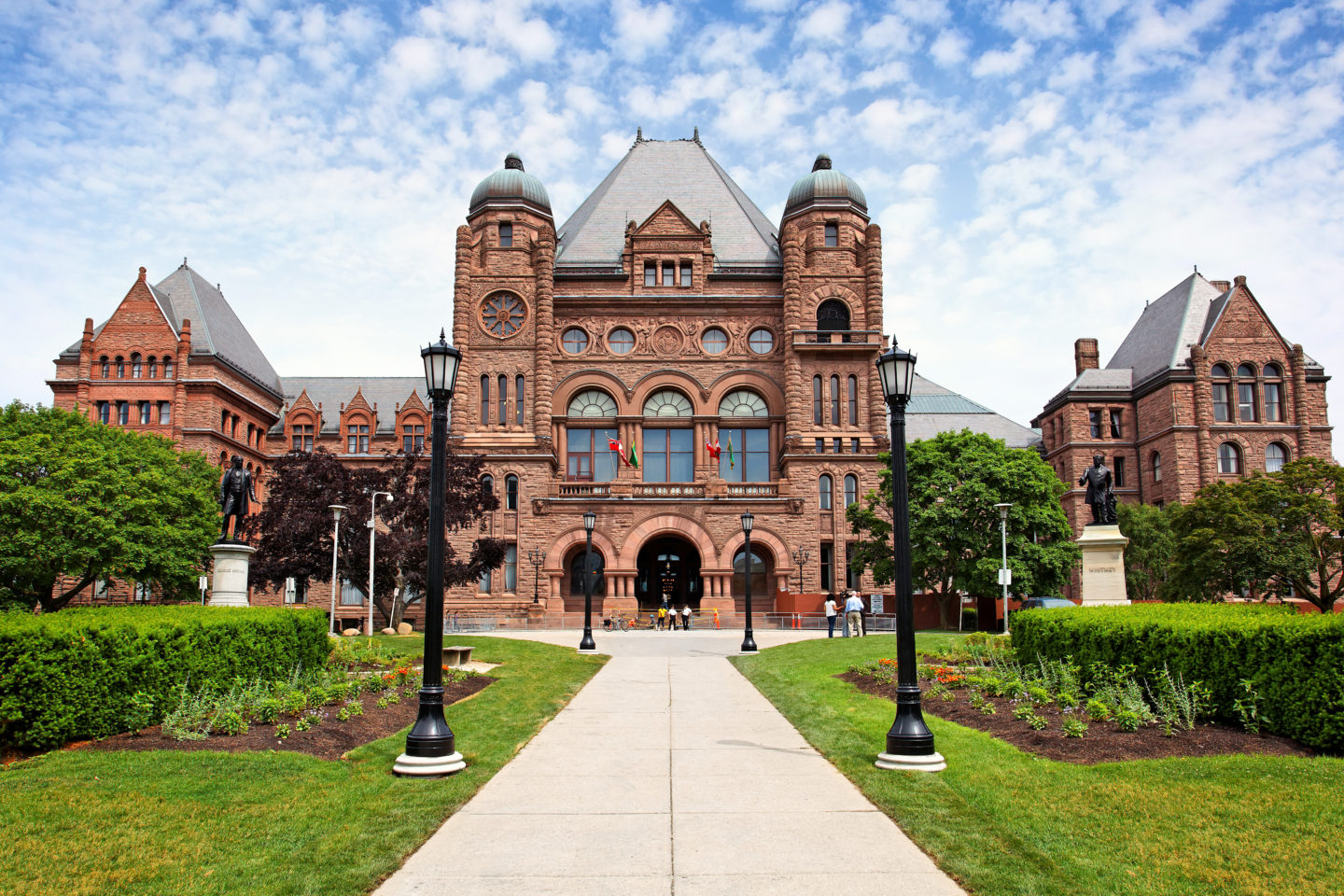 The historic Ontario Legislative Building offers a variety of free tours during the week and on weekends. Check out the different options here. Visitors can even watch the house proceedings from the public gallery.
Address: 111 Wellesley St W, Toronto
UNIVERSITY OF TORONTO- ST. GEORGE CAMPUS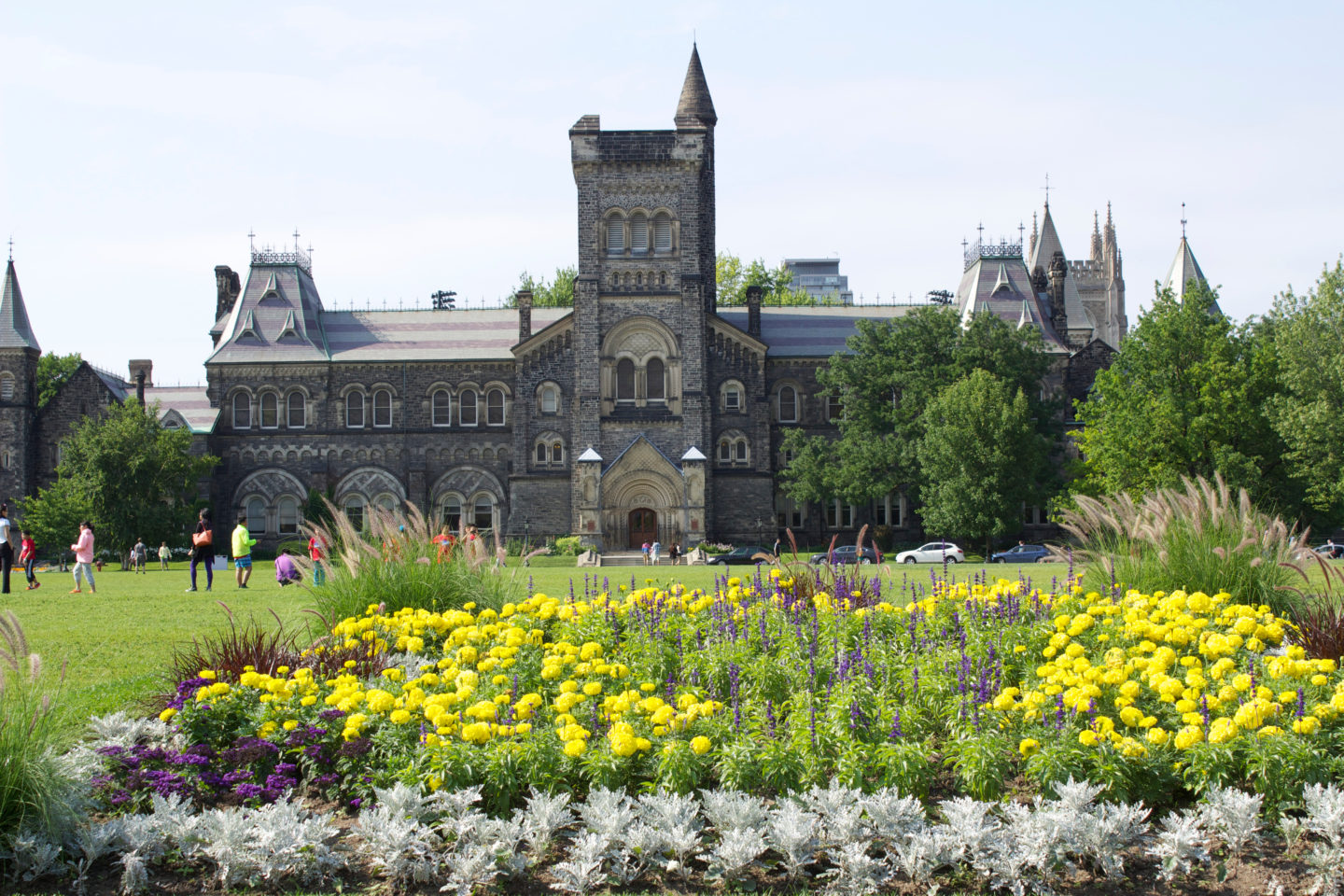 The University of Toronto has three separate campuses across the city, Scarborough, Mississauga and St. George. Although they are all beautiful spaces in their own right, the star of the trio is the campus at St. George. The center of campus and the best place to explore the historic architecture is the area around King's College. One of my favorite spots is the Thomas Fisher Rare Book Library on St. George Street. It's free to view the collections and there is always an art exhibition on display.
Address: 27 King's College Circle, Toronto
THE DISTILLERY DISTRICT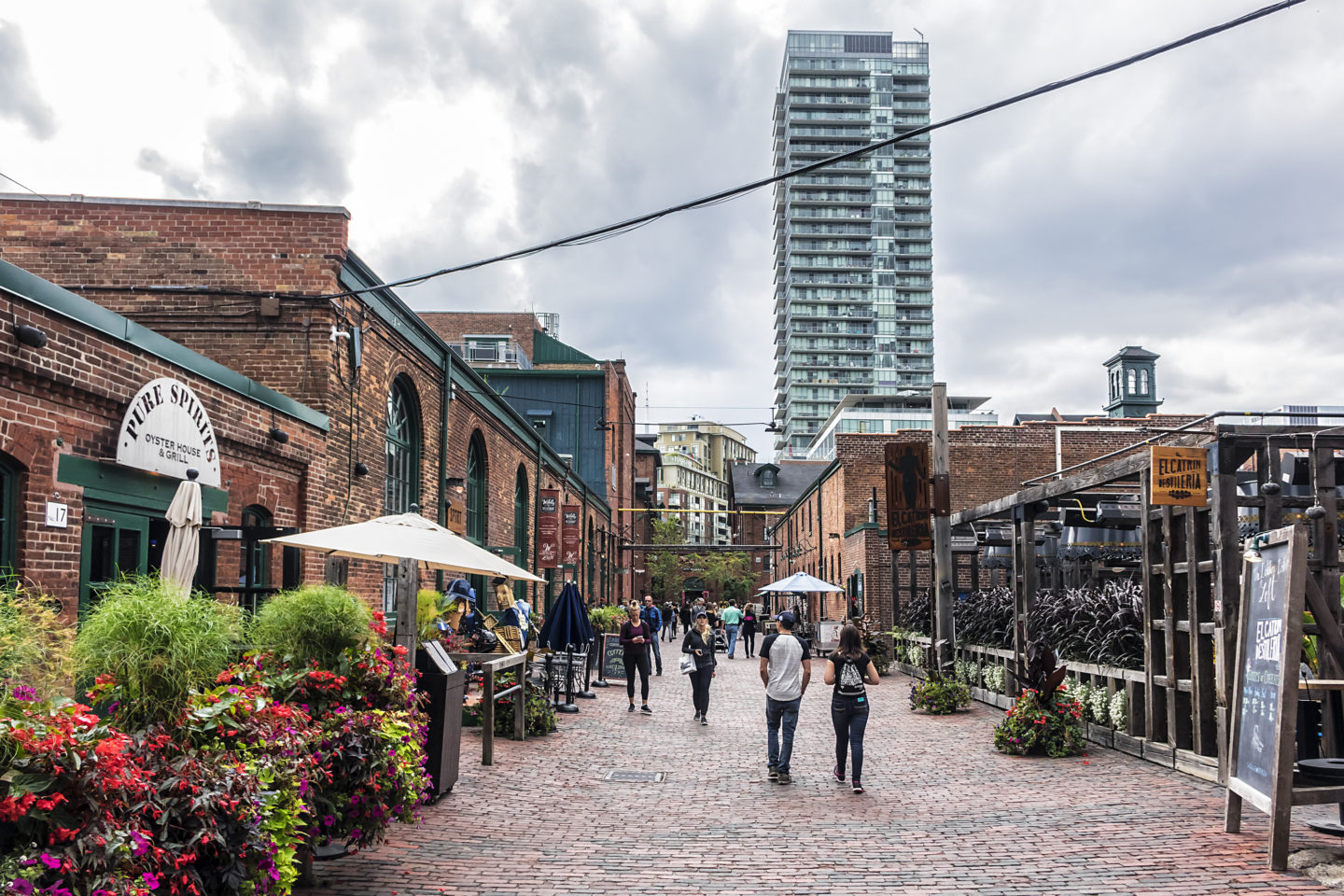 Wandering around the cobblestone streets of The Distillery District takes you past 19th-century brick buildings mixed with modern art pieces. There are shops and galleries to pop into as well, but it's worth a visit just to admire the outdoor architecture.
Address: 55 Mill St, Toronto, ON
FLATIRON BUILDING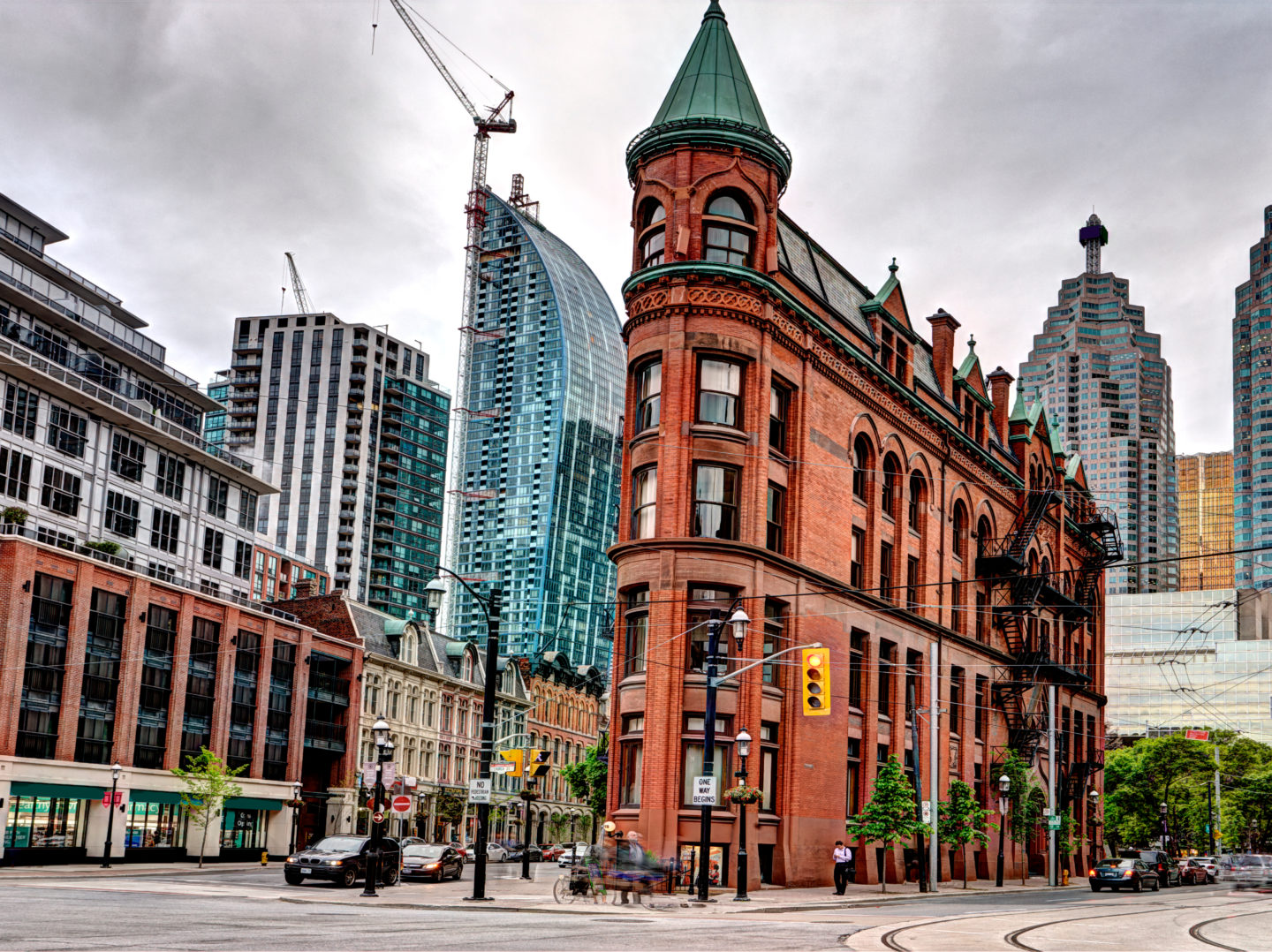 Officially named the Gooderham Building, but more widely known as the Flatiron Building, this iconic Toronto landmark is one of the most photographed buildings in the city. Although it doesn't get nearly as much attention, Toronto's Flatiron was actually built 10 years before the famous Flatiron building in New York City. While the inside is mostly office space, there is a pub in the basement open to the public.
Address: 49 Wellington Street East
OLD CITY HALL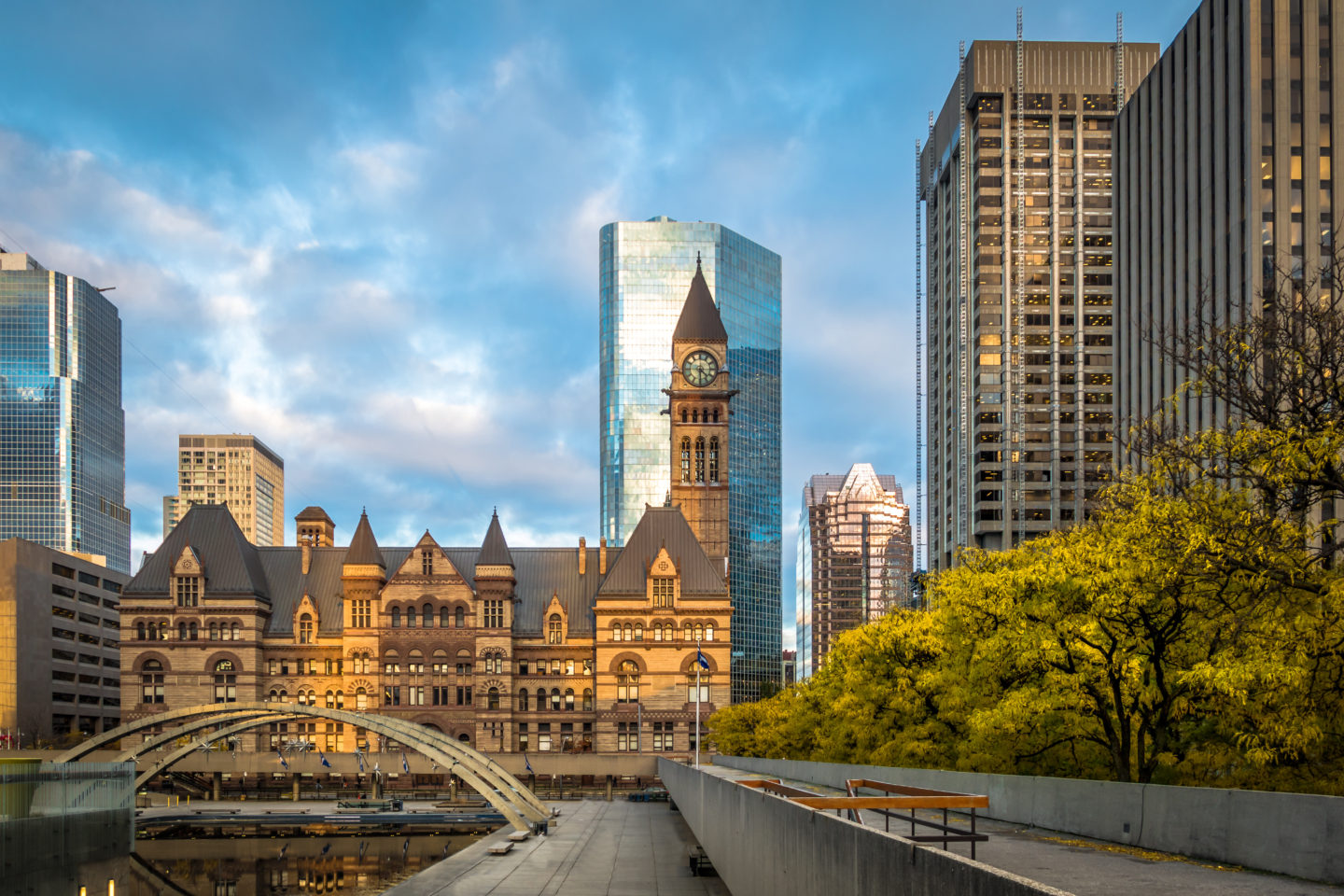 Old City Hall, built in the Romanesque Revival style, is one of the most elaborate landmarks in Toronto. It's a hard spot to miss surrounded by the modern architecture that makes up Nathan Phillips Square. The building is currently being used as a courthouse, and most trials are open to the public.
Address: 60 Queen St West
NEW CITY HALL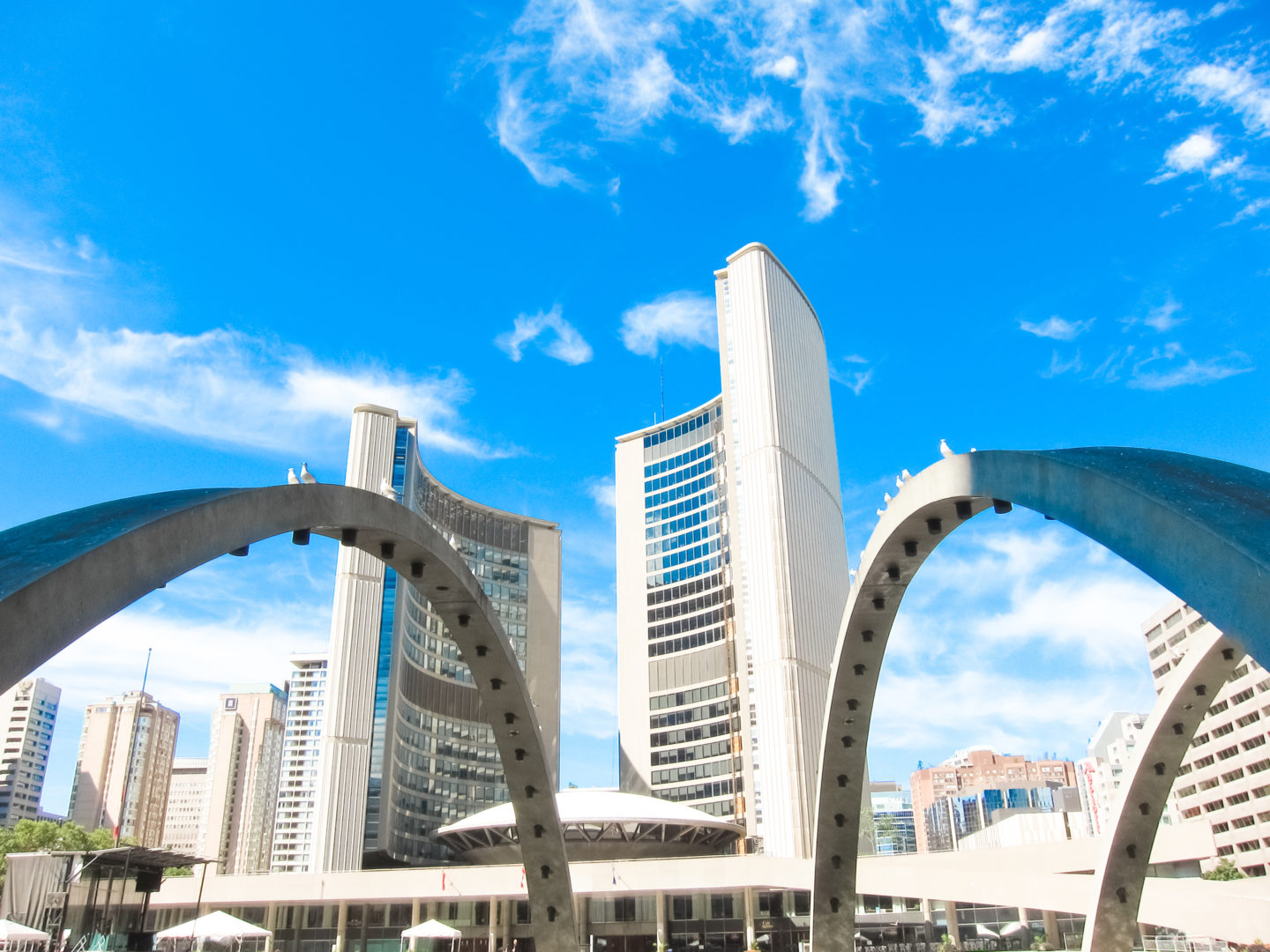 Directly across Nathan Phillips Square from the Old City Hall is New City Hall. It's free to explore the building, but taking a self-guided tour is the best bet to catch all the points of interest. Click here for detailed information.
Address: 100 Queen Street West
UNION STATION
Take a stroll through Union Station, Toronto's main railway hub and admire the architecture of the Great Hall. With nearly 250,000 people passing through every day, it's an ideal spot for people-watching.
Address: 65 Front Street West, Toronto
BAPS SHRI SWAMINARAYAN MANDIR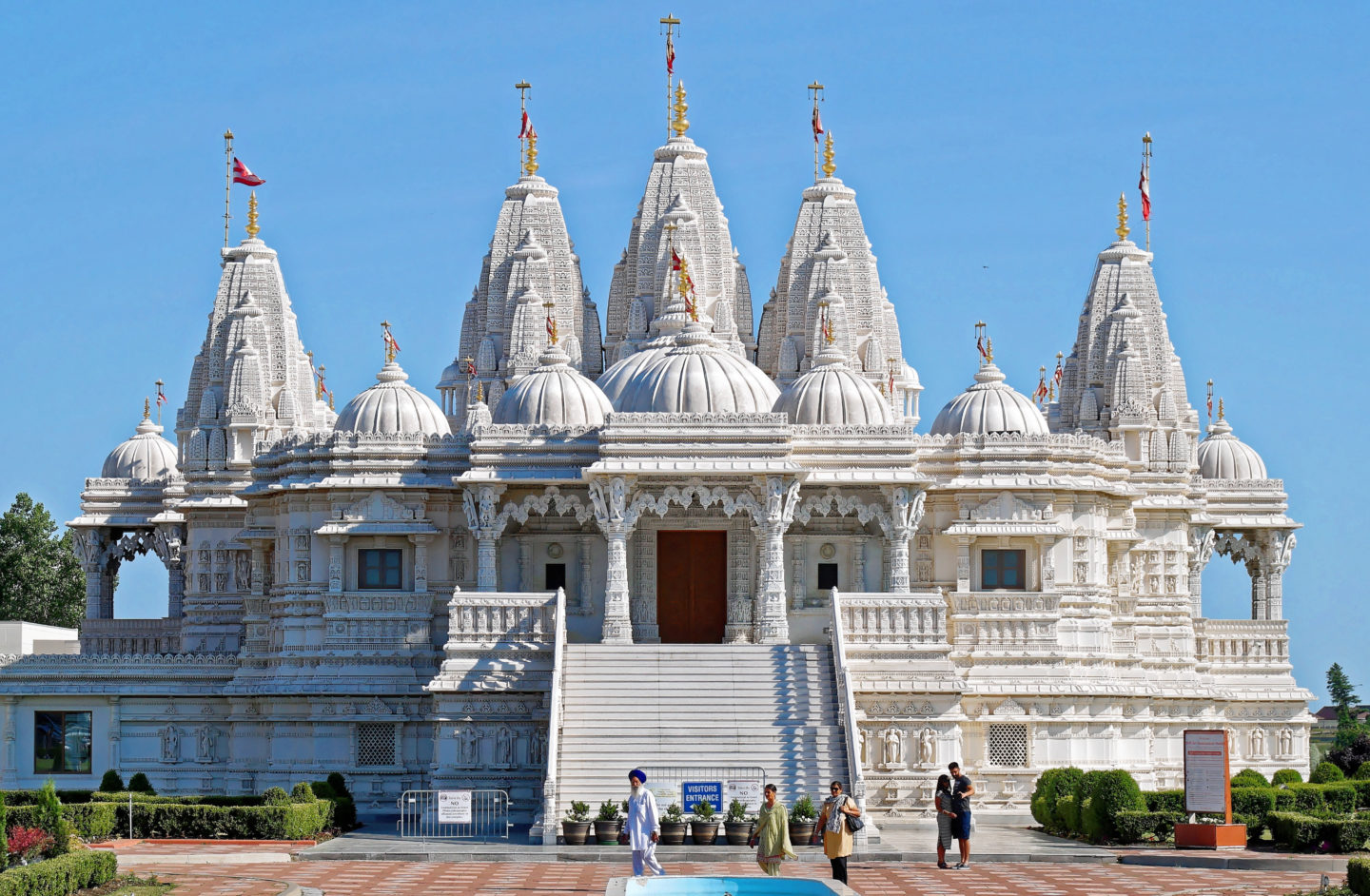 BAPS Shri Swaminarayan Mandir is a traditional Hindu temple. Parts of the building are open to visitors from 9:00 am – 6:30 pm daily, but close at certain hours for prayer. Be sure to check the website for specifics before planning your trip.
Address: 61 Claireville Dr, Etobicoke
OSGOOD HALL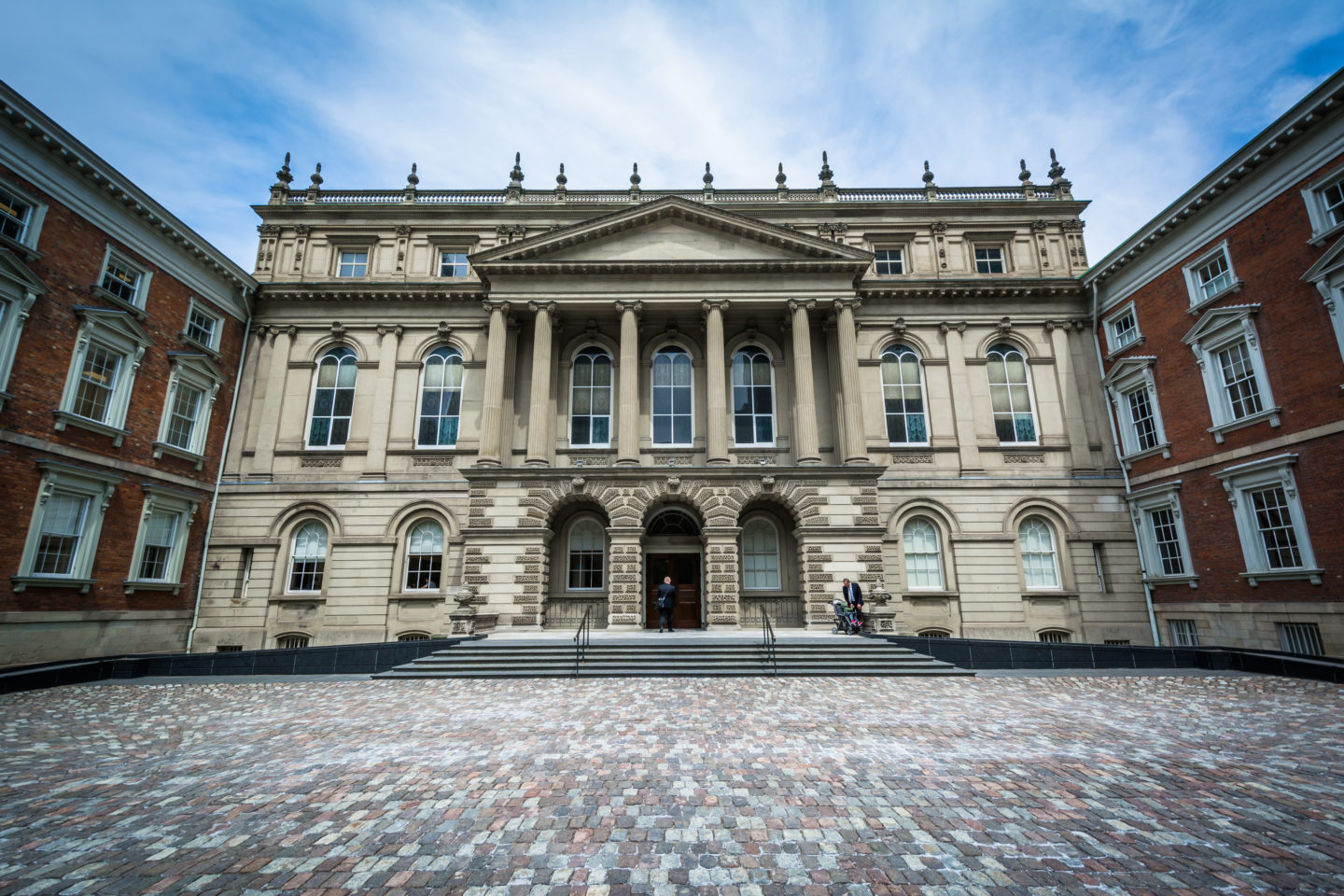 Another stunning legal building is Osgood Hall. The historic courtrooms and stained glass windows from the 1800s are original to the building, but my favorite part is the library, which has been called the most beautiful building in Canada. Free guided tours are conducted by Law Society staff members Monday to Friday in July and August, starting at 1:15 p.m. Self-guided audio tours are available year-round.
Address: 130 Queen Street West, Toronto
EXPLORE THE OUTDOORS
TORONTO BOTANICAL GARDENS
The nearly four acres of the Toronto Botanical Gardens are free to visit and feature a variety of themed gardens and exhibits.
Address: 777 Lawrence Avenue East, Toronto
HIGH PARK & HIGH PARK ZOO
Toronto's largest public park, High Park features hiking trails, playgrounds, picnic areas, and even a zoo! Find bison, deer, llamas, peacocks, highland cattle and more inside the (free!) High Park Zoo.
Address: 1873 Bloor Street West, Toronto
BERCZY PARK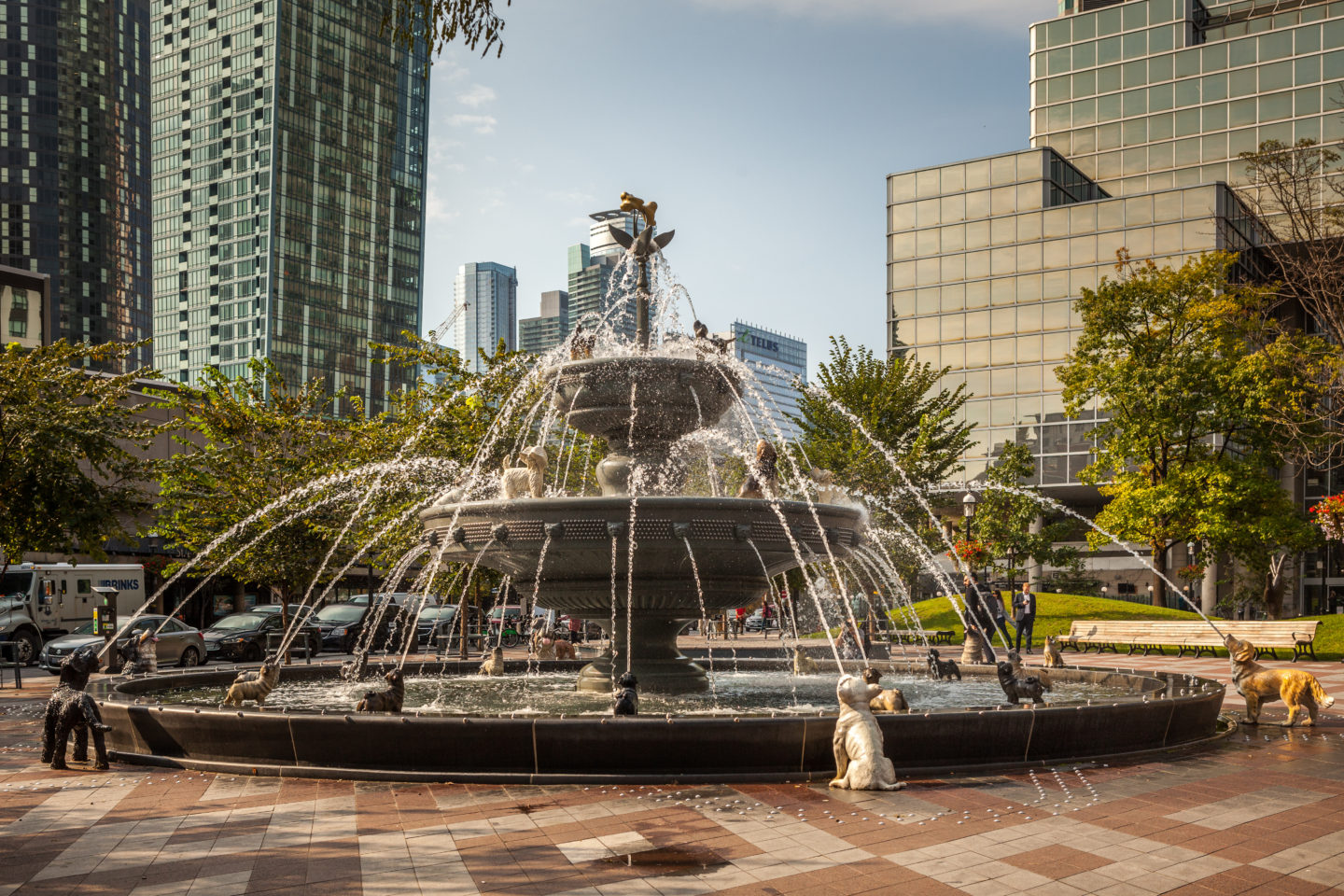 Berczy Park is a small park that features a fun dog-themed fountain surrounded by adorable dog statues.
Address: 35 Wellington Street, Toronto
SUGAR BEACH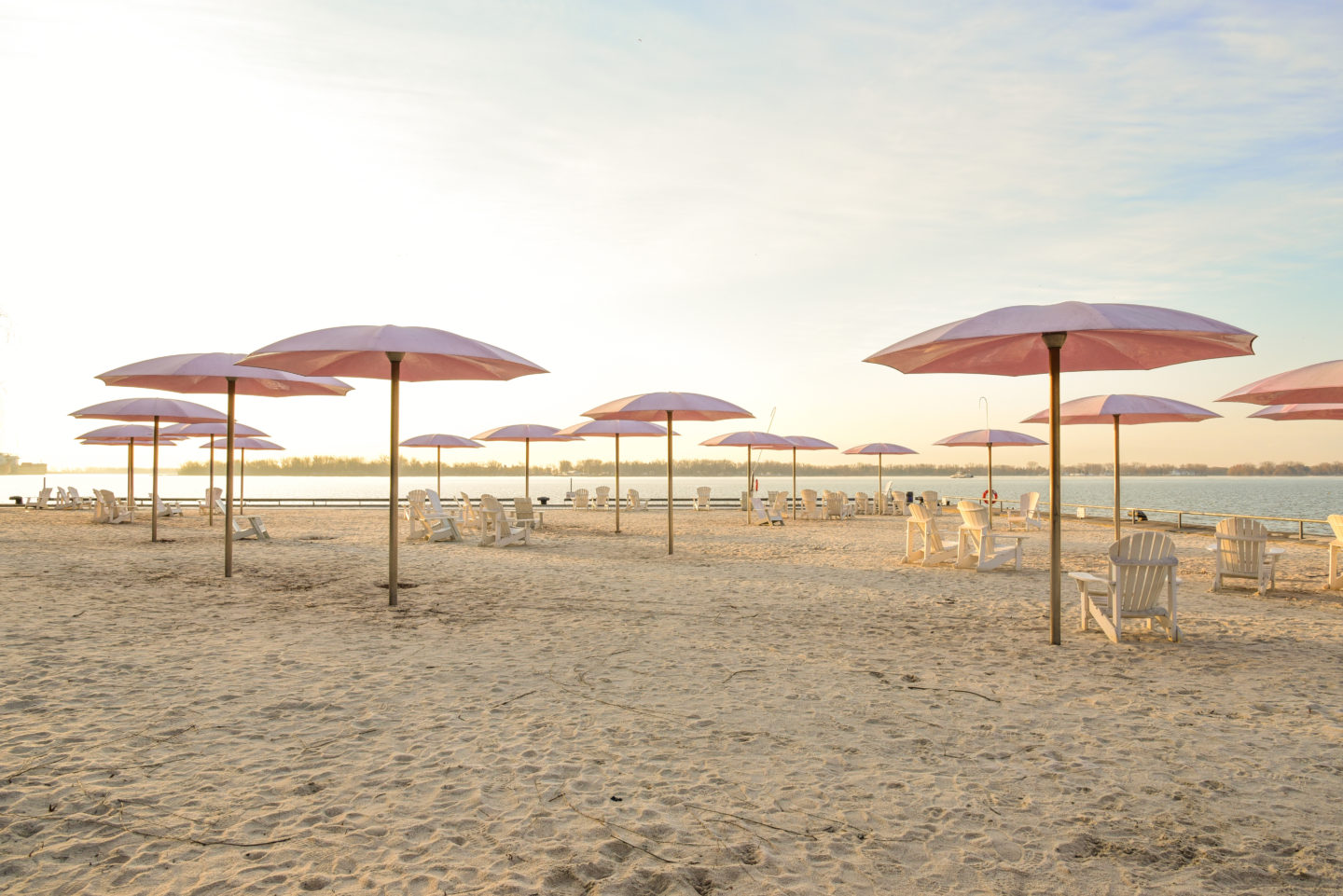 Sugar beach is a popular destination for its white sand and bright bubblegum pink umbrellas. It's a man-made park (formerly a parking lot!) right on the harbor front, so although there isn't a place to swim it's a great spot to relax in the middle of the city.
Address: 11 Dockside Drive, Toronto
EDWARDS GARDENS
Edwards Gardens is a super popular spot for engagement and wedding photo sessions, and in one visit you will see why. Find it adjacent to the Toronto Botanical Garden.
Address: 777 Lawrence Avenue East Toronto
SCARBOROUGH BLUFFS
About 30 minutes east of downtown Toronto is a stunning collection of white cliffs, beaches and parks, and it's all free to visit! For the best panoramic views, visit Scarboro Crescent Park on top of the bluffs. If you relax in the sand or see the cliffs from below, head to Bluffer's Beach.
Address: Crescent Park: 61 Undercliff Dr, Scarborough, ON Bluffer's Beach: 1 Brimley Road S, Scarborough, ON
TORONTO CONSERVATORIES
Toronto has three conservatories around the city; Allan Gardens, Cloud Gardens and Centennial Conservatory. They are all free to visit and offer visitors something different to explore.
Address: Allan Gardens: 9 Horticultural Avenue, Toronto Cloud Gardens: 14 Temperance Street, Toronto Centennial Conservatory: 51 Elmcrest Road, Etobicoke
ROUGE NATIONAL URBAN PARK
Rouge National Urban Park in Toronto's East End is the only national park in Canada that doesn't charge an admission fee. It features hiking trails, Toronto's only campground, and one of the region's largest marshes.
TORONTO ISLANDS
Although it costs $8.19 (round trip) to get there by ferry boat, I couldn't leave the Toronto Islands off this list. Once you get there all the beaches, parks and hiking trails are totally free. While there are restaurants at attractions that do cost money, you could easily spend an entire day exploring this chain of 15 islands without spending a cent. Lighthouse and skyline views
Address: Ferry Terminal: 9 Queens Quay W, Toronto
RIVERDALE FARM
In the middle of Toronto is a 7.5 acre, working farm. Stop by Riverdale Farm see the livestock, gardens, and barns. Check out their website for daily events and craft programs all year round. The farm is open from 9am-5pm every day, and completely free.
Address: 201 Winchester Street, Toronto
POSE FOR PHOTOS
3D TORONTO SIGN & NATHAN PHILLIPS SQUARE
Located in Nathan Phillips Square, the 3D Toronto sign is a prime location for photos. Unless you visit at sunrise (and even then) don't expect to have it to yourself. Still, it's a fun picture and almost required for a Toronto visit! After snapping a few pictures, explore the rest of the square. Admire the reflection pool, walk the elevated walkway (for more pictures!), and stop by the peace garden and sculpture court. All free to visit.
Address: 100 Queen St W, Toronto, Ontario
GRAFFITI ALLEY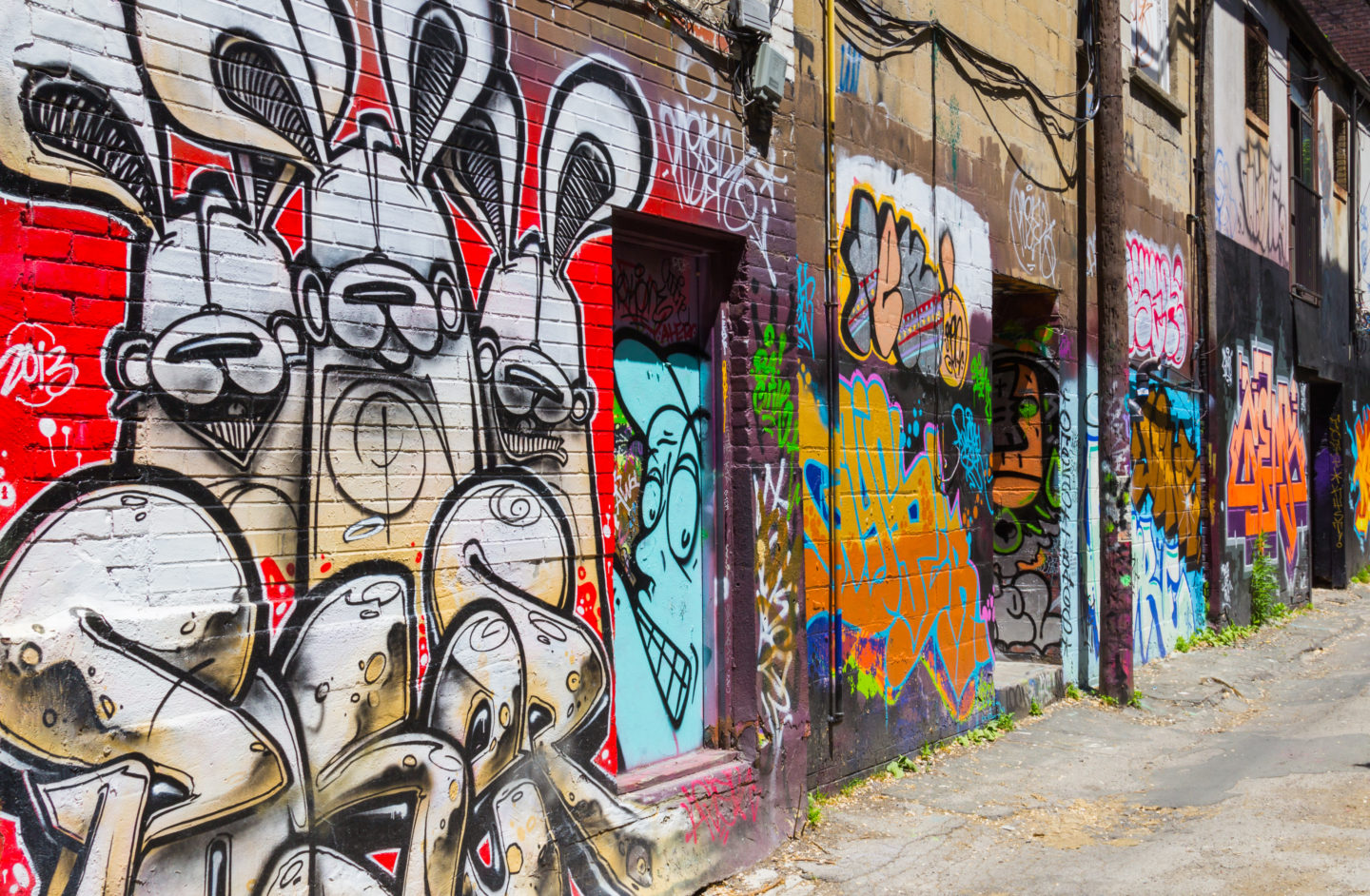 If you are a fan of street art or not, don't skip a visit to Graffiti Alley. The half-mile-long alleyway is completely covered in dynamic street art. Graffiti Alley paved the way for legal street art in Toronto and is considered a culturally and politically significant site in the city. Since you can visit any time of day, it's a great morning walk with coffee in hand.
Address: Graffiti Alley begins at the corner of Rush Lane and Portland Street. Look for the t-shirt shop Bang-On off Queen Street.
BANKSY ART PIECE
When the artist Banksy came to Toronto in 2010, he gifted the city with multiple pieces of street art. Unfortunately, most of them were either painted over or covered in graffiti by people who didn't know what they were. Only one can still be found in its original location, near the corner of Church and the Esplanade on the side of Goose Island Brewery. Another original piece was saved from destruction when the building it adorned was torn down. That preserved piece can be seen at One York, within the PATH pedestrian walkway.
Address: 4 Church Street, Toronto
TOURS, ACTIVITIES & MORE FREE THINGS TO DO IN TORONTO
ICE SKATING
From December to March, Outdoor skating is free at Toronto's 54 outdoor ice rinks! Hours are typically 9am to 10pm, but can change due to weather conditions and other factors. Before grabbing your skates, check here for current locations and details.
CONCERTS
From September to May, the Canadian Opera Company hosts a free concert series in a variety of genres. Concerts take place at the gorgeous Richard Bradshaw Amphitheatre. Check out the current schedule and lineup here.
Address: 145 Queen St. West, Toronto
EVERGREEN BRICKWORKS
This former quarry is now a popular demonstration hub showcasing sustainable practices for the future. There are exhibits, shops, events, and a large nature area all free to visit. Take a peek at the event calendar to see what's currently on.
Address: 550 Bayview Avenue, Toronto
MOVIES IN THE PARK
If you're visiting in the summertime take advantage of a free movie in the park! Many popular parks in Toronto show free movies during the summertime. For a current list of what's playing and where click here.
HARBOURFRONT & HARBOURFRONT CENTRE
Exploring the harbourfront is a great free activity in many cities and Toronto is no exception. Take a stroll along the harbourfront and check out the outdoor entertainment, vendors and architecture. An extra special feature of the harbor is the Harbourfront Centre, a community center that hosts free events, art exhibits, classes and more.
Address: 35 Queens Quay West, Toronto
TORONTO GREETER PROGRAM
Thanks to the City of Toronto's Greeters Program, you can arrange to have a real Torontonian show you around town, free of charge! Greeters are community volunteers who love showing off their city to guests. Scheduling requests must be made at least a week in advance, so plan ahead to take advantage of this unique program.
TORONTO REFERENCE LIBRARY
The Toronto Reference Library is an extra special branch of the Toronto Public Library. Inside visitors will find a waterfall, a cafe, and the Arthur Conan Doyle Collection room. Fans of Sherlock Holmes will find a massive collection of library materials related to the life and works of the author, including first editions, adaptations for stage and screen, and even recent parody works.
Address: 789 Yonge Street, Toronto
AMSTERDAM BREWHOUSE
Book a free guided tour at the Amsterdam Brewhouse and learn all about the brewing process, with free samples straight from the tanks. Tours are offered Saturdays and Sundays between 1pm and 6pm and last about 30 minutes.
Address: 245 Queens Quay West, Toronto
By: americamybeautiful.com