Vienna boasts a wide selection of sweet treats, many of which date back to the Austro-Hungarian Empire, and whether you visit a high-end patisserie in the city, a corner bakery or the Naschmarkt ('snack market'), you are sure to find a tempting array of pastries and cakes in the capital.
Vienna is home to one of the world's most famous cakes, the Sachertorte, a treat that holds such importance in Austria that it has been rewarded a day of celebration, National Sachertorte Day. But there is much more to the city's desserts than this, with many snacks and puddings to satisfy even the sweetest of teeth.
Apple strudel
The simple and unpretentious apple strudel (Apfelstrudel) is probably the best-known Viennese pastry outside of Austria. The German word strudel means 'whirlpool', which refers to the layers of flaky pastry – similar to filo pastry – that are rolled up to encase the filling. Strudel is traditionally served in thin slices that reveal the swirling pattern created by its mouthwatering layers of pastry and baked apple. The filling itself is made of tart cooking apples, sugar, cinnamon, raisins and breadcrumbs. And the final result is a wonderful contrast between the flaky outer layers of pastry and the lightly stodgy interior, which combines a sticky-sweet filling with the fresh bite of thinly sliced apples.
Mohnzelten
This little pastry doesn't come from Vienna, but rather from the Waldviertel ('forest quarter') region of Austria – to the northwest of Lower Austria, it borders the Czech Republic. Mohnzelten are less refined than strudel, and consist of a poppy seed paste that is encased in a potato pastry, which is formed into small domes that are then baked. The slightly salty pastry, with a texture similar to shortcrust, offsets the sweetness of the filling. And while the poppy seed version is the original, Mohnzelten can also be filled with strawberries or nuts. The pastries can be found in many bakeries around Vienna and, by the hundreds, in the Naschmarkt.
Sachertorte
This iconic cake was invented by Franz Sacher in 1832. At the time, Sacher was a 16-year-old apprentice, who was charged with inventing a special dessert to serve to Prince Wenzel von Metternich and several important guests when the head chef of Metternich's household fell ill. The resulting Sachertorte cake consists of two layers of dense chocolate sponge sandwiching a thin slice of apricot jam, all of which is covered in chocolate ganache. Sachertorte is traditionally served alongside a dollop of whipped cream. Sacher's son, Eduard, continued his father's legacy, perfecting the cake and bringing it the fame and prestige it holds today. There is even a day to celebrate this dessert – National Sachertorte Day (5 December), when Austrians are encouraged to enjoy their chocolatey national heritage.
Kardinalschnitte
Kardinalschnitte is made by wrapping layers of soft meringue and genoese sponge around a thick cylinder of cream. The resulting oblong-shaped sweet sausages are then cut into Schnitten (slices). The alternating yellow of the sponge and white of the meringue are supposed to resemble the pope's robe, hence the meaning of the cake's name, 'cardinal's slice'. The cream may be flavoured with coffee, vanilla, chocolate or strawberry, and there is also often a thin layer of jam or fresh berries in between the meringue and the cream. What would appear to be quite a heavy dessert, due to the high cream count, is surprisingly light because of the amount of air packed into the sponge, the meringue and the cream. The slight crunch of the outer crust of the pillowy soft meringue, the lightest genoese sponge and the sweet whipped cream contribute to its delicate and delicious flavour.
Punschkrapfen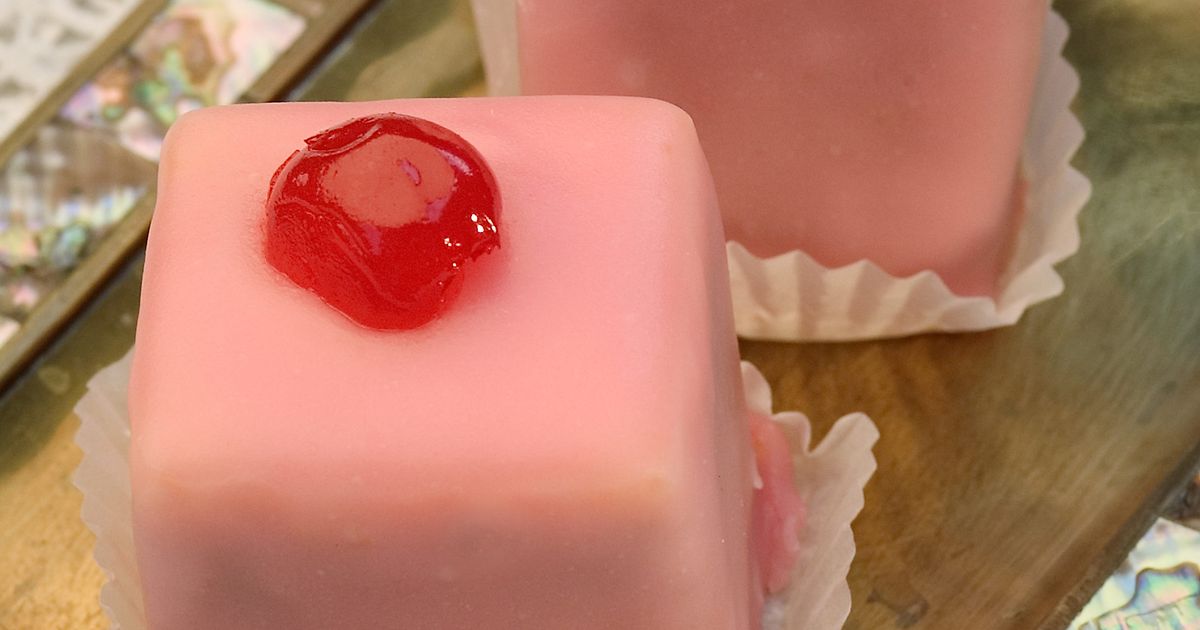 The first thing you'll notice about Punschkrapfen ('punch cake') is its hot-pink icing topped by a glacé cherry or fancy chocolate piping. But don't be put off by its gaudy exterior; Punschkrapfen has much more to offer than it might seem at first glance. The small cuboid pastries are made up of layers of cake crumbs, nougat, chocolate and apricot jam. And as if that's not enough, the whole thing is generously soaked in rum – indeed, the thick, pink icing that coats the outside, known as Punschglasur, is itself made from the spirit. This treat may be smaller in size than the other cakes on this list but, as the colour of the icing warns, its sweetness means you won't need much.
Mozart Torte
As you may have guessed, this torte is named after the classical composer Wolfgang Amadeus Mozart, who came from Salzburg in Austria. It's hard to pin down an exact recipe for Mozart Torte, which is partly due to the fact that this cake is inspired by Mozartkugeln, balls made out of nougat (Viennese nougat, which has a soft, truffle-like consistency) and pistachio marzipan, covered in chocolate. And the interpretation of Mozart Torte at popular traditional Viennese patisserie Aida is two layers of chocolate sponge with a thin layer of bright-green pistachio marzipan in between, covered in chocolate ganache and topped with a small chocolate disc with Mozart's little face on. For whatever reason, it seems Mozart equals chocolate, pistachio and marzipan.
Esterhazytorte
Named after Prince Paul III Anton Esterházy de Galántha, a 19th-century diplomat of the Austro-Hungarian Empire, the Esterhazytorte was invented in Budapest in the late 19th century, but soon found a place in Viennese patisseries. Many variations of this classic cake exist, but it generally consists of buttercream infused with liqueur that is sandwiched between beautifully thin layers of almond or hazelnut meringue dough (similar to macaroons) and topped with a white fondant icing with a distinctive chocolate pattern on top. The sides of the cake are covered in nuts, usually flaked almonds, creating a creative interplay of textures. Light sponge, soft buttercream, chewy fondant icing and crunchy almonds all come together to create a harmonic, inventive treat.
By: theculturetrip.com