From traditional coffee houses where waistcoat-wearing waiters serve drinks in opulent surroundings, to the largest privately owned coffee shop group in Europe, these are the best Vienna coffee houses.
There's not much that sums up Viennese life better than a trip to a coffee shop for cake and a mélange (espresso with steamed milk, topped with foam). Drinking coffee is part of the fabric of social life here, and the oldest cafe dates back to 1685. In the late 19th and early 20th centuries, at the height of their popularity, coffee houses became a focal point for intellectual discussion and creativity, welcoming artists and thinkers such as Sigmund Freud, James Joyce, Gustav Klimt, Egon Schiele and Leon Trotsky. There are roughly 1,000 coffee shops to choose from, so you'll need our list to narrow your options.
Cafe Hawelka
© AugustSnow / Alamy Stock Photo
Cafe Hawelka, in Vienna's prestigious first district, is so well loved in Vienna that it has been featured in documentaries and in songs such as Jö Schau by the late Austrian singer Georg Danzer, and Trans Europa Express by German band Kraftwerk. Opened in 1939 by newlyweds Leopold and Josefine Hawelka, it was especially popular with Austrian poets, musicians and politicians in the 1960s and 1970s. The owners worked in the cafe well into their nineties, and it's still family-run today.
Cafe Landtmann
© WienTourismus / Christian Stemper
Elegant and cosy, Cafe Landtmann is traditionally Viennese in appearance with its wood-panelled walls, dark-wood furniture and white tablecloths. The cafe dates back to 1873, making it one of the oldest coffee houses in Vienna, and it is housed in a listed historical building. Its prime location, surrounded by the city hall, the Burgtheater, the Imperial Palace and the University of Vienna, makes it one of the most popular cafes in town. Try some traditional Austrian sweets, best enjoyed on the heated veranda.
Cafe Prückel
© Hemis / Alamy Stock Photo
With more than 100 years under its belt, Prückel, opposite the Museum of Applied Arts, is one of the most traditional coffee houses in Vienna. But its long history isn't immediately obvious, as the interior lacks key elements you might associate with them, such as marble tabletops and stucco ceilings. It opened in 1903 and underwent an extensive refurbishment in the 1950s, but hasn't changed much since, with its olive-green armchairs, bamboo desks and large chandelier.
Kaffee Alt Wien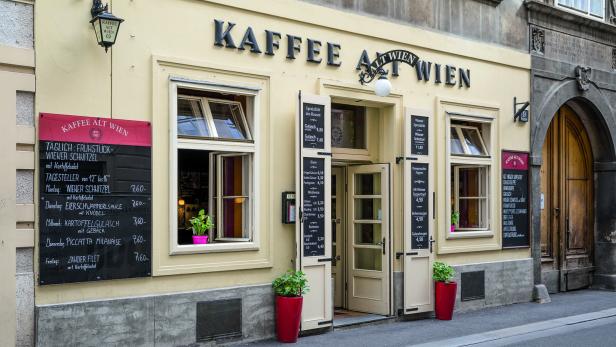 Kaffee Alt Wien
Alt Wien, located a stone's throw from St Stephen's Cathedral, opened in 1922 and was bought by Leopold Hawelka, the original owner of Hawelka, a decade later. With its walls plastered with posters, dimmed lights and generous opening hours, it resembles a classic coffee house, an aspect that is also reflected in the traditional food selection, going way beyond cakes and sandwiches. The goulash is a favourite with guests.
Café Korb
© Hackenberg-Photo-Cologne / Alamy Stock Photo
Café Korb, near St Stephen's Cathedral, opened in 1904, with Emperor Franz Joseph I the most prominent name on the opening night guest list. Soon, Sigmund Freud and Andy Warhol became regulars here. While the coffee house nowadays has an undeniable 1960s style, black-and-white pictures on the walls pay tribute to the early days. There's also a bowling alley downstairs that has been around for decades. Although the interior is quite small, Korb is full of life at any time of the day.
Cafe Central
© imageBROKER / Alamy Stock Photo
Housed inside Palais Ferstel on high-end Herrengasse, Cafe Central has been an institution in Vienna since 1876. In the old days, it served as a second home for Vienna's poets and intellectuals, with frequent visitors including Sigmund Freud and architect Adolf Loos, and its appeal remains to this day. Cafe Central has a large selection of coffees, sweet treats and Viennese dishes such as schnitzel and Tafelspitz (veal or beef boiled in broth, served with potatoes, vegetables and a mix of minced apples and horseradish). The atmosphere makes it worth the expense.
Cafe Diglas
© WienTourismus/Christian Stemper
This cafe on Wollzeile road opened its doors in 1923, but its original establishment dates back to 1875. Founded by Hans Diglas, who welcomed Emperor Franz Joseph I as his very first guest, the coffee house that bears his surname has been passed down the generations. If time allows, come in the early evening to listen to some live piano tunes.
Cafe Schwarzenberg
© Art Kowalsky / Alamy Stock Photo
Schwarzenberg at Ringstraße, near Stadtpark, has all the features of traditional coffee houses such as Landtmann or Prückel, yet has never made it onto the tourist map and is almost exclusively frequented by locals. Dating back to 1861, the cafe still features interiors typical of the i.n.t.er.w.a.r period, including original tables, marble cladding and painted ceiling. The most popular dish is the beef goulash.
Cafe Museum
© WienTourismus / Christian Stemper
When Cafe Museum opened its doors in 1899, many Viennese sniffed at architect Adolf Loos's simplistic style, which lacked the plush details and chandeliers typical of that era. However, artists loved the cafe, and thanks to its proximity to the opera house it soon became the place to be for the cultural elite. Treat yourself to a Viennese apple strudel before heading to nearby Kärntnerstraße, Vienna's most famous shopping street.
Aida Cafe Konditorei
Aida Café Konditorei is a franchise with around 30 coffee houses spread around Vienna | © Hackenberg-Photo-Cologne / Alamy Stock Photo
Aida coffee houses, easily recognisable by their striking pink facades, are a franchise of around 30 establishments spread around Vienna. This branch, next to St Stephen's Cathedral, ranks among the local favourites. The prices are reasonable, and there's a great selection of coffee and cakes.
By: theculturetrip.com