Road tripping around Australia is a favourite past-time for both visitors and residents. The country is blessed with beautiful drives to beautiful destinations, both inland and along the coast. Check out this guide to the eight most scenic drives in Australia, to inspire your next Australian road trip.
Great Ocean Road
The Great Ocean Road is perhaps Australia's most well-known scenic drive. Fortunately, it lives up to the hype. It's an Australian National Heritage-listed drive, stretching 243 kilometres (151 miles) from Torquay to Allansford on the Victorian coast. Returning servicemen built the road between 1919 and 1932, and dedicated it to WWI's fallen soldiers; making it the world's largest war memorial. Highlights include the the charming coastal town of Torquay, the 12 Apostles, Loch Ard Gorge, Great Otway National Park, the Great Ocean Walk, and Tower Hill Wildlife Reserve.
Sydney to the South Coast
Driving from Sydney to Melbourne doesn't sound like a lot of fun. But the south coast of New South Wales is home to one of Australia's most scenic coastal drives. Starting south of Sydney in Royal National Park, the Grand Pacific Drive is a 140-kilometre (87-mile) stretch to Kiama, which includes the iconic Sea Cliff Bridge (check out the view from Stanwell Tops). After the Drive ends, continue onto coastal stops such as Jervis Bay and Hyams Beach, Bateman Bay and the kangaroos at Pebbly Beach, Pambula, and finally Eden. Then it's time to cross into Victoria and continue onto Melbourne.
Nullarbor Plain
A little different from the usual picturesque coastline routes, crossing the Nullarbor Plain is a must visit because of its complete remoteness. Nullarbor means "no trees" in Latin, which makes sense, as the Plain is a flat, arid, and mostly treeless area in southern Australia. Occupying an area of around 200,000 square kilometres (77,000 square miles), the Nullarbor Plain is the world's largest single exposure of limestone bedrock. Drive along the Eyre Highway — Australia's longest, flattest, and straightest road — which connects Western Australia's goldfields to South Australia's Eyre Peninsula. Road trippers must be prepared with extra petrol, food, and water when tackling the Nullarbor Plain.
Circle Tasmania
It's difficult to include just one scenic drive in Tasmania, because the entire island state is picturesque. Fortunately, visitors can easily do a circle around Tasmania in less than a week, to see its best towns and national parks. This Circle Tasmania route, designed by Tourism Australia, begins in Hobart. From there, visitors can stop at destinations such as Freycinet National Park and Wineglass Bay; Mount William National Park and Launceston; World Heritage-listed Cradle Mountain-Lake St. Clair National Park; and Mount Field National Park.
Cross the Kimberley
Western Australia's Kimberley region offers a rural, but nonetheless beautiful, driving experience in Australia. To travel between Kununurra and Broome, people can choose between Gibb River Road, Great Northern Highway, or the Savannah Way. For an authentic outback experience, road trippers should take the road less travelled: either Gibb River Road or the Savannah Way. Both journeys pass by incredible national parks, gorges, and waterfalls. Alternatively, RAC WA recommends the Warlu Way Dreamtime Trail, from Broome to Exmouth.
Yorke Peninsula
Yorke Peninsula is a coastal region located west of Adelaide in South Australia. Visitors will be blown away by the area's beaches. Head to Innes National Park on the peninsula's tip for the best bushwalking, surfing, and beaches. Tourism South Australia says the national park's Shell Beach feels like your own "private island". Visit the Copper Coast Information Centre for information on the area's thrifty Op Shops, Secondhand, and Antiques Trail. Other popular activities in Yorke Peninsula are fishing and camping.
Great Alpine Road
Named because it is Victoria's mountain equivalent of the Great Ocean Road, the Great Alpine Road stretches from Wangaratta in the north, to Bairnsdale in the east. At 303 kilometres (188 miles), the Great Alpine Road is Australia's highest accessible sealed road that's open year-round. The Great Alpine Road passes by mountains, the Australian Alps, valleys, forest, historic towns, rivers, award-winning vineyards, and rolling green farmlands. Visitors can alternatively begin their journey in Melbourne and finish in Bairnsdale, or circle back to Victoria's capital.
Great Barrier Reef Drive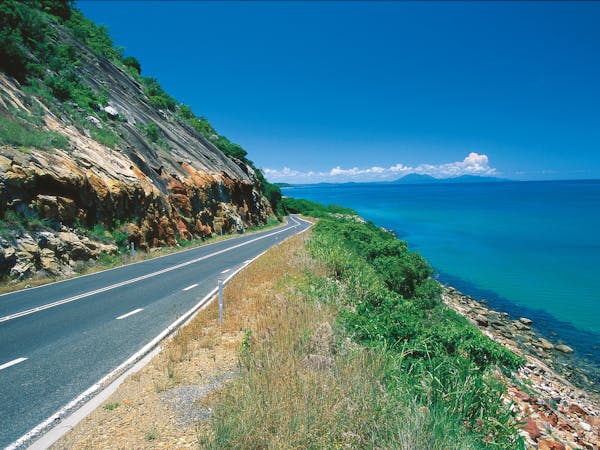 The Great Barrier Reef Drive from Cairns to Cape Tribulation in Far North Queensland might not be extremely long, but it is extremely scenic. As the name suggest, the 140-kilometre (87-mile) journey is sandwiched between two World Heritage-listed sites: the Great Barrier Reef and the Daintree Rainforest. Visitors have the chance to experience both along the Great Barrier Reef Drive, as well as the coastal town of Port Douglas, the incredible beach at Palm Cove, The Bloomfield Track (if driving a 4WD), and Mossman Gorge. To get to Cape Tribulation, road trippers must also cross the Daintree River in an old-fashioned cable ferry.
By: theculturetrip.com