Are you planning on spicing up your Instagram account with beautiful travel photos? When it comes to stunning coastlines and unique culture, few European destinations deliver quite like the Algarve. Here are our picks of the top Instagram-worthy spots in Portugal's southern paradise.
Benagil Cave
Perhaps the most Instagrammed place in the Algarve, despite its watery entrance, is the striking Benagil Cave, located less than an hour west from Faro. While the western side of the Algarve is known for its rocky cliffs and amazing rock formations, Benagil certainly stands out, and wanderlusters tend to take notice.
Benagil Cave | © Jacek Sopotnicki / Alamy Stock Photo
Ria Formosa
Starting around Faro and extending east towards Tavira, the Ria Formosa is a beautiful blue and green oasis made up of lagoons and wetlands. This is a great location to get close to nature and even catch a few stunning photos of local birds
Ria Formosa Marine Park | © Serhiy Stakhnyk / Alamy Stock Photo
Praia da Marinha
The Praia da Marinha in Lagoa is dotted with plenty of stunning cliffsides that are characteristic of the area. Like the Praia do Camilo, the cliffs are the show-stopper, but the sapphire-blue sea and nearby towns attract plenty of attention as well.
Praia da Marinha | © Adwo / Alamy Stock Photo
Praia do Camilo
It's small, but still packs a visual punch. The Praia do Camilo is a beautiful beach in Lagos that attracts sunbathers, water-lovers, and photographers who aren't afraid to climb a few stairs.
Camilo Beach | © Angelo DeVal – Travel Photography / Alamy Stock Photo
Ponta da Piedade
The rock formations at Ponta da Piedade offer yet more stunning landmarks in Lagos. The best way to explore this paradise is by boat or kayak.
Markets
From fish markets to gypsy markets, these locations will overwhelm all the senses and provide the perfect setting for more than a few cool and unique photos. They are also the key locations to find unique souvenirs.
Faro
Faro is the regional capital of Algarve and is covered in historically important landmarks, especially throughout its 'old town'. From the arches to the Sé Church, there is plenty to capture on camera (or on your phone).
Carvoeiro
Nestled along a cliffside, Carvoeiro is another picture-perfect destination. Even the most amateur photographers will be able to capture great pictures here.
Praia do Carvoeiro | © Rawdon Wyatt / Alamy Stock Photo
Ferragudo
Ferragudo, located across the Arade River from Portimão and west of Carvoeiro, is easily one of the most beautiful seaside villages in the Algarve and a favorite of Instagrammers.
Fishing village of Ferragudo | © christophe cappelli / Alamy Stock Photo
Albufeira
The region's party center also has a traditional side with roots deep in maritime history. From the houses to the beaches and even a water-based amusement park, Albufeira has no shortage of creative inspiration and lovely images to capture.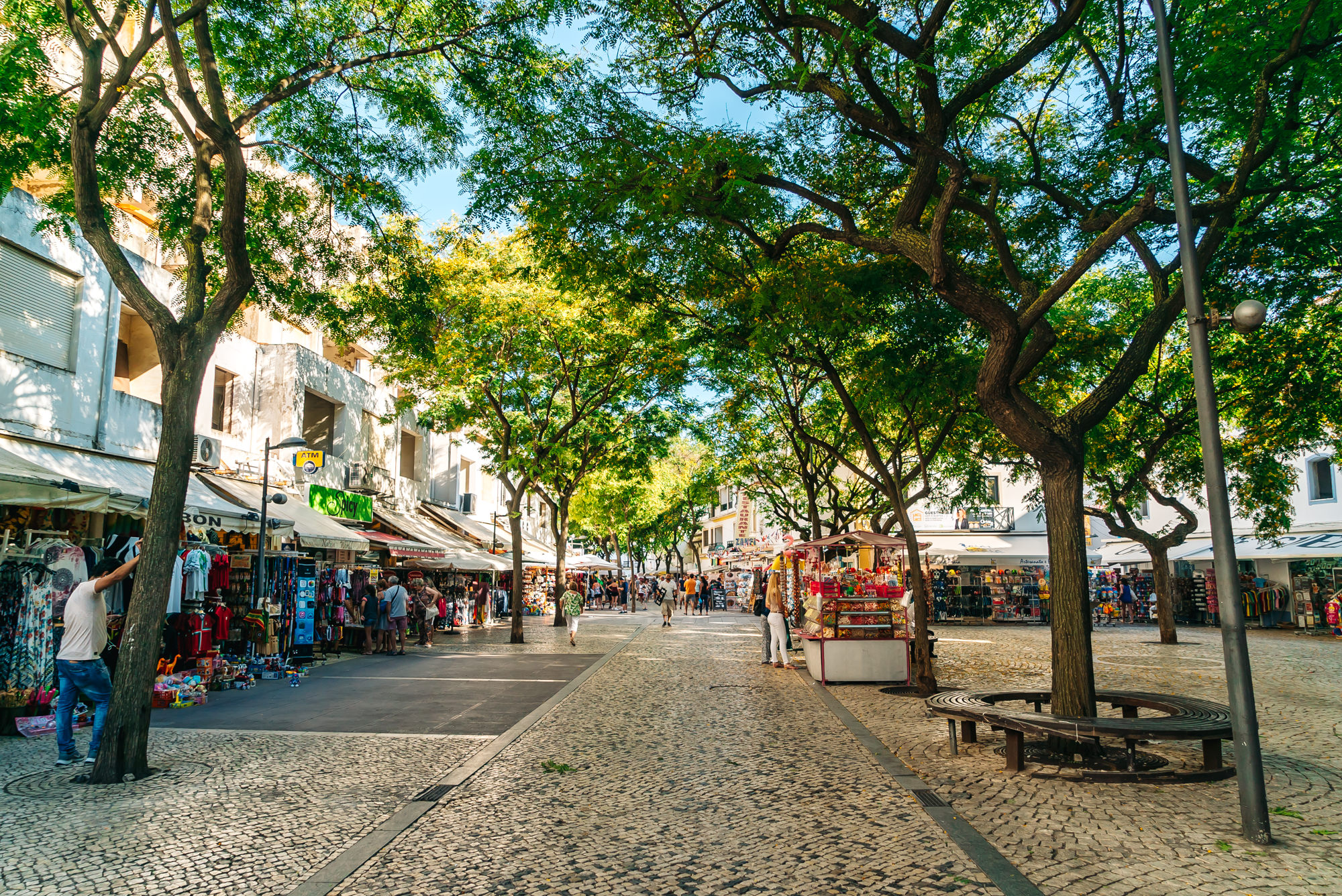 Cabo de São Vicente
Wild, rugged, and isolated, the Cape of Saint Vincent is a powerful destination for surfing and photo-taking.
Cabo De Sao Vicente | © Reinhold Tscherwitschke / Alamy Stock Photo
Ilha de Tavira
The town of Tavira is a charming and quiet retreat from the usual crowds and resorts of the Algarve, but the Ilha de Tavira, or Tavira Island, is extra special. This sandbar is part of the Ria Formosa system yet stands out with its 12 kilometers of white-sand beaches.
Ilha de Tavira | © Joaquin Ossorio-Castillo / Alamy Stock Photo
Marina de Vilamoura
Upscale and sophisticated, the marina of Vilamoura isn't just a place to park your boat, but also to enjoy a lovely meal against an equally lovely backdrop. Whether you share a photo of a sunset against the docks or one of a seafood dish at a local restaurant, your friends are sure to be jealous.
The Marina Vilamoura | © Rob Ford / Alamy Stock Photo
Aljezur and Vicentina Coast
The northwestern coast of the Algarve is a favorite among surfers and nature-lovers. Surrounded by the natural park (that extends to Alentejo), this part of the Algarve will offer a different view to the typical beaches and colorful cliffs normally expected from south Portugal.
By: theculturetrip.com