No matter who you are, when you think of Germany, you inevitably think of the Oktoberfest! Everyone has heard of the world-famous Oktoberfest. It might just be the largest party on Earth. Over six million people attend this three week event each year, and people come from over 80 countries just to experience some down home Bavarian charm.
If you are one of the millions that want to go to the Oktoberfest, don't worry. There's plenty to do in fall in Germany, and you can do so much in just a day trip from Munich that you should start planning now so you won't miss out.
Ten Reasons to Love Oktoberfest
One / Eins – It's all About that Oktoberfest Beer!
The beer is plentiful! It's brewed specifically for this time of year, and the kegs are first tapped on opening day. There are six official beers which all sport their own party tents. Each beer has its own beer tent, and you can visit the Augustiner, Hofbrau, Paulaner, Spaten, Lowenbrau, or one of our favorites, Hacker-Pschorr, areas and try them all.
All beers are served in liter mugs. There are no "smalls," so if you aren't used to drinking a lot of alcohol, you might want to share one with your buddy, especially since each beer costs about 11 Euros (US $12). It may sound pricey, but take it from me, it will last you a good long time!
In Germany, it's traditional to share tables, and there is no better place to do this than the Oktoberfest. Every year, we make new friends from around Germany and the world. It's customary for the bands to stop every few songs and do a toast. It won't take you long to be singing and shouting along, "Eins, Zwei, Sofa!"
Two / Zwei – See Real Bavarians Wearing Lederhosen
This is one time of year that everyone, young and old, is wearing traditional Bavarian dress called Trachtenmoden. Women wear dirndls and men wear lederhosen. Dirndls are often gingham, with embroidered aprons, and sporting a pretty busty look. Nowadays, though, you will see some women wearing lederhosen just like the men.
You'll find Trachtenmoden available all around Munich and you can find some real bargains during the fest, so why not buy your own and join in the fun!
Three / Drei – Oktoberfest Opening Day Parade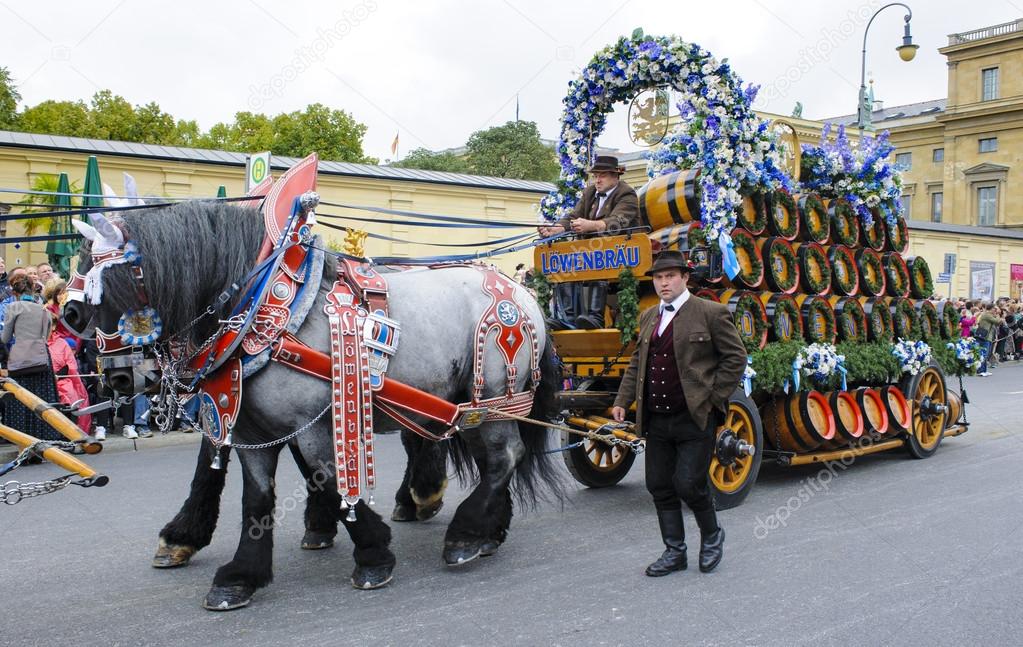 On the first Saturday of the festival, you can watch the opening parade right in downtown Munich. To get a good view I would recommend getting there an hour or so early. At the end of the parade, you can follow it right into the fair grounds where at noon the first keg is tapped and the Oktoberfest is on its way!
Four / Vier – Who Doesn't Love an Oompah Band?
I don't know what it is, but good beer should be accompanied by a great oompah band. Before you know it, you'll be singing along to some of the traditional songs as they play them pretty regularly. Getting close to the band might not be great for your eardrums or conversation, but it will get your feet stomping…sometimes on top of the benches!
Five / Funf – Fest Food is Amazing!
The Oktoberfest food is varied, a bit different, and delicious. You will find everything from huge pork knuckles (hax'n) to herring on a stick. It's practically impossible to walk past the chicken spit as the fatty hens drip and sizzle, or trying out all the candied almonds in various flavors. Some of the best dishes are the huge wheels of Emmenthaler cheese sliced and served with a sprinkle of paprika or the orange-colored cheese spread called Obatze! You've got to wash down all that beer with some delicious foods, so start early!
Six / Sechs -The Carnival with Rides and Games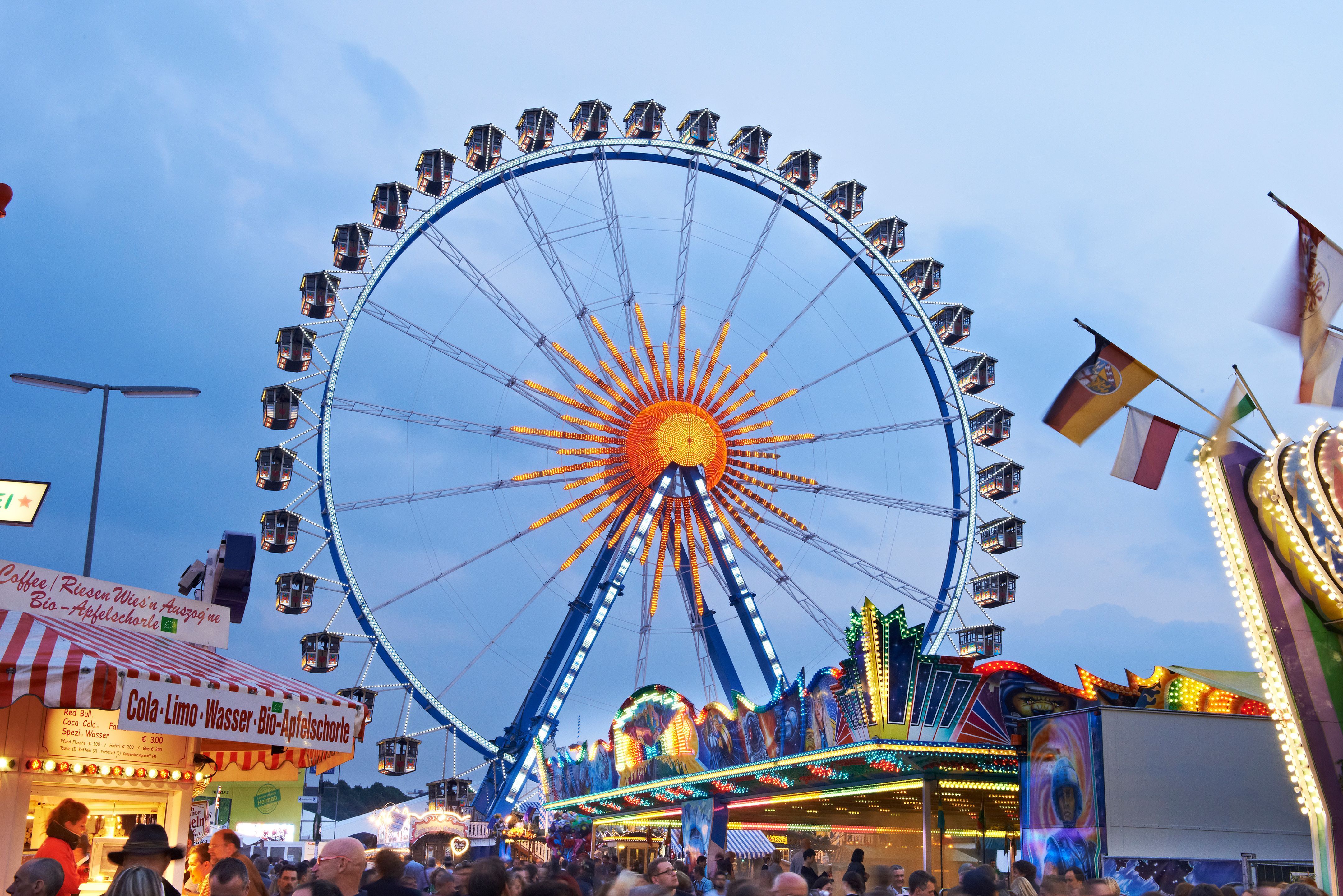 The rides. Like any great festival, Oktoberfest has all of the big rides making the carnival circuit. There's roller coasters and Ferris wheels, bob sleds whirling round and round, faster and faster! You'll find small, tame rides for the toddlers, horse and pony rides for the children, and enough twisting, turning, and reeling rides to keep your head spinning even before you've had a beer. Which, by the way, is a good idea! Go on the rides before you have a liter or two of that golden nectar sloshing around in your stomach.
Seven / Sieben – Gingerbread Hearts Galore!
Get a Lebkuchen (Gingerbread) Heart for your sweetheart, child, mother, father, best friend, dog, cat, boss, house-cleaner. Look long and hard enough and you will find just the right Lebkuchen heart for any occasion or acquaintance. The messages run from the sappy sweet to sarcastic wit, but regardless of the message the hearts are always ornate and tasty! (Just don't eat them at the fest…no one does, and there is plenty to keep you going). When you receive a heart, you wear it proudly along with the rest of your Bavarian trachtenmoden.
Eight / Acht – More Carnival Fun!
Test your strength or your nerves! Somewhere scattered around the fair grounds you'll find fun houses, houses of terror, hammers to swing, and even electrified pistol grips. How long can you hold on to the ever increasing current surging through this crazy device? Will you last long enough to earn a Superman rating or will you let go in writhing agony at the lamb setting? For extra fun, join hands with one or two friends and make your electrical circuit even longer and more dangerous!
Games! You can throw darts, toss rings, shoot targets, guess numbers, race steamships, catch goldfish, shoot baskets, you name it, if you've seen it at a fair or carnival anywhere the chances are high that you can try your luck at the same game in the Oktoberfest. And of course there are prizes to be won. Spend enough money and have enough luck and you could be going home with a giant elephant.
Nine / Neun – Souvenirs!
Shop until you drop! There is a surprising amount of stuff for sale from souvenir Oktoberfest mugs to cute little teddy bears dressed up in Bavarian garb! Bring some money, because you are going to spend it!
Ten / Zehn – It's a Blast!
It's just plain fun! Oktoberfest should be on everyone's bucket list no matter how young or how old! There really is nothing like it anywhere in the entire world! Prosit! Cheers! Enjoy!
Source: reflectionsenroute.com