See stunning vehicular vistas and then take some time out at these amazing pit stops on a road trip from Vancouver to Calgary
Best seen on four wheels, Canada is blessed with enormous landscapes, wide, wild expanses and roads that wind straight through the middle of it all. To explore lakes, waterfalls, national parks and the jaw-dropping contours of the Rockies in Western Canada, rent a car or take an RV on the road, then eat, sleep and immerse yourself in spectacular scenery.
Set off from Pacific-facing Vancouver and head inland towards Calgary. Each windscreen vista will be more spectacular than the last, and these ten essential pit stops along the way will help you make the most of it all. Just watch out for grizzlies.
1. Granville Island Public Market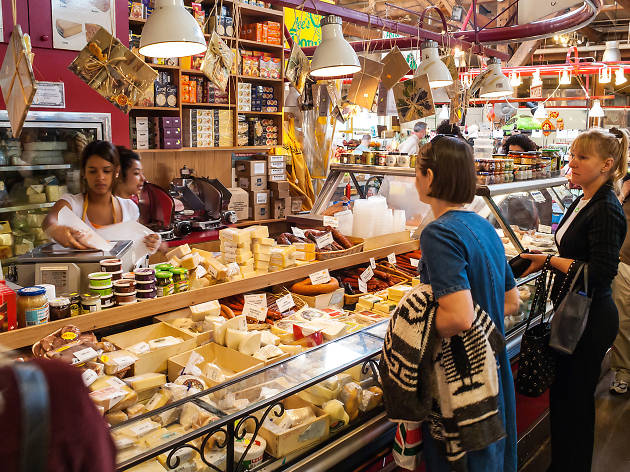 The center of Vancouver is almost entirely surrounded by saltwater – walk the city's seawall to see from Downtown's glinting high rises to epic sunsets at English Bay. Then, take a ferry from False Creek to Granville Island Public Market to refuel. Eat your way around a stall selling local produce and street food, including salmon cured in maple syrup.
2. Vancouver Island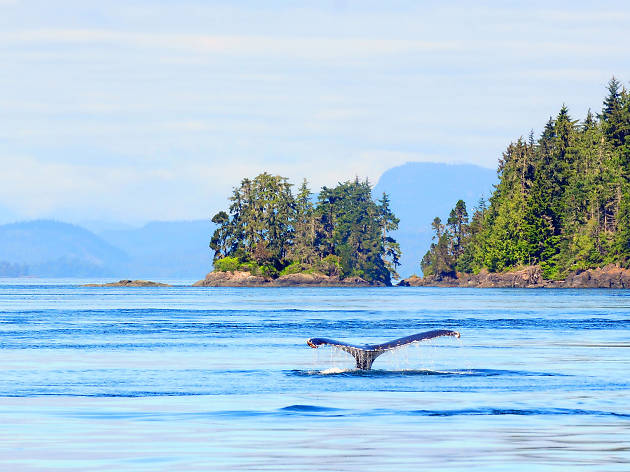 Forget those four wheels for a second. While you're on Canada's West Coast, you'll want to get out on the ocean to spot the whales that call Vancouver Island's waters their home. Jump on the car ferry over to the Island or book a day tour with Prince of Whales (a marine wildlife-spotting company, not a Trump Twitter gaffe) to watch for humpbacks, orcas and grey whales.
3. Sea-to-Sky Highway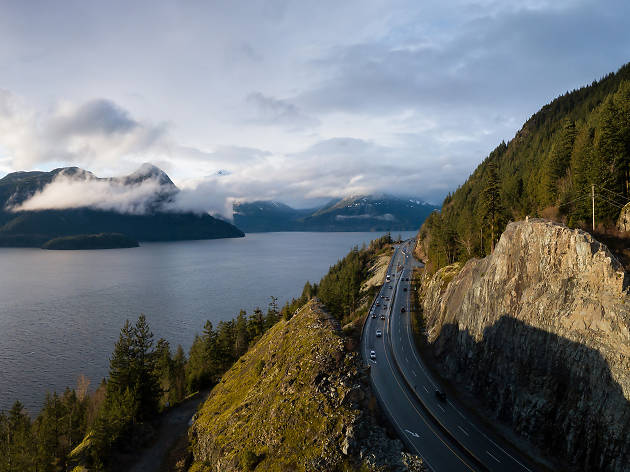 Leave Vancouver via the Sea-to-Sky Highway, so-called because it takes you from the ocean's edge to the alpine forests and snow-capped mountains in Whistler and beyond. Set off in the late afternoon to watch the fjords and islands of Howe Sound transform as the light fades. Stop off in Squamish to ride the Sea-to-Sky Gondola for more breathtaking (and knee-wobbling) views.
4. Mount Revelstoke National Park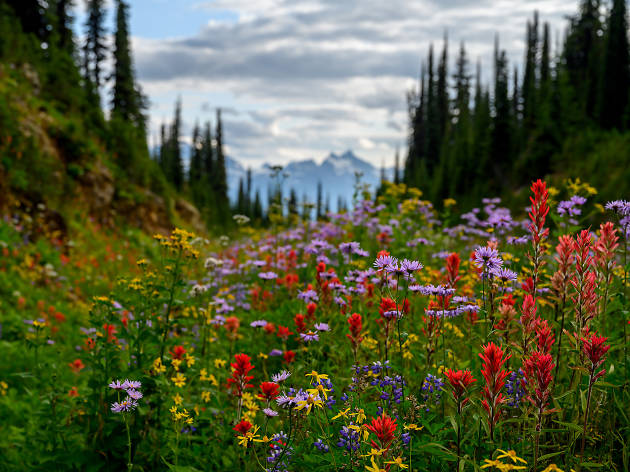 Once you've made it through the desert-like landscape along Highway 99 and the Trans-Canada Highway past Kamloops, the roadsides sprout greenery and mountains appear on the horizon again. Stop in Revelstoke to explore its small but mighty national park. Drive the winding Meadows in the Sky Parkway and roll past tall hemlock trees to sub-alpine wild-
flower meadows. Just remember, you're in bear country now…
5. Wapta Falls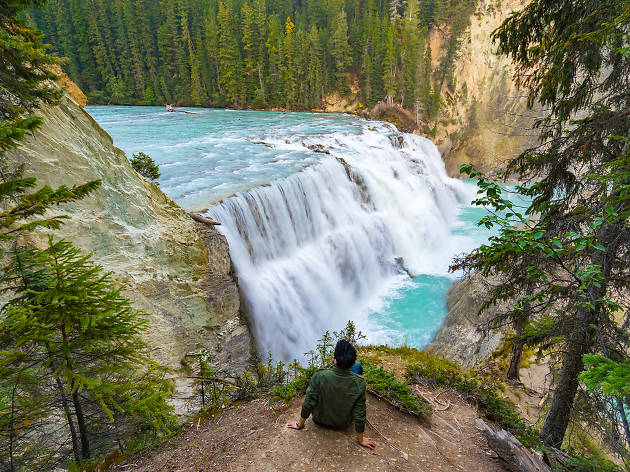 Park up on the western side of Yoho National Park at the Wapta Falls trailhead. This hike takes you over knotted tree roots through a silent alpine forest until you reach Wapta Falls. This dramatic section of the rushing Kicking Horse River boasts a huge wall of water framed by fir trees and backed by mountains. Bonus points if its spray creates a double rainbow.
6. Emerald Lake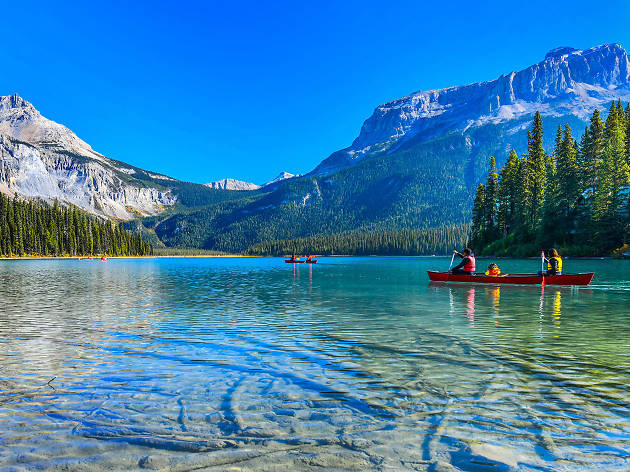 No prizes for guessing where this stunner of a lake got its name. Surrounded by mountains, this glassy stretch in Yoho National Park is all rich hues of green and blue. You can hike around it, watching as the lake changes from translucent jade to deep turquoise, or slide out onto the surface in a kayak. It's a popular place, but quieter than nearby Lake Louise – arrive early and you'll feel like you've got it all to yourself.
7. Columbia Icefield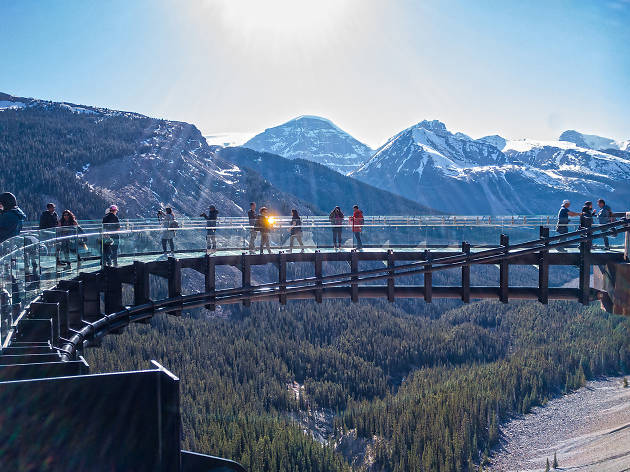 Alongside the border between British Columbia and Alberta, the Icefields Parkway is one of the most incredible roads in the world, lined with craggy mountains, lakes and the wild animals of Banff and Jasper National Parks (bears, mountain goats and bighorn sheep). The star is the Columbia Icefield, where you can get close to ancient glaciers. Step out over the Sunwapta Valley on the Icefield Skywalk glass observation deck, or hike up to the toe of the Athabasca Glacier. Don't miss signs that mark how rapidly it's been receding in recent years.
8. Jasper National Park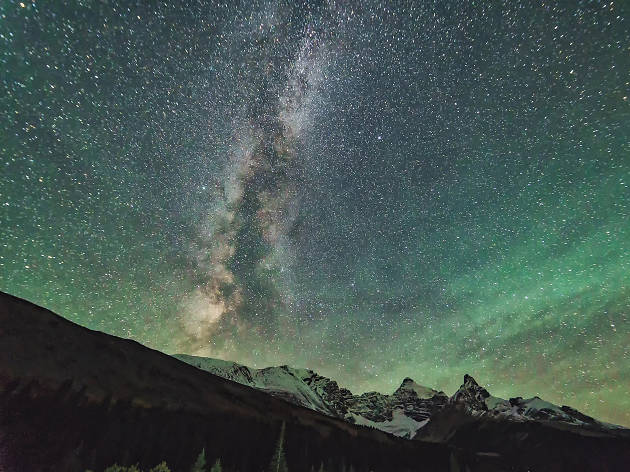 Although you'll say goodbye to your mobile phone signal on the Icefields Parkway, you can enjoy the feeling of remoteness once the sun sets thanks to a total lack of light pollution. Jasper National Park became a Dark Sky Preserve in 2011 and is full of stellar opportunities to get an eyeful of stars. For the best views, head out to Maligne Canyon, Medicine Lake or Pyramid Lake after dark to spot astral delights. You might even spy the Northern Lights.
9. Maligne Lake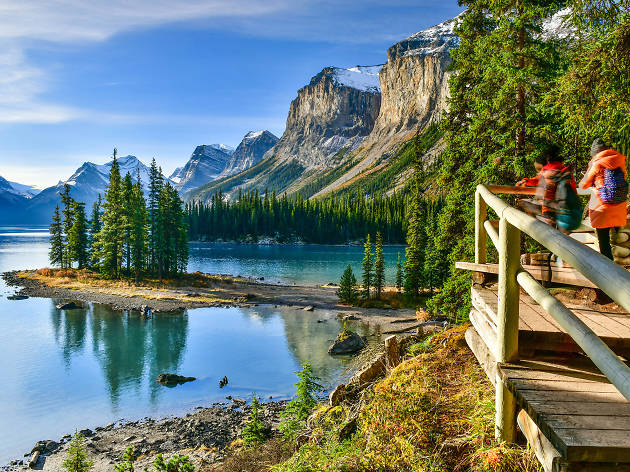 You'll struggle to spot where water meets the sky at Maligne Lake, an achingly pretty expanse that, on a calm day, makes a perfect mirror. You can set off on hikes from the edge of the lake, but the best way to see it is by boat. A 90-minute cruise takes you across to Spirit Island, a tiny landmass that might be one of the most snapped places in Canada. You can try to keep it off the 'gram, but resistance is futile.
10. Banff Upper Hot Springs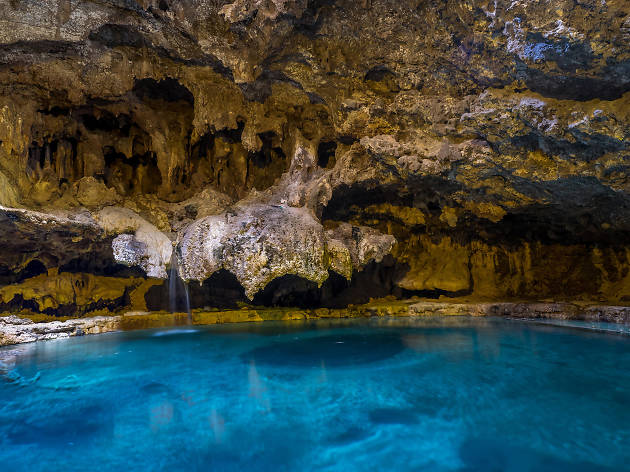 All that hiking left you with aching muscles? Soothe yourself in steaming pools on the hill high above the picturesque town of Banff. The natural thermal waters have been attracting bathers since the 1800s and, when you're immersed in the mineral-rich pool, it's easy to see why. Don't leave this alpine town without exploring: visit the castle-Esque Fairmont Banff Springs hotel, which could easily be mistaken for the Grand Budapest.
By Ellie Walker-Arnott