Looking for haunted and spooky things to do in Edinburgh Scotland? The capital of Scotland and Europe's most haunted city, Edinburgh bears a grim and horrible past just waiting to be discovered. Edinburgh showcases its haunted, scary and spookiest places through gruesome supernatural stories and outright terrifying attractions.
With a history burdened by brutal witch trials, the ghastly plague epidemic and scads of tormenting, fear-inducing serial killers, the city is a dark tourist's dream destination.
If you are looking for Spooky & Haunted Attractions in Edinburgh and things to do that are off the beaten path, this list of alternative ideas will help make your experience in Edinburgh unusual and unique.
Explore Edinburgh's underground city tours and learn the history behind the spread of the bubonic plague at Mary King's Close. Then head down beneath the streets to the Edinburgh Underground Vaults to visit the ghostly residents trapped in the horrendous time when brothels and crime ruled the damp, dark chambers.
Don't forget to join one of the city's abundant ghost tours and haunted tours that expose grave robbers, famous serial killers, witches, cannibals, and public executions.
There are many spots offering a view of Edinburgh's frightening past. Some of them fall under the realm of unusual things to do in Edinburgh. Here are a few of my favourite places, scary attractions and some of the best ghost tours in Scotland's dark capital.
Edinburgh's Underground City
The Real Mary King's Close
Mary King's Close is a historic maze of alleyways and hidden passages tucked under the streets of the Royal Mile. Go below the pathways, and see why it's one of the best places on the list of spooky things to do in Edinburgh. Take an Edinburgh underground city tour to explore the lanes that were once a hub of activity in Edinburgh's long lost past.
The close (a Scottish name for street) was devastated in 1645 by the dreaded bubonic plague, known as the "Great Plague", as a result of Edinburgh's severely unhygienic conditions.
Without a proper sewer system, residents of Mary King's Close were forced to shout out "Gardyloo!" (meaning, "beware of the water") as a warning, before dumping their waste directly into the streets. The dregs would flow down and collect in the Nor Loch, now Princes Street Gardens.
These unsanitary conditions were a breeding ground for all kinds of filth, including flea-ridden rats carrying bubonic plague bacteria.
The close was sealed up shortly after Scotland was rid of the plague and today it offers an insightful glimpse into the way people lived in Edinburgh centuries ago. One of the close's highlights is a famous Edinburgh ghost resident, known as Abandoned Annie.
She's a young soul who was deserted by her family and died of the plague. Each tour of the close is led by a guide in period dress who takes on a specific character from the time. You never know who you'll meet!
Located at 2 Warriston's Close, High Street, Edinburgh, EH1 1PG
Hours: 9:30 am – 9:30 pm, 7 days a week
Prices: Adult: £15.95, Child: £9.75, Student or over 60: £13.95
Gilmerton Cove
Located in the south end of Edinburgh on Drum Street, Gilmerton Cove is a hand-carved underground city with secret tunnels and chambers buried 10 feet below the city's streets.
If you are looking for different things to do in Edinburgh – a trip to Gilmerton Cove is just what you need. The Cove is a great place if you are looking for spooky things to do in Edinburgh. The chambers are home to sandstone furniture, including benches and tables, and there's also a hand-carved chapel.
Shrewdly hidden from plain sight, the entrance to the tunnels is inside the home of a man who was once a locksmith and who is also believed to be the creator of the passageways.
Although the real purpose of Gilmerton Cove is a mystery, there are many theories surrounding its purpose. Historians suspect the tunnels may have been used as a drinking den, a refuge for the religious Covenanters (a Scottish Presbyterian movement) or as a hideout. Visit and decide for yourself what the underground dwellings were used for.
Located at 16A Drum Street in Edinburgh.
Hours: Monday – Friday 11:00 am, 12:00 pm, 2:00 pm and 3:00 pm & Saturday & Sunday 12:00 pm, 2:00 pm and 3:00 pm
Prices: Adult: £7.50, Child: £4, Student or over 60: £6.50
Edinburgh Vaults Tours
Delve far below the city's streets to discover Edinburgh's underground vaults. The vaults aren't streets, but chambers and rooms initially used as workspaces, storage rooms or business locales.
But not long after they were built, the vaults began to flood due to not being properly sealed during construction. Severe flooding turned the vaults into a damp, unusable area, resulting in them being abandoned by their owners and users.
Following their desertion, the dark tunnels were filled with criminals, brothels, illegal pubs and storage spaces for corpses looted by Edinburgh's infamous murdering duo.
Today, the vaults aren't filled with illicit goings-on, but the dark history and ghost stories remain. See below for the list of the best tours to take you into the vaults.
Mercat Tours
Mercat Tours takes you down below the streets into the Blair Street Underground Vaults. Rediscovered in the 1980s, the vaults have become known as one of Edinburgh's most famous haunted locations, providing visitors with a fascinating insight into Edinburgh's underground life.
There are many different ghost tours on offer, giving you the chance to venture into the haunted vaults and potentially meet the ghostly residents!
You can really feel the spirits around you as you hear their stories. If you have the opportunity to book a tour with guide Jared, don't pass it up! He was an amazing storyteller and I still boast about how wonderful my tour was years ago.
I managed to snap one quick picture of him when he was doing another tour, so check it out to see who you're looking for.
Address: 28 Blair Street, Edinburgh EH1 1QR
Hours: 9:00am-10:00pm, 7 days a week
Auld Reekie Tours
Auld Reekie takes you on a horrific adventure through the terror and torment of those tortured in the South Bridge Vaults. The tours include seeing a display of various torture devices used in Edinburgh's past, such as a chastity belt and the "tongue tearer" — a tool used to remove the tongues of traitors.
This section of the vaults is where you'll see a strange stone circle with mysterious stories as to its origin. You're allowed to step inside the stone circle (I did!) but the guides don't recommend it. Take a tour of the South Bridge Vaults and find out why!
Another intriguing section of these vaults was once a witchcraft temple, but, unfortunately, it's no longer used for this purpose due to safety reasons. Venture down and hear all about the stories that lurk within the shadows of these vaults.
Address: 45 Niddry Street, Edinburgh EH1 1LG
Hours: 10:00 am – 10:00 pm, 7 days a week
City of the Dead Tours
The City of the Dead Tours takes you to a part of the South Bridge Vaults referred to as Damnation Alley, a spooky place home to a ghastly poltergeist known as the South Bridge Entity.
I spent a night there as part of a ghost festival held in Edinburgh when Damnation Alley was first unsealed. Check out this post to read about my spooky experience spending a night in the vaults.
Address: Tree of the Dead (Side of St. Giles' Cathedral), Royal Mile, Edinburgh, EH1 1RE
Hours: 10:30 am – 10:00 pm, 7 days a week
City of Edinburgh Tours
City of Edinburgh Tours has several spooky history and paranormal tours that take you through graveyards, Edinburgh's Old Town and down into the depths of the vaults.
The guides are actors who take inspiration from real people from Edinburgh's past, meaning you could meet Dr. Knox (the doctor who bought corpses) or the Deacon Brodie (respectable tradesman by day, criminal by night).
Whoever you get leading your group, having a guide fully take on the persona of a historical character is an incredible experience. One of their best tours is the Extreme Paranormal Ghost Tour which is convincing enough to turn skeptics into believers!
Address: Old Police Box, 9 Hunter Square, Royal Mile, Edinburgh, EH1 1QS
Hours: 11:00 am – 10:30 pm, 7 days a week
Edinburgh Ghost Tours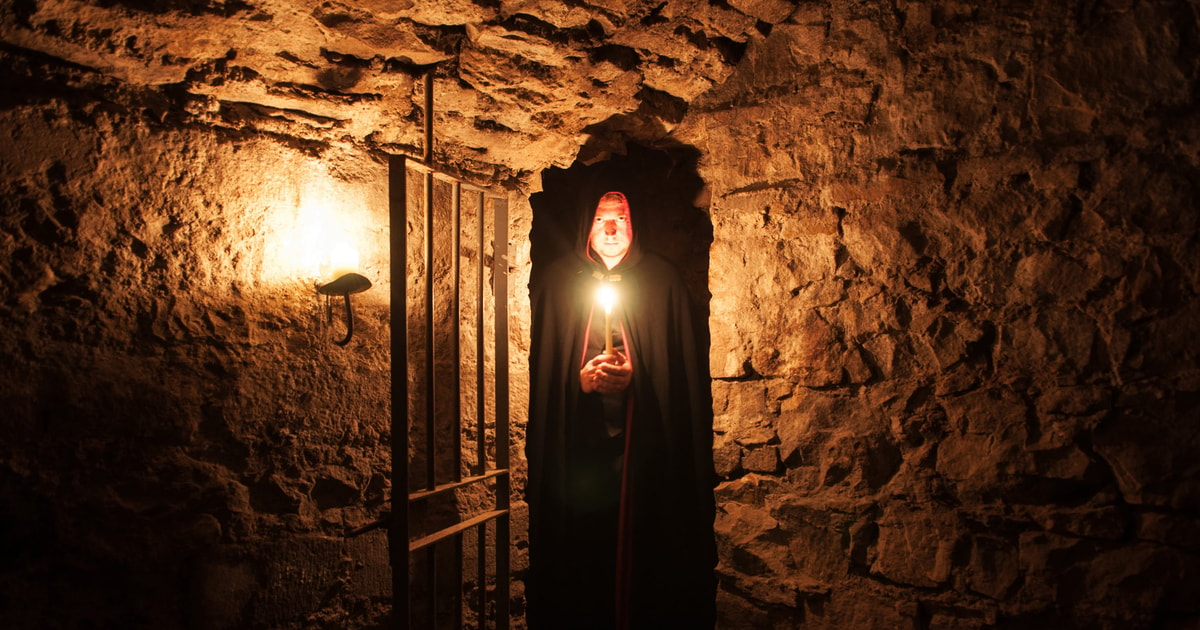 Ghosts and Edinburgh go hand in hand. From ghost stories rising up from Edinburgh's underground vaults and eerie haunted graveyard visits to historical tours of Edinburgh's Old Town and discovering the best ghost tour in Edinburgh, the city isn't short of spooky, ghostly and scary Edinburgh ghost attraction sites.
Each of the vaults in the capital has its own lineup of ghostly residents. Whether you'd rather rub shoulders with the friendly cobbler from the Blair Streets vaults or the malevolent South Bridge Entity of Damnation Alley, there are plenty of Edinburgh ghost tours to choose from within the vaults. My personal favourite that I consider to be the best ghost tour in Edinburgh is the one with Mercat Tours.
Best Ghost Tour in Edinburgh
While all the above offer awesome vault tours and ghost tours, I think the best ghost tour in Edinburgh is the Hidden & Haunted Tour. This adventure takes place in the evening and is too scary for anyone under 18! During the tour, you'll follow a guide through the dark streets of Edinburgh's Old Town.
Each ghost tour company has its own unique route which leads you down to different parts of the vaults where they'll tell you their own renditions of the city's sordid history and the notorious ghost stories that go with them.
If you have the time, I recommend taking a tour with each of the companies. They're all really great, brimming with one-of-a-kind narratives you won't hear elsewhere while being introduced to new areas you never knew existed. If you have the time for only one, it's got to be the Hidden & Haunted Tour with Mercat.
If you've got a tight budget to stick to, consider the free ghost tour in Edinburgh with City Explorers Tours.
You'll hear all kinds of dark stories about the scary things that happened in Old Town Edinburgh, including public executions and the tortured souls locked away from the public eye in dreary jail cells. You can join a tour at 154 High Street every night at 7:00 pm and 9:30 pm.
Source: wanderingcrystal.com