People usually go to Hawaii for its stunning beaches, bustling nightlife, family adventures, and surfing. The beautiful islands are home to many astonishing spots – some of them even secluded shores you don't know about – that you need more than two weeks of vacation time to explore hidden gems. While tanning all day under the sun with a cocktail drink in the hand is one definition of a perfect holiday, going off the beaten path to explore the "Old Hawaii" and its untouched nature is just as exhilarating.
Kua Bay
Photo Modified: Flickr / Andrew K. Smith / CC BY 4.0
Kua Bay is the local name for Manini'owali, a remote and tiny white sand beach close to Kona airport. It doesn't get many visitors but those who go there like it for bodysurfing and enjoying the iconic Hawaiian sunset.
Secret Beach
Secret Beach, also referred to as Panko Cove, is a stunning beach in Hawaii that is rarely visited. You can access it through two black lava rock walls. The Secrets, as locals simply call it, is a hidden gem perfect for snorkeling with its calm waters and odd reef formations, tropical fish, and colorful sea beds. The beach is about 3,000 feet long but is known for its privacy and views.
Halawa Valley
Halawa is the least visited and least developed of the main Hawaiian islands. You won't find any resorts, fancy hotels and big restaurants there. And the locals, many of whom are Native Hawaiian, prefer it that way. There is not much to do there but expect to see Hawaii's natural untouched beauty and get a taste from the past if you drive from Kaunakakai to Halawa Valley. Locals there surf and swim.
Bamboo Forest
This is a lavish jungle with waterfalls and freshwater swimming holes. Go there and you will literally see what the "Old Hawaii," as locals say, used to be like. If you're looking for dreamlike beauty in Maui, the Bamboo Forest is the place to go.
Redwood Trail
Photo Modified: Flickr / Forest and Kim Starr / CC BY 4.0
The trail starts at Polipoli Springs State Recreation Area at 6,200′ elevation, winds through stands of redwood and other conifers, past Tie Trail junction and down to the old ranger's cabin at 5,300′. The trail, which has stunning views of redwood trees and untouched nature in general, is about 1.5 miles long and is ideal for bikers and pedestrians.
Oneloa Beach
Even though Oneloa Beach is absolutely gorgeous and offers plenty of what other bigger beaches have – long white stretches of clean sand and pristine waters, it is surprisingly uncrowded.
Niihau
Niihau is the "Forbidden Island" of Hawaii. There are about 200 Native Hawaiians who reside there. They have kept their traditional way of life and even still speak Hawaiian. The main form of transportation is biking. You can see the island if you are on a helicopter tour but won't be able to land unless you have permission from the Robinson family, which owns the island.
Kaumana Cave
The Kaumana Caves County Park Trail, which is mostly used by hikers, is an out-and-back trail located near Hilo. It is good for all skill levels. Tourists usually go to the Thurston Lava Tube at Hawai'i Volcanoes National Park. The thick greenery, pillars, and stalactites swinging from the ceiling are stunning to see. The lush plant life in the cave is in large part due to the consistent rain in Hilo. Explore deeper into the two caves that are about 16 feet in diameter, according to Hawaii Guide.
Garden of the Gods
Keahiakawelo, also known as the Garden of the Gods, is an ethereal rock garden. It's located approximately 40 minutes from Lanai City. The location's mysterious lunar topography is populated with boulders and rock towers that were arranged centuries ago. Locals say this windswept landscape is the result of a contest between two priests from Lanai and Molokai. Each was challenged to keep a fire burning longer than the other, and the winner's island would be rewarded with great abundance. The Lanai priest, Kawelo, used every piece of vegetation in Keahiakawelo to keep his fire burning, which is why this area is so barren today.
Hunakai Beach
Hunakai Beach, also called Kahala Beach, is in a very luxurious area. It's open to the public, but you may not find more than a few people, especially if you go during the week. The long stretches of white sand almost seem deserted as the palm trees quietly sway. This is the perfect destination for a long walk to clear your head after a tough day at work without having to worry about running into tourists.
Kehena Beach
Photo Modified: Flickr / Mark / CC BY 4.0
Located in the Big Island's Puna district, Kehena Beach is one of the few unofficial "clothing optional" beaches in Hawaii. It is a long, but narrow black-sand beach, which local residents also call Dolphin Beach because of the frequent appearances of spinner dolphins in this area. To access the beach, you must take the dirt path that goes out of the parking lot. The stairs were shattered after an earthquake in 1975 and were never rebuilt.
Or Falls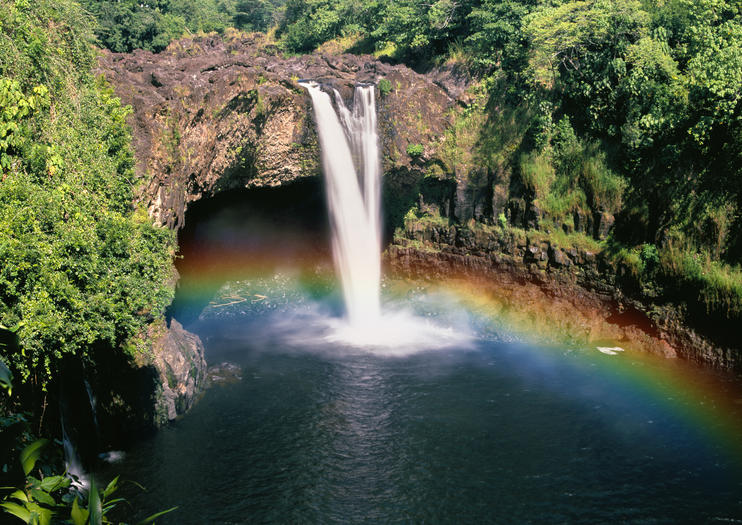 The secluded Kapena Falls drop about 15 feet. Royalty used to bathe there. The waterfall is close to downtown Honolulu. You can jump off a 50-foot cliff as seen in this video. The water, though, is freezing cold. The pool at Kapena Falls, behind the Memorial Park on the Diamond Head side of Nu'uanu Valley, is one of the largest pools of Nu'uanu stream.
Polihale State Park
If you want to camp out on a wild isolated coastline with a large sandy beach backed by dunes and rough waters, tall cliffs, and no facilities, head to Polihale State Park. Locals often go for tent camping on the weekends.
Kalalau Valley
This is an unspoiled refuge with a secluded and gorgeous beach surrounded by grooved summits. The Kalalau Valley is perfect for camping. But getting to it requires a strenuous hike for about 10 miles. Only those who acquire proper permits are allowed to step foot on this unspoiled terrain, according to Hawaii.com.
Mahana Green Sand Beach
Beach with white, black, and even pink sand is quite popular. This green-sand beach, unique to Hawaii, is famous mainly among locals. The name comes from the green olivine crystals in the cinder cone which was formed 49,000 years ago next to the beach, according to Love Big Island. The beach, which lies in a protected cove, is ideal for snorkeling and underwater photography.
By: theactivetimes.com