An obsession with Austrian lakes. Especially those that surround Salzburg (also known as the Salzkammergut)
We moved to Salzburg about a year ago and a year ago is when our love for the Lake District began. Within 30 minutes, you can reach 6 Austrian lakes and within an hour & a half you can reach 3 MORE! And when I say lakes I mean clear turquoise water, mountains & farmland in every direction, birds chirping, a subtle breeze, the greenest grass imaginable and total peace.
1. MONDSEE
Mondsee is the closest lake to Salzburg, and it's also the most famous. The church in its town center is the church from The Sound of Music – where Captain Von Trapp and Maria got married! Every Sound of Music tour in Salzburg goes here and it will forever be one of my favorite churches in Austria because of that.
But aside from its fame, Mondsee has a LOT more to admire. The main street doesn't look like real! It's something out of a fairytale. Simply too perfect for words. Whenever we visit, I feel like I'm walking through movie set. Every building is brighter and more colorful than the one before. Cafes with outdoor seating line the street. It's unlike any place we've ever seen…
And after you've accepted how perfect the town is, the lake will impress you even more. Bright blue water, mountains everywhere. Jump in the refreshing Apline water from the diving board or giant slide. Or rent an electric boat for 15 euros/hour, float around and enjoy the scenery (which is our favorite thing to do!)
The electric boats at Mondsee are our favorites out of ALL the Austrian lakes. They have a cover, just in case you need a break from the strong Austrian sun. So instead of hopping off the boat because your skin's on fire, you just put up the cover and enjoy maximum boating time!
How to Get to Mondsee
Driving: 20 minutes
Bus from Salzburg HBF: #Bus 140 towards Mondsee; STOP: Mondsee (Travel Time: 47 minutes)
2. MATTSEE
Mattsee is another special place we've discovered outside of Salzburg. Just like Mondsee (and all the other Austrian lakes really), the water is perfectly blue and clear with mountains and farmland everywhere you turn (NBD). But aside from the "standard" amazing qualities, the grassy beach area is what stands out for us. There are TONS of activities to pass the time..
A food bar with classic Austrian dishes & drinks. Volleyball nets, slides, diving boards and great areas for picnicking (picnic tables included!) And you can also rent a boat by the hour, float around and completely lose track of time.
But don't end your day with the lake – the town of Mattsee is absolutely adorable too! Many Austrians have lake homes in Mattsee, so it's a true vacation spot with all the conveniences and beauty you'd ever need to occupy your time.
How to Get to Mattsee
Driving: 30 minutes
Bus from Salzburg Breitenfelderstraße: Bus #120 towards Mattsee Ochsenharing; STOP: Mattsee Ortsmitte (Travel Time: 40 minutes)
3. ATTERSEE
Attersee oh Attersee. We have a real love for Attersee.
First of all, it's more of the locals' spot (or so we've been told), Meaning it's always tourist-free. And also because the surroundings cannot be matched. You feel like you're swimming in a postcard.
Grab a float at the store, blow it up and spend your day lying out on the water, taking in the scenery. And as with every lake, the lake water is see-through and so clean you could drink it! Nothing feels more peaceful.
We always go to one specific spot at Attersee (Unterach am Attersee) where there's a great snack bar (with schnitzel, bosnas, drinks and SO much more!), free & convenient parking, no entrance fee, a climbing wall, tennis courts, and slides. And of course you can choose to rent a boat to explore the pristine waters on your own.
After your boat ride, lay your towel out and relax on the quiet grassy beach area right on the water with great trees for shade, enough space to spread out and be close enough to jump in the (COLD) refreshing water. Or lay out on the dock in awe of your surroundings!
Attersee is truly our 'happy place' here in Austria. We can set up and work for the day and it's usually pretty quiet, even in the middle of the summer. It's a place where we we can be in our own little world.
How to Get to Attersee
Driving: 30 minutes
Bus from Salzburg Mirabellplatz: Bus #140 to Mondsee Busterminal (Franz-Kreutzberger-Straße); Bus #596 to Unterach/Attersee Ortsmitte; walk to Unterach am Attersee (Travel Time: 2.5 hours)
4. WOLFGANGSEE
Wolfgangsee covers 2 destinations in the Salzkammergut: Saint Wolfgang and Saint Gilgen. Both are MORE than worth a visit, and can be done together in a day.
Saint Wolfgang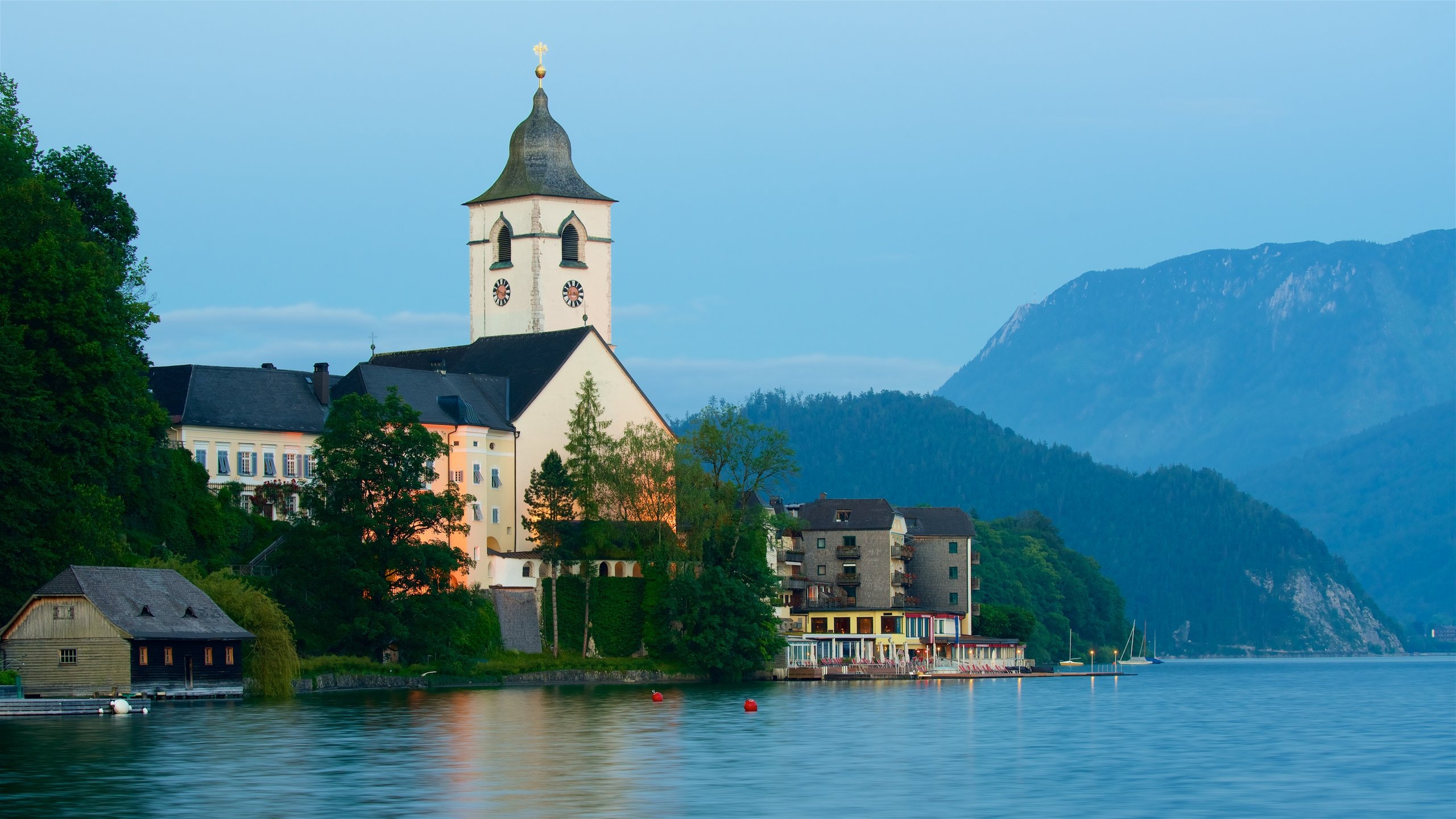 Saint Wolfgang is definitely known for being a true destination in Austria, more than any of the other Austrian lakes. It becomes a major tourist attraction throughout the summer for Austrians and travelers alike. The buildings are your typical Austrian doll houses with flower boxes lining the balcony and murals painted on the outside.
The village is FILLED with tons of great apartments, hotels, restaurants and shops. It's a true Austrian experience in every way, which is why we love it and why we've been back 3 times now! It also has a vast history, dating back to the 900s.
Saint Gilgen
Saint Gilgen is also on Wolfgansee, so you've got the same picturesque scenery as Saint Wolfgang (just on a slightly smaller and less touristy scale). But despite the smaller size, it has everything you need (and MORE) for a relaxing getaway and true Austrian lake experience.
We actually prefer the mountain scenery in Saint Gilgen over Saint Wolfgang because of where it sits on the lake. You can see snow-capped mountains in the distance while you're enjoying the warm Austrian summer weather – as late as July!
The restaurants located in the village are both historic and delicious (our favorite being the Gasthof zur Post, which is in a building from the 1300s). And its streets are the perfect place to wander. With beautiful murals painting on it's buildings, historic statues throughout and great shops too for your souvenir needs!
If you're a Mozart fan, Saint Gilgen is also the home of Mozart's grandfather, where his Mother was born AND where his sister lived. They've turned his mother's birthplace into a museum, so you can learn more about Mozart and his family's history.
How to Get to Saint Wolfgang & Saint Gilgen
Driving: St. Wolfgang: 50 minutes; St. Gilgen: 30 minutes
Bus from Salzburg HBF: Bus #150 to St Gilgen & St Wolfgang (Travel Time: St. Wolfgang – 1.5 hours St. Gilgen – 40 minutes)
5. HINTERSEE
Hintersee is a smaller and quieter lake near Salzburg, but it's just as beautiful as all the other Austrian lakes. The biggest difference is the lakefront isn't filled with shops or restaurants. Just beautiful big Austrian homes, walking trails, a BRIGHT blue/green lake and NATURE! If you're looking to enjoy just that, Hintersee is perfect for you.
Come for a few hours to enjoy a leisurely hike around the lake or take a dip in the water. Set up a picnic in perfect silence where the only noise you'll hear are birds chirping. There is no better way to enhance your day in Austria! During the winter, Hintersee is a skiing destination, so again mountains, mountains, mountains galore!
How to Get to Hintersee
Driving: 30 minutes (navigate to Hintersee, 5324 Hintersee)
Bus/Train: N/A
6. FUSCHLSEE
Next up is Fuschlsee, home of the Red Bull HQ and also home to many Austrians' fancy summer homes. Just like all the others, it has every component necessary for a relaxing vacation with seriously breathtaking scenery to match!
Fuschlsee is just a few minutes from Saint Gilgen, so it's a lake you can easily incorporate into a day exploring multiple Austrian lakes. In my opinion, Fuschlsee is one of the quieter, more low-key lakes in the Salzkammergut with more vacation homes than tourist attractions. BUT with the point of vacationing being to get away and enjoy peace of mind, this place is absolutely perfect. And when the sun sets directly over the water each night, you will feel nothing but that…
Another cool bonus of Fuschlsee (that none of the other Austrian lakes have) is the Red Bull HQ is located here. This HQ is by far one of the coolest corporate offices of ALL time. Be sure to stop on the road to take a few pictures of the bulls stampeding out from the front and the glass pods spread out on the colorful water.
And because of Red Bull, you'll constantly see helicopters and private pontoon planes flying around (and landing on!) Fuschlsee throughout the day. Let's be honest – who doesn't love watching private helicopters take off, wondering what famous athlete or wealth CEO is the passenger? It keeps your day entertaining!
How to Get to Fuschlsee
Driving: 30 minutes
Bus from Salzburg Hofwirt (Schallmooser Hauptstraße): Bus #150 towards Saint Gilgen Busbahnhof; get off at Fuschl am See Ortsmitte; (Travel Time: 35 minutes)
7. WALLERSEE
We can walk to Wallersee from our apartment, so we spend a lot of time here! There's a great grassy area for laying out all day, an outdoor restaurant (with delicious pizza), a club, a playground for the kids and it's walking distance from the train station.
That being said, it's definitely not the MOST picturesque lake of all the Austrian lakes – simply because the water isn't as blue as the others and there aren't as many mountain views. But on the plus side, it's surrounded by green hills and farmland. And the trains to/from Salzburg pass by here, adding a certain European element to your lake experience!
Wallersee has all the same activities that exist at other Austrian lakes – electric boats (for 13 euros/hour), fishing, great areas for swimming – but it's definitely more low key, since Wallersee is a 'locals' spot. No tourists can be found here, so peace and quiet are pretty much a guarantee.
All in all, it's a beautiful place that we're lucky to live close to, but it's not our #1 favorite lake in the Salzkammergut region.
How to Get to Wallersee
Driving: 20 minutes
Train from Salzburg HBF: to Seekirchen Am Wallersee; WALK to Seestraße, Wallersee (Travel Time: 15 minutes)
8. HALLSTÄTTER SEE
If you're up to date on all things Surviving Europe, you'll know Hallstatt (and Hallstatt's lake) is one of our favorite destinations in Europe (let alone Austrian lakes!) We dedicated an entire post to visiting the village of Hallstatt (urging everyone to stay for more than just a day). And Hallstatt's lake is one of the main reasons why!
Renting an electric boat here is by far the most scenic experience of all time and only costs 18 euros/hour. When you're floating around looking at a 7,000 year old ancient village in one direction and mountains & castles in the other, nothing compares.
It's also important to note that Hallstatt's beauty is no secret. People come from all over the world to experience Hallstatt, so it's also the most touristy lake out of these 10. That being said, you can easily plan your visit around the busiest times – come in the morning or after 6pm. Either way, a trip here is MORE than worth fighting the crowds.
How to Get to Hallstatt
Driving: 1 hour
Train from Salzburg HBF: to Attnang-Puchheim; Attnang-Puchheim to Hallstatt to Hallstatt Ferry (Travel Time: 2.5 hours)
9. TRAUNSEE
Traunsee is our most recent Salzkammergut discovery. We spent the entire day exploring each and every village around Traunsee, and that's what made us fall in love with this lake destination. The most well-known attraction on Traunsee is the Schloss Ort – a medieval castle built in the 11th century that sits directly on the lake. It's located in the city of Gmunden, which is also a true destination in itself. You can rent an electric boat (for 17.50 euros/hour) in Gmunden and float around the castle to fully experience it's beauty.
Aside from the castle, Traunstein, the tallest mountain in the region sits on Traunsee, which makes for the most excellent views pretty much anywhere on the lake.
One of the coolest views of Traunstein (and boat rentals for 15 euros) can be found at Traunkirchen, which is a little, but incredibly picturesque Austrian village.
We discovered this village by driving around the lake and stopping when we saw something beautiful. And this village is MORE than beautiful. They have natural pools sitting right at the foot of the village, which is not something you'll find just anywhere.
Another cool thing about Traunsee is that it's mentioned in Austrian folklore! Legends tell tales of a lake monster known as Lungy and mermaids that live in the lake who would ride his back. I don't know about you, but that was enough to convince us to make the trip.
How to Get to Traunsee
Driving: 1 hour
Train from Salzburg HBF: to Attnang-Puchheim to Altmünster/Traunsee (Travel Time: 2 hours)
10. ZELLER SEE
Zell Am See is another true Austrian holiday destination, and one we are planning to see ASAP! It's the furthest from Salzburg – about an hour and a half – and is the perfect place for an active and relaxing holiday.
Skiing, hiking, swimming, water sports, golfing, mountain climbing.
It's most famous for the year round skiing that takes place on the Kitzsteinhorn Glacier. Spend the day on the slopes and then jump in the lake! A combination you never thought existed before now.
How to Get to Zeller See
Driving: 1.5 hours
Bus from Salzburg Aiglhof S-Bahn (Unterführung): to Zell am See Bahnhof (Travel Time: 2 hours)
The Best Way to Experience Austrian Lakes near Salzburg
By far the best way to enjoy the Salzkammergut is to rent a car and DRIVE!
You can easily pack multiple Austrian lakes into one day on the road, since they're all located close to each other. Renting a car will allow you to make the most of your time and operate on your own schedule vs. relying on public transportation. Plus, driving in Austria is pretty straight forward, so there's no need to worry about the roads.
And a huge BONUS = you'll mostly be driving on back roads, which is the perfect way to truly experience ALL the beauty that exists in the Salzkammergut, a region that is known for being a vacation spot throughout Europe.
Rental Cars at the Salzburg Airport: Europcar
Rental Cars in Salzburg City: Europcar – Avis
So do yourself a favor during your trip to Salzburg. Plan a day to see the REAL Austria that exists in the lake villages surrounding Salzburg…
By: survivingeurope.com