Even though Portugal's Madeira is known for its year-round warm temperatures, it's still worth visiting the island during the summer, when you can make the most of its scenic beaches and relaxed holiday atmosphere.
Located in the Atlantic Ocean approximately 900km (559mi) west from Morocco, Madeira boasts a diverse bioclimate that allows for endemic and exotic species of flora and fauna to thrive, offering visitors a unique travelling experience. In between intricate hiking trails, volcanic beaches and colourful farmer's markets, there's plenty of reasons to visit Madeira this summer. Here's why you should.
For the Old Town of Funchal
Madeira's first settlement appeared in Funchal, the island's current capital. It's worth taking a walking tour around the Old Town to marvel at the colourful houses and colonial architecture. One such example is the dreamy São Tiago Fortress, which looks straight out of a fairytale story, or Funchal's Town Hall with its impressive doorway carved in grey stone. If you want to learn how traditional Madeiran hats are sewn together, don't miss the Fábrica de Chapéus de Santa Maria, a charming hat factory that has stood in the same location for more than 60 years. For some of Madeira's finest street art, walk down Rua de Santa Maria, one of the city's oldest streets. Each of its 200-plus doors has a different painting, as part of the Arte de Portas Abertas (Art of Open Doors) project.
© Frank Fell / Alamy Stock Photo
For the unrivalled views from Funchal Cable Car
Madeira's signature cable car transports visitors from Almirante Reis, the lower part of Funchal, to the upper suburb of Monte. The ride lasts for about 15 to 20 minutes (covering a distance of a little more than 3km), giving you plenty of time to enjoy the awe-inspiring scenery. From panoramic ocean views to verdant peaks hosting clusters of white tile-roof houses, the cable car offers a soothing visual experience, perfectly fit for a series of no-filter Instagram shots. The Monte Palace Tropical Garden is no doubt the highlight of the ride, looking abundant and majestic from up high. The queue to enter the cable car is usually quite long, but it moves fast so don't despair.
© E.D. Torial / Alamy Stock Photo
For a toboggan ride on a traditional wicker basket sledge
If you thought the sole purpose of a wicker basket was to store magazines or keep bread fresh, you might be surprised to learn that Madeira has found a much more exciting use for them. One of the island's strangest but most fun traditions is the toboggan ride on a wicker basket sledge. These peculiar, human-sized wicker baskets date back to the early 19th century, when they were used as an actual means of transport by locals who wished to get from the village of Monte to the city of Funchal. Today, you can take the cable car to the top of Monte and start your ride at the Church of Our Lady of the Mount. You will ride all the way down to Livramento town (a 10-minute ride), steered by two men in white – which is probably as crazy as it sounds.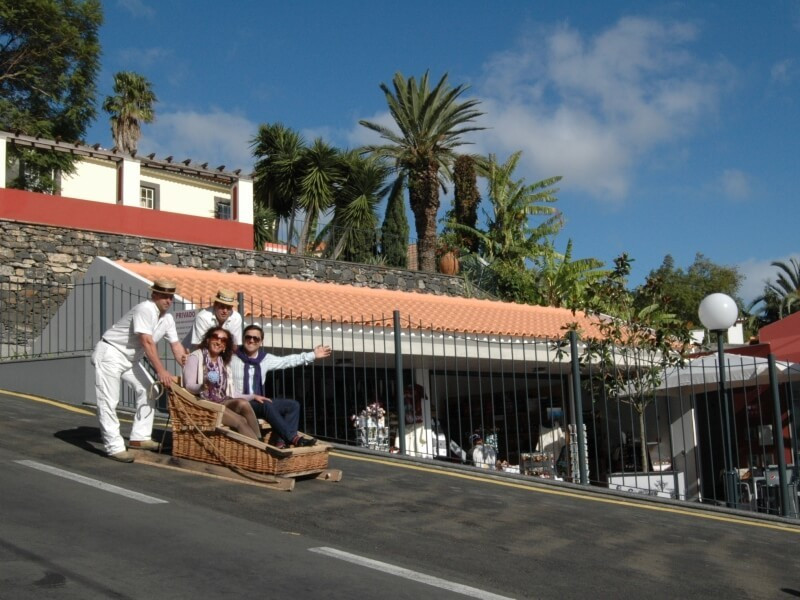 For the beaches
Whether natural or artificial, isolated or busy, Madeira has a long list of beaches to choose from. These are usually surrounded by towering rocks that give off a sense of grandeur and outlandish allure. Calheta, an artificial beach with smooth waters and sand imported from Morocco, is a particular favourite among locals. Then there's the photogenic, natural Porto Moniz pools, formed by volcanic lava. Others are particularly popular with divers, like the tranquil Garajau Beach, which can only be accessed by cable car and houses a scuba diving school. At the bottom of the dramatic Cabo Girão cliff lies Faja dos Padres Beach, which is perfect for snorkelling, diving and surfing. For those not afraid of heights, you can also gaze at Faja dos Padres from the glass-bottomed skywalk perched atop the 580m (1,902ft) Cabo Girão.
© Cícero Castro / Alamy Stock Photo
For the exotic gardens and parks
Madeira is known for its numerous lush forests, gardens and parks that give the island a tropical feel. The year-round mild temperature, combined with the range of different regional bioclimates, means the island's gardens can support a rare variety of exotic plants and herbs – from plane trees and English oaks to European azaleas, cacti from Scotland and cycads from South Africa. The popular Monte Palace Tropical Garden and its more than 100,000 plant species should be high on your list, along with the enchanting laurel forest Parque Forestal de Queimadas. Other must-sees include the Palheiro Gardens with their famous collection of camellias, and the Vereda dos Balcões forest showcasing endemic species like the Madeira orchids and blueberries.
© agefotostock / Alamy Stock Photo
For the hiking trails
With so many green and diverse mountains, it's no wonder Madeira is a hiking paradise. In the early 1500s, dozens of stone irrigation channels were carved along winding routes to transport water to drier areas. Known as levadas, these still carry water, but some of them also serve as hiking trails. The Levada do Caldeirão Verde, dating to the 1700s, carries water from Madeira's highest mountains. It passes through the marvellous São Jorge Valley and past the Caldeirão Verde lake, which is formed by the waters of a 100-metre-high waterfall. At 1,862m (6,109ft), Pico Ruivo is Madeira's highest peak and offers an amazing six-hour hiking route interrupted by strange birds and lizards, starting at Pico do Arieiro. For a more intense trekking experience, the volcanic rocks of Ponta de São Lourenço overlook the Atlantic while allowing unusual plants such as cardoons and everlastings to bloom.
For the colourful Mercado dos Lavradores
Funchal's famous farmer's market has to be the most eye-catching site on the island. The Mercado dos Lavradores offers a wide range of bright-coloured fruit, vegetables, flowers and fish, some of which you probably haven't seen before. Here, you will find rare types of passion fruits, bananas, sweet potatoes, chestnuts and all the usual vegetables, next to some very peculiar fish – like the somewhat scary peixe espada preto, a large black deep-sea fish. The building itself dates to 1940 and the interiors are organised in sections (plazas) for all the different offerings. Most of the products are local. The market is open on weekdays from 7am to 6pm and on Saturdays from 7am to 2pm. On Fridays, the Mercado's 'flower ladies' dress in traditional attire and sell the most striking exotic flowers.
© Jan Wlodarczyk / Alamy Stock Photo
For the local wine
One of the staples of Madeira is its fortified, sweet wine. There are a number of wine museums and cellars in Funchal, which offer detailed tours and wine tastings. These will teach you all about how the negra mole grapes are picked and then sent to wineries where the wine production begins. Blandy's Wine Lodge's premium tasting tours are probably the most informative, giving visitors a chance to delve into 200 years of Madeira's winemaking tradition, while including a tour of the cooperage where the barrels are made (using Brazilian satinwood). The wine sits inside the barrels for years – some vintage varieties are as much as a century old. The wine season in Madeira typically starts at the end of the summer, but it can last through October or, in some areas, November.
© Clearview / Alamy Stock Photo
For a day trip to Porto Santo and the Desertas islands
Once you've gotten to know the island of Madeira, it's also worth paying a visit to the neighbouring Porto Santo and Desertas islands. You can hop on a ferry from Madeira to Porto Santo (a 2.5-hour trip) and then rent a car, scooter or bike to get around. Take in the island's stunning sunset views, discover its superb beaches (including the Porto Das Salemas natural pools) and embark on exhilarating hikes – Vereda Pico Branco and Terra Chã are among the most popular. From Madeira, you can also book a full-day trip to the Desertas islands and explore their natural reserve that features exotic and endemic species, such as the Mediterranean monk seal and various kinds of turtles and cetaceans.
© Celos / Alamy Stock Photo
By: theculturetrip.com