Looking for an excuse to explore Friesland over spring? Then make sure to check out the following events, activities and festivals that will take place in the province over March, April and May.
1. PINT Northern Spring Beer Festival
At the start of spring, Dutch breweries roll out special, seasonal beers called lentebok that usually have a light, almost fruity palette and golden complexion. On March 10, PINT (the Dutch equivalent to CAMRA) will throw a party in honor of the new brewing season at an en event called Northern Spring Beer Festival. The festival will take place inside Leeuwarden's de Harmonie Theater and will showcase spring beer from around a dozen Dutch craft breweries.
2. Wadlopen
Although it is possible to join wadlopen excursions over the colder, wetter months of the year, hiking between Friesland's mudflats becomes considerably less demanding during sunny spells. This unusual sport involves hiking over muddy routes that are usually covered by the sea and lets participants experience Friesland's stunning, UNESCO-protected coastline from unparalleled vantage points. There are several government-sanctioned wadlopen organisations in Friesland that regularly coordinate hikes across the mudflats, including treks that finish on islands such as Ameland or Schiermonnikoog.
3. King's Day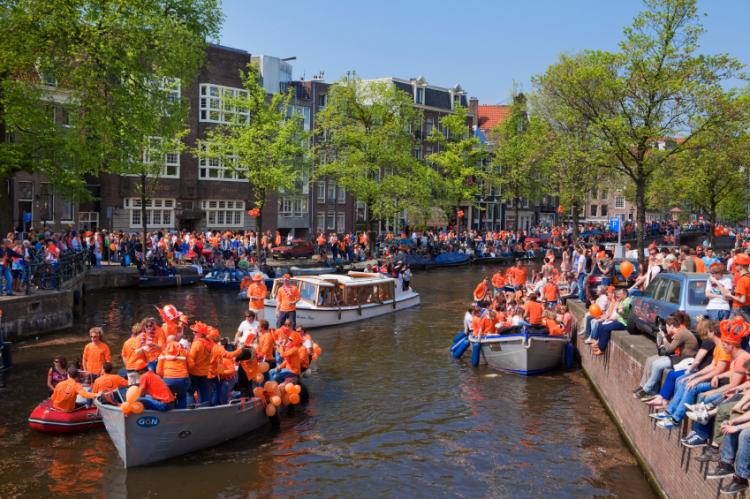 Basically every town, village and city in the Netherlands celebrates King's Day in one way or another, and most organize blowout street parties and expansive, open flea-markets called Vrijmarkten. There are many options when it comes to King's Day celebrations in Friesland, including larger parties or festivals in Leeuwarden, as well as smaller, quieter events in towns like Sneek or Harlingen. The holiday was created in the late 19th century to honor the Dutch Royal Family and has since grown into a nationwide party.
4. Mata Hari and M.C. Escher exhibitions at Fries Museum
Leeuwarden will serve as the joint European Capital of Culture with Valletta in 2018—which means that the city's museums, landmarks and historical sites will host special events throughout the year. For instance, the Fries Museum will present two groundbreaking exhibitions in spring that focus on Mata Hari and M.C. Escher respectively. Although they led extremely different lives, Mata Hari and Escher were both born in Leeuwarden and went on to become two of the most famous (or infamous) Dutch figures of the last century.
5. Hiking
Friend's stunning countryside contains hundreds of incredible hiking trails that zigzag between the province's historic cities, towns, and villages. For example, it is possible for hikers to follow the route taken by skaters during Friesland's famed cross-country speed-skating race, de Elfstedentocht, which passes by 11 different cities. Although this 283-kilometer (176-mile) route is accessible throughout the year, on the week before Ascension Day, hundreds of hikers set out on this trail together for a friendly competition called de Elfstedenwandeltocht.
6. Tulip season in Dokkum
Springtime means tulip season in the Netherlands! While there are countless flowery spots around Friesland, floriculture fanatics may want to stop by Dokkum between March and May, as thousands of tulips burst into full bloom along the city's famous, medieval bulwarks during spring, creating a hexagonal ring of colorful gardens.
7. Friese Molendag
Like other provinces in the Netherlands, Friesland contains hundreds of windmills that were built in order to fulfill many different roles throughout history, such as grinding grain, sawing wood, and draining waterlogged tracts of land. On Saturday, April 21, during an event called Friese Molendag, many of the province's windmills will open their doors to the public and allow visitors to explore areas inside their towers that are usually off-limits.
8. Project 11
While most events related to its status as the European Capital of Culture will happen in Leeuwarden, other cities in Friesland will also organize special activities or expositions throughout the year. For instance, Bax gallery in Sneek will host a series of 11 exhibitions throughout 2018, that will showcase work created by 21 artists from Friesland. The project will run throughout spring and include finesses at the end of every month.
By: theculturetrip.com