From its rugged oceanside cliffs to golden beaches to tucked away lakes deep in the forest, Portugal's landscape offers a host "oohs and ahhs" around every corner. Whether you're out to get a little dirt under the nails or sand between your toes, here are 10 natural wonders to fuel your next jaunt – whenever that is.
Sete Cidades
The Azores are full of places that stop visitors dead in their tracks and cause a sharp, involuntary intake of breath. But the first glimpse of this enormous caldera with its sparkling twin lakes might just be the most eye-popping of them all. Sete Cidades is crisscrossed by superb walking trails, including a 12km (7.5 miles) circuit of the hydrangea-fringed rim and several routes leading down to the water's edge.
Surrounded by thickly forested cliffs, this landscape has a fairy-tale quality, so it comes as no surprise that Sete Cidades is the source of Azorean legend. According to that, the lakes – one blue, one green – formed from the tears of a shepherd and princess who shared a forbidden love. You might well shed a few tears (of joy) at the scenery.
Mt Pico
The highest mountain in Portugal rears out of the Atlantic Ocean to a height of 2351m (7713 feet). A near-perfect cone, Mt Pico is more than postcard material: an ascent of this slumbering stratovolcano is the Azores' ultimate hiking experience.
Climbers should register with the visitors center at the trailhead at Cabeço das Cabras. From there, it's a signposted slog to the crater, followed by a short, steep climb to the summit itself, which offers staggering views of neighboring islands.
The climb to the top takes between two to four hours, depending on your level of fitness and experience. You can conquer Mt Pico unaccompanied, but hiring a guide is recommended – particularly if you want to start in darkness to catch the sunrise.
Cabo de São Vicente
There's something thrilling about standing at Europe's most southwestern edge, a headland of barren cliffs to which Portuguese sailors bid a nervous farewell as they sailed past, venturing into the unknown during Portugal's golden years of exploration. The windswept cape is redolent of history – if you squint hard (really hard), you might see the ghost of Vasco da Gama sailing past. These days, a fortress and lighthouse perch on the cape, and a museum beautifully highlights Portugal's maritime navigation history.
Grutas e Centro do Vulcanismo
Top billing on Madeira's north coast goes to this two-for-one attraction just south of São Vicente. The first part of the experience is a guided tour of the local caves – 900,000-year-old lava tubes studied by English geologist James Johnson in the 1850s. The second part is the Centro do Vulcanismo – a 3D, interactive look at Madeira's volcanic birth and volcanoes in general. It's a real hit with the kids and a great wet-weather activity.
Porto Santo Beach
Porto Santo's 7.5km (4.6 miles) long sandy beach is the reason most people head to Madeira's little sister. The sand is actually tiny pieces of coral that shelve gently into the cool Atlantic waves. The beach has virtually no development along it and has a wild feel, especially in winter when you can have the whole thing to yourself.
Parque Natural da Ria Farmosa
This special spot feels like the middle of the wilderness, yet it's right off the Algarvian coast. Enclosing a vast area of sapais (marshes), salinas (salt pans), creeks and dune islands, the protected lagoon system stretches for an incredible 60km (37 miles) and encompasses 18,000 hectares. It's a major hot spot for birdwatchers, as it's a key stopover on the migration between Europe and Africa. And it's all accessible from various towns – have a boat drop you at a deserted beach, or amble along the nature trail among the precious wetland birdlife.
Fisgas de Ermelo
Just north of the town of Ermelo, on the N304 between Vila Real and Mondim de Basto, is a turn-off to the dramatic Fisgas de Ermelo waterfalls. From this junction, the road climbs 4km (2.5 miles) to an overlook with picture-perfect views of the falls and the rugged terrain surrounding them.
To see the falls from above, return to the main road and climb to a T-junction with a right-hand turn marked "Varzigueto". Follow the Varzigueto road a short distance and look for a pair of dirt roads on the right-hand side marked "Piocas de Cima." The first, signposted as "1.5km" is less rugged and more easily driven than the second, marked "600m." Either entrance will eventually lead you to a footpath continuing down into the river gorge, where you'll find not only hair-raising views of the river plunging off a cliff face, but also (further up) a natural water slide and a series of pools perfect for cooling off on a hot day.
Benagli Caves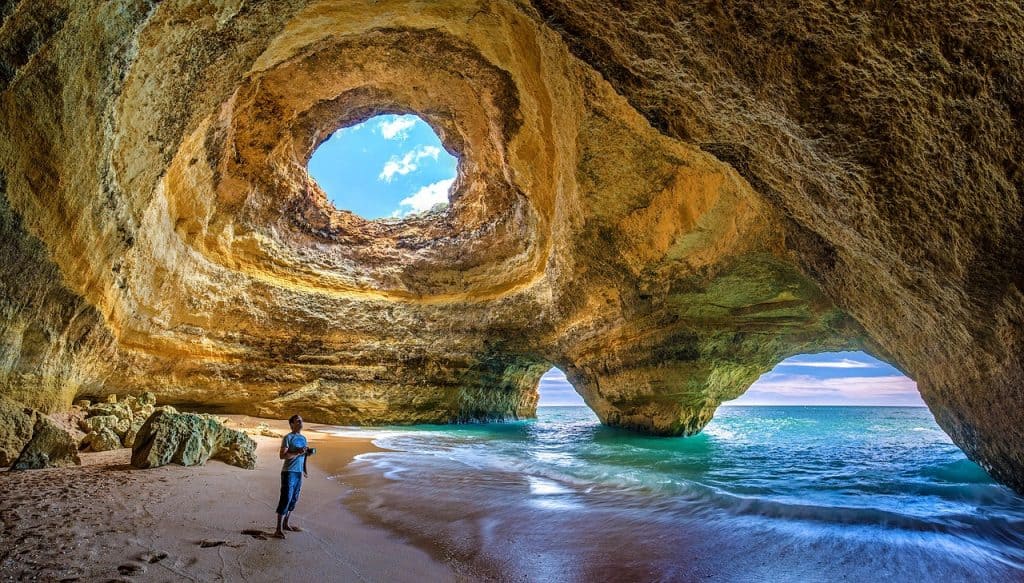 One of the Algarve's – and Portugal's – most emblematic sights, this huge natural seaside cave has a hole in its ceiling through which streaming sunlit illuminates the sandstone and beach below. The only way to access the interior is via the water. Numerous companies along the coast, such as Taruga Tours, run boat trips, and hire kayaks and SUPs (stand-up paddleboads) to paddle here yourself. Swimming to the caves is discouraged due to strong tides and currents, and high watercraft traffic.
Ponta da Piedade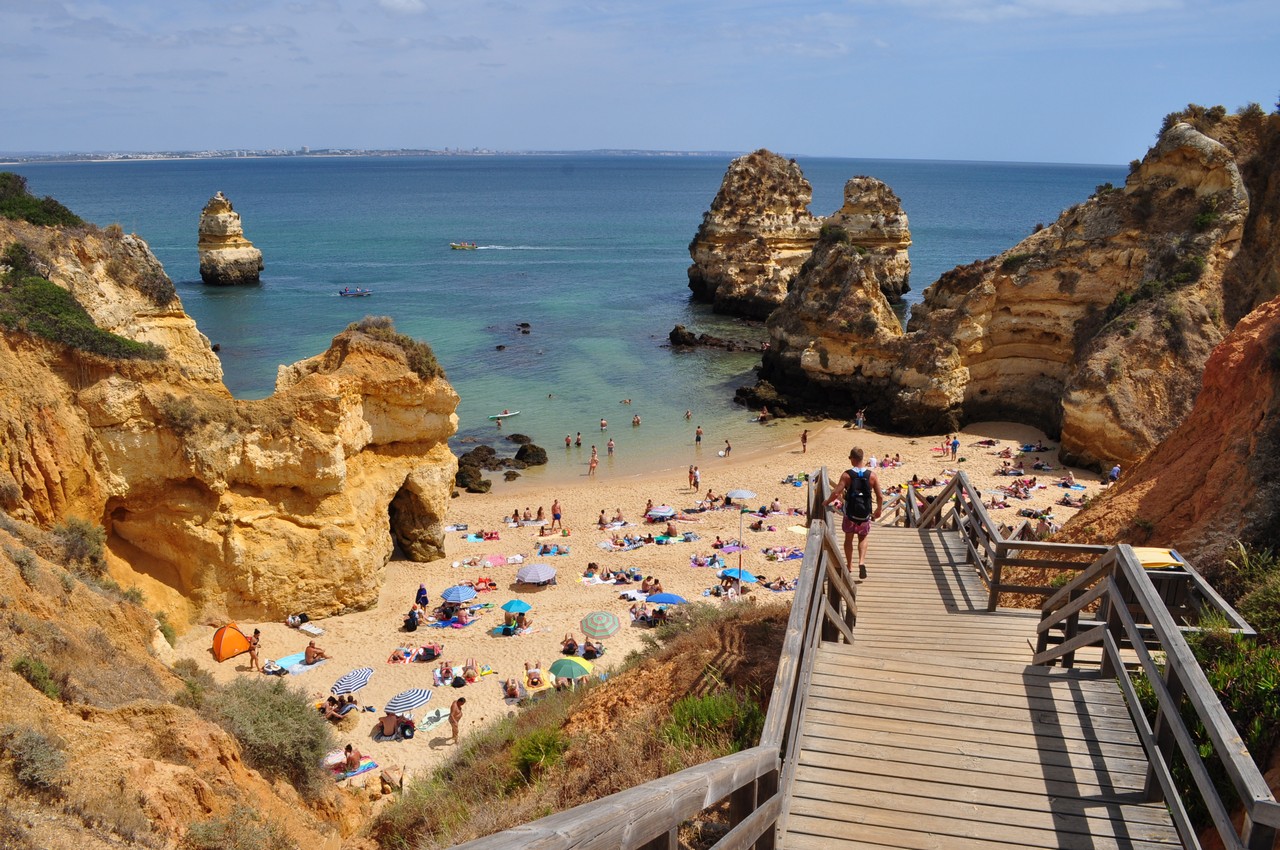 Protruding 2.5km (1.6 miles) south of Lagos, Ponta da Piedade is a dramatic wedge of headland with contorted, polychrome sandstone cliffs and towers, complete with a lighthouse and, in spring, hundreds of nesting egrets, with crystal-clear turquoise water below. The surrounding area blazes with wild orchids in spring. On a clear day you can see east to Carvoeiro and west to Sagres. The only way to reach it is by car or on foot.
Ilha de Tavira
Ilha de Tavira has the lot for sunseekers, beach bums, nature lovers (and naturists): kilometer after kilometer of golden beach (think sand, sand, sand, as far as the eye can see), a designated nudist area, transport via miniature train, busy restaurants and a campground. To top it off, it's part of the protected Parque Natural da Ria Formosa. Outside high season (July and August), the island feels wonderfully remote and empty, but be warned: during high season the hordes descend.
By: lonelyplanet.com