Catch some late summer sun on Portugal's stunning coast. The author of the new Wild Guide to the country, picks 10 beaches for adventure and solitude
NEAR PORTO
1. Praia Forte do Paço, Viana do Castelo
In Portugal's north-western district of Viana do Castelo, an hour north of Porto, wooded hills give way to a coastline of coves, dunes and secret beaches, of which Praia Forte do Paço is the best. The 800-metre stretch of sand gets its name from the ruined 18th-century fort nearby – a great place for playing pirates – and is fairly quiet, even in high summer. Crashing waves fill shallow pools under granite boulders and, warmed by the sun, they serve as perfect paddling pools for children. There is no beach bar or cafe here, so bring a picnic.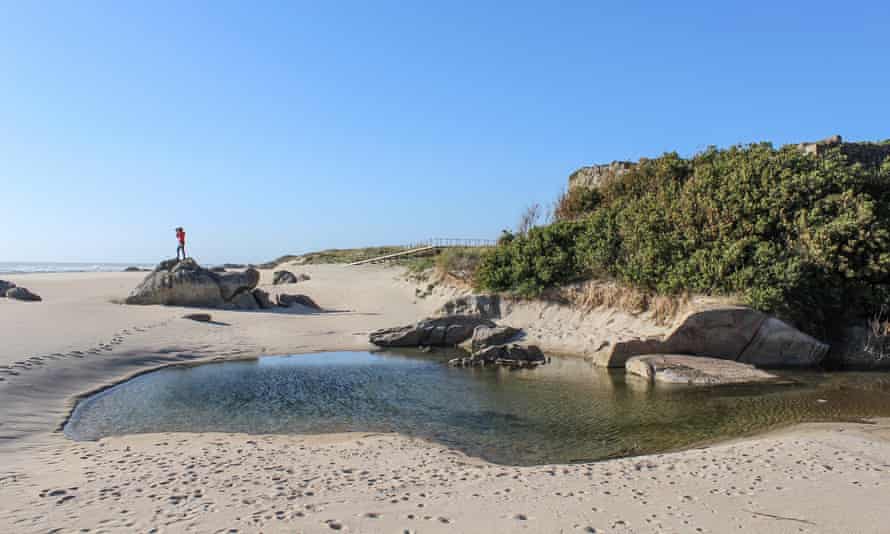 Where to stay
Casa D'João Enes Chose from 13 rooms across three 17th-century buildings with a pool, gardens and view of the sea, 4km from Forte do Paço and 15 minutes walk from the coast.
Doubles from €65 B&B, houses (sleeping 4 or 6, room only) from €200, casadjoaoenes.com
2. Dunas de São Jacinto, Aveiro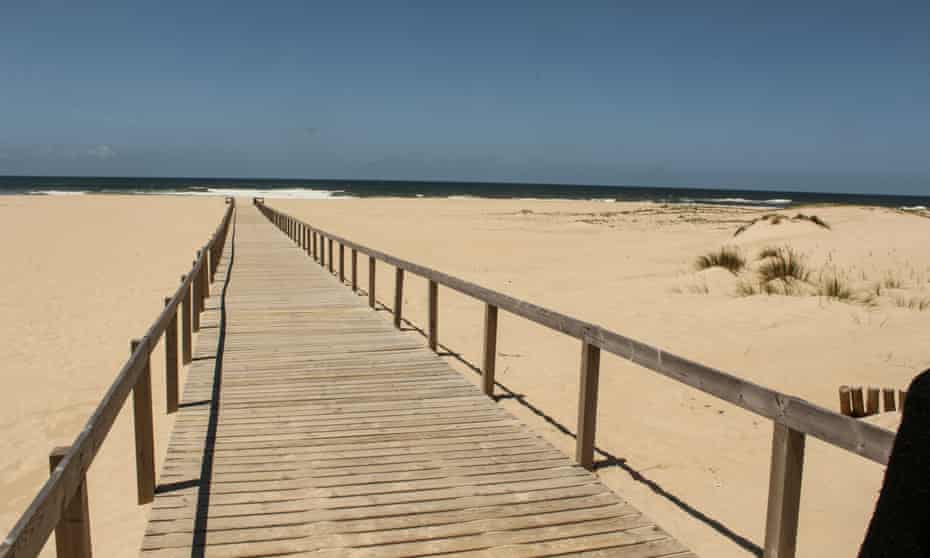 Aveiro is a rural district with the sea to one side and the Serra da Freita, Arestal and Caramulo mountains on the other. The dunes of São Jacinto, west of Aveiro and about an hour-and-a-half south of Porto, are home to a huge variety of birdlife, and its status as a protected nature reserve means that the 8km of clear white sand remains untouched. This is a wild beach fringed by pine forest, without a lifeguard or cafe, but boardwalks make getting there a lot easier. Look out for sandpipers, gannets and osprey.
Where to stay
The campsite at São Jacinto, at the far southern end of the beach, is a peaceful retreat (pitches from €3 a night, plus €3.50 adult, €1.80 child aged 5-9). Or try the magical Be & See in Nature in Ovar (€90 for two, €125 for four, breakfast included), a one-bedroom cabin adapted for birdwatching, which has pull-out beds that transform the hide into a cosy bothy at night, with kitchen and bathroom.
NEAR LISBON
3. Praia do Baleal, Peniche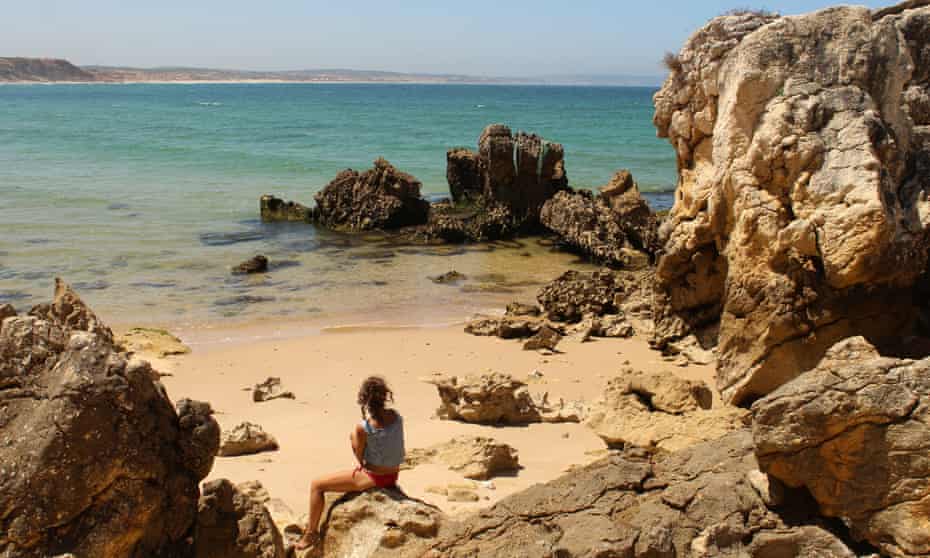 Baleal beach is a magical spot an hour's drive north of Lisbon, where a 4km sandy curve links the Peniche peninsula to the mainland. Sea-worn rocks provide seclusion and there are bathing lagoons at low tide and rockpools with plenty of glistening seaweed, tiny crabs and shells – perfect for mini explorers. There's good surfing, too, but with both north and south aspects swimmers can find calmer water. For more adventure head 2km north along the coast for limestone cliffs wrought with ravines and sea caverns. There's a jolly assortment of bars, cafes and restaurants selling fresh seafood all within meandering distance back towards Peniche.
Where to stay
For villas and apartments within walking distance of the beach see Baleal Surf Camp. Alternatively the 19th-century retreat Quinta do Juncal, 10km inland, offers big comfy beds in antique-filled bedrooms with a pool and views out to sea. A beach van makes trips to and from the house.
Doubles from €60 B&B, quintadojuncal.pt
4. Praia da Adraga, Sintra-Cascais natural park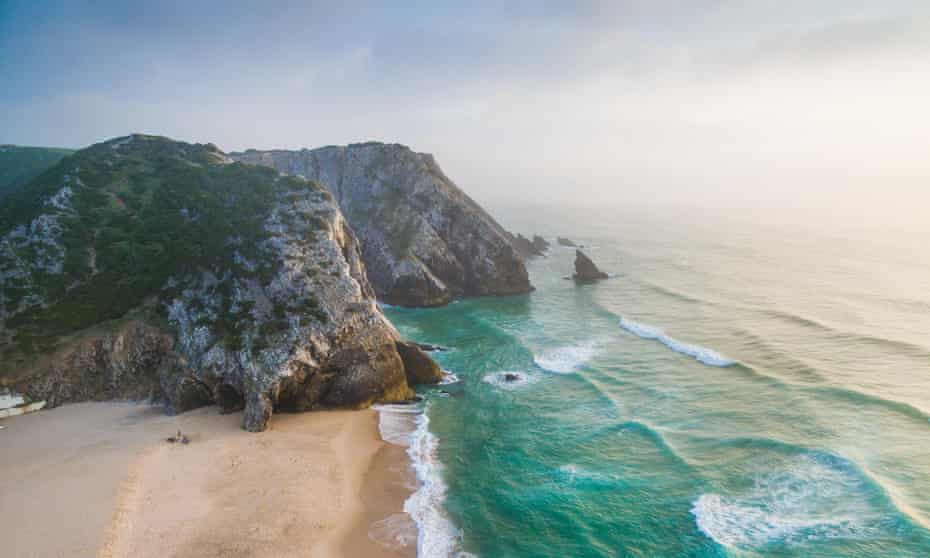 Photograph: Alamy
The Sintra hills, half an hour or so north of Lisbon, hide ancient castles among forests before dropping down to dramatic cliffs with several coves, including Praia da Adraga. Shaped like an elephant's trunk, it's sandy, with rocks arching into the sea. On hot summer days, the rocks provide welcome shade and there's a small cave to explore at low tide. Though popular with surfers (check out Adraga Surf Camp), the beach itself isn't busy. Behind it, there's a little restaurant with great seafood. From here, there's a walking trail along the cliffs for 5km south to Cabo da Roca, the westernmost tip of mainland Europe.
Where to stay
Salty Way House is just 3km from Adraga, between the beach and the mountains with rambling gardens and bonfire nights where guests can trade stories of their surfing or climbing experiences (the house is a centre for both activities).
One-week packages from €180pp, shorter stays also available, saltywaytravel.com
ALENTEJO
5. Praia da Amália, Brejão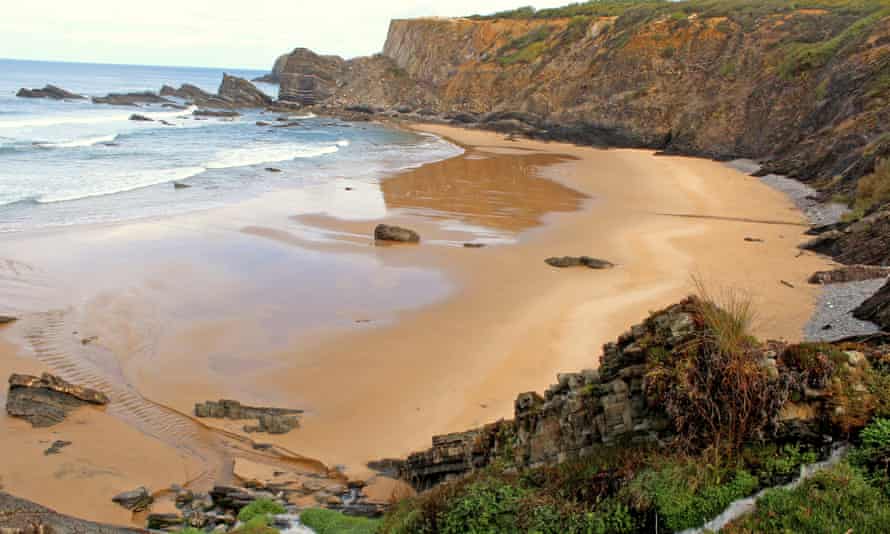 The wild Costa Vicentina in the far south-west is an area of rocky promontories, monasteries, Moorish ruins and stunning quiet beaches. From the Herdade Amália guesthouse, near Azenha do Mar village, follow a path through thicket and down rough-hewn steps to Praia da Amália. A freshwater cascade tumbles on to the sandy cove, providing a natural shower. Jagged black cliffs bookend this picture-perfect beach, named after 1940s rags-to-riches figure Amália Rodrigues, an orange-seller turned fado singer, who learned to swim here. Café Central is a great restaurant in Brejão for charcoal-grilled fish and octopus salad. The beach lies on the Rota Vicentina coast path, a 400km waymarked footpath which follows ancient smugglers' routes and fishermen's paths. Pick up the path from Azenhas do Mar and hike 3km over the wild coastal landscape with views inland to the Monchique mountains.
Where to stay
Five minutes' drive from Amália beach, Cerro da Fontinha in Brejão has accommodation in old-style Alentejo cottages. There's a bio-pool in the garden and fresh cheeses, milk, local fruit, hams and bread are left on the step for breakfast.
Doubles from €75 B&B, cerrodafontinha.com
ALGARVE
6. Praia da Santa, Salema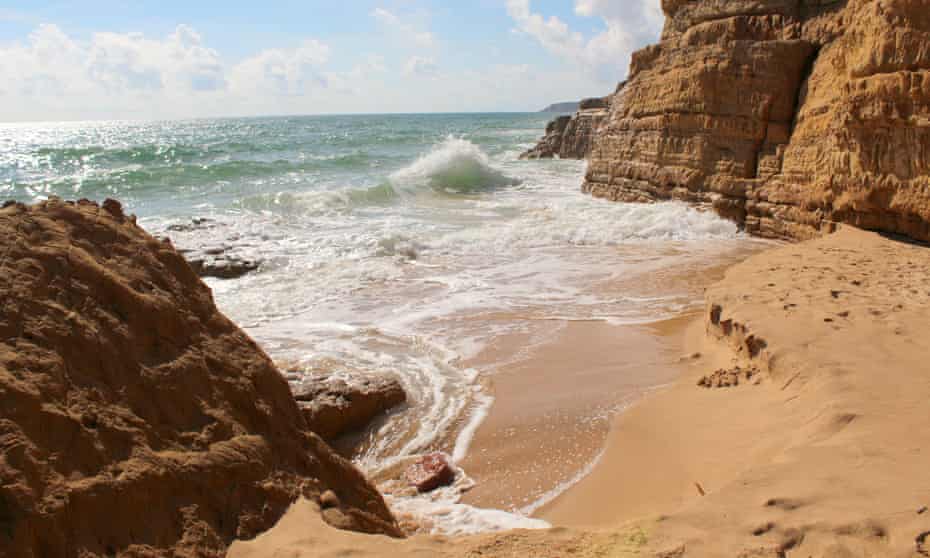 The far west the Algarve is part of the Alentejo natural park and perfect for secret cove hunters. Walk west from Salema, along remote cliff paths, to a series of tiny wild coves. About 10 minutes away are Praia da Santa and Praia da Figueira, beneath the ruins of an old fort. Look for tracks in the stone left by dinosaurs 125 million years ago. History lovers can also seek out Fortaleza de Almádena, a yellow stone ruin facing the sea three miles east of Salema, with Arabic arches and a 17th-century chapel. While da Santa and Figueira beaches are quite wild, Praia da Salema nearby has a lifeguard in the summer, plus cafes and a restaurant.
Where to stay
Salema Eco Camp is a beautiful, green campsite within walking distance of the beach and in the naturist-friendly zone. There are adventure activities and studios or apartments as well as camping.
Tent from €2.50 plus adult/child from €2.50/€1.25, car from €2; studios (sleep 2-3) from €35, salemaecocamp.com
7. Benagil sea cave, West Algarve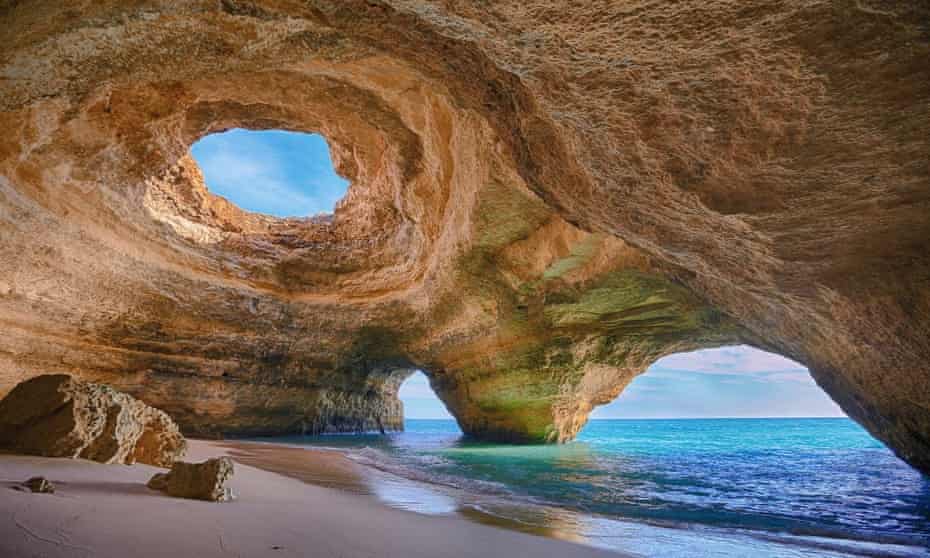 The sandstone cliffs of the western Algarve are dotted with secret caves and coves reached by rock-hewn steps and tunnels. Benagil sea cave is a watery pantheon with sunlight streaming in through a hole in its domed ceiling. Visitors can only reach the cave from the sea, either a short swim or kayak from Praia de Benagil itself (kayaks can be hired at the kiosk). The early morning is the most magical time to be there as it is deserted and golden light pours into the cave. Swim on 100 metres to Praia da Corredoura, which has another beautiful sea cave. Benagil can get busy in high season, and while there are several cafes and restaurants nearby, the Sul Mar restaurant, 1km away up the hill, offers exquisite local food in a setting well away from the main tourist haunts.
Where to stay
Montinho is a tranquil B&B with three rooms and a pool, on a small hill within walking distance of the beach and with views along the coast and Vale de Rei.
Doubles from €140 B&B montinho.nl
8. Praia da Senhora da Rocha, West Algarve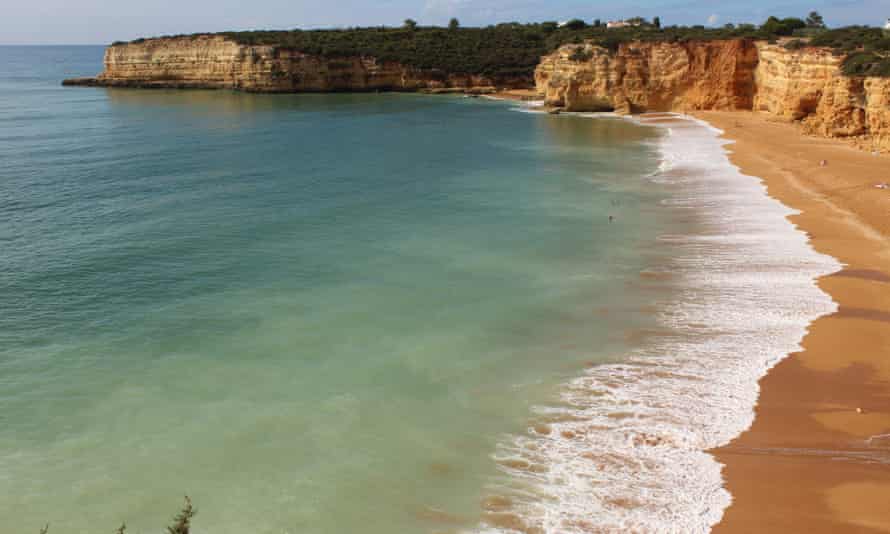 A windswept chapel up on a promontory overlooks the pretty beach of Senhora da Rocha, a 30-minute drive east of Portimão (on the first Sunday in August there is a procession of the Madonna from the chapel down to the sands). Flanked by sheer sandstone cliffs, which glow orange in the setting sun, the beach is sheltered and easily accessible through a tunnel in the headland linking it with Praia Nova on the other side. There are hundreds of scallop shells scattered across the sand and the beach quickly shelves away to deep water. This is a blue flag beach, so there is a lifeguard during the summer months plus a number of cafes near the steps.
Where to stay
Quinta da Figueirinha near Silves, 14km away, is a farmhouse set among olive and carob groves, with an eccentric Irish bar at the end of the garden.
9. Praia do Barril, Ilha da Tavira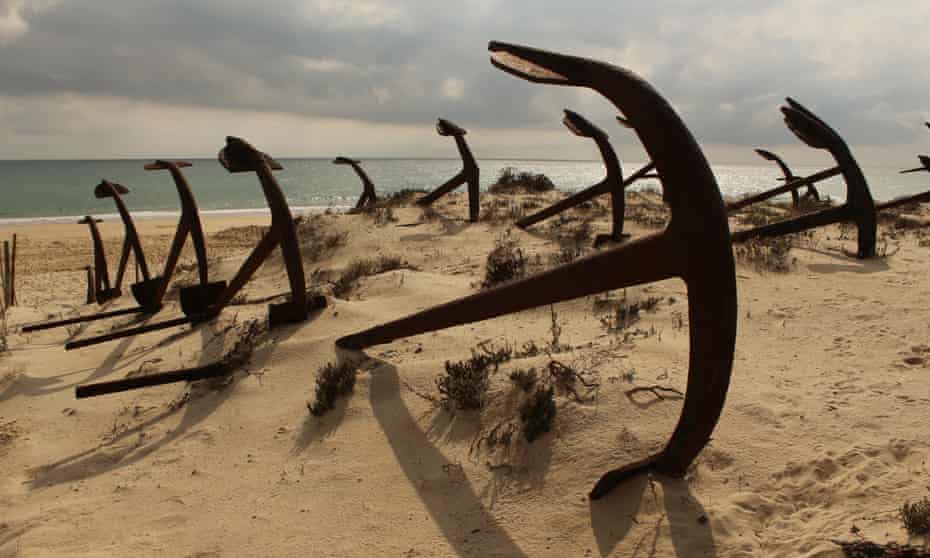 The sun-drenched dunes of this barrier island in the eastern Algarve, about 40 minutes' drive from Faro, form part of the Ria Formosa natural park and protect an area of flooded marshland from the open sea. A pine tree-lined footpath leads over the salt marshes to the island and 11km of endless sand await. It can be busy near the restaurants but, on the western side of the island, beyond the striking anchor graveyard, is the quieter Praia do Barril. This is a naturist-friendly beach and the dazzling white sands and calm waters are perfect for whiling away lazy days in the sun.
Where to stay
Parque de Campismo da Ilha de Tavira is a simple, friendly campsite sheltered by the dunes (tent plus one person €7, extra adult/child is €4/€2). For more luxury, head to Herdade da Corte, a grand but welcoming country estate 15km north-west of Tavira. It has a high-ceilinged hall, fireplaces and elegant daybeds with fantastic views across the wooded valley (doubles from €120 B&B).
AZORES
10. Caneiros and Ponta da Ferraria, São Miguel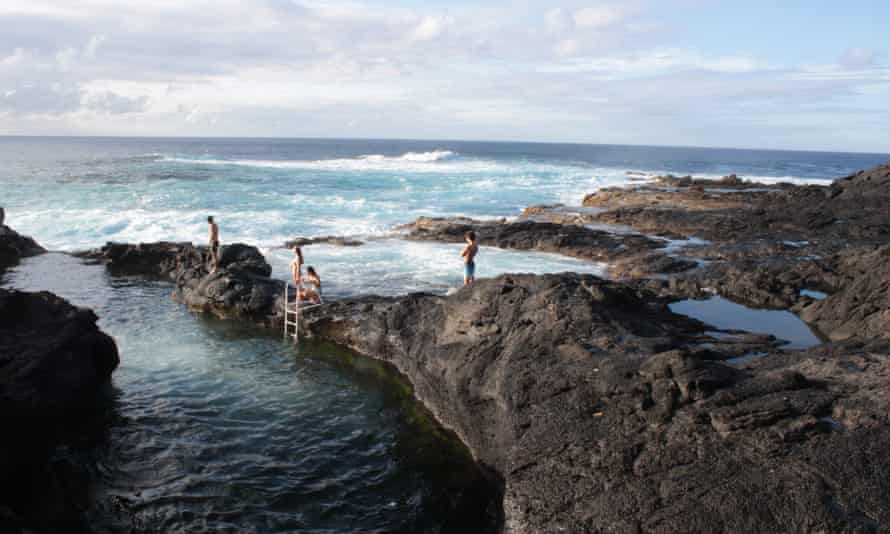 Black cliffs drop down to a wide belt of volcanic basalt that encircles the tiny Atlantic island of São Miguel. At Caneiros, in the north-west, hexagonal rock formations have crystallised from the cooling lava, like a giant's causeway, forming deep tidal pools where they reach the sea. Come at low tide for a gentle dip, or at high tide for wild crashing waves. Head 10km south from Caneiros for the geothermal pools at Ponta da Ferraria, which are said to have ancient healing properties. There is a hand-rope for swimmers to grab on to as the swell sweeps in and out of the pool. For some truly magical solitude, head down there in the evening and take a dip under a canopy of stars, ideally at low tide. There is also a great restaurant on the rocks, Termas da Ferraria, which serves traditional regional dishes and local wines.
Where to stay
Villa Várzea is a charming country house 3km from the Ferraria pools in the coastal village of Várzea. There are four suites and several walking paths nearby.
Rooms from around €150pn (villavarzea.com)
Edwina Pitcher is author of Wild Guide Portugal: Hidden Places, Great Adventures and the Good Life (£16.99, Wild Things Publishing). Guardian readers receive 25% off and free P&P by using the code "guardianbeaches"
By: www.theguardian.com