Despite its small size, Portugal offers a vast variety of topography and attractions. Whether visitors are searching for pristine sandy beaches; tranquil, verdant islands; charming, secluded towns; or a bustling European metropolis, they'll find it (and so much more) in this enchanting realm.
From historic stone walls in Évora to deep caves and soaring cliffs in the Algarve to the rugged Sintra hills, Portugal's scenery is picture-perfect. While much of the country hugs the encapsulating Atlantic coast, inland you'll find everything from lush, rolling hills to majestic mountains to deep valleys and sparkling rivers.
Portugal truly is a magical place, bursting with splendor in every corner. These 20 beautiful places to photograph should top your list of things to see while you're here.
Note: Some businesses may be temporarily closed due to recent global health and safety issues.
1. Lisbon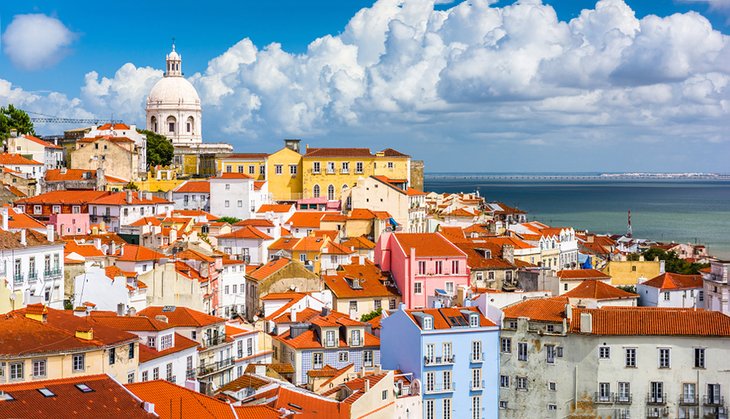 View of the Alfama district of Lisbon
Portugal's gorgeous capital is spread over seven picturesque hills near the mouth of the River Tagus. From atop these magnificent peaks, tourists can see some of the most amazing views in the country. Some of the city's best vistas can be found at Castelo de São Jorge, Santa Luzia, and São Pedro de Alcântara da Graça. These are great places to capture stunning pictures.
2. Porto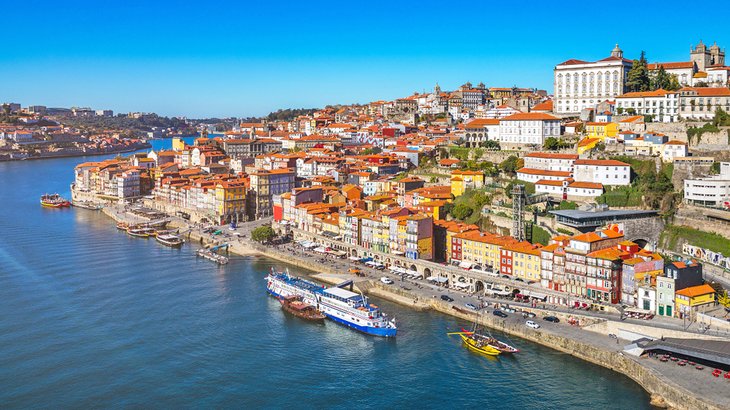 Porto and the Douro River
The second largest Portuguese city behind Lisbon, Porto is as charming as it is unique. A vibrant mix of old world meets contemporary can be found in this historic yet increasingly edgy spot. A kaleidoscope of buildings (including Baroque mansions) vie for space in the growing city center, which boasts incredible restaurants and unbeatable ocean views.
3. Palacio Nacional da Pena (Palace of Pena), Sintra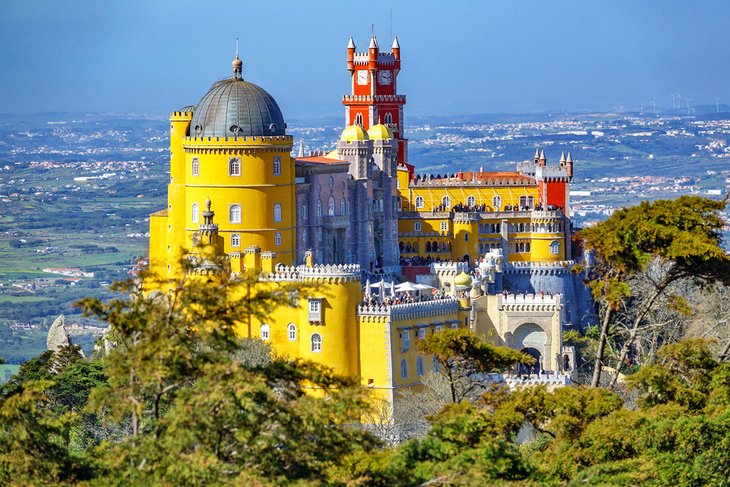 Palace of Pena, Sintra
The impressive Palacio Nacional da Pena comprises a winning mix of both Manueline and Moorish architecture. It was refurbished by King Ferdinand II during the 19th century and contains three distinct structures, including a former monastery, King Ferdinand II's wing, and a castle-like creation that includes a drawbridge. Set high above the town of Sintra, atop the second highest point in the rocky Sintra hills, the palace is surrounded by the vast and romantic Parque de Pena.
4. Praia do Camilo, Lagos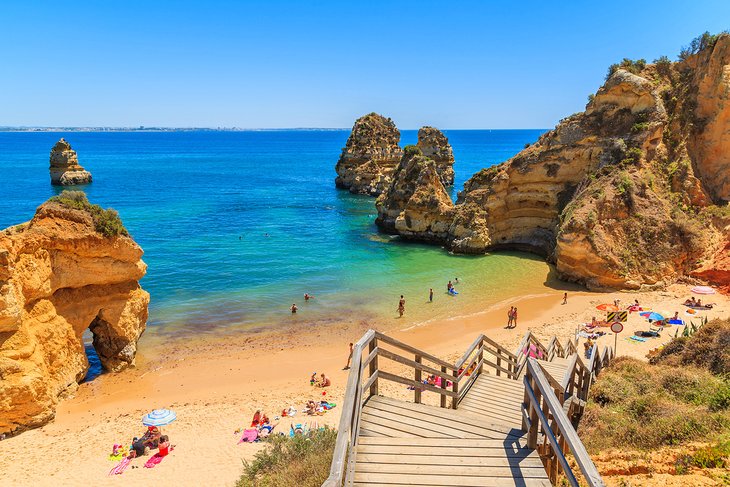 Praia do Camilo
One of the most iconic beaches in historic Lagos, Praia do Camilo is a true (if slightly small) gem on the western Algarve Coast. Pristine golden sand and translucent azure waters greet visitors who are willing to descend the wooden steps to this idyllic spot. Rugged orange cliffs rise above this beautiful beach, which can get quite crowded on summer days.
5. Ponta da Piedade, Algarve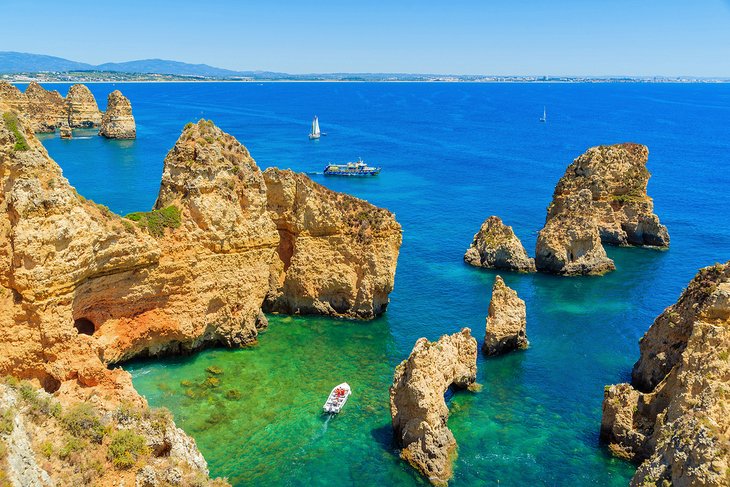 Rock pillars and clear water at Ponta da Piedade
A truly magical place, Ponta da Piedade's beauty is literally breathtaking. Giant rock pillars and sea arches rise from the crystal-clear water, offering an impressive array of caves and grottoes to be explored. The best way to view this cliff-lined headland is by boat, which can be boarded at nearby Lagos.
6. Benagil Cathedral, Algarve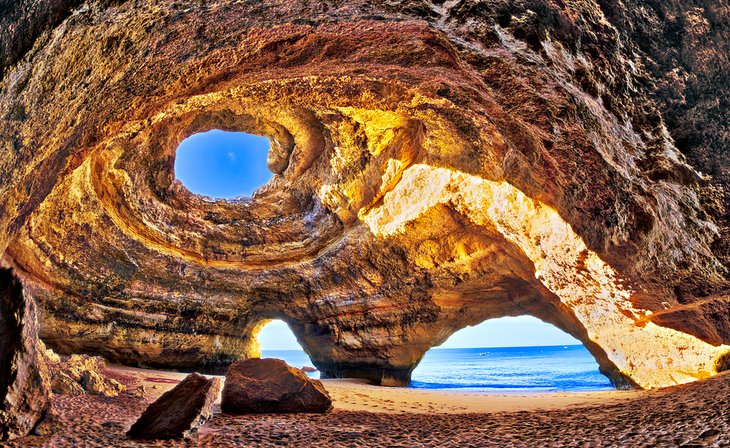 Benagil Cathedral
Over time, the pounding of the sea along the beautiful Algarve coast carved this spectacular marvel, also known as Algar de Bangil. This is a fantastic place to capture dramatic images. Light floods this amazing spectacle through a giant, eye-shaped hole in its ceiling. Soft, golden sand spreads below this captivating cave, which was named after the nearby fishing village of the same name. The only way to experience the magic inside is by boat – just be sure to choose one that's short enough to enter its mouth.
7. Aveiro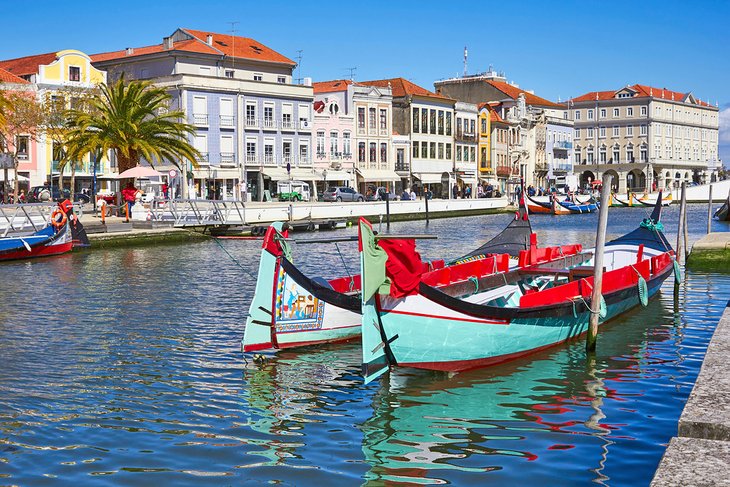 Traditional Portuguese boats in Aveiro
Dubbed the "Venice of Portugal," this colorful town is worthy of a thousand postcards. Small, picturesque bridges span the town center's sparkling canals, striped buildings line the beach, and vibrant Moliceiros (a traditional Portuguese boat similar to a gondola) glide softly upon the water. The old town is peppered with colorful buildings adorned with the traditional azulejo (Portuguese ceramic) tiles.
8. Évora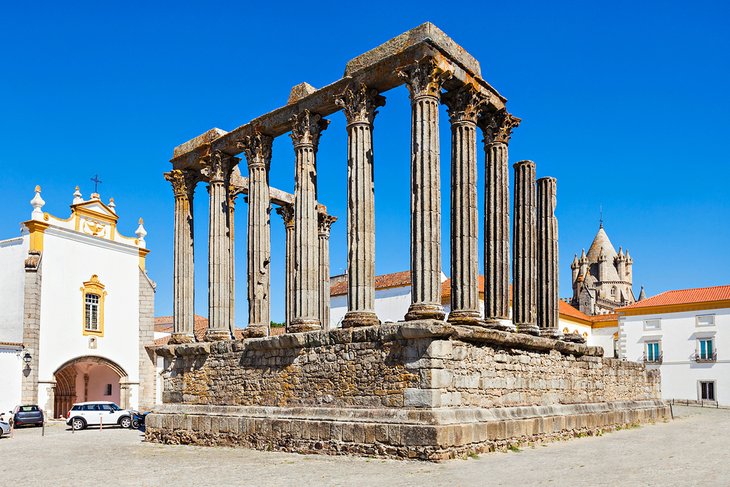 Templo Romano in Evora
This impeccably preserved medieval town is protected by towering stone walls (circa the 14th century). Winding lanes weave their way past Évora's magnificent Templo Romano, which is accentuated by striking columns. The cathedral and cloisters are worthy of multiple photographs. Despite having its feet deeply entrenched in the past, this lovely town is peppered with modern restaurants and shops and highlighted by the University of Évora.
9. Azenhas do Mar, Sintra
The perched village of Azenhas do Mar at sunset
An idyllic wonderland that must be seen to be believed, Azenhas do Mar is one of Portugal's most beautiful and unique villages. Perched upon a clifftop, the whitewashed buildings evoke an Amalfi Coast or Greek settlement, while the cobblestone streets transport visitors back in time. The town's claim to fame is a natural swimming pool set beside the sea.
10. Igreja de São João Baptista, Tomar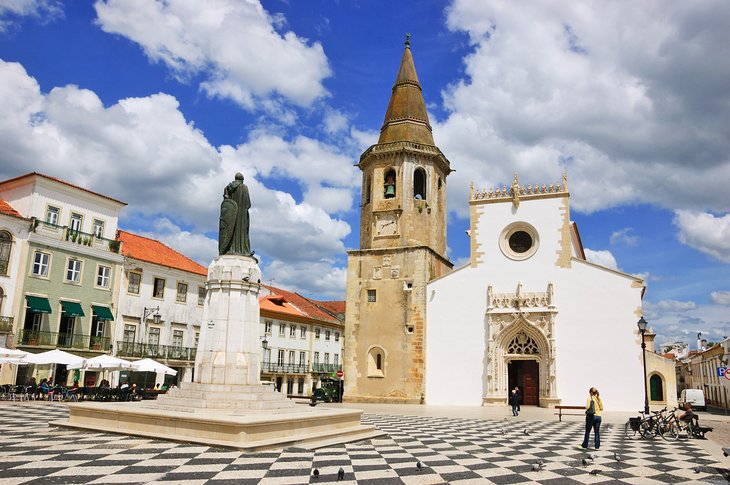 Igreja de Sao Joao Baptista on Tomar's main square
An ancient, 15th-century church, the Igreja de São João Baptista is the highlight of Tomar's main square, the Praça da República. Its ornate Manueline doorway is featured in many a tourist photo, as are the towering stone bell tower, inner three naves, and intricate diamond-shaped azulejos covering much of the inner walls.
11. Torre de Belém, Lisbon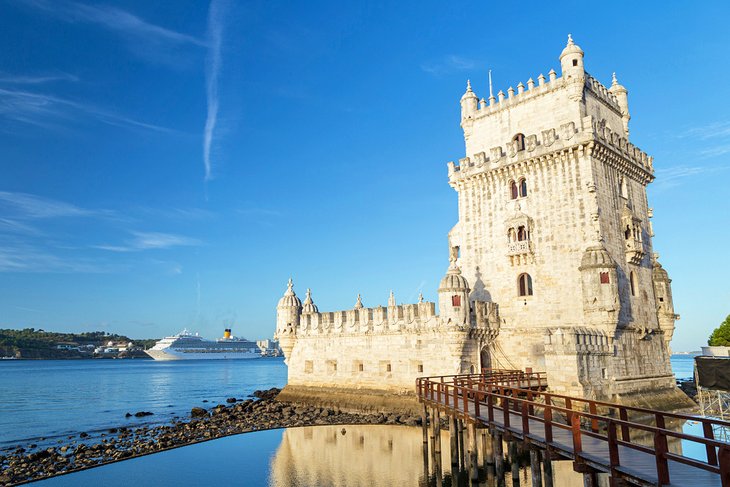 Torre de Belem, Lisbon
One of (if not the) most iconic structure in Lisbon, Torre de Belém was built in the early 16th century. Originally designed to defend the city, the tower later served as a lighthouse to protect boaters travelidfng on the River Targus and, later still, was used as a customs center. In 1983, the tower was designated a UNESCO World Heritage Site.
12. Câmara de Lobos, Madeira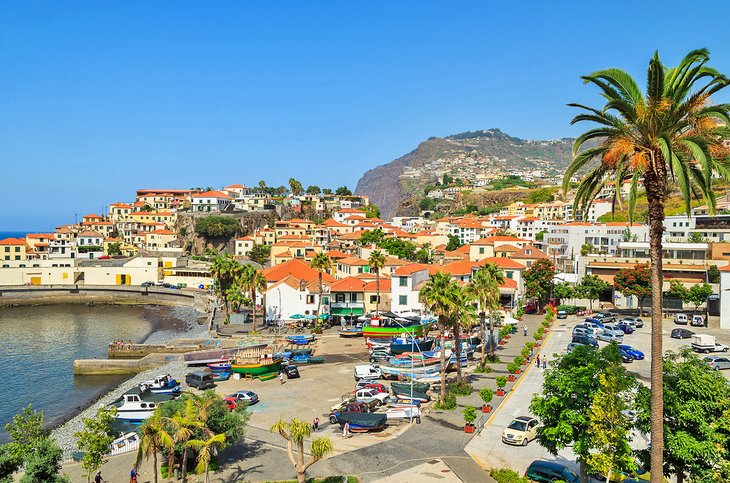 Câmara de Lobos on the island of Madeira
Câmara de Lobos is a tiny slice of paradise found on the lovely island of Madeira. Its most exquisite feature is a sparkling bay, around which the village was built. A mere five miles from the charming town of Funchal, this sweet spot features Pico da Torre, a perfect viewing spot located 205 meters above the town.
13. Cabo Girão, Madeira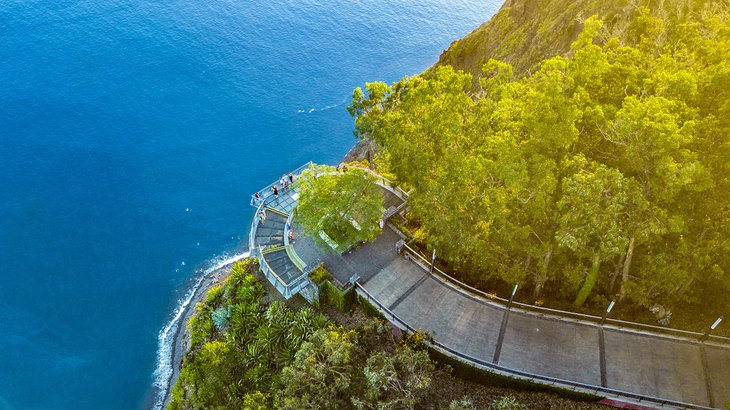 Aerial view of the glass skywalk at Cabo Girão
The magnificent glass skywalk at Cabo Girão can make even the hardiest of adventurers feel breathless. Jutting 580 meters above sea level, this promontory offers spectacular views of the cities of Câmara de Lobos and Funchal, as well as the island's phenomenal coastline. The Rancho Cable Car provides visitors with an easy way to reach the farmers' fields and terraces at Fajas de Girão, as well as an isolated beach.
14. Mosteiro dos Jerónimos, Lisbon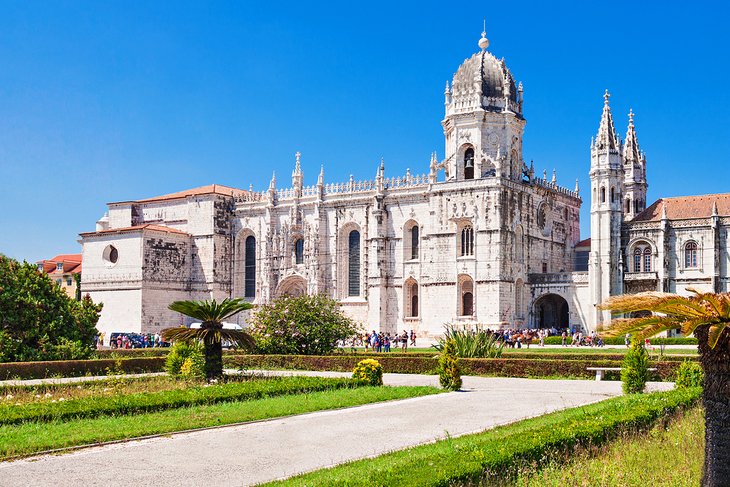 Jerónimos Monastery
The ornate Jerónimos Monastery (a.k.a. the Hieronymites Monastery) is one of Lisbon's most popular tourist attractions. Built to commemorate the return of Vasco da Gama from India, the monastery took over 100 years to complete. This monastery is home to the unique Church of Santa Maria (which houses Vasco da Gama's tomb), as well as a stunning two-story cloister.
15. Guimarães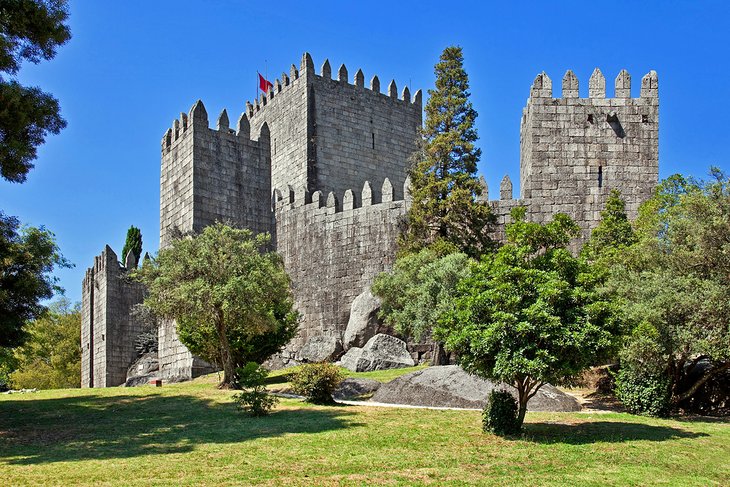 Guimaraes Castle
Northern Portugal is home to the lovely Guimarães, which is commonly referred to as the birthplace of Portugal. This historic town, which has been named a UNESCO World Heritage Site, was the birthplace of the country's first king, Afonso Henriques, and now offers a perfect mix of architecture dating from the Middle Ages to the present day. Its crowning glory is the medieval Castelo de Guimarães.
16. Convento do Cristo, Tomar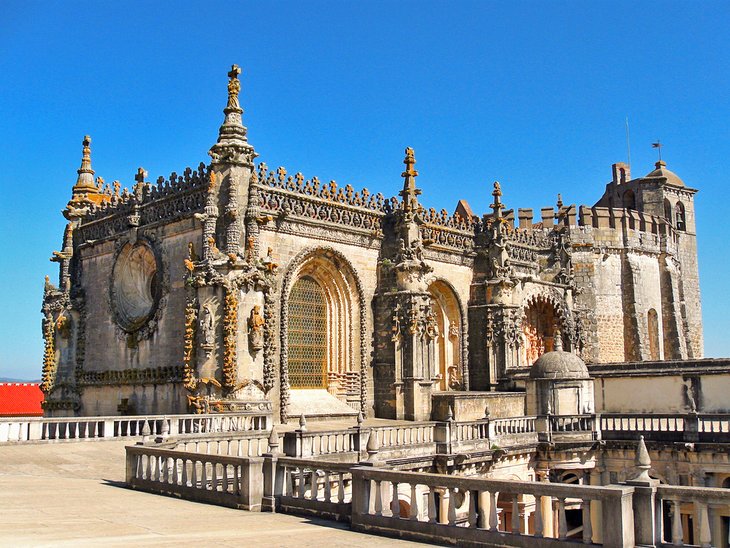 Convento do Cristo in Tomar
This splendid stone convent is the most popular historic attraction in the small town of Tomar, which lies on the River Nabão. Founded on a wooded hillside during the 12th century, this remarkable structure was used as the headquarters for the Order of the Knights Templar, who ruled for over four centuries.
The Convento do Cristo exemplifies the many unique types of architecture developed during their reign, including the Great Cloister, which houses an intricate spiral staircase at its core.
17. Coimbra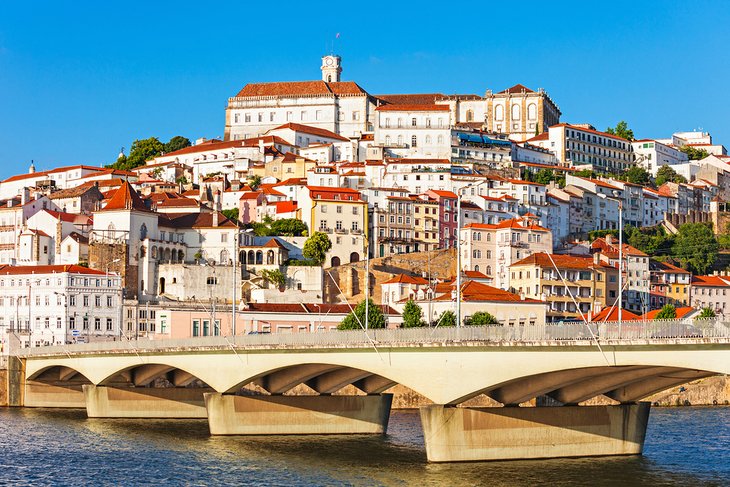 University of Coimbra
Home to the country's first university (circa 13th century), Coimbra is sometimes referred to as "the city of knowledge." The University of Coimbra may be the city's claim to fame, but this once-capital (for over a century during medieval times), is well loved for its overall charm and lovely mix of architecture ranging from the Renaissance to Baroque to today. It sits serenely on the shores of the pretty Mondego River.
18. Ponte de Dom Luís I, Porto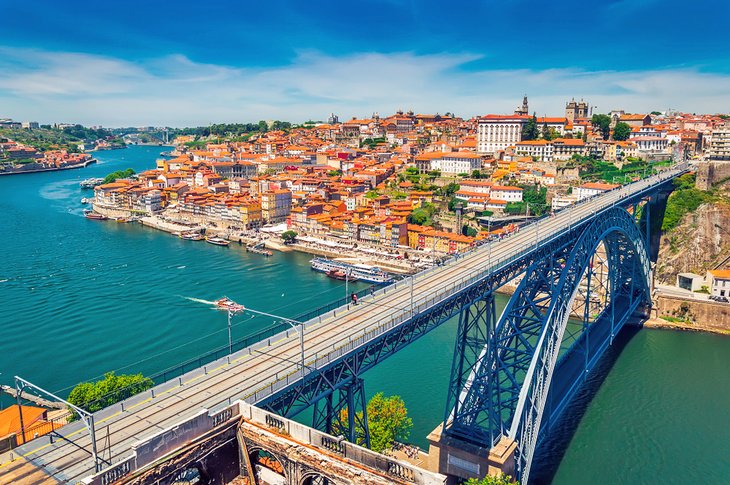 Ponte de Dom Luís I over the Duoro River in Porto
The double decker Ponte de Dom Luís I (Luis I Bridge) was designed by Gustav Eiffel (the same Eiffel behind the famous tower in Paris). This impressive feat of engineering straddles the Duoro River, connecting beautiful Porto with Vila Nova de Gaia. When finished in 1886, it was the longest iron arch of its kind worldwide. Visitors can travel the length of the bridge by car, metro, or on foot.
19. Bom Jesus do Monte, Tenões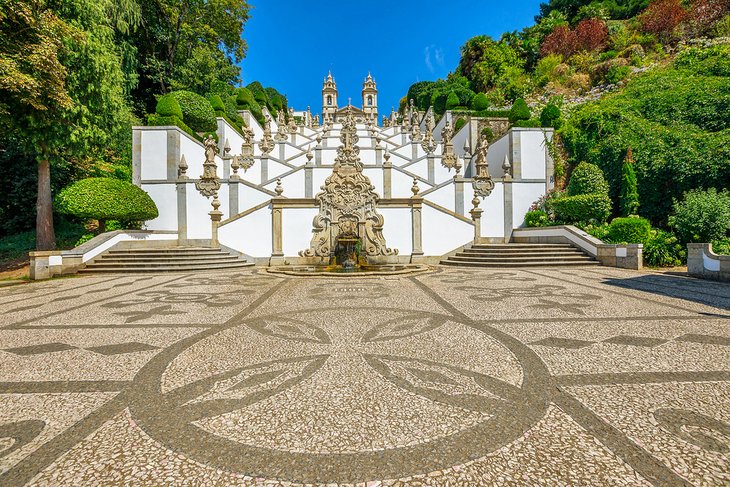 Baroque staircase Bom Jesus do Monte
This colossal Baroque staircase is located in the town of Tenões, near Braga. Climbing 116 meters (and roughly 580 steps) to its top leads to a remarkable hilltop church and an unbeatable vista. The climb leads visitors past intricate fountains, grottoes, and statues built during the mid-18th century. A popular pilgrimage site for Catholics, the Bom Jesus do Monte is sometimes ascended by devoted worshippers on their knees.
20. Praça do Rossio, Lisbon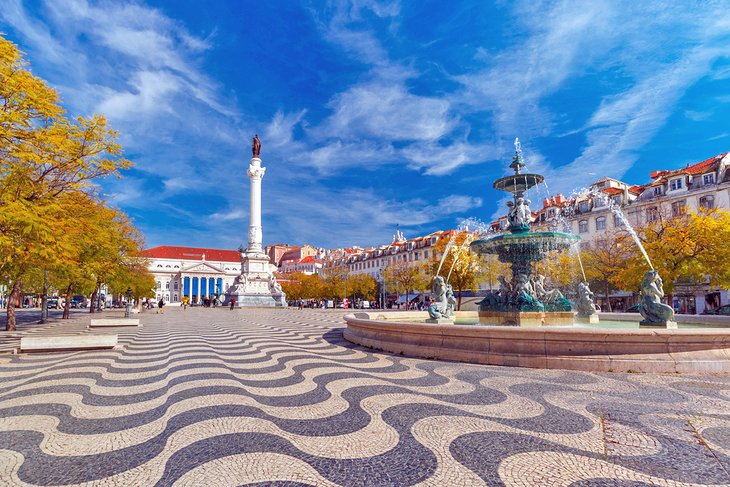 Rossio Square in Lisbon
Dubbed the "liveliest square" in Lisbon, Praça do Rossio (a.k.a. Rossio Square) is incredibly picturesque. Lined by charming cafés and a multitude of shops, this serves as the city's most popular meeting place. In its center stands the 27-meter high Coluna de Pedro IV, a monument immortalizing the country's "Soldier King." The plaza also features two large Baroque fountains.
By: www.planetware.com