Australia is a land of staggering contrasts spread out over a landmass almost as big as the continental US, so planning the perfect itinerary entails pinpointing your preferences. Coral reefs, islands, rainforests, and ravishing beaches rim the coast, and rugged canyons and red deserts of haunting beauty stretch across the interior.
To get the most out of your visit, it's best to fly between the prime tourist destinations and concentrate on a particular area of the country. If it's your first visit to the Land Down Under, you might want to start with a version of the top Australia itinerary, Sydney, Rainforest, & Reef, which spotlights the east coast's most popular tourist attractions. Then, depending on your interests and time constraints, you can use the other Australia itineraries, organized by region, as building blocks to customize your adventures.
Travel to Australia can require some long flights-especially if you're visiting from the Northern Hemisphere. A week to 10 days is the minimum recommended time to sightsee in Australia as distances are vast, and jet lag can take a couple of days to pass. Note that if you're planning to see the highlights of both the east coast and the west coast, it takes about five hours to fly from Sydney to Perth.
The best time to visit Australia depends on where you want to go. To maximize your sightseeing, it's a good idea to avoid the tropics in the wet season, but every season offers unique experiences. Whatever you decide to see, Australia is one of the world's most rewarding places to visit with spectacular scenery, incredible wildlife, and some of the friendliest people on the planet.
Note: Some businesses may be temporarily closed due to recent global health and safety issues.
1. Sydney, Rainforest, & Reef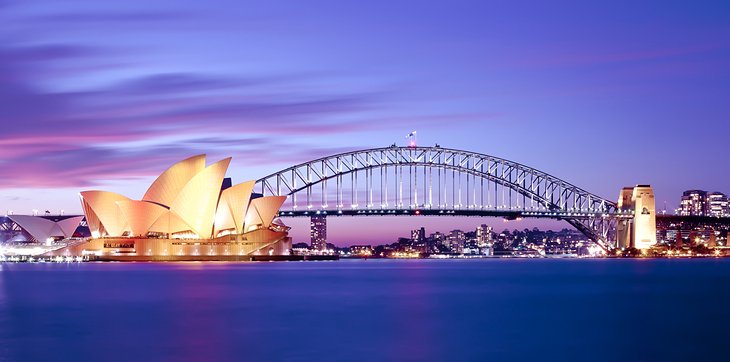 Sydney Harbour
East Coast Itinerary Highlights: Sydney, Blue Mountains, Cairns/Port Douglas, Daintree Rainforest, Kuranda, the Great Barrier Reef
This itinerary is ideal if you only have about a week to 10 days to see Australia and this is your first visit. It offers a quintessential slice of the stunning east coast.
Start in Sydney and visit all the iconic attractions such as the Sydney Opera House, the Sydney Harbour Bridge, Bondi Beach, and the Rocks. After exploring the top tourist attractions in the city, choose from an alluring line-up of day trips from Sydney. The Blue Mountains National Park is one of the most popular.
From Sydney, fly up to Cairns, the most popular gateway to Far North Queensland's top tropical attractions, including the World Heritage-listed Great Barrier Reef and the Daintree Rainforest; the quaint rainforest village of Kuranda; and Cape Tribulation, where two of the world's richest ecosystems (rainforest and reef) merge in a sublime mingling of blues and greens.
Alternatively, you can base yourself in the sleepy tropical town of Port Douglas (about 60 minutes' drive north of Cairns), which lies a little closer to the reef and charms visitors with its relaxed tropical feel and friendly locals. If you have more time, consider adding on some of the itineraries below.
2. The Northern Territory: The Top End & the Red Centre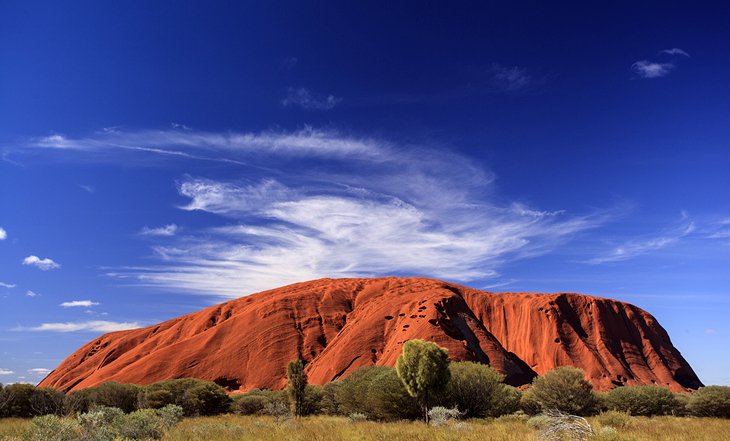 Uluru
Northern Territory Itinerary Highlights: Darwin, Kakadu National Park, Nitmiluk National Park (Katherine Gorge), Alice Springs, Uluru-Kata Tjuta National Park, Watarrka National Park (Kings Canyon)
The Northern Territory offers a taste of the Australian Outback with its stark red deserts, magnificent rock formations, and spectacular wilderness areas. Fly into Darwin, the main gateway for the tropical Top End, as it's called in Australia. Stay a night or two here soaking up all the sights such as the famous Mindil Beach Sunset Market, the Museum and Art Gallery of the Northern Territory, and Stokes Hill Wharf. Thrill seekers can cage-dive with saltwater crocodiles at Crocosaurus Cove.
From Darwin, rent a car and drive about 255 kilometers to World Heritage-listed Kakadu National Park, Australia's largest national park and one of the planet's most awe-inspiring wilderness areas. Take a Yellow Water or Guluyambi boat cruise to see crocodiles and water birds or hike to ancient aboriginal cave paintings.
From Kakadu, you can drive about 180 kilometers to Katherine Gorge in Nitmiluk National Park, with its series of 13 stunning steep-walled gorges. Explore the area on a scenic cruise, hike the trails, or paddle along the Katherine River in a kayak or canoe.
From the nearby town of Katherine, fly to Alice Springs in Australia's Red Centre. This is the gateway to Uluru-Kata Tjuta National Park, where Uluru (formerly Ayers Rock), one of Australia's top tourist attractions, rises 348 meters above the red-hued desert. About 40 kilometers from here, you can explore the dome-shaped rocks called Kata Tjuta (the Olgas).
If you have time, drive about 290 kilometers from Uluru-Kata Tjuta National Park to Watarrka National Park (Kings Canyon) for more breathtaking outback scenery and one of Australia's top hiking trails, Kings Canyon Rim Walk.
3. Melbourne and the Great Ocean Road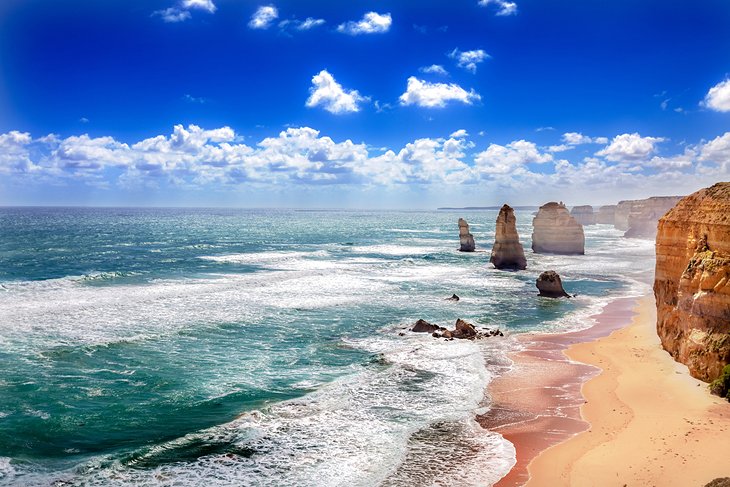 Great Ocean Road
Victoria Itinerary Highlights: Melbourne, The Great Ocean Road, Phillip Island Penguin Parade, Mornington Peninsula, Grampians National Park, Wilsons Promontory, the Yarra Valley, and Dandenong Ranges
Australia's rugged south coast is home to one of the country's most staggeringly beautiful stretches of coastline. Fly into Melbourne, the vibrant capital of Victoria, with its fantastic restaurants, shops, museums, and galleries.
From here, you can choose from an enticing list of Melbourne day trips. The most famous is a self-drive or guided tour along the The Great Ocean Road, one of Australia's most breathtaking scenic drives. In Port Campbell National Park, gape at the Twelve Apostles, the wind-sculpted rock formations rising from the thrashing surf, hike the Great Ocean Walk, or for a bird's-eye view, fly over the coast in a helicopter. In Torquay, surfers can ride the legendary swells of Bells Beach or visit the Australian National Surfing Museum.
In the hinterland, lush forests, zipline adventures, and treetop walking tours await. Other popular day trips from Melbourne include the Phillip Island Penguin Parade and the golden beaches of the Mornington Peninsula.
For fantastic hiking and bushland scenery, venture to Grampians National Park (260 kilometers from Melbourne), Wilsons Promontory (200 kilometers from Melbourne), or the Yarra Valley and Dandenong Ranges (25 kilometers from Melbourne).
4. Queensland: The Sunshine Coast, Fraser Island, & the Whitsunday Islands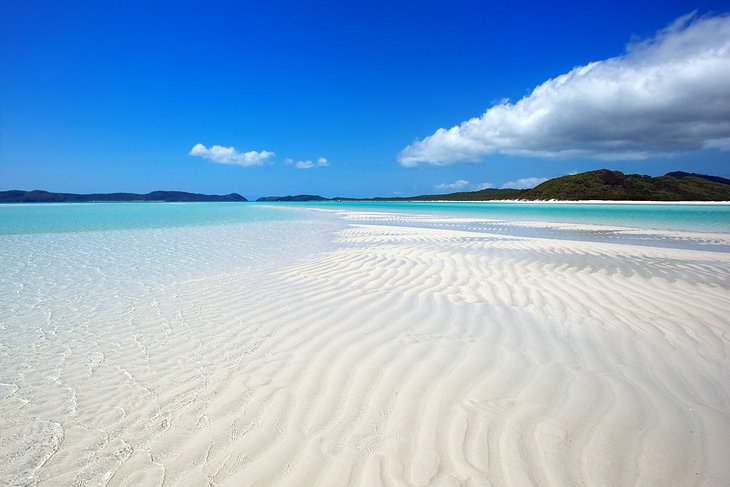 Whitsunday Island beach
Central & Southeast Queensland Coastal Itinerary Highlights: Brisbane, Noosa, Fraser Island, Airlie Beach, the Whitsunday Islands
Sun, sea, sand, and sailing are the top attractions of this tour through Southeast and Central Queensland. Fly into the Sunshine Coast airport in Maroochydore (one hour and 35 minutes flight time from Sydney) and stay in the beautiful beach resort of Noosa Heads, where you can explore all the attractions of the Sunshine Coast. While you're here, hike through Noosa National Park and look for koalas in the trees; spend an afternoon on magnificent Main Beach, swimming, surfing, or sunning; and stroll along Hastings Street with its fantastic restaurants and boutique shops.
From Noosa Heads, join a tour to Fraser Island, the world's largest sand island, or rent a 4WD and embark on a self-drive tour of this stunning UNESCO World Heritage site. Stay a night or two exploring the sparkling freshwater lakes, sweeping beaches, dunes, shipwrecks, and rainforests.
From Maroochydore, fly to Whitsunday Coast Airport in Proserpine about 25 kilometers from Airlie Beach, the gateway to the idyllic Whitsunday Islands. From here, charter a boat and sail around these sun-soaked islands strung along the southern stretches of the Great Barrier Reef, or hop aboard a multi-island cruise.
Popular islands include family-friendly Daydream Island, Hamilton Island (the only Whitsunday island with its own airport), Long Island, and Hook Island. For a luxury island hideaway, hop aboard a helicopter to Hayman Island. With its silky soft silica sand, Whitehaven Beach, is a must-see sight on your island-hopping adventure.
5. Western Australia: Perth, Coral Reefs, Broome, and the Kimberley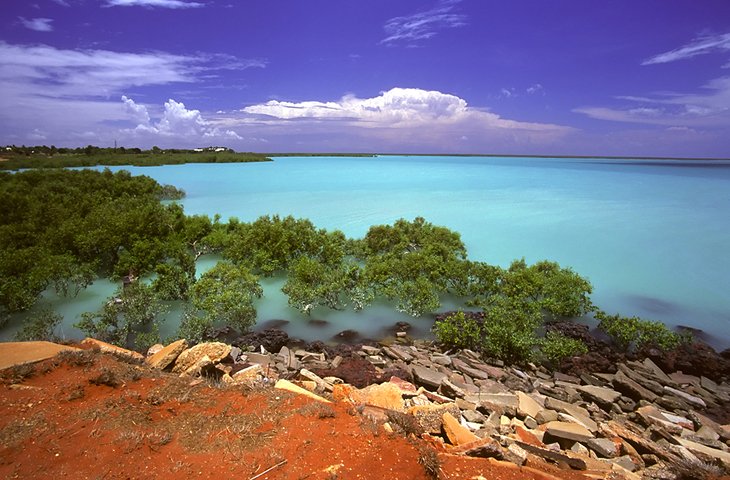 Roebuck Bay, Broome
Western Australia Itinerary Highlights: Perth, the Margaret River, Ningaloo Reef, Broome, the Kimberley
About a five-hour flight from Australia's east coast, Western Australia is a wonderland of wilderness areas, wildlife, coral reefs, and beautiful beaches. This diverse and sparsely populated state is often overlooked by international travelers due to its distance from Sydney, but it delivers jaw-dropping beauty without the crowds.
Look at a map of Australia, and you'll see the ebullient state capital of Perth flung in the southwestern corner of this vast state. Start your tour here and spend a day or two exploring the city. Day trips from Perth are particularly appealing. Take a cruise up the winding Swan River to the Swan Valley, or down river to Fremantle, Perth's vibrant port city. From Fremantle, you can also catch a ferry to ravishing Rottnest Island, rimmed by beautiful white-sand beaches and turquoise shallows.
Spend a few days at the Margaret River, about a three-hour drive from Perth. This prime grape-growing district offers great surf breaks, beautiful beaches, scenic coastal hikes, and a bounty of fresh produce and artisan foods.
After a taste of the city and surrounds, fly from Perth to Broome (flight time 2.5 hours) and ride a camel at sunset along the sweeping sands of Cable Beach. Then head to Horizontal Falls for one of Australia's top outdoor adventures and soar over the falls and the rugged red cliffs of the northwest coast to Cape Leveque on a seaplane, before touching down for a succulent seafood lunch on the water and a jet boat ride through the falls.
If you have time, fly from Perth to Exmouth (a two-and-a-half-hour flight to Learmonth airport) and explore nearby World Heritage-listed Ningaloo Reef, the world's largest fringing reef. Easily accessible from shore, this rich ecosystem is famous for the whale sharks that swim here from March through October, and you can swim with these gentle giants on an organized tour.
With more than 500 species of fish and 300 species of coral, the marine reserve here is also a prime diving, snorkeling, and fishing destination. From here, drive 50 minutes to Cape Range National Park with its red-hued gorges and rugged canyons.
6. South Australia: Adelaide, the Barossa & Clare Valleys, and Kangaroo Island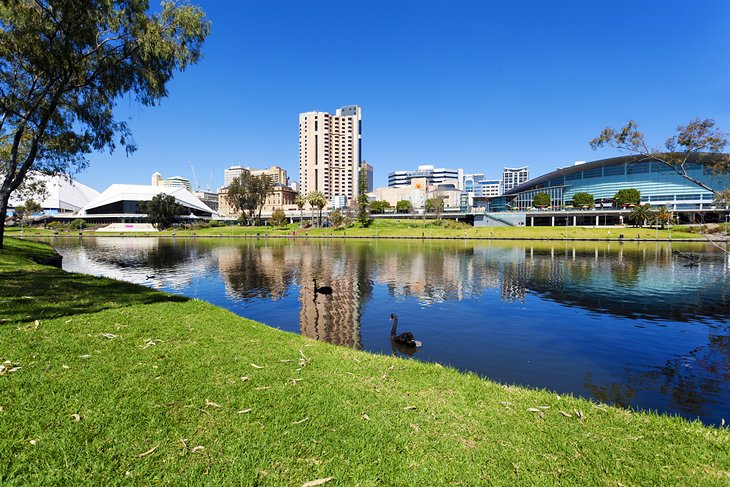 Adelaide
South Australia Itinerary Highlights: Adelaide, the Barossa & Clare Valleys, Kangaroo Island, Flinders Ranges National Park
Sophisticated yet refreshingly slow paced, Adelaide is one of Australia's underrated cities and the gateway to the many attractions of South Australia.
Spend a day or two in this gracious state capital exploring the many museums, galleries, and gardens, then rent a car and drive about an hour from the city to the beautiful Barossa Valley (about 60 kilometers north of Adelaide) and the Clare Valley. These fertile lands are prime grape-growing regions and favorite foodie destinations thanks to their bounty of fresh produce and fantastic restaurants.
From Adelaide, you can also drive about 45 minutes south to the pretty Fleurieu Peninsula, blessed with golden beaches, great surf, farms, and more fabulous restaurants.
From the Fleurieu Peninsula, catch a ferry to Kangaroo Island, one of the state's top tourist destinations. You can also fly here in 30 minutes from Adelaide. The island is famous for its pristine beaches and abundant wildlife. Fresh local produce is also a highlight; among the many gourmet delights are fresh seafood, free-range eggs, and Ligurian honey.
Close-up wildlife viewing is a prime attraction here thanks to relatively healthy populations of kangaroos, koalas, seal lions, New Zealand fur seals, echidnas, penguins, whales, and many species of birds. Be sure to visit Flinders Chase National Park, with its strangely contorted rock formations and scenic hiking trails, as well as the fascinating limestone caves of Kelly Hill Conservation Park.
If you have time, consider adding a safari to your itinerary to see the Flinders Ranges National Park, about a five-hour drive from Adelaide, a favorite haunt of artists and photographers who appreciate the rich hues of shifting light on the arid landscapes.
7. Tasmania: The Apple Isle Loop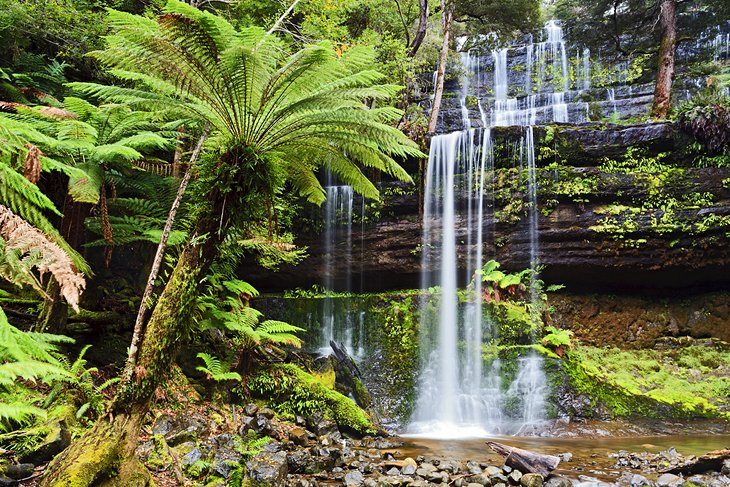 Mount Field National Park
Highlights: Hobart, Port Arthur Historic Site, Freycinet National Park, Launceston, Cradle Mountain-Lake St. Clair National Park, Franklin-Gordon Wild Rivers National Park, Mount Field National Park
A Nirvana for nature lovers, the island of Tasmania (affectionately called "Tassie" by the Aussies) is Australia's smallest state and an ideal destination for a self-drive tour. Almost half of its landmass is protected by national parks and World Heritage Areas, providing a pristine playground of wild rivers, misty peaks, lakes, and densely wooded forests. It's also called "the Apple Isle" because it was once one of the world's major apple producers.
Today, the state is famous for its fabulous fresh produce and artisan foods including succulent seafood, fresh fruits, and creamy cheeses. This loop through some of Tasmania's top attractions takes about five or six days plus a night or two in Hobart at each end.
Fly into Hobart, the state capital, and drive or hike to the top of kunanyi (Mount Wellington) for spectacular views over the city. Browse the shops and galleries at Salamanca Place and see cutting edge art at MONA.
After exploring the city, drive about an hour southeast of Hobart to the Port Arthur Historic Site, a former penal colony and one of the most visited attractions in Tasmania. After this sobering dose of convict history, explore the rugged sea cliffs and sheltered coves of nearby Tasman National Park. About 55 minutes from Hobart by car and ferry, Bruny Island is also worth a visit. Take a tasting tour of the island's gourmet treats and artisan produce or explore the natural beauty of South Bruny National Park.
From Hobart, drive 2.5 hours northeast to World Heritage-listed Freycinet National Park for superb scenery and the perfect slice of white-sand beach at dazzling Wineglass Bay. You can explore the park on scenic drives and hiking trails-the Wineglass Bay Circuit is one of the top hikes in Australia.
From Freycinet National Park, drive about two hours to charming Launceston, Tasmania's second largest town, where you can admire the elegant Victorian architecture on heritage trails, visit beautiful Cataract Gorge, and tour World Heritage-listed country estates not far from the city.
From Launceston, drive south to Cradle Mountain-Lake St. Clair National Park and explore stunning landscapes featuring alpine heathland, glacier-carved crags, sparkling lakes, and ancient forests. From here, drive about two hours to Strahan, a great base to explore the Franklin-Gordon Wild Rivers National Park. Cruise along the Gordon River or raft the whitewater rapids of the mighty Franklin River, one of Australia's top outdoor adventures.
From Strahan, drive 300 kilometers back to Hobart through Tasmania's World Heritage-listed wilderness areas. If you have time, stop by Mount Field National Park on the way, where you can see triple-tiered waterfalls and hike the beautiful nature trails.
By: www.planetware.com