Lauterbrunnen is one of the most beautiful places I've been in my life. I mean those Lauterbrunnen waterfalls are out of this world. What makes it out-of-this-world is the perfect combination of majestic water wonders, the towering steep rock walls and the Alps' magical charm. And I'm not the only one who's been smitten by this Swiss piece of heaven.
Lauterbrunnen's thunderous waterfalls and dramatic cliffs have inspired many great writers and poets, such as J.R.R. Tolkien who got the inspiration for Rivendell during a hike from Interlaken to Lauterbrunnen. Those of you who are Sherlock Holmes fans know that it's also the waterfalls where Holmes has his presumed mortal combat with his archenemy Professor Moriarty (at Reichenbach Falls). And, let's not forget the 1969 James Bond movie which was filmed in Lauterbrunnen.
THE BEAUTIFUL LAUTERBRUNNEN WATERFALLS
If you've been following me for a while, you have probably heard me rant about my endless love for waterfalls. So imagine my excitement when I first heard about Lauterbrunnen!
The valley of Lauterbrunnen is one kilometer in width and it's tucked between dramatic vertical rock walls and snow-capped mountains that rise high above the meadows. In German, Lauterbrunnen means: "Many Springs" or more accurately: "Loud Springs", and the name is spot on. This little valley in the Swiss Alps has no less than 72 thundering waterfalls, some of which are several hundred meters high.
Anywhere you go in Lauterbrunnen you always hear the hypnotizing sound of water rushing down the rocks. The air is moist, but fresh and crisp like after a heavy rainfall. It smells like flowers sky diving through the summer air.
ENDLESS FIELDS OF WILD-FLOWERS
I went to Lauterbrunnen in early May, when all the dandelions were blooming. Every field as far as the eye could see was filled with flowers and it looked like an endless sea of yellow.
THE IMPRESSIVE STAUBBACH WATERFALL
Lauterbrunnen is pretty spectacular on its own, but the star of the show is the Staubbach waterfall. At 297 meter, plunging from a vertical cliff wall, it's just about the first thing you notice when you arrive in Lauterbrunnen. Staubbach is also one of the highest waterfalls in Europe and possibly one of the most beautiful if you ask me.
The impressive thing about this waterfall is that the water is free-falling off the cliffs and sends clouds of mists into the air. On a windy day, the flowing mist is almost lost in the wind before it reaches the rocks below.
HIKING FROM LAUTERBRUNNEN TO STECHELBERG
The hike distance is 6,7 km and it takes 1 hour and 45 minutes.
My favorite thing to do in Lauterbrunnen was hiking. I didn't have time to explore the surrounding mountain villages, like Gimmelwald, Mürren or Wengen. But I did have time to hike from Lauterbrunnen to Stechelberg, which is super easy because the road is wide and flat.
The Jungfrau area is ideal for hiking and walking a lot, so I suggest packing reliable sneakers or sturdy hiking boots. These are my all-time favorite travel sneakers, but if you've got other outdoor adventures in Switzerland, I would bring a pair of hiking boots and leave the sneakers at home.
On my fairy tale trip around Europe, I did a lot of hiking in Switzerland, Austria and Slovakia, but the hike in Lauterbrunnen was my favorite. What did it for me was the landscape, the sound of the Swiss cow bells, the heart-meltingly gorgeous waterfalls and the enclosing cliff walls. Walking on the road to Stechelberg on a warm spring day reminded me that this little world we live in is mind-blowingly fantastic. Today, that realization smacked me square in the face and I couldn't help myself. I spread my arms out wide, I cried with joy and woo-hoo'ed out loud.
Just call me over-enthusiastic or nuts, but I was happy.
I have been to many places in my life, but Lauterbrunnen valley is one of my favorites. It's like a tiny piece of heaven, just a swooning train ride away from bigger cities like Bern and Lucerne. If you're in Switzerland and only visit one place, choose Lauterbrunnen and go chase waterfalls.
You won't regret it.
WHERE TO STAY IN LAUTERBRUNNEN
Here's some of the top picks for places to stay in Lauterbrunnen.
Valley Hostel – a cheaper option with free WiFi, a garden and shared kitchen.
Hotel Oberland – Quaint rooms with balcony and a magnificent view of the waterfalls.
DAY TRIPS FROM LAUTERBRUNNEN
Jungfraujoch (Top of Europe): If you're into breathtaking mountain views, you will love a trip to Jungfraujoch, which is the highest train station in Europe. The Jungfraujoch experience begins from the minute you step into the cogwheel train and begin the ascent of 3,400 meters. The views from the train are nothing short of breathtaking, and there are fun activities at the Top of Europe for both singles, families and kids.
Interlaken Helicopter Skydiving:Just a short train ride away you'll find Interlaken, which is Europe's adventure hub. One of the most popular activities is skydiving. So, if you're into adventure sports and always wanted to try sky diving, this is an amazing place to do it. They're specialists, and you can't ask for better views.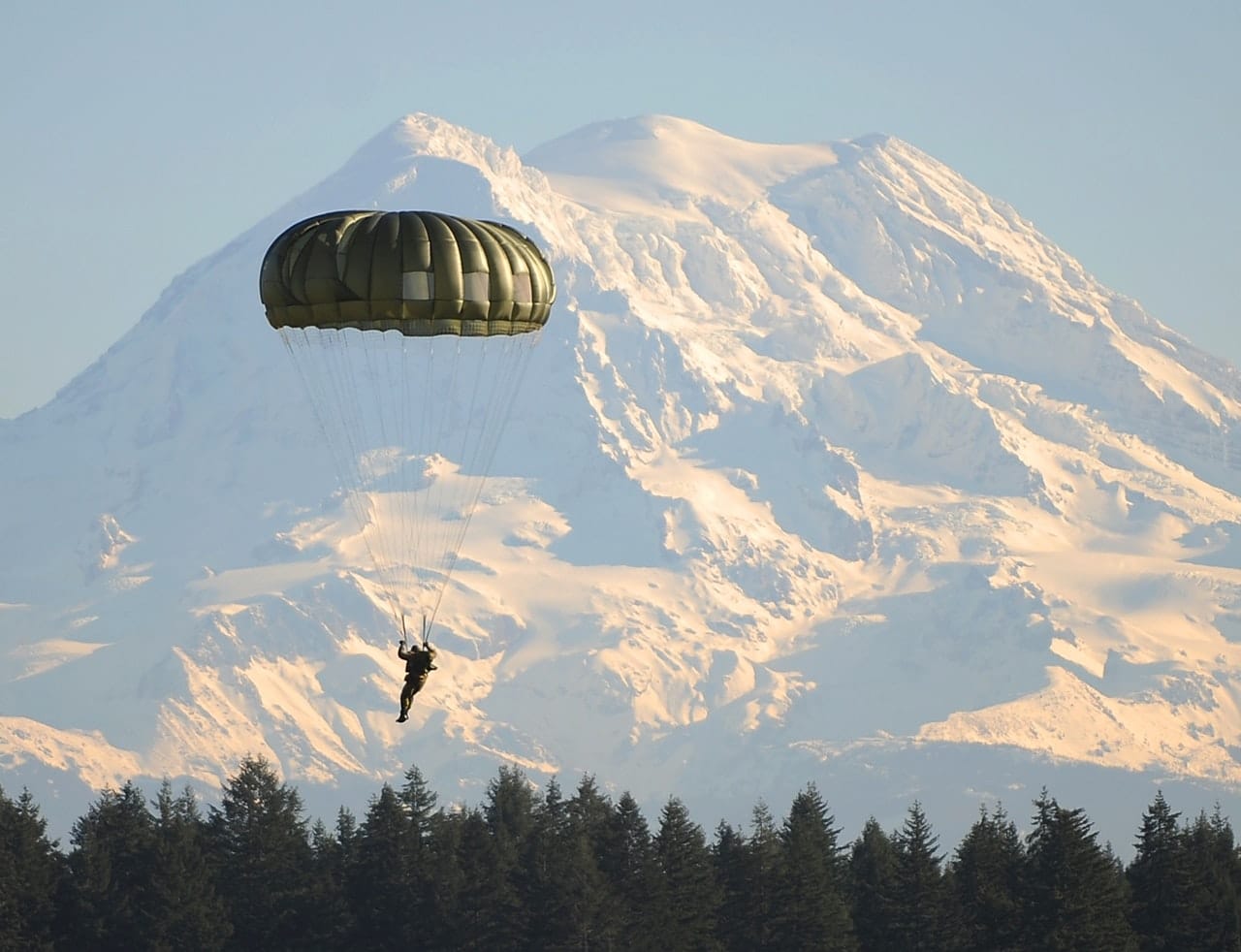 Source: adventurousmiriam.com