One of the most popular lakes in New Zealand, famous for the mirror effect, is Lake Matheson on the West Coast of South Island. If you plan your visit, read more about Lake Matheson Walk. This travel guide also includes tips on when to visit, how to capture the best photo, what to expect, and where to stay.
We remember the day of visiting Lake Matheson as vividly as if it were yesterday. We were traveling New Zealand's rainy West Coast for some time now, and every morning we anxiously opened the weather app hoping to see positive news.
Finally, it seemed that luck smiled on us, so instead of going to Fox Glacier first (you are after all in Glacier Country, so make sure you have enough time for Franz Josef Glacier as well), in the morning, our steps led to the shore of Lake Matheson.
Lake Matheson is one of the most beautiful lakes in New Zealand.
It is a must-include stop on your New Zealand itinerary, especially if you travel South Island's rugged and raw West Coast famous for the glaciers, dense forests, and coastal views.
Do you ask why Lake Matheson is so renowned when the country of the white cloud has thousands of beautiful lakes?
Also known as Reflection Lake, Lake Matheson offers mirror-like reflections of New Zealand's tallest mountain, Mt. Cook (Aoraki), that is on the other side of the mountain range.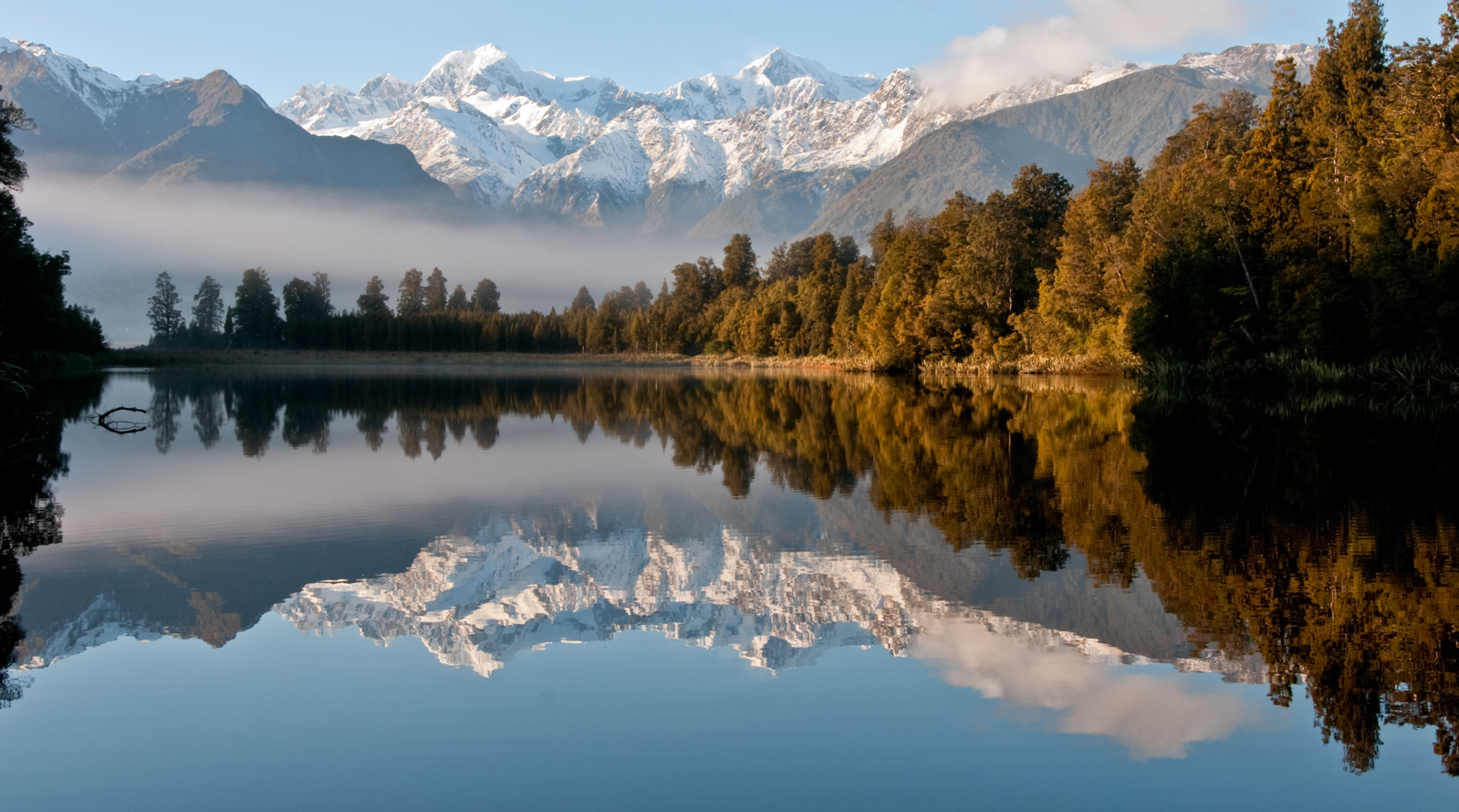 And if you haven't already visited Mount Cook National Park from the other side, then make sure to go there as soon as possible.
So we sit patiently in our car and feel that the sun is trying to pierce the clouds, but the clouds are extremely lazy and do not lift up.
We sit an hour, two, decide to make early lunch, and then, when we see we could also wait till tomorrow, we decide to take the Lake Matheson Walk (Te Ara Kairaumati Walk) around the lake and hope for the best.
How this little story of ours ended?
Well, we enjoyed the very peaceful walk around the walk, but those mirror photography opportunities really did not open up for us that day, and we could only sense the tip of Mount Cook somewhere in the clouds.
As we traveled long-term in New Zealand, we were not that disappointed, even though we believed that we would be rewarded for our patience until the very last moment.
We hope you'll be luckier when visiting Lake Matheson that we were, but if not, do not despair.
There are so many beautiful places along the West Coast that will make it up for you, and the anticipation of whether you'll get those otherwordly reflections is part of the experience.
New Zealand's West Coast can frustrate you because of the ever-changing conditions, but that is also why the moments we spent there were so precious.
In this travel guide, we would like to share everything you need to know before visiting Lake Matheson. Including travel tips on where to stay, what to expect from the walk, when is the best time to visit, or how to get there.
LAKE MATHESON
Lake Matheson is a photographer's dream. It has a bit darker color than the usual glacial lakes caused by natural leaching of organic substances that origin in the surrounding native forest floor.
This is why Lake Matheson looks a bit gloomy, but on the other hand, it is perfect for photographing the reflections because the snow-capped mountain peaks create a wonderful contrast.
Lake Matheson was formed about 14 000 years ago.
During the ice age, Fox Glacier spread across the plains towards the sea, as it was heavy, and many ground depressions were beneath the glacier's body.
Once the glacier started to retreat, the lows were filled with water, and lakes such as Lake Matheson were put on the map.
LAKE MATHESON WALK
Lake Matheson Walk is an easy loop that can be walked by every type of traveler. It leads around the shore of the lake, and the change in elevation is absolutely minimal.
Even if you are short on time or travel with small kids, we would recommend you walk the path at least for some time and turn back at some point because the views are much better from the trail than from the car park.
The trail is a mixture of forest well-maintained path and wooden boardwalks, so you do not even need hiking equipment.
You can choose the direction of the walk. Both clockwise and anti-clockwise options are the same, but we think most of the people, including us, decide to walk clockwise.
There are several points of interest. If you do not feel like walking far, make it at least to Jetty Viewpoint.
Jetty Viewpoint is also wheelchair and stroller accessible. It is 1.2 kilometers from the car park, and it should take you 45 minutes return.
Then you can continue to View of Views Lookout, and to the most famous Reflection Island Lookout. This is the must-see place from where you can take the sought-after photo.
From this point, we recommend you finish the loop in total 4.4 kilometers long, that should take you an hour and a half plus photo breaks.
Except for the views and reflections, Lake Matheson Walk also shows the best of New Zealand's forests, and even though the lake will surely absorb you, also enjoy the fantastic settings of the lake nestled in the ancient forest.
As canoeing or kayaking is not allowed on the lake, the quiet walk is the only available activity.
HOTELS NEAR LAKE MATHESON
Fox Glacier township lives out of tourism; therefore, the choices of where to stay are actually much better than you would have expected of a place of similar size.
The main season here on the West Coast runs between December and March, and during the season, it is really worth it to make a reservation well in advance.
There are also quite many hotels along the road leading to Lake Matheson, but given the short distance and the fact you will most likely have a car, you can choose the type of accommodation that suits you the best.
We've handpicked three best possibilities for an overnight stay near Lake Matheson for every type of traveler.
Budget | Ivorytowers Backpacker Lodge – Wide range of accommodation from private rooms to dormitories, excellent facilities such as kitchen, sauna or hot tub, and friendly atmosphere. You will hardly find a better place to stay for such a low rate.
Mid-range | Lake Matheson Motel – Conveniently located motel surprise with modern decor. Rooms are neat and clean, and all the top attractions in the area are within driving distance.
Luxury | Distinction Fox Glacier – One of the best hotels on the West Coast is reasonably priced, and offers lovely accommodation just beneath the Southern Alps. This place is probably the right for you if you are looking for outstanding rooms and exceptional service.
Camping | It is not possible to spend a night on Lake Matheson car park, even if you have a self-contained vehicle.
But if you have a campervan and do not mind simple conditions, you can spend a night at DOC campsite on Gillespie Beach, approximately 30 minutes' drive from the lake.
One night costs 8 NZD per person, and the campsite works on a first-come-first-served basis.
PHOTOGRAPHY TIPS
We know how hard it is to be a photographer when on the road. Sometimes, it is simply impossible to be on the photo location at the exact time when the light is the best.
But if you are just about starting to plan your itinerary and want to get that killer photo of Lake Matheson, follow our photography tips.
First, you need to decide whether you prefer sunset or sunrise.
Check the weather forecast, then choose according to your preferences whether you prefer sunset or sunrise. We would have opted for the morning. In both cases, we recommend you pack headlamp as well.
Then you need to select the location.
The two most famous spots are either View of Views Lookout and Reflection Island Lookout.
Well, you can't be in the same place at the same time.
We did not have the absolutely clear view, but enjoyed the View of Views Lookout a bit better, probably because it was not that over-hyped, and we did not expect to be the view from this place so fantastic.
Last but not least, do not forget your photo gear.
Have a fully charged camera, your favorite zoom lens, sturdy tripod, ND filter or circular polarizer filter.
When Martin takes long exposure photos, here prefers to use the remote shutter release as well.
It is also good to know that the viewing platforms are not somehow large, so if you want to make sure there will be a spot available, arrive at least thirty minutes before your desired time.
Source: laidbacktrip.com