At first glance, it doesn't seem like you can visit Hawaii on a budget. Depending on where you're coming from, flights can be crazy expensive, the resort hotels charge hundreds of dollars for a single night, and there's so many fun activities to do – all I see are dollar signs piling up!
But you don't have to worry about how to go to Hawaii for cheap, because traveling to Hawaii on a budget is possible. I know, because I've been to Hawaii on a budget with my significant other and it was the best vacation of my life.
HOW TO TRAVEL TO HAWAII FOR CHEAP: HAWAII ON A BUDGET
If you're dreaming about a tropical beach vacation in Hawaii, stop dreaming and get to planning! Follow my advice to learn some of the best tips to plan a cheap Hawaii family or honeymoon vacation that will save you a ton of money.
You'll be able to to plan a trip to Hawaii on a budget for your dream, affordable and budget friendly Hawaii vacation trip that won't break the bank!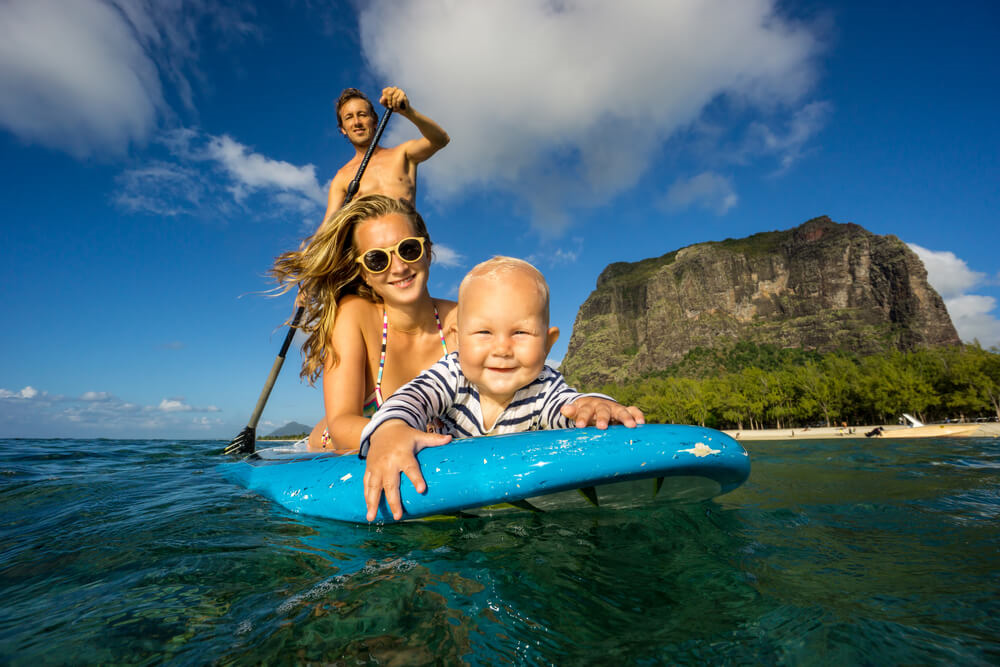 1. PICK THE RIGHT TIME TO TRAVEL TO VISIT HAWAII ON A BUDGET
As we get closer to December and the weather starts getting colder and colder, nothing sounds better than sitting on a beach in Hawaii with a Mai Tai in hand. Don't you agree? He's the thing, so does everyone else! Prices on plane tickets to Hawaii SKYROCKET during the cold winter months and during the summer holiday when everyone's on vacation.
Here's a cheap Hawaii vacation tip: you can save some money (and beat the crowds while you're at it) if you plan your Hawaii vacation for the shoulder-season.
The Hawaii shoulder season generally runs from February-May and again from late August to early October. It you're trying to find cheap flights to travel to Hawaii on a budget, these are the months you'll be wanting to look at.
Finding cheap flights to Hawaii doesn't have to be difficult, by the way! I recommend you play around with the calendar feature in google flights to find the cheapest dates to fly. Once you find them, book directly with the airline.
2. PICK THE RIGHT ISLAND FOR YOUR HAWAII VACATION
Not all Hawaiian islands are created equal when it comes to how much money you'll shell out when visiting them. While I would love to spend my entire holiday on the secluded island of Lanai, it would cost a pretty penny since there aren't many hotels or condos.
So if you want to save money, pick a more populated island – this is absolutely key to doing Hawaii on a budget!
Oahu, Maui and the Big Island are all great. They're more populated and have more visitors, meaning you're much more likely to find deals on flights and hotels/condos. You can always get cheap inter-island flights if you want to island hop while you're there!
To recap this cheap Hawaii vacation tip: a good way to save some money on your Hawaii trip is to be flexible with which island you'll go to.
Use google flights again and play with the destination location/calendar setting to see what the cheapest island for you to visit actually is.
3. TRY TRAVEL HACKING
Have you seen those posts that talk about people scoring free flights and hotels to Hawaii? Do you struggle to believe them? I know I totally did. That's until I started learning about how to leverage credit card rewards to get free flights to Hawaii. Needless to say, I was hooked!
I decided to try travel hacking out for myself and spent a grand total of $11.20 for a round trip flight flight to Maui, talk about a steal!
If you're curious about how it's possible to score free flights and hotel nights in the Hawaiian islands, check out this post for a detailed step-by-step guide to travel hacking your way to a dream tropical vacation. Read through it completely for a full understanding of how to travel to Hawaii for super cheap while on a budget!
4. DON'T STAY AT A RESORT FOR A BUDGET HAWAII VACATION
I'm the first to admit, I love a good resort hotel. The convenience, location and amenities that they provide are just so luxurious. But this is a post about budget Hawaii travel, so I'm going to recommend that you avoid resort hotels if you can.
Why should you avoid resorts? Because quite honestly, they're overpriced. I don't know about you, but I'm not tryingt to spend $400 PER NIGHT on a room alone.
Not to mention all the hidden fees, like the infamous additional resort fee, charges for parking, and so many other things I'm likely to splurge on if I stay at a resort.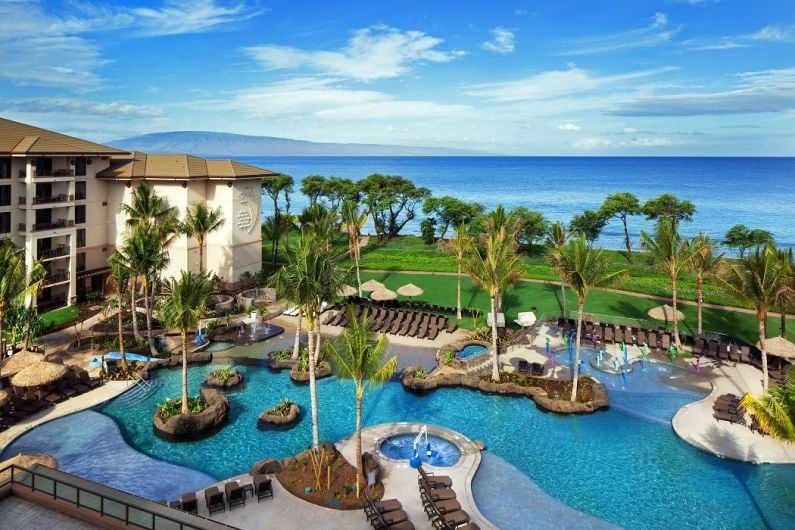 Instead, rent a house or a condo. Not only is it often cheaper, but you will have more space to spread out, access to a kitchen (hello saving money on food!), and it may even come with umbrellas, beach toys and a cooler (perfect for those beach trips).
5. HIT UP THE GROCERY STORE
Making a trip to the grocery store is an absolute must for saving money on your Hawaii vacation. Think about all the expenses that start adding up when you don't access to a kitchen: buying snacks at gas stations, eating all of your meals out, paying for expensive alcoholic drinks, and so much more.
One of the first things I do when I travel anywhere is to make a trip to the grocery store. Consider it a holy grail Hawaii vacation tip.
In Maui, for example, we visited the local grocery store to buy snacks for our road trips and beach adventures (nuts, chips, etc.) We also bought our favorite beer and ciders so we didn't have to pay $10 for a beer.
Having groceries available also allows you to cook one of your meals at your condo. I like easy breakfast options like a carton of eggs and orange juice.
Or plan to make one of your dinners at home with easy frozen meals. Pizza after a long day out in the sun sounds delicious, doesn't it?
6. SAVE MONEY ON A RENTAL CAR
While I would love to tell you that you don't need a car for your Hawaii trip, chances are you most likely do. There are so many great, cheap activities to do in Hawaii, including going to the beach, going for a hike, or doing a beautiful drive that require a car.
To save money when renting a car, make sure that you do some comparison shopping by using a third party site like Kayak or Expedia. Make sure though that you're not booking a non-refundable car.
I like to book refundable rentals so I can monitor the price – once there's a price drop, I'll cancel my original reservation and rebook it at the lower rate!
7. DON'T PAY FOR RENTAL CAR INSURANCE
Speaking of rental cars, a great way for you to save money is by saying no to the rental car insurance that they try to sell you. Since I have a credit card that comes with rental car insurance coverage, Im able to save some cash by skipping this expense.
Double check the terms of your credit cards to see if they have any perks like this. Finally, make sure you fully understand all the terms so you're able to make an informed decision.
8. GO SNORKELING ON YOUR OWN
There are a TON of great snorkeling spots in Hawaii. You can book some amazing snorkeling tours, but the truth is you don't really need to.
If you bring your own snorkeling set, you can find your own snorkeling spots without having to pay the high price of tours. I have this snorkeling set and love it.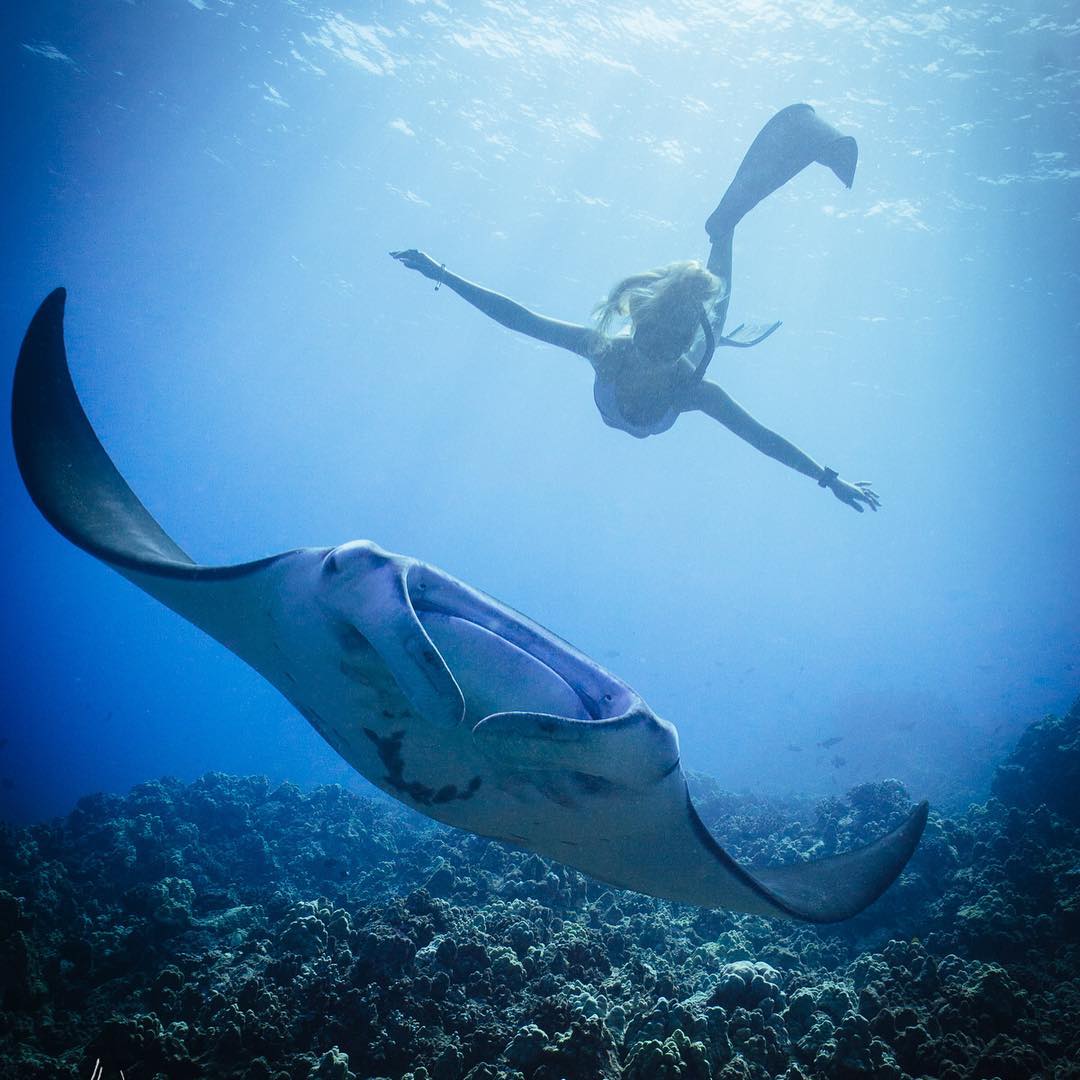 It works great, is pretty affordable, wasn't bulky, and most importantly allowed us to snorkel at the beach without having to rent a snorkeling set (which probably would have been as expensive in the long run as buying our own!)
9. GO HIKING FOR A BEAUTIFUL BUDGET HAWAII VACATION
I love visiting beautiful places because of their natural beauty. The beaches, mountains, and tropical lushness of Hawaii are all reasons why I'm constantly dreaming of my next Hawaii trip. Also, it helps that enjoying this natural splendor is often FREE.
An excellent (free) way to see more of the beauty of the Hawaiian Islands is to go for a hike. There's great hiking to be found in almost any island you visit, with trails perfect for beginners.
If you do plan a hike, make sure you bring a reusable water bottle, sturdy shoes, and plenty of sunscreen. It gets hot in Hawaii, so be prepared!
10. PLAN YOUR SPLURGES
Planning your splurges can seem like a counterintuitive way to save money in Hawaii. Here's the thing though, if you sit down and decide that you're going to allow yourself to buy a helicopter tour, it won't show up later as a budget busting expense.
By planning for what you'll splurge in advance, you won't feel deprived when you have to say no to some other, unexpected potential splurges.
For example, I allowed myself to splurge on a trip to Molokini on my trip to Maui. Because of that, I wasn't tempted to book a ton of other snorkeling tours and was able to go snorkeling on my own.
Had I not planned this in advance, I would have felt deprived and could have possibly overspent when a "cheap" tour option came up!
11. CREATE A TRAVEL BUDGET IN ADVANCE
Having a budget for anything and everything is SO IMPORTANT. Creating a budget is the very first thing I do when I'm planning a trip anywhere, specially to Hawaii.
I will admit, it takes some work and planning to do this, but having a set budget in advance will allow you to not have to worry about how you're paying for things when you're on vacation.
No more overspending, or going into debt, because everything's already been budgeted and saved for.
12. CHECK OUT GROUPON FOR LOCAL DEALS
If you haven't used Groupon before, you're missing out. There's so many deals to be had for cheap, it's a great place to start your search if you're looking for cheap things to do in Hawaii.
You can find discounts on snorkeling tours, parasailing adventures, and much more. A great way to maximize your savings is to buy your groupon through an app like Ibotta or Rakuten – often you'll find cash back deals when you buy the groupon through their portal. Talk about stacking savings!
13. USE DISCOUNTED GIFT CARDS
Discounted gift cards are a little secret that a lot of people don't take advantage of. Nowadays, you can find gift cards for things like plane tickets or hotels selling through discount gift card sites like Raise.com.
When you're booking your Hawaii trip, look for discounted gift cards that you can use for the thing you're already planning on buying. Are you buying plane tickets through Southwest? Search for a gift card. Buying a cute swimsuit through Amazon? Look for a gift card!
Bonus points if you buy your discounted gift card then buy your items through a cash back portal like Rakuten or Ibotta. Gotta stack those savings!
14. CHECK FOR CASH BACK REWARDS BEFORE YOU BUY
The very first thing I do before I press buy on anything is to search for any cash back offers. I know that I can get cash back for buying something I was already planning on by simply checking for credit card cash back offers (Chase offers these right in their app).
Additionally, I always always always check Rakuten, Ibotta and Swagbucks. Chances are, someone's going to have a cash back offer I can take advantage of.
15. BRING A REUSABLE WATER BOTTLE
Buying bottled water is not only terrible for the environment, it also costs a pretty penny.
Have you ever been at the airport and forced to buy an overpriced $5 bottle of water? Or have you been on a road trip only to stop at a gas station and buy yet another bottle of water? Yeah, I hate that!
A great way to save some money on that is to bring a reusable water bottle. You can bring an (empty) water bottle through TSA and fill it up at a water fountain once you clear security.
Same thing if you're going hiking or to the beach. Bring your own water bottle and save some money.
16. BUY DISCOUNTED TICKETS THROUGH COSTCO
There's a ton of reasons why I love Costco, one of them being for the discounted tickets you can buy through them.
One of the splurges I planned on my last Hawaii trip was a romantic Maui helicopter tour (which would be a perfect thing to do on a Hawaii honeymoon vacation!). I was able to save some money on that by buying it through Costco. They offer discounted Hawaii helicopter tour tickets, snorkeling tours, and several other options.
Moral of the story? Don't pay full price for things when you can avoid it.
17. CHECK FOR AAA DISCOUNTS
If you have a AAA membership, chances are that there are Hawaii travel discounts already available to you.
You can often use your AAA membership to save an extra 10%-15% on car rentals, hotel stays, and much more.
Check out the AAA travel page when you start to plan your Hawaii trip to see how you can save some money by being a AAA member.
18. SKIP THE SOUVENIRS FOR HAWAII ON A BUDGET
I know, I know. It's fun to buy souvenirs. But you know what, those souvenirs are often cheap, overpriced, and you probably won't use them much once you get back home.
Not to mention, they can take up valuable real estate in your luggage, possibly causing you to spend even more money trying to get them home.
When I travel, the only souvenir I buy are postcards. They're cheap, thoughtful, and I can mail them directly from where I'm at.
So do yourself a favor and try to avoid souvenirs. Your wallets will thank you.
19. BRING CASH TO USE DURING YOUR BUDGET HAWAII VACATION
Do you know what I hate with a passion? Paying for ATM fees. I absolutely detest it. But what can you do when you're in a different state (or country) and don't have access to your banks' ATM?
Avoid the situation by bringing some cash with you for your next Hawaii trip. You'll save money on potential ATM fees, and be likely to spend less. A sneaky benefit of using cash is that it makes it harder for us to spend money, so give it a try.
20. FIND HAPPY HOUR SPECIALS
I love a good happy hour, and Hawaii has plenty of them. If you're planning to go out to eat for dinner, try to plan it so it happens when restaurants are having happy hours.
This way you'll be able to enjoy a nice evening meal out, but still save money by not paying the high dinner prices. Check yelp and follow local Hawaiian restaurants on social media to see when they run their specials.
READY TO PLAN A TRIP TO VISIT HAWAII ON A BUDGET?
So there you have it! I hope you're able to use some of the above tips to save some money on your next Hawaii trip. By now you should have seen that with a little bit of planning, you'll be able to make that Hawaiian tropical vacation a little bit more affordable than you initially though.
Source: seasaltandfog.com